Blueberry Netting Tips – Protecting Blueberries from Birds (& Deer)
Anyone with a blueberry patch knows that wildlife loves them as much as we do. In his northwest Wisconsin patch, my brother battles heavy deer pressure in addition to hungry birds looking for ripe berries. He came up with a great way to protect his blueberries and still have easy access to the plants. In this post, we share a combination of blueberry netting and blueberry cage tips to protect plants year round from deer, birds, squirrels and other wildlife.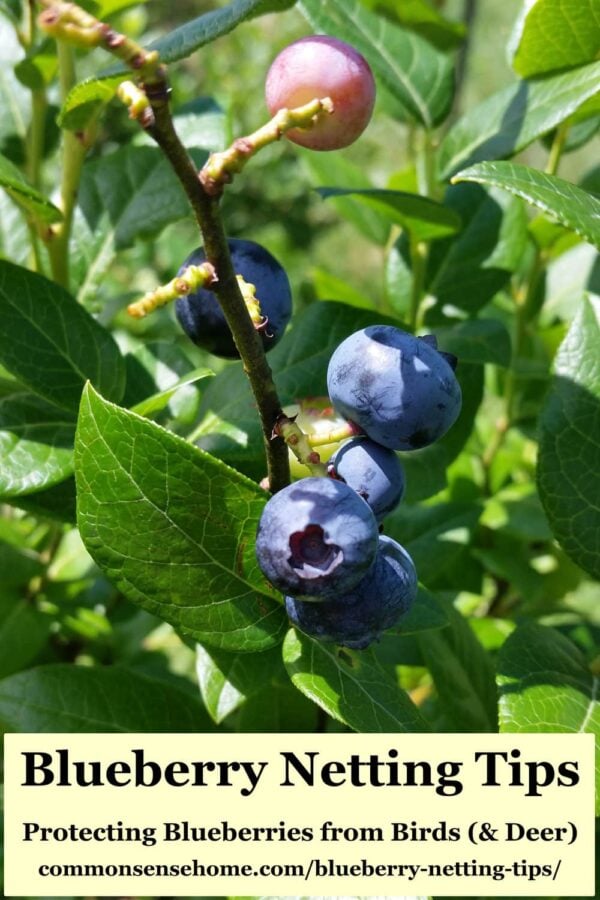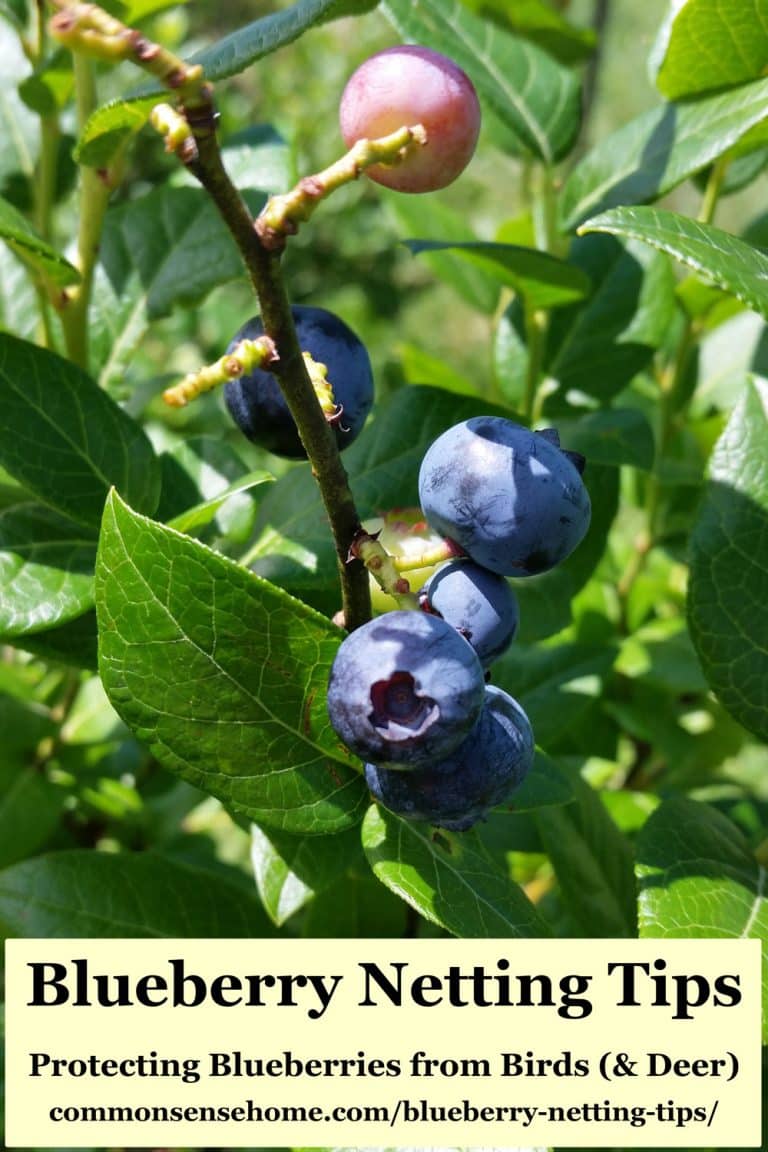 The Problem with Using Blueberry Netting Alone
Growing up on the farm, mom had several large blueberry bushes that produced reliably each year. Near harvest time, she'd cover each bush with blueberry netting. To harvest, we'd lift the netting to access the plants.
There were a few issues with this:
Sometimes the net gets tangled in the foliage, and when you pull off the net, you pull off leaves and berries.
The birds love blueberries, and got smart as time went on. They learned to push against the netting so they could still reach through for some blueberries. (Netting with 1/4″ mesh helps, but may not completely eliminate the problem.)
Since the netting was only put on at harvest, the plants are accessible to deer or rabbits the rest of the year. Our farm dogs usually kept the browsers at bay, but Rich and I don't currently have dogs, so deer pressure is worse.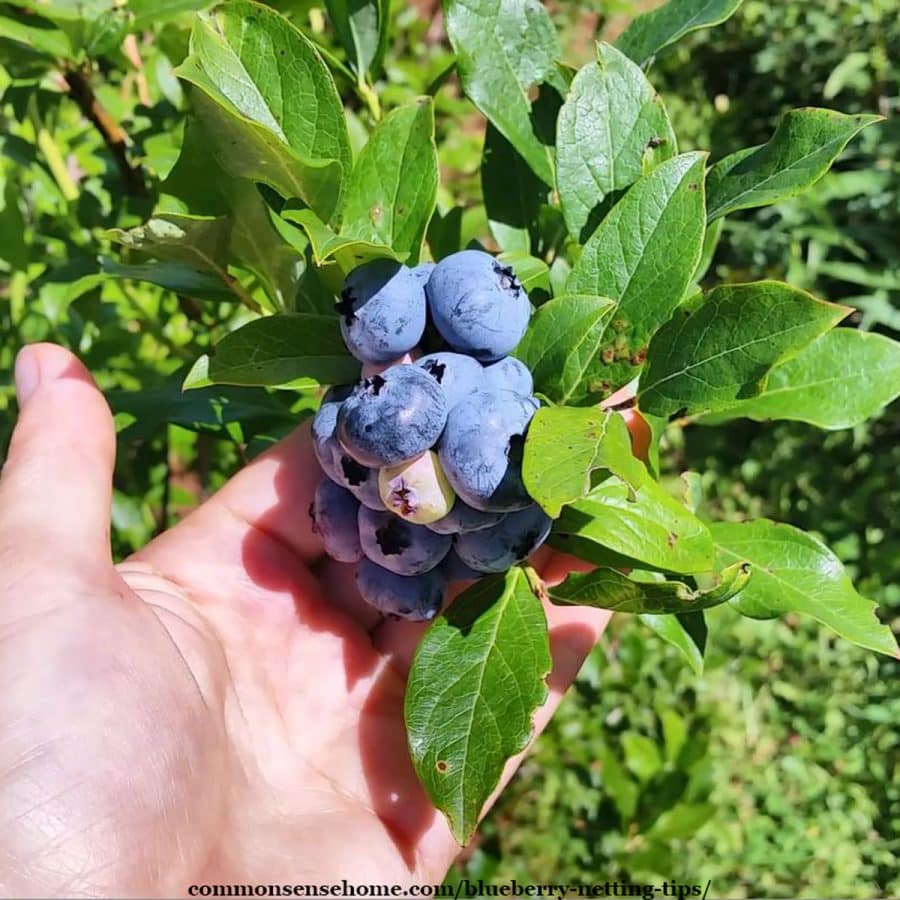 The Blueberry Cage to Keep Deer Out
Rich is tall (about six and a half feet), and highbush blueberries can get tall (up to around 6 feet). To accommodate both, we start with eight foot t-posts driven about one foot into the ground.
These posts go in every 5 or 10 feet, so you can connect them with 10 foot lengths of metal electrical conduit. (Cut conduit in half for five foot spans.)
To make a door, put some fencing on a simple rectangular frame and mount that where you want to get into the patch. The door needs a fence post on each side of the door – one to mount the door on, and one to hook the door to for closing the cage.
At Rich's place, he uses 4 foot tall chicken wire fencing (one high and one low, with overlap) to wrap all the way to the top of his enclosure. His enclosure is 10'x30′
Our enclosure is 25'x15′. Our deer pressure isn't as bad, so for right now we only have a four foot tall fence around the enclosure. This keep the wild rabbits at bay in winter. Without protection, they do serious damage to our blueberry plants.
*As noted in the post about keeping deer out of the garden, deer need room to land when they jump over a fence. Larger enclosure = bigger landing pad.
How to Keep Birds Away from Blueberry Bushes with Blueberry Netting
When the first hint of color starts to darken blueberries, it's time for blueberry netting. The birds are happy to eat the berries before they're completely ripe, so don't wait too long to add bird protection.
For our blueberry enclosures, Rich welded supports to hold the conduit in place at the tops of the t-posts. Side supports are "T" shaped, with the base down and one "arm" to each side. Corner supports have the side arms at a 90 degree angle.
The welded connectors are attached to the top of the t-posts with cable ties. Then, the conduit slides onto the connectors.
As harvest approaches, we get two to three people to slide the netting up and over the frame. The netting is secured to the fence and frame at intervals with cable ties or fabric ties.
After the harvest is finished for the season, remove the netting. Bundle and store it out of direct sunlight. With proper care, netting should last for several seasons.
We use Bird-X netting with 5/8″ mesh, because it's available locally. Bird netting mesh sizes range from 1/4″ to 3/4″. 3/4″ should provide protection from most blueberry eating birds. Larger mesh also allows pollinators to reach any remaining blossoms.
You can get a look at Rich's blueberry cage in the video below. (Make sure adblockers software is off.)
Notes on the Welded Connecting Pieces for the Blueberry Cage
I got a chance to talk to Rich and get a little more information on the welded connecting pieces. He says:
I like the 3/4 square tube to clamp to the post, because it won't turn and the 3/8 solid round to go inside the conduit. For longer life, you can clamp it to the post with hose clamps instead of zip ties, because the ties will weather and break.

The side extensions are 3/8 solid round stock. You can buy it in 3 foot pieces at Farm and Fleet, or 20 footers at a steel supply outlet.

I drill a hole through the 3/4 square tube, and then tack weld the round stock in place. We have had bad storms go though, and it gives but won't break.
Other Options for Installing Blueberry Netting
If you don't need deer or rabbit protection, a "netting only" solution can protect your harvest. Three other blueberry netting options include:
Use small mesh netting (1/4″) to drape individual plants.
Bend PVC pipe in hoops over the patch, and drape netting over the pipes to make a netting "hoop house".
For a single row of bushes, set a tall post at each end of the row. Run a line between the posts, and drape the blueberry netting over the line like a tent, folding over at both ends.
If you need ideas for commercial scale blueberry netting installation, see "Bird Netting Pictures and Ideas for Bramble and Blueberry Plantings" from the University of Kentucky.
More Blueberry Goodness
You may also enjoy: