Harvesting Rose Hips for Food and Medicinal Uses
Several years ago, we planted about half a dozen rose bushes as part of our homestead permaculture plan. This year, the plants are loaded with fruit, so I'm sharing tips for harvesting rose hips and how to use them.
The hips have tiny hairs that can cause irritation if you don't process them correctly, so prep wisely!
What are rose hips?
Rose hips are the seed pods or fruit of rose plants that form after the rose petals fall. They're in the same family as apples, but you have a lot more seeds and less fruit in a rose hip.
If you deadhead your roses to get more flowers, you're cutting off what forms the hip. Many modern hybrids produce small hips, instead putting their energy into the flower show.
Rose hips are a natural source of vitamin C. To get the most vitamin C, eat the raw fruit, avoiding the seeds, or the strained pulp. Rose hip tea and syrup still contains some vitamin, but less than the raw or lightly cooked fruit.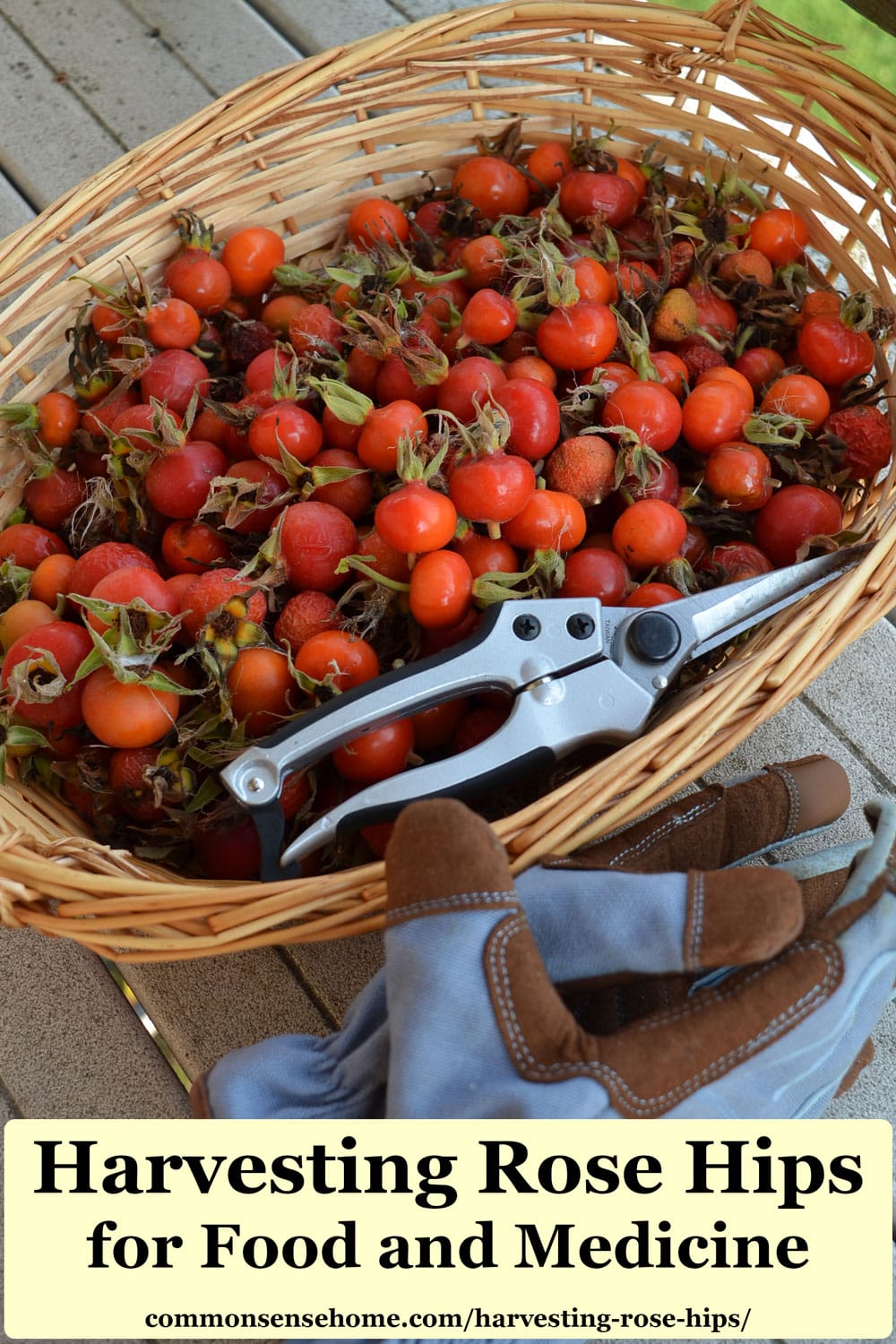 What are the best varieties of roses for hips?
Rugosa roses are known for their large hips. (Our roses are rugosa types.) They form a large ornamental shrub suitable for hedgerows and naturalized plantings.
Samuel Thayer recommends the dog rose, rosa canina, as his favorite source of hips.
He says, "They are incredibly delicious, with a tang a bit like a dried tomato crossed with a raspberry, but with it's own floral element". (He discusses wild roses in his book, Incredible Wild Edibles.)
The flavor of our rugosa hips is mildly citrusy, with a hint of melon and floral notes. They have more flesh than most hips, making them easier to use for puree or other culinary uses.
Wild roses and heirloom roses often have sizable rose hips, too. All rose hips are edible, but avoid using any hips that have been treated with pesticides.
When should you pick rose hips?
The best time for harvesting rose hips is in fall, after a light frost. Frost brings out the sweetness in the hips, but you want to avoid hard frost, which cause the hips to spoil.
I've noticed that some of the hips ripen earlier and start to soften, so I pick them as needed to keep them from spoiling. Some hips get dark red, some stay more orange – it depends on the plant.
Harvesting Rose Hips
Harvesting rose hips is one of the easier fall chores, but processing them to make them safe to eat takes a bit of time.
To harvest, simply pull or snip the hips off the plant. Our rugosas have sturdy stems, so I used my flower cutting sheers. If you're picking later in the season and the stems are brittle, they may simply snap off.
Processing and Drying
You'll notice as you handle the rose hips that some are smooth, but others have a small amount of fine thorns. The stems and blossom end are also thorny.
The thorns aren't the riskiest part of the hips – it's the fine hairs around the seeds. These hairs can irritate your throat (and your bottom), so it's best to avoid eating them.
You have two options to do this – keep the hips whole, so the hairs stay inside the hip, or clean the hip and remove the seeds and hairs.
Since we had fairy large fruit, we opted to clean the seeds and hairs out of the hips. We gave them all a good rinse with cool water and got cleaning.
Start by cutting or pulling off the stem and bud ends. Cut the rose hip in half, and use a small measuring spoon to scoop out the seeds and hairs. Dunc demonstrates in the rose hip jelly article.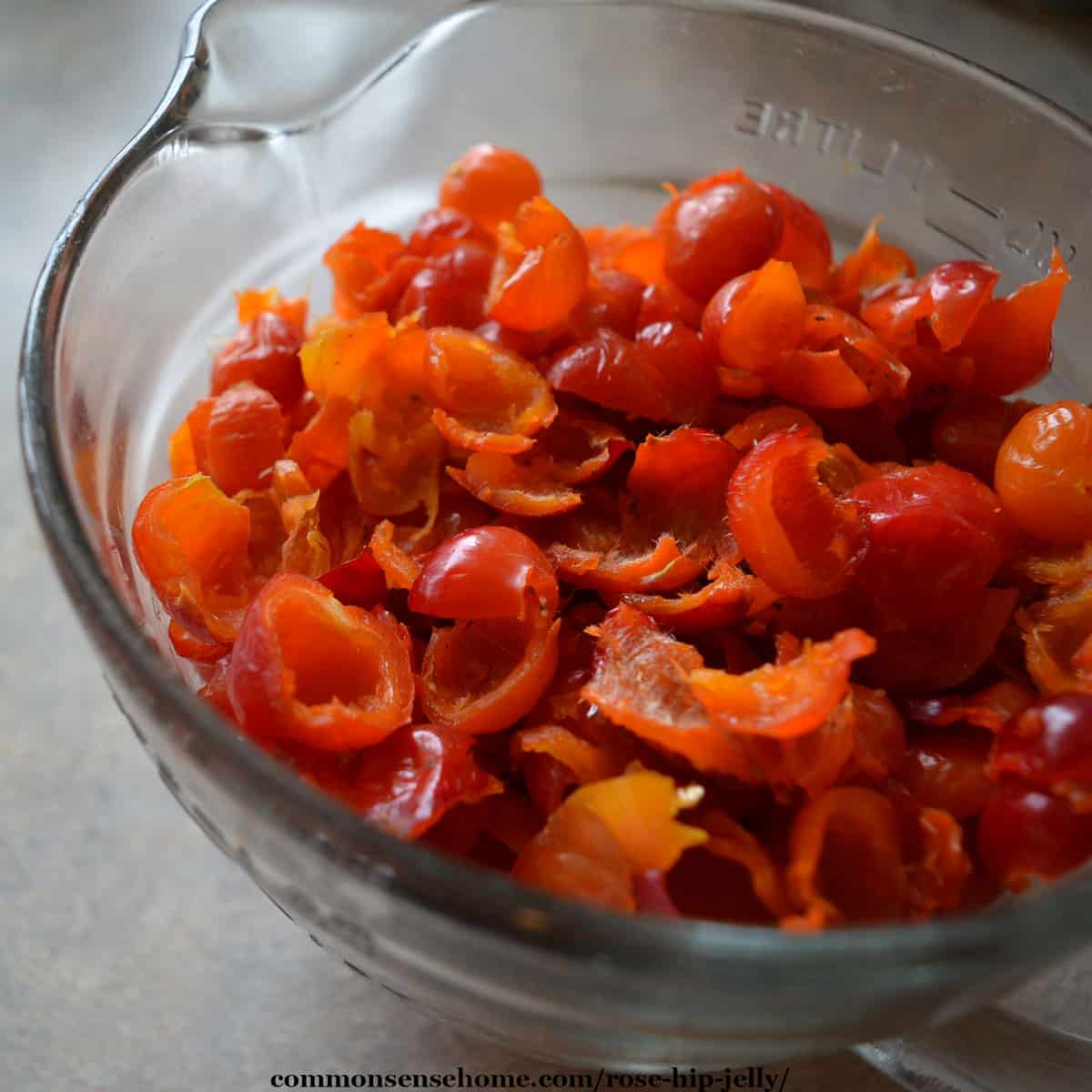 This takes a LOT of time, and it's difficult to remove all the hairs. I ate one of the halves we cleaned, and still ended up with a bit of mouth irritation.
Next time we're gathering pulp, I think we'll clip off the stems and buds, cook down the rose hips in a stainless steel pot with some water, and strain.
This time, I mashed the cleaned hips with a potato masher as they were cooking with water, and used them to make rose hip jelly.
Note: Our chickens LOVED the rose hip seeds we cleaned from our rugosas. Like wild birds, they don't seem bothered by the hairs.
Drying for Tea
To prep dried rose hips for tea, remove the stems and buds. Keep the rose hip intact for smaller hips, and slice and remove seeds from the larger hips
Spread the hips in a single layer in a commercial dehydrator. Dry at around 110F (33C) until completely dry. Let the hips cool and store in a paper bag in a dry location for about a week. (This gives the whole fruit time to dry out equally.)
Run the dried hips through a food processor until roughly chopped. Sift through a mesh strainer to remove the hairs.
Store the hips in a tightly sealed container in a cool, dark location. Date and label, and use within a year for best quality.
Alternatively, you can leave small hips intact and make your tea with the whole hips. Chopped hips will infuse more quickly.
To make tea, place 4 to 8 fresh or dried rosehips in a mug and cover with boiling water. Steep for 10 to 15 minutes, then strain and drink. If using chopped hips, use about a tablespoon of hips.
The study, "Therapeutic Applications of Rose Hips from Different Rosa Species" notes that rose hips have been used to treat many issues, including:
skin disorders
diarrhea
inflammation
arthritis
diabetes
obesity
cancer
It's not just their vitamin C, but many other phytochemicals and bioactive compounds.
I'm glad we've added them to our yard, and look forward to using them for many years to come.
Do you have a favorite rose hip recipe or question about harvesting rose hips? Leave a comment and share your thoughts.
More Herbal Goodness
Check out the Herbs and Wildcrafting page for a full list of our herbal medicine and foraging articles, including:
Sage Benefits – One Herb, Many Uses
Stinging Nettle – One of Most Useful Wild Plants – Weekly Weeder #16
How to Make Elderberry Syrup from Fresh or Dried Berries