Nutrimill Grain Mill (Which one should I get?)
I've had a Nutrimill Classic grain mill for around 10 years, and recently got a chance to try their their Harvest grain mill. They also have a Plus grain mill, which I researched but did not test at home.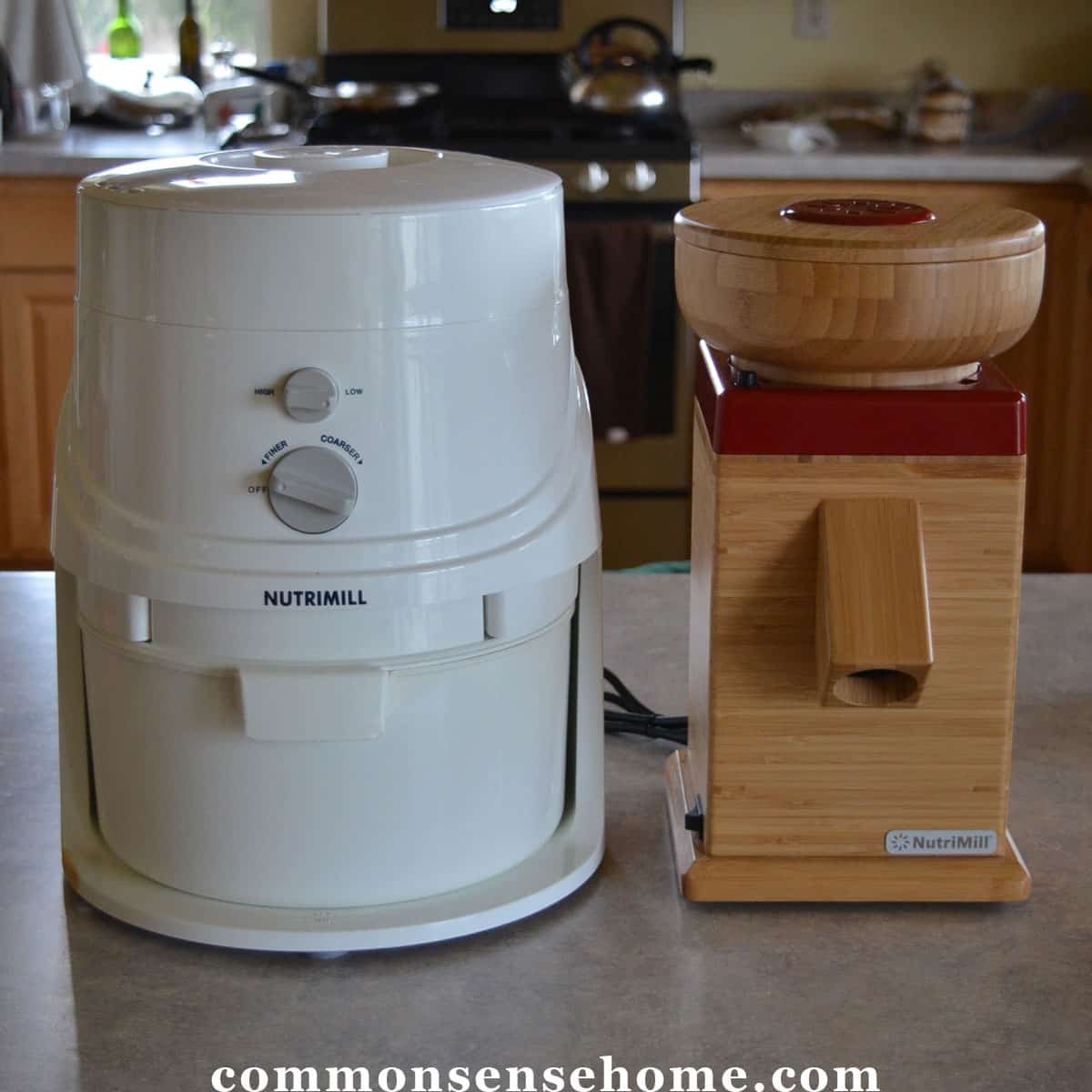 We'll review and compare Nutrimill grain mills to help you decide which one is right for you. All of the mills allow you to grind fresh, whole grain flour whenever you're ready to bake, and grind at low heat to preserve nutrients.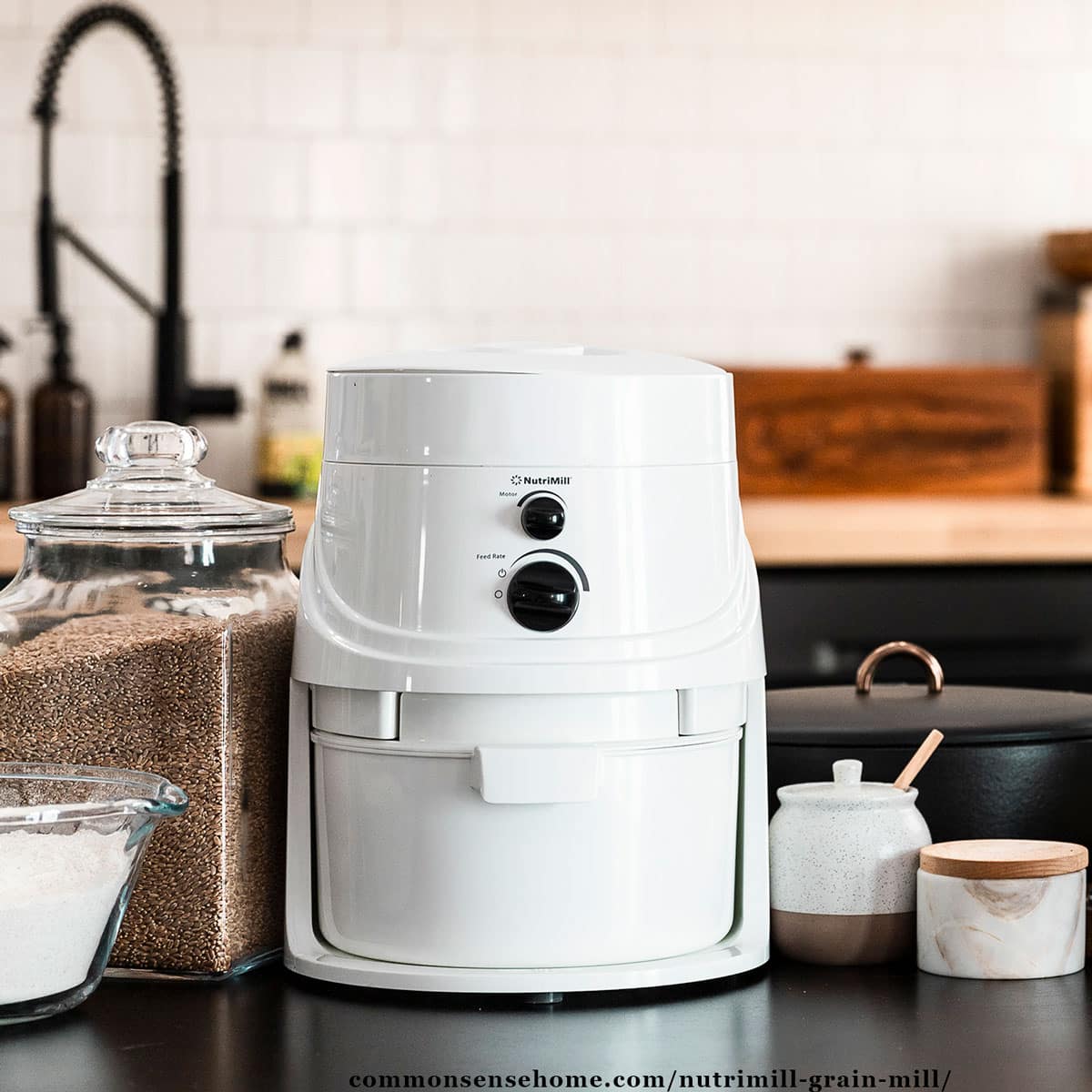 Classic Grain Mill
I've had my NutriMill Classic Grain Mill comes with a limited lifetime warranty to be free of manufacturing defects in materials and workmanship. It is manufactured in South Korea.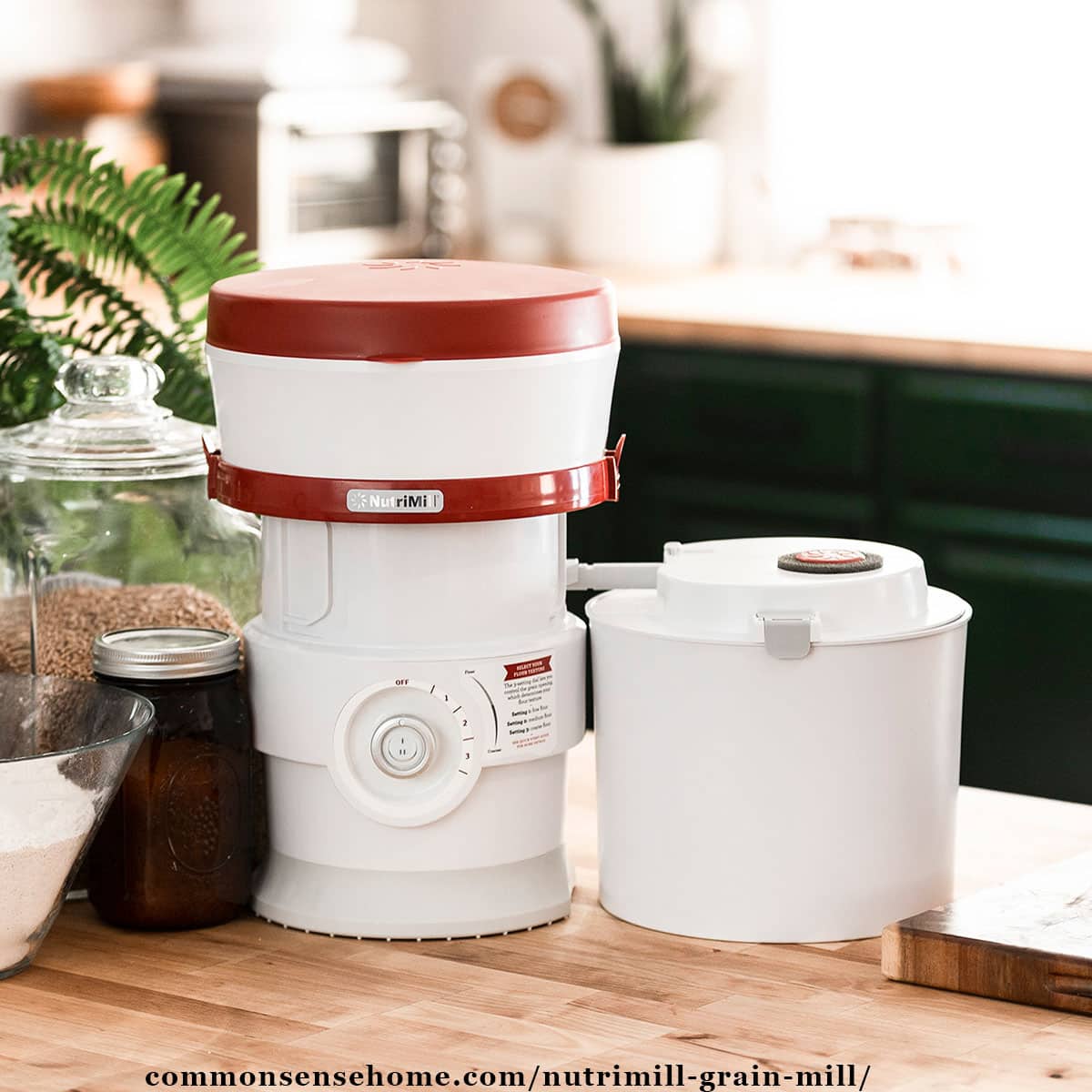 Plus Grain Mill
The NutriMill Plus Grain Mill holds a little more finished flour than the Classic, with a 24 cup capacity flour bowl. Like the Classic, it has a 1200 watt motor with stainless steel milling heads. It can grind the same types of grains and legumes.
A unique feature of the Plus is that it has a collapsible milling hopper and nesting design for easy storage. The whole thing packs into a space just a bit larger than an ice cream bucket. The measurements are 9.5″ W x 9.5″ D x 13″ H.
It also has a flour bagger accessory, so you can mill fresh flour directly into the canister or into freeze safe bags. (Flour bagger and freezer safe bags included with purchase.)
The texture control knob and two speed motor allows you to choose between making ultra fine pastry flour or coarsely grinding grain. The grain feed design allows you to turn the unit off anytime during the milling process without damaging the motor or milling heads.
NutriMill Plus Grain Mill is designed and assembled in the USA and has a limited lifetime warranty.
Nutrimill Harvest Grain Mill
The NutriMill Harvest grain mill has the smallest footprint of the three mills, measuring 7″ W x 7″ D x 13″ H. With a durable, eco friendly housing made of bamboo and your choice of trim color, this unit makes an attractive addition to any kitchen.
The 450 watt motor and corundum milling stones let you grind a wide range of non-oily grains, beans, and legumes, including:
Kamut, spelt, barley, farro, rye, soft wheat, hard wheat, triticale, emmer, einkorn, dried sweet corn, oat groats, white rice, brown rice, teff, sorghum, millet, buckwheat, quinoa, amaranth, lentils, chickpeas, garbanzo beans, baby lima beans, mung beans, black beans, navy beans, split peas, pinto beans, soybeans
Do not use it to mill: Chia seeds, sesame seeds, flax seeds, sunflower seeds, popcorn, tapioca, coffee beans, hemp nuts, nuts, sugar, dates/raisins, poppy seeds, herbs & spice, chilies, goji berries, sprouted grains and beans that are not completely dry.
NOTE: Your Harvest grain mill is not going to tackle popcorn and dent corn. You need the other two Nutrimill models for those hard corns.
I love how simple the Harvest is to use and to clean. You use the texture control knob on top to get the full range of grinds. Turn clockwise for finer flour, counter-clockwise for more course.
To clean the unit, use the simple lock hopper remover button on the front left of the machine and turn the bowl counter-clockwise. This gives you access to the millstone below, which you brush clean with the included brush.
The NutriMill Harvest Grain Mill comes with a 5 year warranty, and is designed and assembled in the USA.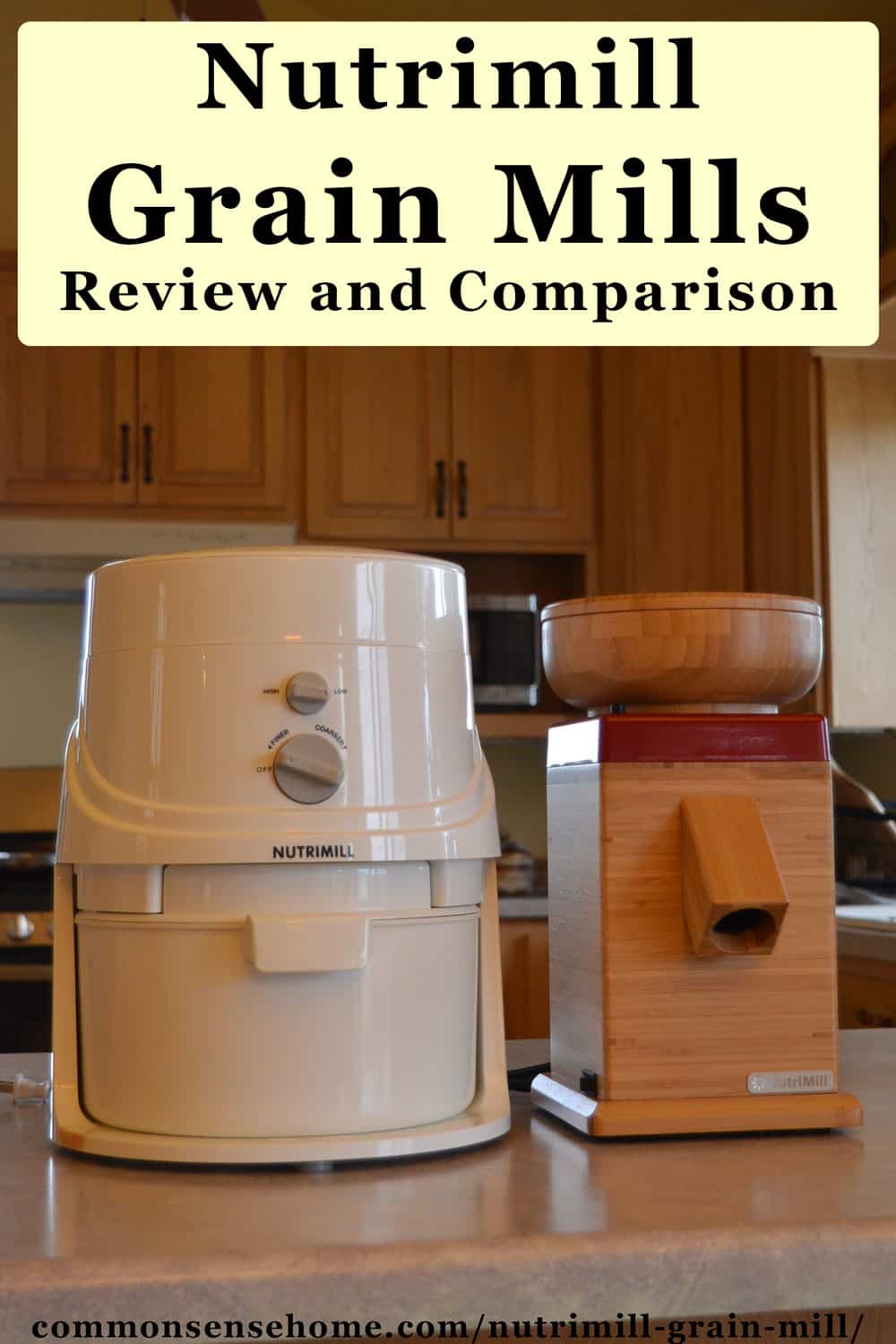 Which Nutrimill Grain Mill should I get?
All the mills are good, so which one you should buy depends on how you want to use your mill.
The Classic is the loudest of the three, followed by the Harvest. The Plus is 15% quieter than the classic. They sound similar to a vacuum cleaner.
If you want cornmeal, you need to Classic or the Pro. For a mill that looks great on the kitchen counter and is super easy to clean, get the Harvest.
If you do a lot of bulk baking, opt for the Classic or the Plus, as the Harvest has a small grain bowl. The easy storage design of the Plus makes it a great choice for those who grind large amounts less frequently.
How much does a Nutrimill cost?
At the time of this writing, Nutrimill grain mills range in price from around $250 to $320. I found the best pricing on the Nutrimill website.
The Classic and Plus are less expensive, while the Harvest has a higher price point. The Harvest has milling stones and bamboo housing, while the Classic and Plus have stainless steel heads and plastic housing. If you are on a tight budget you might consider one of the NutriMill Refurbished Grain mills.
Related Posts