The Dark Side of Water Kefir – Root Beer Water Kefir and Water Kefir Side Effects
Sometimes my ferments don't go over too well with the kids. They're just not into the tangy, sour flavors of a good kraut or relish. Getting them to get plain asparagus is tough enough, let alone trying to get them to eat lacto-fermented asparagus. But there is one lacto-fermented beverage I've tried that has consistently been a hit with kids and adults alike – root beer water kefir.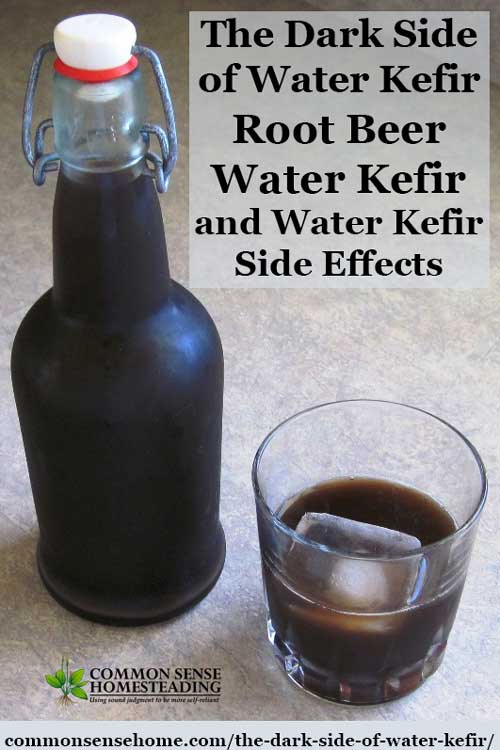 Quick and Easy Root Beer Water Kefir
I haven't tackled brewing with actual roots yet, although I did track down some of the needed ingredients. For now, I've just been using root beer extract.
To make root beer water kefir, follow the basic instructions for water kefir. To one quart of finished water kefir, add one teaspoon of root beer extract combined with one tablespoon of sugar dissolved in 1/4 cup warm water.
Bottle and let sit on counter for a day or so to increase carbonation, and then refrigerate. We prefer it cold or served over ice. We have an ice shaver, and the boys used it quite a bit when they were younger. It's an economical way to make a fun treat, and doesn't take up much room in the cupboard.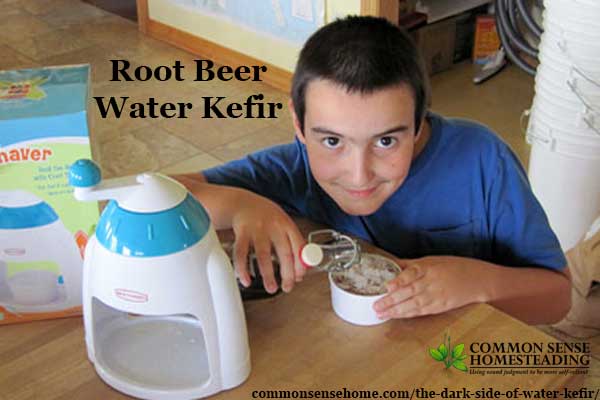 If you'd like to try brewing your own water kefir, I recommend Kombucha Kamp for fresh water kefir grains. Their cultures ship fresh, not dried.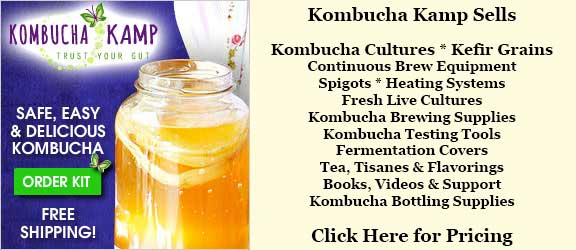 Problems with Water Kefir
While I'm talking about water kefir, I'd also like to mention one health "problem" that I have run into from drinking water kefir. I haven't seen this mentioned anywhere else. I probably should have thought of it sooner myself, but it never occurred to me until it happened.
Most of the recipes I've seen for water kefir suggest putting a piece of clean eggshell in during your ferment, to make sure you have enough minerals for your kefir grains to eat. I usually put in an entire egg shell.
Welllll…like I said, given that I get quite a bit of hard water buildup on my faucets, I should have known better. I really didn't need to add the eggshells in my water kefir. My well water has plenty of calcium and minerals already. When it was warm outside (there were three days this season that were warm – seriously), I started slugging down water kefir. The effects were very obvious. Instead of my usual 4-5 number on the Bristol Stool Chart, I moved into the 2-3 range. Too much calcium causes constipation.
So just be warned – if you have hard water, you probably don't need to add extra minerals to your brew. Also, if I drink larger quantities of water kefir, it tends to unsettle my stomach (possibly because of the excess calcium?). For me, kombucha has the opposite effect. Around here, we regularly use kombucha to settle an unsettled stomach after eating out, or when someone is just feeling "a little off".
Water kefir and kombucha drinkers, what effects have you noticed since you started drinking your brews? Has anyone else run into this? Let me know.
More Home Fermenting Posts
You may also enjoy:
Originally posted in 2011, updated in 2017.