Raspberries can provide delicious sweet tart fruit for fresh eating, cooking and preserves such as jams and jelly. I can only speak for myself, but homemade raspberry jam is my favorite. It tastes nothing like the product you buy in the store – the raspberry flavor is much stronger. In this post I'll share what I've learned about how to grow raspberries in northwest Wisconsin. I'll also include information from the USDA Cooperative Extension Office. There are Cooperative Extension Office throughout the United States, and they are a great resource for information specific for your climate and location.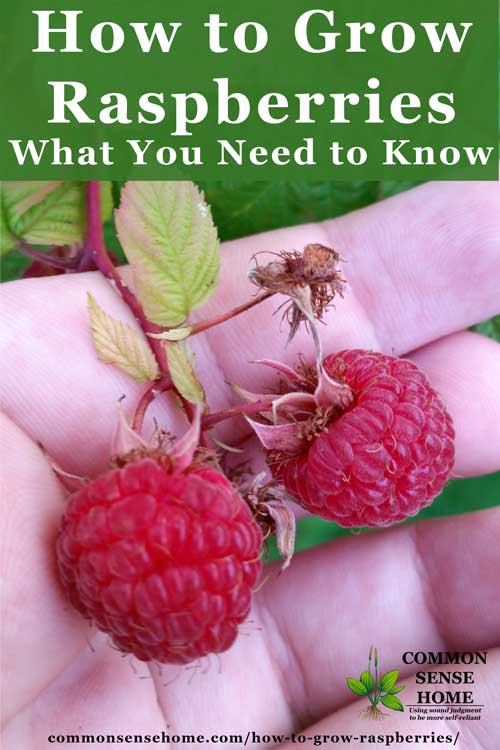 How to Grow Raspberries – The Basics
Raspberries come in a rainbow of colors – from yellow to red to purple to black. Only the yellow and red are hardy in Zone 3 where I garden. A well established, vigorous, disease and insect free planting should be able to yield 2500-3000 pounds of fruit per acre, and for the urban homesteader could be a source of income. If you want follow this dream I would recommend a "pick your own" planting because of the time involved in harvesting. Organic Raspberries get a premium price in farmers markets of $4 a pint, the down side is the shelf life is short. That goes for your harvest as a home gardener as well – you will need to pick at least twice a week to avoid fruit spoilage.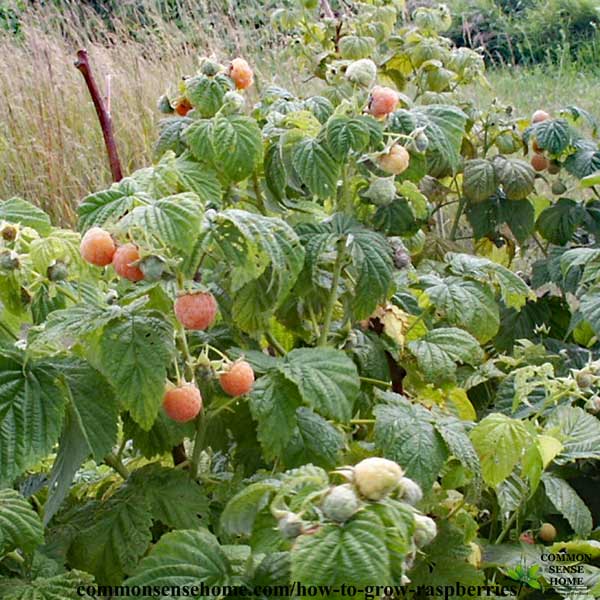 Raspberry Growing Requirements – Soil and Location
Where do raspberries grow?
Raspberries grow in USDA Plant Hardiness Zones 4 through 8. In general raspberries like full sun. For more information our post on Plant Hardiness Zones and Microclimate – Creating Your Best Garden.
Choose Slightly Acid Soil
Being a perennial a well maintained raspberry patch can last for years. Raspberries grow best in full sun on well drained soil rich in organic matter. They like a slightly acid soil with a pH 6.0 to 6.8, but can tolerate a pH as low as 5.5 and as high as 7.5. Ideally, the soil should be tilled a year ahead, soil tested, and amended with organic matter such as worm castings, compost, or rotten manure and lime if the pH is 5.5 or below.
Avoid Planting Areas That May Harbor Diseases
When selecting a site, avoid garden spots where tomatoes, potatoes, eggplant, or strawberries where planted in the last 3 years, they share many of the same diseases and could undermine your best efforts. It may seem like a good idea to plant where wild raspberries are already growing, but it is not. Wild raspberries can harbor disease and harmful insects that will move into your planting. (You may be wondering, "Why not simply grow wild raspberries?" Wild raspberries are *much* less productive than cultivated varieties.)
Promote Good Air Circulation
Good air circulation will help keep you plants healthy. Ideally raspberries should be planted on a slope or hillside with good air drainage like most other plants to prevent damage from late frost, something we deal with every year in the north. Also, your berry patch must have water. If you get a period without rain, you will need to supplement with a watering program, or the blossoms will dry up and end your harvest in as little as 10 days. (Editor's note – I have successfully used a combination of soaker hoses and mulch in my patch in past years.)
Cultivate a Clear Border
Pick a spot where you can cultivate around the outside of the patch to keep rhizome grasses like quack at bay, or at the least where you can mow the grass short, this will make your maintenance much easier.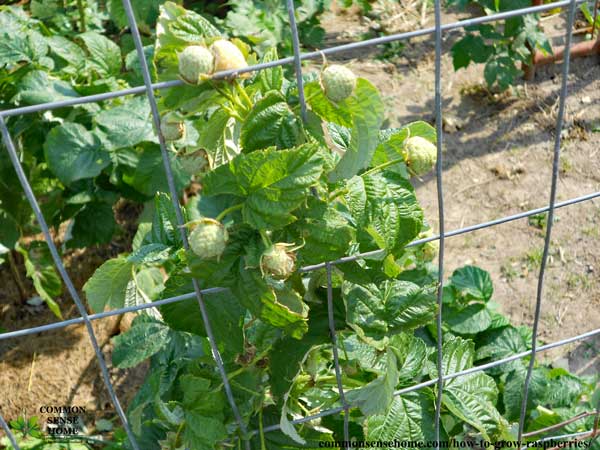 Two Types of Raspberry Plants – Summer Bearing and Fall Bearing
There are 2 categories of raspberries, summer bearing and fall bearing. Summer bearing raspberries produce one large crop between early July and August. Fall bearing raspberries (sometimes called Ever Bearing raspberries) produce a large crop in the fall and a smaller crop the next summer.
The difference between the two types is due to the fruiting cycles. Raspberries have perennial roots and crowns, but the above ground canes only live two summers. The new growth is called the "primocane". On summer-bearing varieties, the primocane produces non-fruiting growth only. Fall bearing raspberries will produce fruit on the tips of the primocanes sometime after August 1st, and keep producing until a killing frost.
In the second summer the primocane that grew the last summer is now called a floricane. The floricane of summer bearing varieties will produce one large crop of berries and then die. In fall bearing cultivars the cane will set fruit on the lower half of the cane and then die.
When to Prune Raspberries
Removing dead canes and burning or getting them a good distance from your patch is the best way to keep your plants pest free, as some insects will over winter in the dead canes. Also by removing the dead canes you may remove diseased plants, giving the new growth a better chance.
I cut the canes back in the fall after they die back 100%, or if I don't get to them I cut them early in the spring before they bud out.
Raspberries are self fruiting and do not need to cross pollinate. Most of the pollination (90%) is done by bees, so using any insecticide is a bad idea.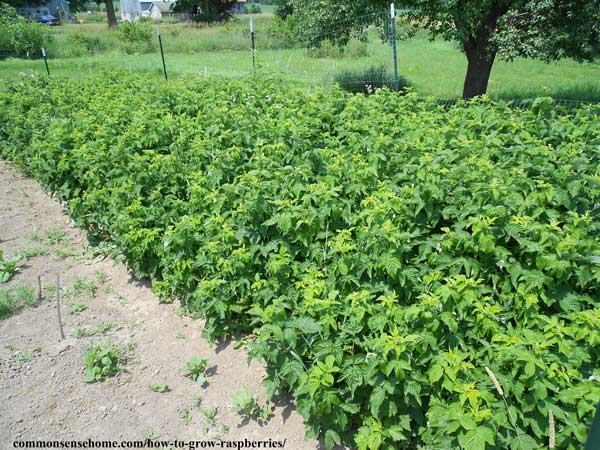 I chose to grow the fall bearing variety for a couple of reasons. Old canes must be removed each year if you want to have a healthy planting. With fall bearing varieties, you simply cut the entire patch to the ground with a SHARP tool (such as a weed wacker blade attachment) to avoid damaging the crowns, which is quicker and easier than pruning individual canes. Also, the weather is cooler and rains come more often in the fall, so I don't have to water as often to keep the harvest coming. The only down side is that an early hard frost can cut the harvest short.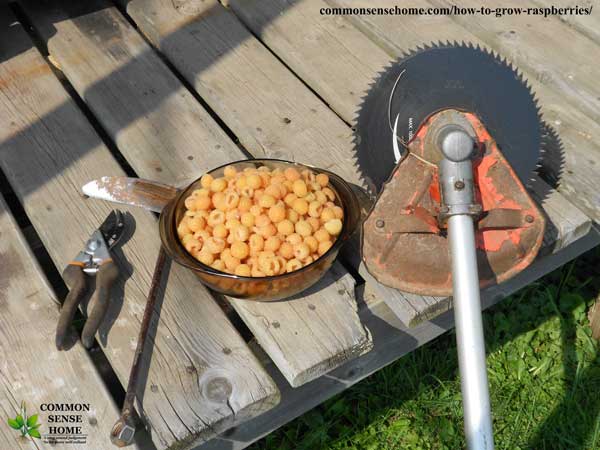 When to Fertilize Raspberries
You should fertilize your raspberry patch early in the spring for maximum growth. Avoid fertilizing after August 1st so you don't encourage new growth when the plant should be preparing for the winter, late season growth makes plants susceptible to winter damage. An established planting will need nitrogen for growth the new canes. Top dress the canes with composted manure or compost, and consider an organic granular fertilizer.
Mulching Your Raspberries
A 2 inch layer of mulch is very beneficial to your planting. Old silage, leaves, lawn clippings, wood chips, sawdust, wood shavings, or rye or sudan grass straw are free of weeds. All of them will help keep in moisture and add to the soils nutrients as they break down over time. If you use sawdust, you will have to add extra nitrogen because of the small particle size it will steal it from your soil. If you want to maintain paths between rows, multiple layers of cardboard under the mulch will slow down the raspberry runners.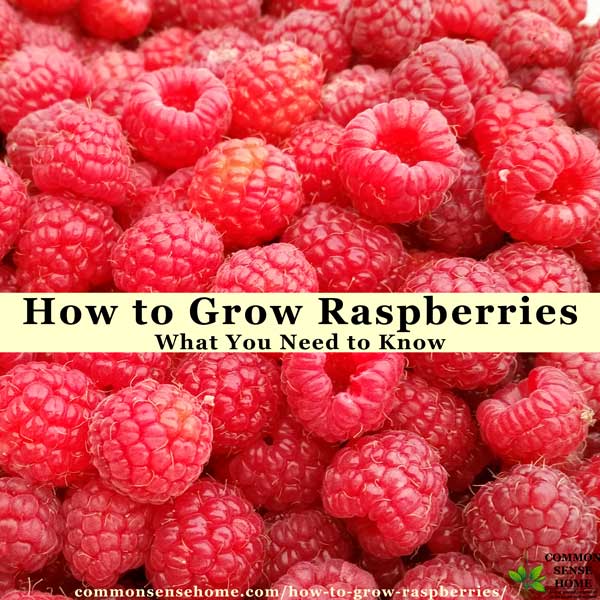 Harvesting and Storing Raspberries
Ideally, raspberries should be picked into shallow containers because they crush and bruise easily. In dry weather they will be more durable. They will normally store a few days in the refrigerator, except under wet or very humid conditions, which will cause them to mold quickly. Do not wash them before storage, or they will become soft and mushy. If your patch is clean, don't wash your berries. For nutritional information, freezing instructions, a red raspberry jelly recipe and information on preserving raspberry leaves, please visit Raspberry Storage and Health Benefits of Raspberries.
I hope you enjoyed this information on how to grow raspberries, and that you'll consider growing your own home raspberry patch.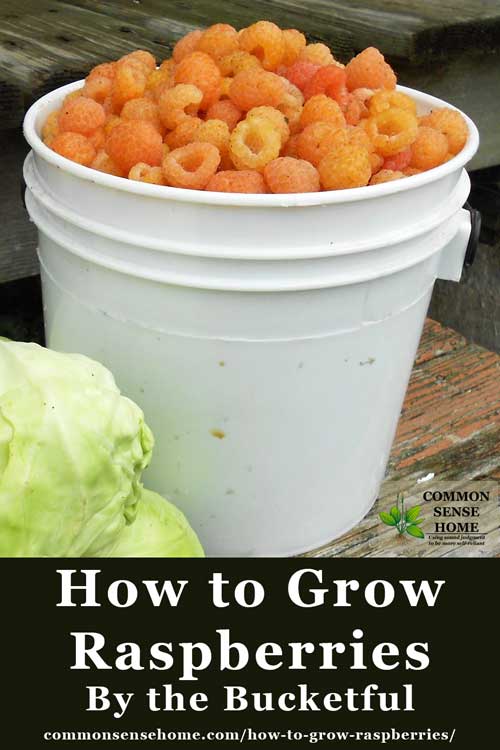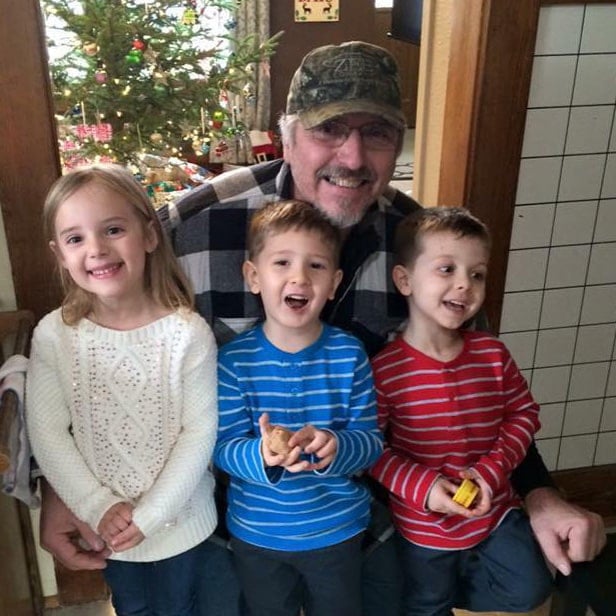 This post is by Laurie Neverman's brother, Richard Poplawski. Since his service in the Marines, Rich has been a mechanic, fabricator and "fix just about anything" guy for over 20 years. He lives in northwest Wisconsin in the farmhouse that was owned by his grandparents, and maintains a large orchard and perennial plantings, as well as a vegetable garden. He loves spending time with his grandkids, introducing them to gardening or getting in some fishing with "Papa Rich".
You may also enjoy:
See a full list of all our gardening articles on the Common Sense Gardening page.
Originally published 2013, updated 2016, 2018.