5 Ways a Roo Gardening Apron Makes Gardening Easier
I'm sure most of us who garden have wished for an extra set of hands at one time or another, or ended up carrying a load of produce in your shirt or misplacing a hand tool. The Roo Gardening apron is a sturdy, hands free, go anywhere garden accessory to make your gardening life a little easier. From planting to weeding to harvest, this apron may become your new best friend in the garden. Let's take a look!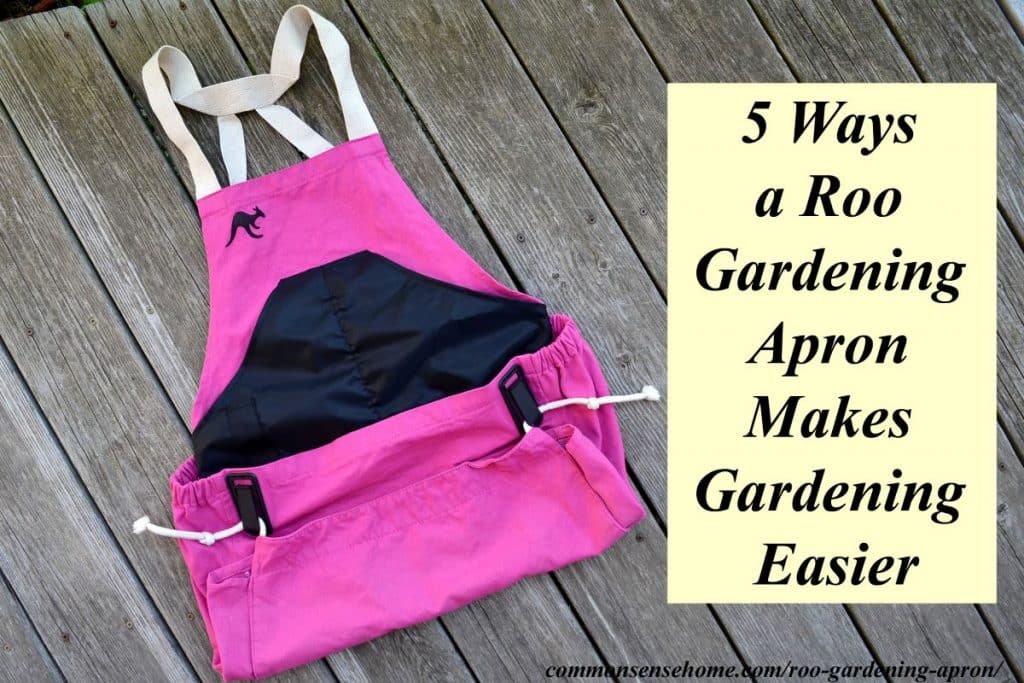 1. The Roo Garden Apron Two in One Design Holds Tools and Harvest in One Place
The Roo has built in pockets up top for carrying hand tools, seed packets, onion sets or other small items. These pockets are made with moisture resistant material that easily slicks off dirt and grime. (It's machine washable, too.)
The "skirt" of the apron contains a fold over chute for gathering produce, weeds – even laundry, if you wanted to (but make sure it's clean first 😉 ). Just fill the apron from the top, then when you're ready to unload, unhook the straps and slide the contents out the bottom of the chute.
2. Spacious Roo Apron Pouch Leaves Both Hands Free for Picking
No more juggling buckets or bins on top of a ladder when you're out picking apples. Just strap on your Roo apron and you'll have both hands free for picking. The Roo would also work well for firm fruits and veggies such as peas,beans, pears, citrus, potatoes and other root veggies. Note that you will need to crouch instead of bending over to pick up items from ground level without spilling the apron contents once the apron gets a little fuller.
3. The Roo Apron Saves Time by Keeping Your Tools and Harvest Bin Right Where You Can Find Them
If your house is anything like ours, a lot of time is spent looking for hand tools that "someone" put "somewhere" instead of back in the tool bin. (I blame the teenage boys and husband. Heaven knows I would never do such a thing.) Keep your most used hand tools stashed right in the Roo apron and you can skip the game of garden hide and seek.
Instead of taking time to shuffle a harvest bin from one spot to the next, just fill up your Roo and keep picking. When you're done or need to empty for the next load, the chute empties in a flash.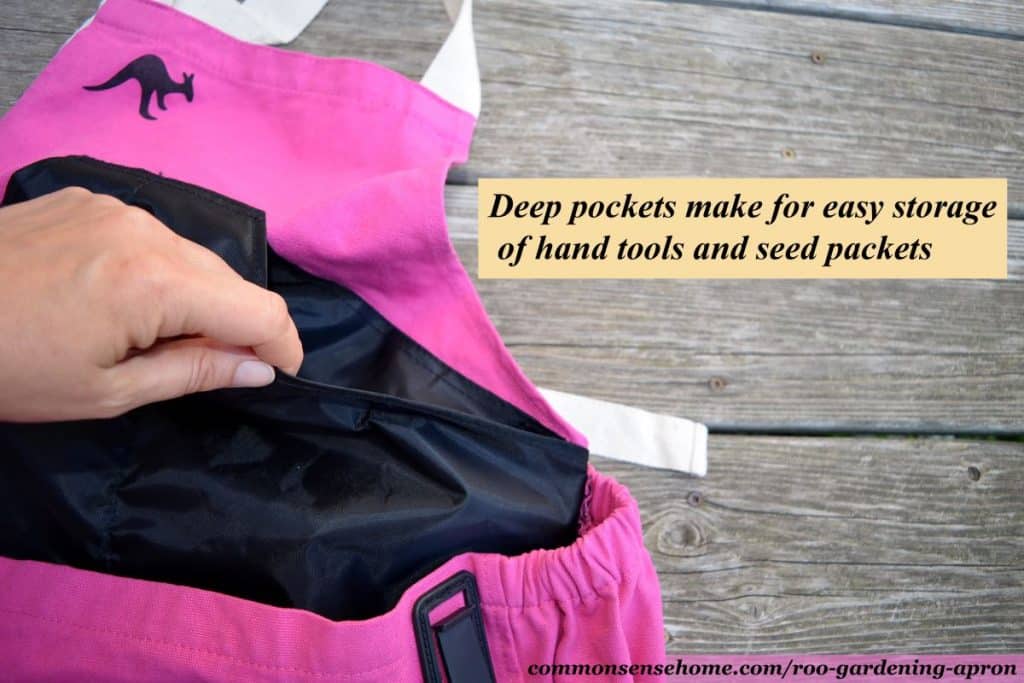 4. The Roo Gardening Apron Waterproof Liner Keeps Your Clothes Stain Free
I think most of us who've been gardening for any amount of time have used our clothing as a bin. It happens. Whether it's weeds or tomatoes or potatoes, all it takes is one overripe piece of produce or streak of sap to make a stain that may be set in for life. While I am by no means a fashion maven, it is nice to be able to leave the dirt at the door by taking off the apron instead of feeling like a should really swap out my shirt before I cook supper because I'm wearing a little too much of the garden. The Roo gardening apron is also made of sturdy industrial strength cotton that will help protect the areas it covers when you're doing fun things like tree climbing for fruit picking.
Roo Gardening Aprons are on sale at Pantry Paratus. Order yours now!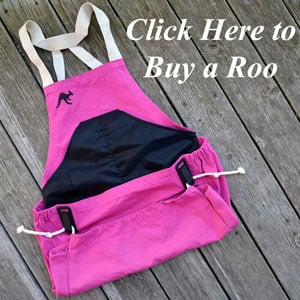 5. Protect Your Back with the Roo by Carrying Heavy Loads more Safely
The Roo gardening apron has shoulder straps and a belt to evenly distribute weight for hauling heavy loads – not a simple neck strap, which puts too much pressure on your neck. The shoulder straps are an inch and half wide, so they won't dig in like narrow straps would. It combines the sturdiness of a professional fruit picking apron with the convenience of a garden tool belt.
You can check out a quick video of the Roo in action below: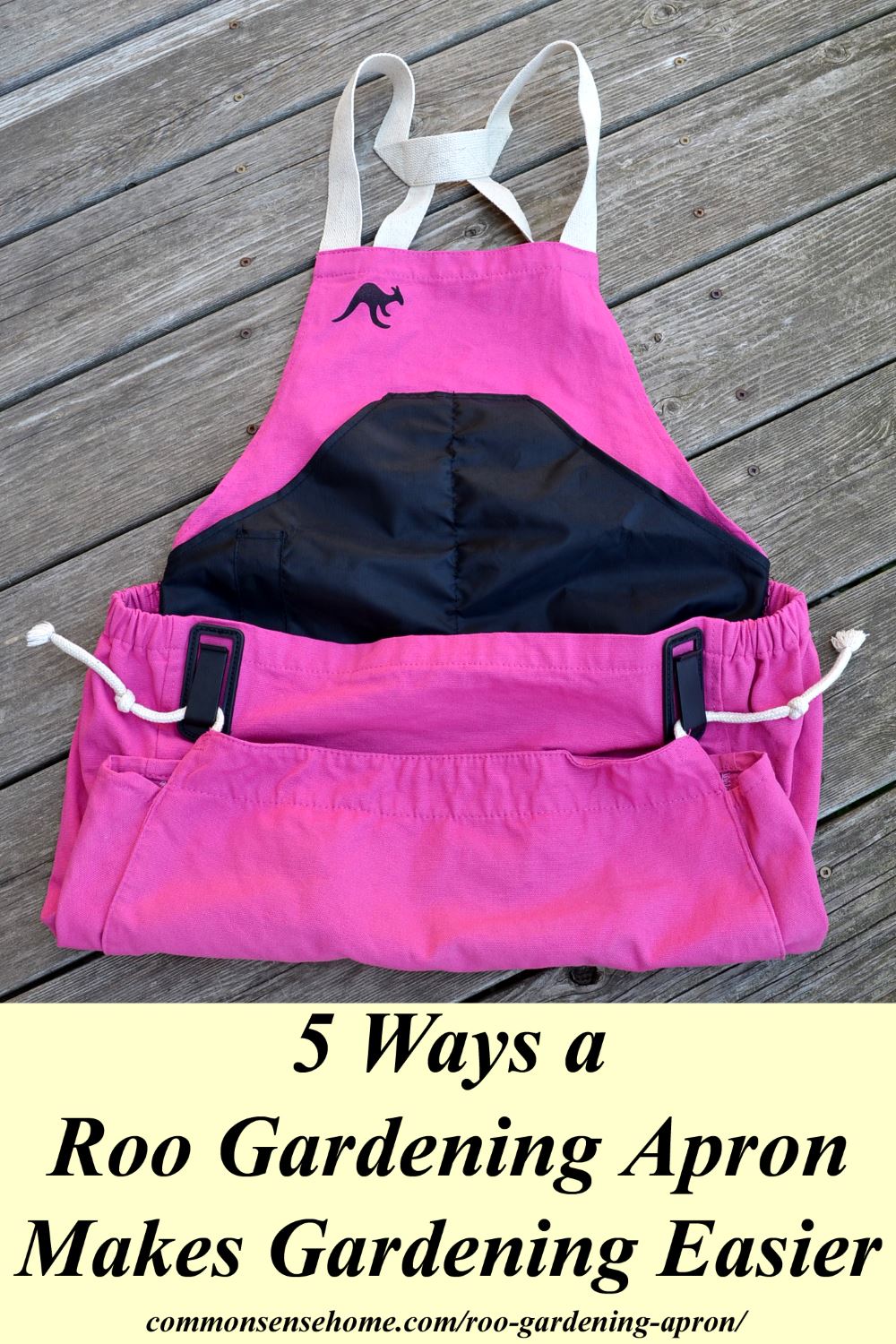 You may also enjoy: