Fennel Seed – Natural Digestive Aid & More
Fennel is a versatile herb with many health benefits. Both fennel and fennel seed provide important vitamins, minerals, and anti-oxidants. It's helpful for digestive issues, nursing mothers, soothing coughs, and more.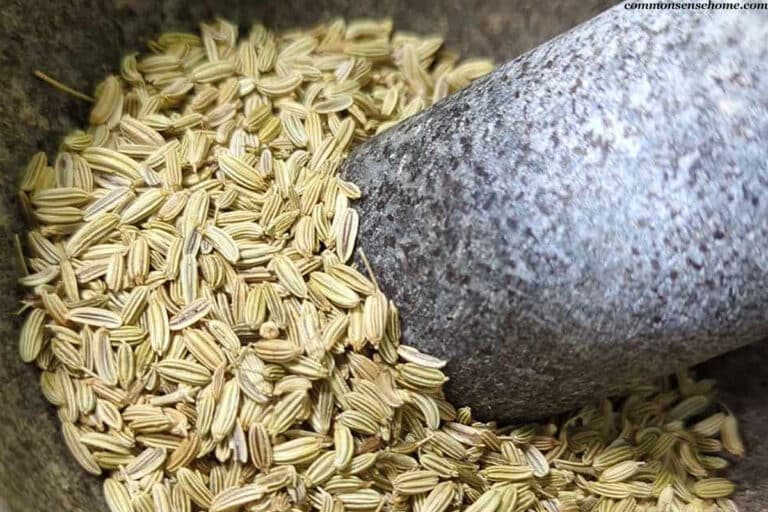 What do Fennel Seeds Taste Like?
The fennel plant and seeds have a warm, sweet, licorice like flavor. You can use the seeds as flavoring in meats, cheeses, breads, pickling spice blends, as well as cakes and other confections. It adds sweetness as one of the herbs in the oriental five spice blend.
While similar in taste to anise seeds, fennel seeds are milder and less sweet.
Benefits of Fennel Seeds
An excellent digestive herb, fennel decreases gas, improves food assimilation, and even freshens breath when taken after a meal. Fennel also has a reputation for being effective against infant colic and gas.
The plant's volatile oils are what make it effective for digestive issues. It's useful to adults and safe for infants with windy colic issues. It is one of the key ingredients in "gripe water", which is a sweet herbal formula given to infants for gripping and gas.
A double-blind, placebo-controlled clinical study looked at the effectiveness of fennel against colic. An oil emulsion with fennel relieved colic symptoms in 65% of the infants, compared to 23.7% of the infants given a placebo, with no side effects.
It acts as a galactagogue, increasing the volume and quality of breast milk in nursing mothers. Fennel also serves as an emmenagogue (to bring on a late period), and may help relieve menopausal symptoms.
Other uses of fennel seed include:
Eyewash for conjunctivitis
Relief of chronic constipation
May help to calm bronchitis, especially when associated with a dry, hacking cough
Anti-inflammatory
Antispasmodic
Hepaprotective (protects heart health)
Diuretic
Expectorant
Parasiticide
Fennel essential oil contains more than 87 volatile compounds. Biological activities of these compounds are estrogenic, hepaprotective, antioxidant, anticancer, antibacterial and antiradical scavenging.
Ways to Use Fennel in Your Home Apothecary
You can use fennel in a number of different ways, one of which is eating the seeds directly. If you've ever been to an Indian restaurant, you may have noticed a small bowl of roasted fennel seeds right by the door (mukhwas). These mukhwas are an after meal mouth freshener and digestive aid, and may include fennel and other seeds.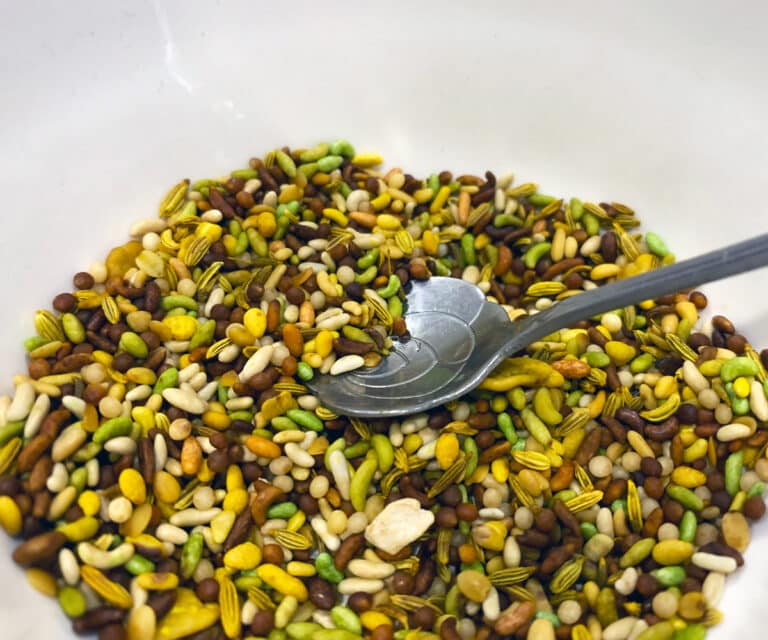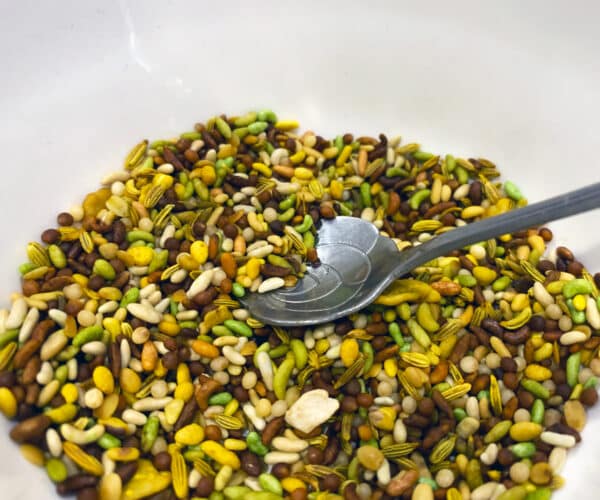 You can also make a nice herbal tea using the whole yellow tops with the seeds, or just the seeds. Add it to your other tea blends as well; it covers the bitterness of other herbs nicely.
Although it makes a nice tea, the virtues are best extracted in an alcohol tincture. Fennel glycerite and syrups are other options.
Fennel Tincture
To make a tincture of green, or dried seed, bruise the seed add one part seed, to four parts vodka or similar proof alcohol. Allow to sit in the menstruum (vodka) overnight, then run it through a blender the following morning.
Allow this to macerate (sit in the vodka) for six weeks, shake every few days or so. Strain, rebottle, cap, and label.
Dosage is 30-60 drops (1-2 standard dropperfuls) 3-5 times a day.
Glycerite Of Fresh Green Seed
Vegetable glycerin is a clear, odorless liquid produced from the fats and oils of palm, soybean, and coconut. Glycerin in often used in place of alcohol for those who are sensitive to alcohol, and for children.
The sweetness helps children to readily accept it. Because it is sweet, you'll also want to store your glycerin, and any medicine made from it, away from children's reach.
The method is the same as for a tincture, only you will use one part seed to three parts of 100% vegetable glycerin. Again, allow to soak overnight, blend in the morning, and allow to macerate for six weeks, strain, rebottle, cap, label. Double the dose.
Fennel for Nursing Mothers
One of the earliest mentions of fennel for breastfeeding mothers is from Dioscorides, a first century Greek physician, pharmacologist, and botanist.
Mom can take the extract or tea to stimulate the letdown reflex, and improve milk production. This improves the digestibility of the breast milk, and may ease the baby's colic symptoms.
I studied under Rosemary Gladstar, who is a much renowned herbal elder. She recommends this tea with fennel seed for nursing mothers. This tea is a safe and effective way to administer herbs to baby through the mothers breast milk.
4 parts fennel seed
2 parts nettle (urtica dioica)
2 parts raspberry leaf
½ part fenugreek seed
You can add an optional one part chamomile, if you'd like.
Bruise the seeds, and combine them with the other herbs. Add four to six tablespoons of the dry herb to one liter of nearly boiling water.
Turn off the heat and allow to steep for at least 15 minutes. Strain and transfer the tea to an insulated thermos and sip throughout the day. Alternatively, refrigerate and reheat as needed.
Drink up to four cups a day. For best quality, use within 24 hours of brewing.
Tummy Tamer Glycerite with Fennel Seed
The Herbal Academy has an excellent recipe for a nice, effective "Tummy Tamer" glycerite.
These are well known herbs widely used for their strong, pleasant flavors. They provide strong, yet gentle properties, soothing an upset digestive tract.
Dried Herb Portion
2 parts chamomile (Matricaria chamomilla) flowers – carminative, antispasmodic, anti-inflammatory, and nervine
2 parts lemon balm (Melissa officinalis) leaf – soothing carminative, antispasmodic
2 parts catnip (Nepeta cataria) leaf – calming nervine, sedative
1 part fennel (Foeniculum vulgare) seed
1 part peppermint (Mentha x piperita) leaf – antispasmodic, carminative
Liquid Portion
3 parts vegetable glycerin
1 part filtered water
Combine the herbs, and fill a jar halfway with the dried herb mixture.
For the liquid portion, mix three parts glycerin to one part water. You need enough liquid to cover your herbs, leaving about two inches at the top, as the herbs will expand as they become saturated. Stir to release any bubbles, and make sure your herbs are covered.
Put a cap on the jar and label. Place the jar in a dark location away from high heat and sunlight.
Shake the bottle frequently for at least four weeks. If the herbs absorb enough liquid that herbs poke above the liquid, top off with glycerin as needed.
Strain glycerite into a clean jar after four weeks, squeeze the herbs to get as much as the glycerite as you can. Bottle, label, and store away from direct light. Adult dose is 30-60 drops (1-2 dropperfuls or ¼ to ½ teaspoon) as needed.
For a child's dose, Rosemary Gladstar recommends Young's Rule: Add 12 to the child's age and divide the child's current age by this number.
Example: for a 4-year-old child: 4+12 = 16, 4 / 16 = 0.25, or 1/4 of the adult dosage.
Anthony's Organic Fennel Seeds, 1.5 lb, Whole Seeds, Non-Irradiated, Gluten-Free, Non-GMO
Herb Pharm Certified Organic Fennel Liquid Extract for Digestive System Support - 1 Ounce (DFENN01)
Heather's Tummy Teas Organic Fennel Tea for IBS, 45 Jumbo Teabags
Anthony's Organic Fennel Seeds, 1.5 lb, Whole Seeds, Non-Irradiated, Gluten-Free, Non-GMO
Herb Pharm Certified Organic Fennel Liquid Extract for Digestive System Support - 1 Ounce (DFENN01)
Heather's Tummy Teas Organic Fennel Tea for IBS, 45 Jumbo Teabags
Safety
Always consult your health care provider if you are on prescription medication or pregnant. Use caution if you have a hypersensitivity to plants in the Apiaceae (parsley) family. Fennel is generally considered safe, for adults as well as infants and children.
This article is part of the Home Apothecary series.
Growing Fennel in the Garden
Fennel grows similarly to other carrot family plants such as lovage, coriander, dill, and parsley. Often grown as an annual, it is a short-lived perennial in zones 6-10.
Sow seeds in early spring. Lightly dust the soil with the seed, then thin to about 15 inches apart. , Once established, it thrives in dry, sunny areas. Fennel self-seeds, so a single planting can last for many years.
The plant reaches three to four feet in height. It has hollow stems, and a thick root stalk. (The base of the plant is the fennel bulb vegetable.)
The flower heads are composed of fine yellow, double umbels. They appear somewhere between July and August.
Harvesting Fennel Seeds
The seeds of fennel are what we use in herbalism, however as a vegetable we eat the leaves and stem.
To harvest fennel seeds, snip off the heads once seeds form, and pinch off the green seeds. You can also clip the yellow heads off and use them in salads or to make tea.
Alternatively, you can simply allow them to dry on the plant, clip off the brown umbels, and comb out the seeds. Store the seeds in an airtight container away from direct light.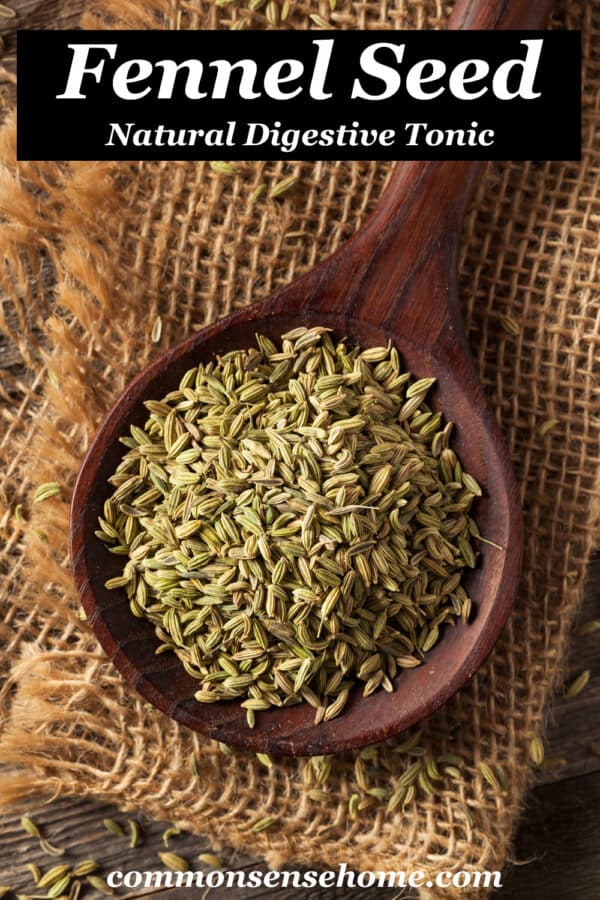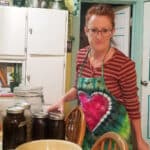 This article was written by Sylvia Gunther. Sylvia studied under Rosemary Gladstar and earned the distinction of Traditional Herbalist. She then studied Clinical Herbalism through The Herbal Academy, where she continues her life long exploration of herbs.
Sylvia and her husband live in North Central Indiana. Together they raised six beautiful children.