Soothing & Warming Ginger Honey (Honey Fermented Ginger)
Ginger honey, or honey fermented ginger, is good food and good medicine. It's the perfect remedy to have on hand for cold and flu season. The anti-inflammatory and warming properties of ginger make it perfect for soothing coughs and sore throats.
See "Ginger Root Uses & Health Benefits" for more ginger goodness. This recipe uses Ginger root (Zingiber officinale), not wild ginger root (Asarum canadense), which is a different plant.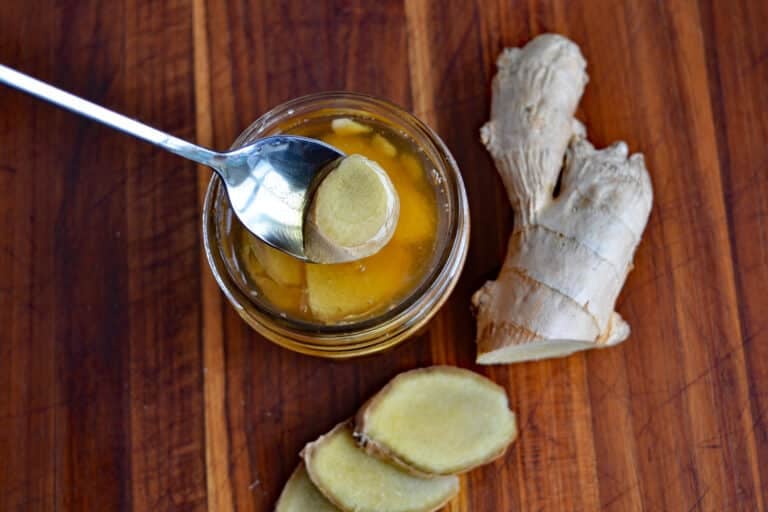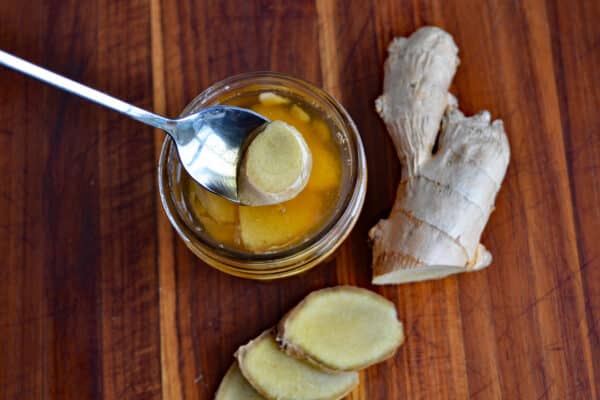 The juice from the ginger combines with sugars in the honey and begins a fermentation process. The fermentation process breaks down the nutrients in the ginger, which makes them easier for our bodies to digest and assimilate.
It also adds beneficial bacteria and yeasts that, among other things, produce a significant quantity of vitamin K2. We often hear of needing to get sunlight, or take vitamin D3 but what we don't hear enough of is that our body needs K2 because D3 and K2 work together; D3 needs K2.
You can use it the same way you would honey. Stir it into tea or a hot toddy, drizzle it over ice cream. It adds a nice kick to your stir fries, salad dressings, or even just on a buttered piece of toast. I like to spoon out pieces of ginger and eat them just like that.
Making Ginger Honey
To make honeyed ginger, all you need is fresh ginger, a sharp knife, a spatula or butter knife, a cutting board, and raw honey. It is important that you use raw honey, as the natural yeast and bacteria are necessary for fermentation to occur.
You do not need to peel the ginger, just wash it and let it dry a bit. You don't want water in your honey, because it could cause spoilage. Organic ginger is best, if available.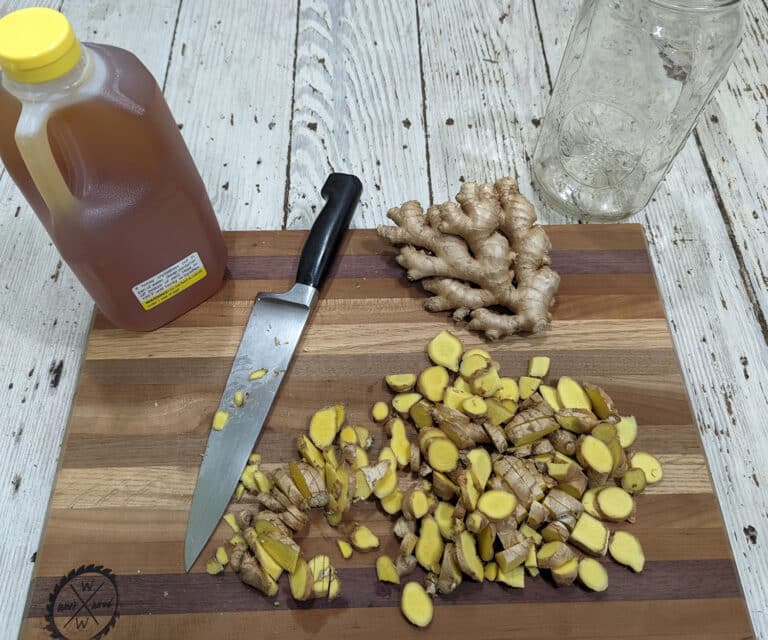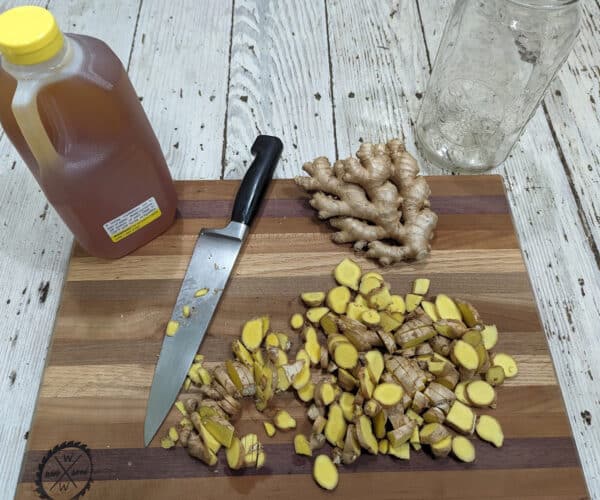 Next, fill your jar with the ginger, leaving some room just below the rim line. Add your honey a little at a time.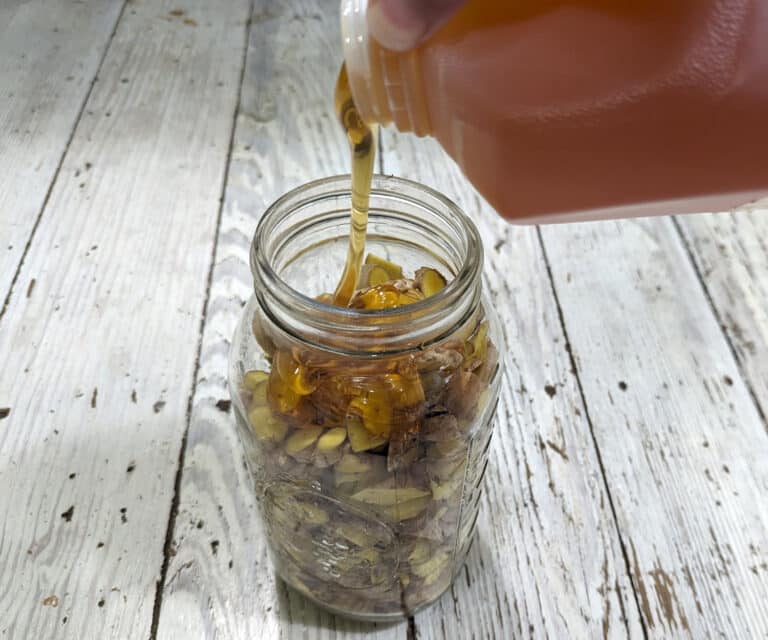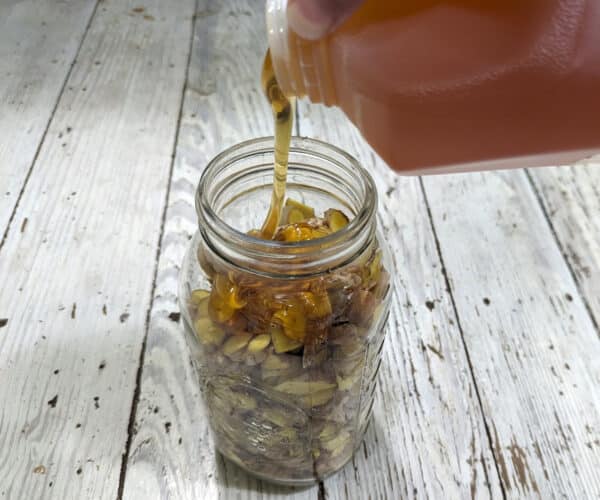 Slide the spatula alongside the jar so the honey can settle all the way to the bottom of the jar.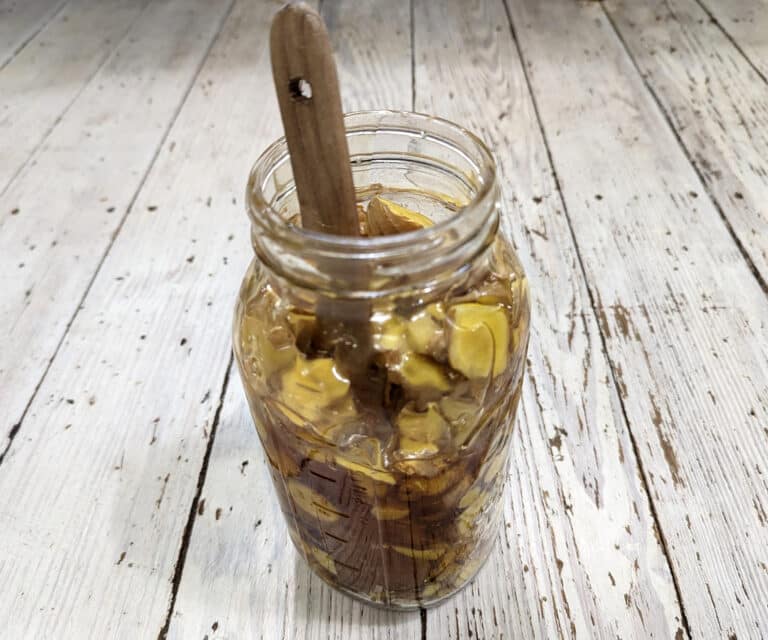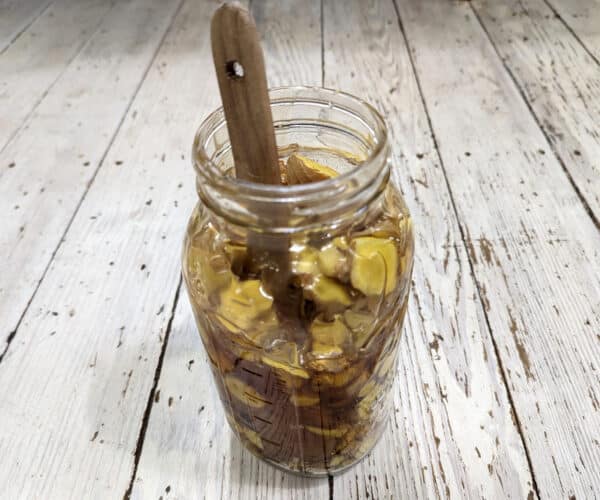 Once the jar is filled with the honey to the rim, either put a lid on your jar, or a band, with wax paper, and add a label. Place your honey on a plate while it is actively fermenting, as some of the honey may ooze out and down the sides as it bubbles.
Tighten the lid and then flip your jar on end so that the honey can work its way through the ginger.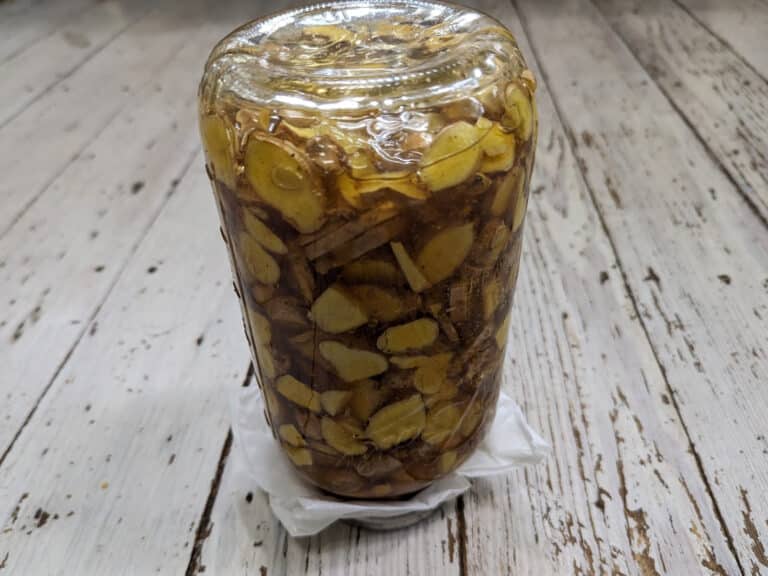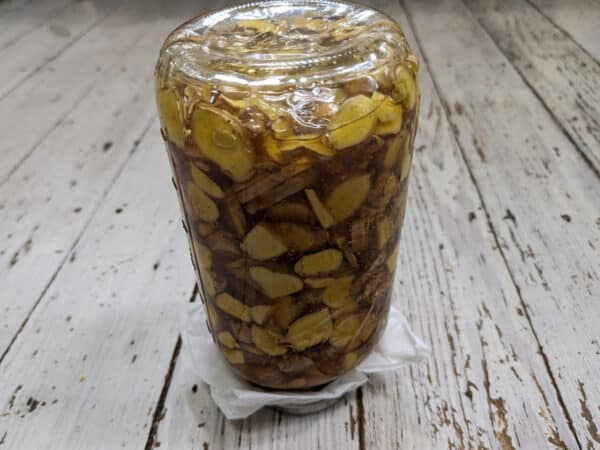 Invert the jar a couple of times per week to make sure the ginger stays coated.
When not inverted, loosen the lid a bit to allow it to breathe, and let it set. In a couple days you will notice bubbles forming on the top, which means it's working!
You can eat the ginger, or the honey, at any point, but the flavor develops as it sits. The ginger may not be as spicy, and the honey will become dark and runny. It won't take any longer than a month for the fermentation process to be complete.
Storage
Once it's fermented, you can store your ginger honey in the refrigerator to slow the fermentation. Your honey will keep for a year or more.
Honey fermented ginger is so delicious and helpful as a home remedy that you may want to make a large batch. You can repack it into smaller jars for sharing or gift giving.
Optional Add Ins
Add raw garlic, raw onions, and raw cranberries to make your honey more interesting and contribute more medicinal properties. Use garlic cloves and cranberries whole, or crush them to release more juices. Eat pieces straight out of the jar, or use the honey spread on toast or even slices of your favorite cheese.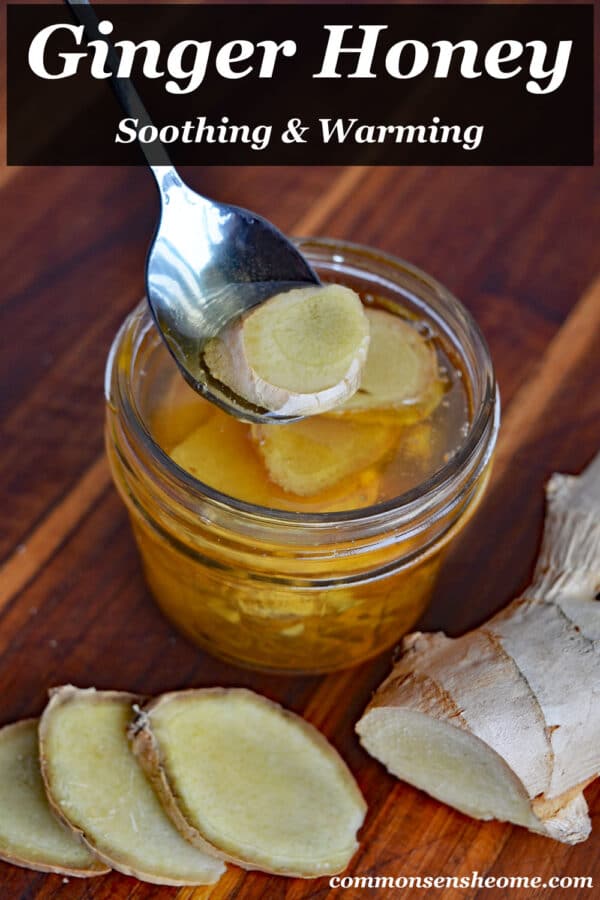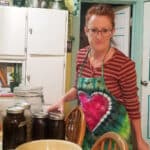 This article was written by Sylvia Gunther. Sylvia studied under Rosemary Gladstar and earned the distinction of Traditional Herbalist. She then studied Clinical Herbalism through The Herbal Academy, where she continues her life long exploration of herbs.
Sylvia and her husband live in North Central Indiana. Together they raised six beautiful children.