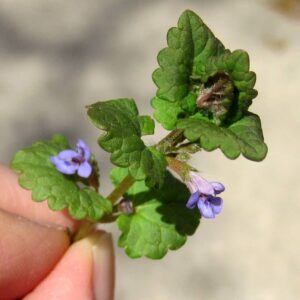 Today's featured plant is Creeping Charlie, Glechoma hederacea.
Creeping Charlie is also known as Alehoof, Catsfoot (from the size and shape of the leaf) creeping jenny, ground ivy, gill-over-the-ground, haymaids, field balm, run-away-robin and tunhoof.
This plant is not the same as the plant normally referred to as henbit. That plant is Lamium amplexicaule. Read more about henbit. It is also not the same as Purple Deadnettle, Lamium purpureum L., AKA red deadnettle, red henbit. Read more about purple dead nettle and henbit.
Range and Identification of Creeping Charlie
Creeping Charlie is native to Europe and southwest Asia, and was brought to North America by Europena settlers for medicinal and culinary use. It can now be found throughout most of North America, except for the far northern reaches of Canada and Nevada, New Mexico and Arizona. (See map.)
The plant is a perennial, blooming in the spring/summer and dying back in fall/winter. It may become dormant in hot weather. It prefers rich, moist soils in partial to full shade, and readily volunteers in lawns, gardens, along roadsides and in other shady spots. It has a creeping growth habit with long, trailing stems that grow along the ground and set new roots at intervals.
As a member of the mint family, creeping charlie can become invasive, and is listed as a noxious weed in many areas. It has been used as a ground cover, because it prefers shady, moist conditions where it may be difficult for grass to grow. It will readily regrow from small pieces left in the soil, so the best control method is to remove the weed intact (if possible) while it is flowering. Enough borax to kill creeping charlie may also make the soil sterile for everything else – not cool.
Creeping Charlie has squared stems and dark green leaves, sometimes with a hint of purple in them, and very fine hairs all over the plant. The leaves are round or kidney shaped and small – about the size of my thumbnail, as you can see in the photo above. The flowers are trumpet shaped and light purplish-blue in color. They form at the leaf axils. The foliage has a strong, spicy odor when damaged.
Creeping Charlie always reminds me of my grandmother Catherine, who had dense mats of this plant growing in shady parts of her lawn. Thus far it's been relatively well-behaved in my garden, and every time I smell it I smile, because it makes me think of grandma.
Creeping Charlie for Food and Medicine
Illinois Wildflowers shares the wildlife uses of creeping charlie:
The nectar of the flowers attracts long-tongued bees primarily, including honeybees, bumblebees, Mason bees, Cuckoo bees (Nomadine), Miner bees, and Anthophorid bees. Occasionally, the flowers attract bee flies, skippers, Sulfur butterflies, and White butterflies, especially Pieris rapae (Cabbage White). The caterpillars of the moth Xanthotype urticaria (False Crocus Geometer) feed on the foliage. The foliage is reportedly poisonous to horses if it is eaten in quantity.
The Weed Cookbook says that the fresh or dried leaves can be made into a tea by steeping in water for 10 minutes and sweetening with honey if desired. Lemon may also be added, as creeping charlie has a somewhat peppery taste.
Edible Wild Food says the leaves are high in vitamin C, and suggests the young leaves be eaten in salad or cooked like spinach. The flavor is fairly strong, sort of citrus/pepper mix, so sample before you commit to larger quantities. Creeping charlie can also be used as a rennet substitute in the same way as nettles, but it wouldn't be my first choice for most cheeses because of the distinctive flavor. It has also been used in beer making in place of hops, to clarify the beer and improve its storage life. (See Botanical.com for more info.)
Creeping charlie has a long history of medicinal use. The Holistic Herbal recommends it for sinus problems, coughs and bronchitis, tinnitus, diarrhea, hemorrhoids and cystitis. Its actions are listed as, "Anti-catarrhal, astringent, expectorant, diuretic, vulnerary and stimulant". It is also being studied for use in preventing leukemia, bronchitis, hepatitis and various cancers and HIV. It was part of the Breuss Cancer Cure. Ground Ivy essential oil has been tested against colon cancer cells. A 2005 study from Korea suggests that "GH (Glechoma hederacea) can be useful as a potential immunotherapeutic herb, which is potentially applicable for inflammation."
For a more in depth description of medicinal use, visit "Ground Ivy:  A Weed by Any Other Name". Kathy's wonderful post on this herb also includes some fun bits of folklore:
Ground ivy has a strong connection with the powers of magic and divination. Considered a safeguard against sorcery it was worn by milkmaids when first milking cows in the pastures. A magic charm, it was used to prevent the cows from enchantment. In many regions the first milking of the cows was actually done through a wreath of ground ivy.

Other magical uses of ground ivy included promoting sleep, meditation, healing, love, friendship and fidelity. The ritual use of ground ivy was popular and the herb was often woven into crowns and garlands to be worn on Midsummer's Eve.
Ground ivy should not be used if you have liver or kidney trouble, or if you are nursing or pregnant, because it contains very small amounts of pulegone. Its high amounts of vitamin C may also interact with drugs such as Warfarin. See additional information here.
As always, any medical information is for informational purposes only. Always exercise caution when using any wild plants and make sure you have positively identified the plant.
Please Like, Pin, Stumble or otherwise share this post if you would like the Weekly Weeder series to continue. It only takes a moment and I really appreciate your help.