Best Camping Shower Bags Comparison, Plus Outdoor Shower Tips
Have you ever gone camping and didn't have an outside shower available? Being hot, sticky, covered in bug spray and dirt is no fun when you crawl into a sleeping bag. We've moved to a remote cabin in the woods, and our current living situation is somewhat like glorified camping. No bathroom, no running water, and no bathhouse. The camping shower bags and our outdoor shower setup allows us to wash up outside and keep the whole family clean. They are a lifesaver!
Camping Shower Bags – Do They Really Work?
So, what is a camping shower bag you might ask? Basically, the solar shower/camping shower bags are a plastic bladder with a shower hose attached. You lay the shower bag in the sun to heat up the water, then hang it and stand under the bag to shower. Do they really work? The answer is, YES! They really work.
When we moved (mostly) off grid, our options were limited until we could build our home with a working shower. Thankfully, Laurie sent us the top two name-brand camping shower bags to try. I will share what we like (and don't like) about each one. But first, I would like to discuss other shower/bath ideas for camping.
Camping and Outdoor Shower Ideas
As I mentioned above, we moved to a remote cabin, but it feels more like camping. We cook out on a fire, gather our water from the creek, hang outside with the kids, toss the Frisbee, and don't worry about checking the clock all day. The five of us (ages 53 to 6 yrs. old) live in a tiny 500 sq ft log cabin. It's close quarters when we're all inside. Of course, it's all fun and games until one of us gets a little funky.
Knowing our build would take months, we had to come up with plans A, B, and C for taking showers regularly.
Our camping shower options:
Take Cowboy Baths (heat water in a pan and sponge bathe)
Jump in the 40° Creek Water
Join a local rec center and use their shower facilities
Buy a Solar Camping Shower Bag
To be honest, we've done all four, but the 4th option is by far the best. The cowboy baths just didn't do a thorough job. The creek was freezing cold. However, on the upside, my teen daughter took a 3-minute bath as opposed to the 45-minute hot showers she used to take. We did join the local recreation center that has hot running showers, a pool, gym, and more, but a trip there takes us over 4 hours and that eats up our entire day. Not to mention, their hours of operation aren't always convenient.
The Solar Shower Bag is easy to set up with no assembly required. As long as you have some sunshine, you can take a warm shower. If you don't have sunshine, you can still take a shower but it's a little chilly, unless you use another method to preheat the water before filling.
How To Use A Camping Shower Bag
I was surprised by how easy it was to use the solar shower bag. They came completely assembled and the instructions are printed on each bag. We laid them in the sunlight to warm the shower hose, as they were crimped from being in the package. The instructions tell you to rinse with warm water and baking soda before your first use.
To use your camping shower bag, you fill it with water, close the cap, place it in the sun and wait a couple of hours. When you are ready to shower, use a strong rope to fasten the solar shower to a structure or tree to hang it above your head and you're ready to get your clean on.
Turn the shower nozzle on, wet your hair and body. Turn the water off, do not let it run when you don't need it. Lather, wash and rinse. It's simple, quick and gets the job done. Camping Solar Showers are not your luxurious "wash all your stress away" kind of showers. They are more the "hurry up get the stink off and get out" kind of showers.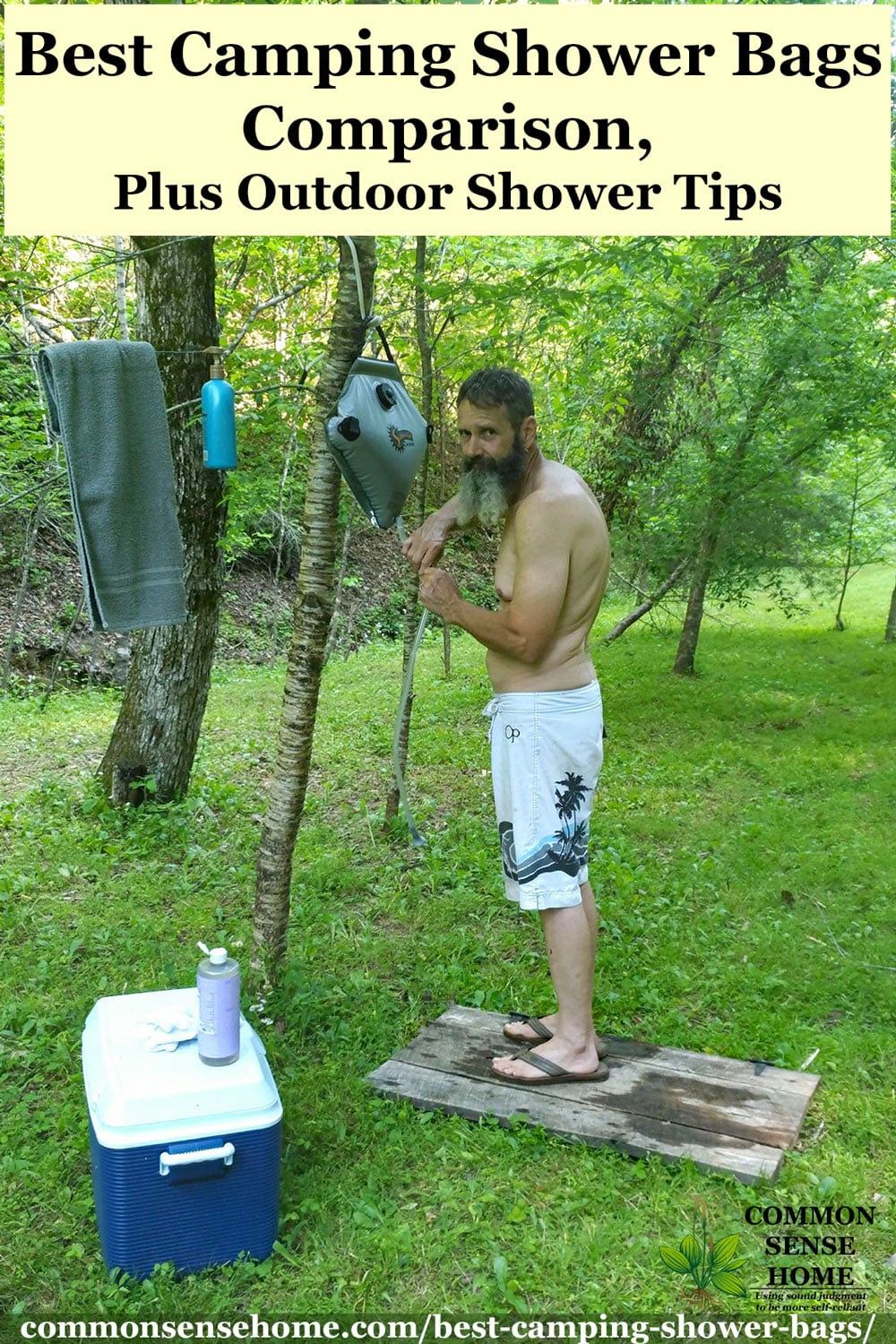 Outdoor Shower Location
Location, location, location. Location is everything in real estate and showers. Trust me. When we first moved to our property, it was the tail end of winter and none of the vegetation was growing. We placed our outdoor bathhouse by the creek under a nice tree so we could have privacy and hear the water flowing.
As the plants started to bloom and the birds started singing, we started itching an getting bit. It was then I realized I made the mistake of placing our outdoor bathhouse in a patch of poison ivy inundated with chiggers. When I frantically moved our shower, I hung it on a broken branch of a pine tree – where ticks like to live. For now it's our best option, but we do a quick tick inspection at the end of every shower. (We have lot of ticks in our area, so it's tough to avoid them. They are less bad than the chiggers and poison ivy.)
Trust me when I say to pick your shower location wisely. It's good to set up a platform that allows water to drain away so you don't end up standing in mud. We also strung up a line next to the shower to hang shampoo, a towel and sometimes spare clothes.
Where Can You Use a Camping Shower Bag?
The Shower Bags can honestly be used anywhere that water is able to drain, such as:
Camping
Boating
Picnics
Pool Area
Off-Grid Living
Parks
The Best Camping Shower Bags
Two top-ranking solar shower bags are the Sun Shower and the Summer Shower. They are both great products and we had things about each of them that we enjoyed. We also had a couple of things we weren't 'in-love" with. There are five of us using the camping shower bags, and we all reviewed both showers.
The Summer Shower is the smaller of the two so I will share it first.
Pros
2.5 Gallons water storage capacity
Easy to set up
You can shower anywhere
Strong carrying handle
Easy to store and transport
Shower sprayer is easy to turn on and off. Pull the spray nozzle to run the shower and push to close the sprayer.
Gets very warm in just a couple of hours in sunlight
Offers good pressure
External thermometer
Water stays warm for a couple hours after you remove it from out of the sun
Easy to hang. Weighs approx. 20lbs when filled
Is enough water for one person to take a complete shower, including washing your hair and shaving the essentials
Cons
Only holds enough water for one person to take a full shower. However, if you are just rinsing off, multiple people can use it.
You have to either hang the shower really high (like use a ladder high) or sit on a bench when washing your hair because the water stops flowing if you raise the shower head above the bladder (shower bag).
No storage bag when not in use
The water won't get hot if there isn't adequate sunlight
Can't control the flow of water. It's either on or off.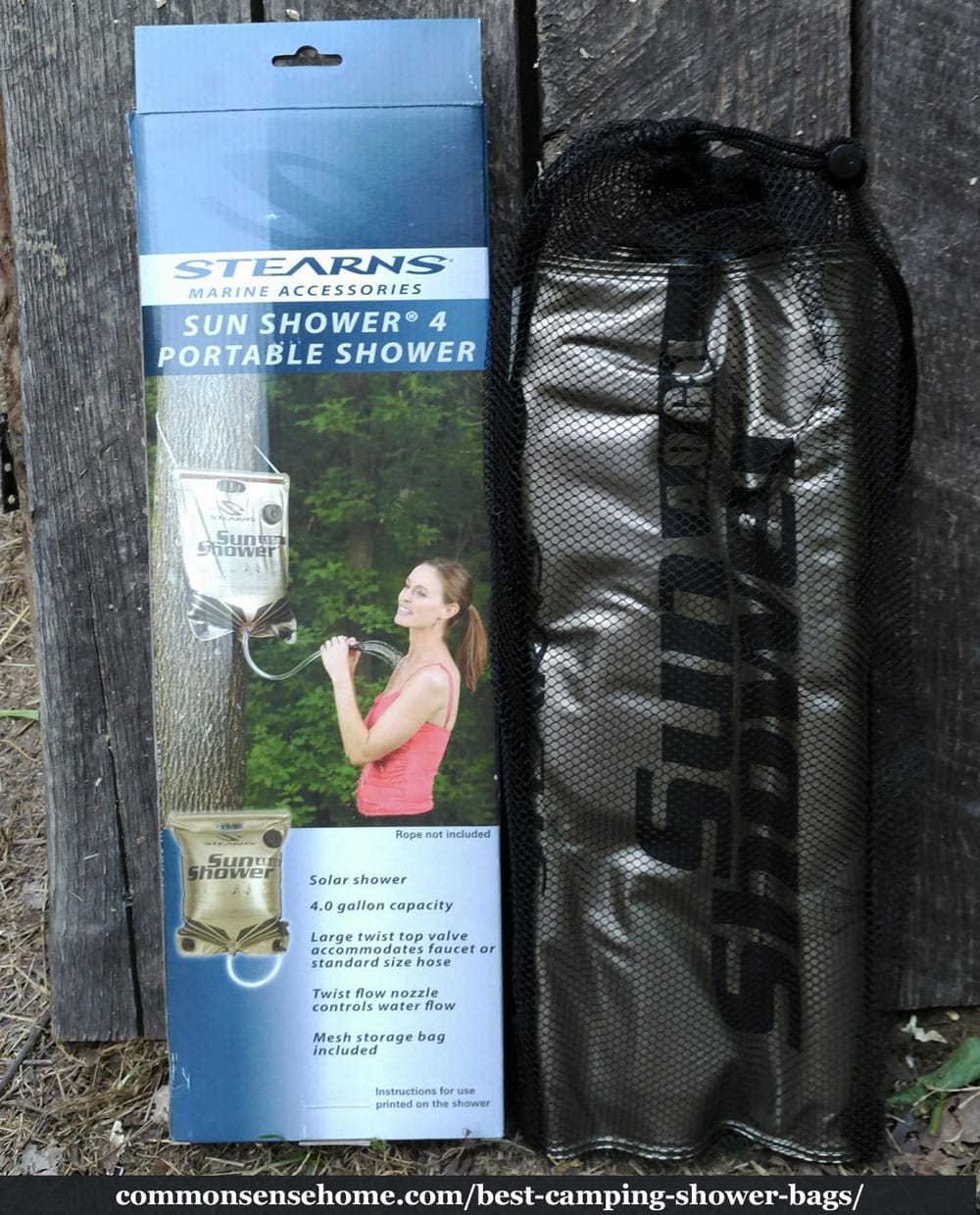 Pros
4 Gallons water storage capacity
You can shower anywhere
Came in a nice carrying case for storage when not in use
Clear Instructions
Easy to install
External thermometer
Water stays warm a couple of hours after you remove it from the sunlight
Is enough water for two adults to take a complete shower with some left over
You can control the water flow by turning the nozzle.
Cons
Very heavy to hang, especially for one person.
Weighs approx. 32 lbs when filled
You have to either hang the shower really high (like use a ladder high) or sit on a bench when washing your hair because the water stops flowing if you raise the shower head above the bladder (shower bag).
The shower nozzle is hard to turn on and off if your hands are wet and soapy
Water won't get hot if the sun isn't out.
Takes a long time for the water to heat up.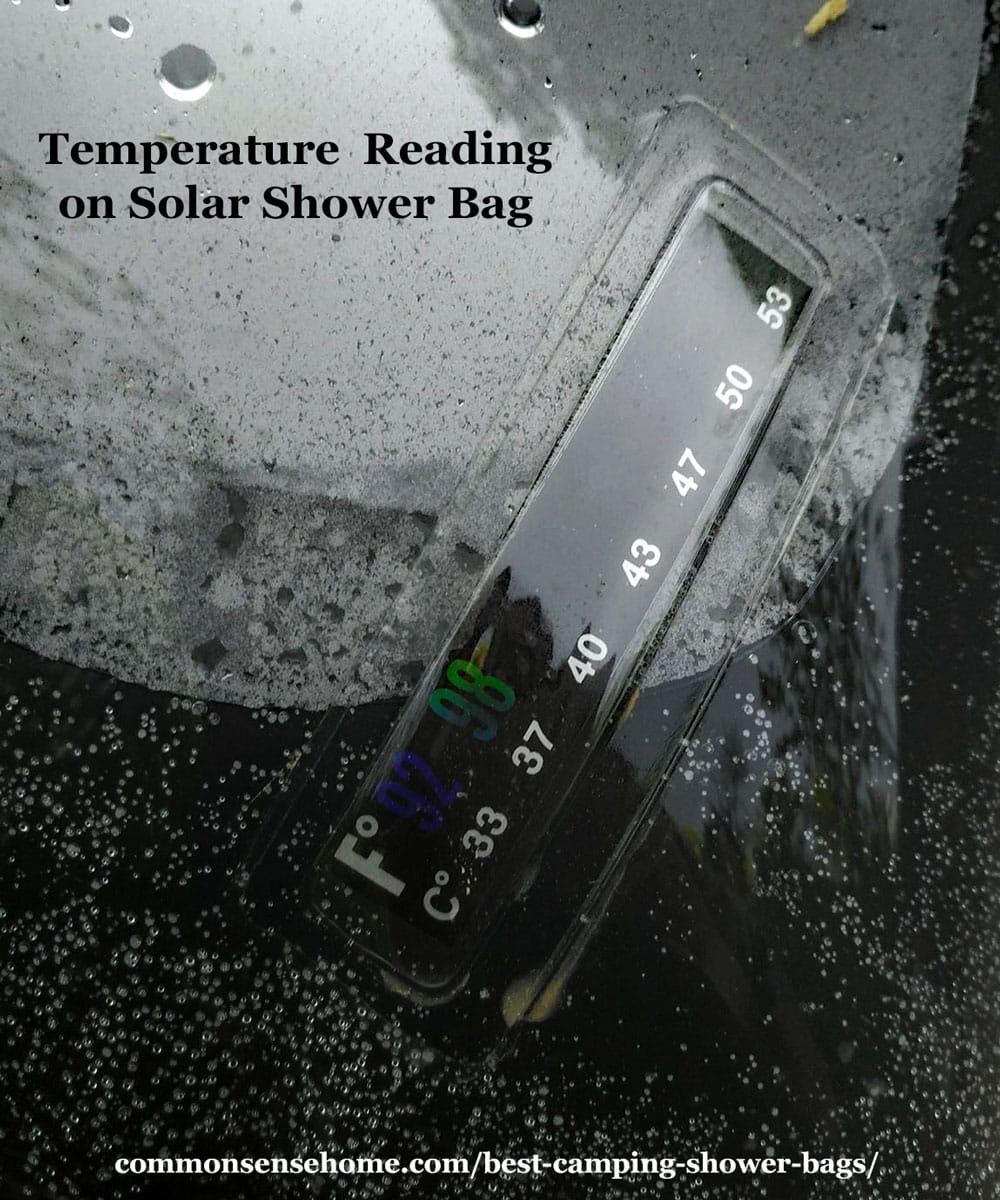 Which Solar Shower do we Like Best?
In all honesty, we love both equally, but if you made me pick just one, it would have to be the Summer Shower. The Sun Shower is too heavy when filled for me to lift by myself. I would hate to not be able to shower simply because I couldn't lift the bag.
I would highly recommend either bag for any camping/outdoor enthusiast, or for you to add to your B.O.B. It makes a great addition to any preparedness bag.
You may also enjoy these posts:
This post is by Amber Bradshaw of My Homestead Life.
Amber and her family moved from their tiny homestead by the ocean in South Carolina to forty-six acres in the Smoky Mountains in East Tennessee.
While building their off-the-grid homestead, they live like the days of old – cooking without electricity, collecting water from the creek and raising chickens, goats, pigs, turkeys, bees, and guineas. They've recently filmed their journey for a TV show on the Discovery Channel and the DIY Network/HGTV called Building Off The Grid: The Smokey Mountain Homestead.