Pickled Green Beans – Quick and Easy Canning Recipe
Spicy pickled green beans are a recipe that bring back memories of growing up on the farm, like pickled beets. Vinegar pickles of all different types were common on the table, from the jewel red beets to the slippery pickled mushrooms. These pickled green beans with garlic and cayenne pepper are crunchy and spicy, and let you can green beans without a pressure canner.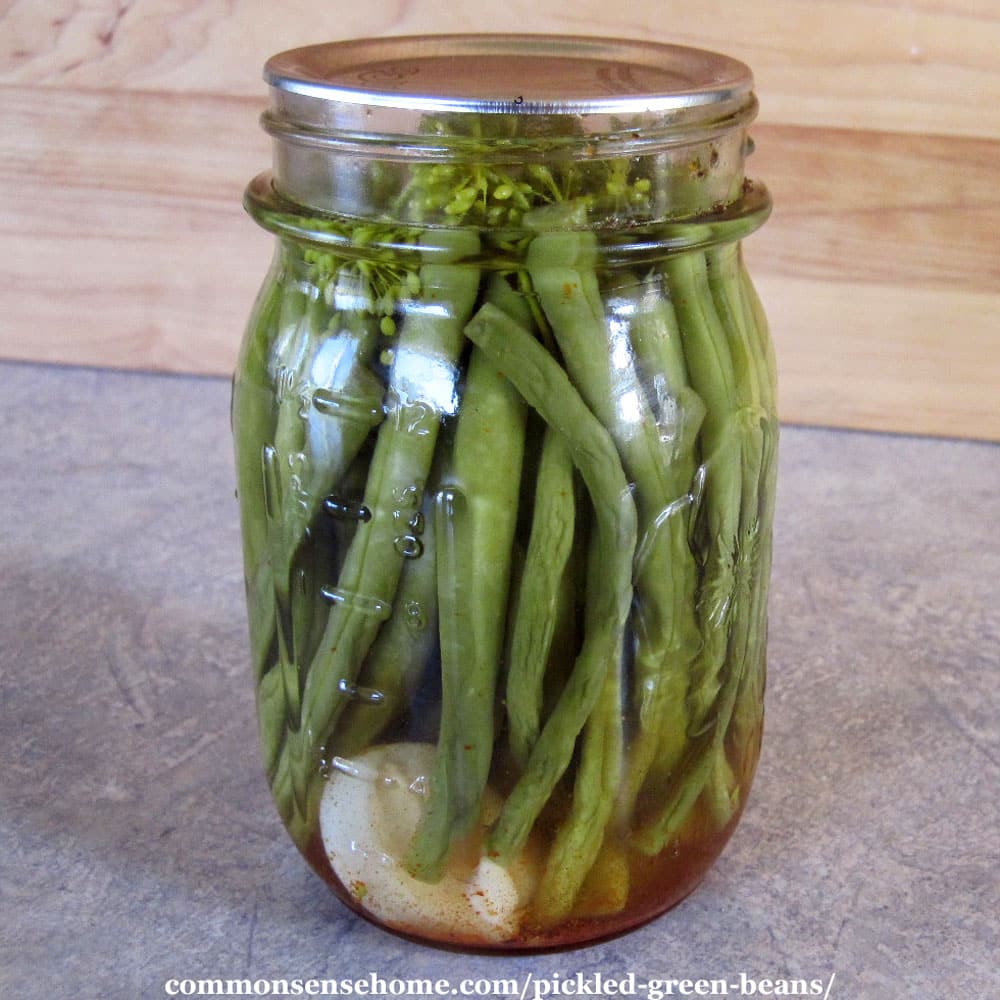 Pickled Green Beans
You can use these pickled green beans in salads or on relish trays, for snacking, or as a fun addition to your Bloody Mary. (Here in Wisconsin, the local pubs stack crazy amounts of snacks on top of some of the drinks.)
Pickled veggies add a great crunch to any meal and may help aid digestion by adding a bit of acidity to the mix. They're perfect to pair with heavier meats. Since this recipe is water bath canned, it's shelf stable. There's no need to tie up refrigerator space until you've opened a jar for use.
Don't be too concerned about the high sodium count in the nutrition information – unless you plan to drink all the brine. The salt helps to pull moisture out of the beans, giving them their crunchy dilly bean texture.
For a little extra spice, feel free to add some mustard seeds or red pepper flakes to each pint jar when you add garlic and dill. (1/4 to 1/2 teaspoon per jar.) As would be expected with a simply bean recipe, these are low carb and gluten free.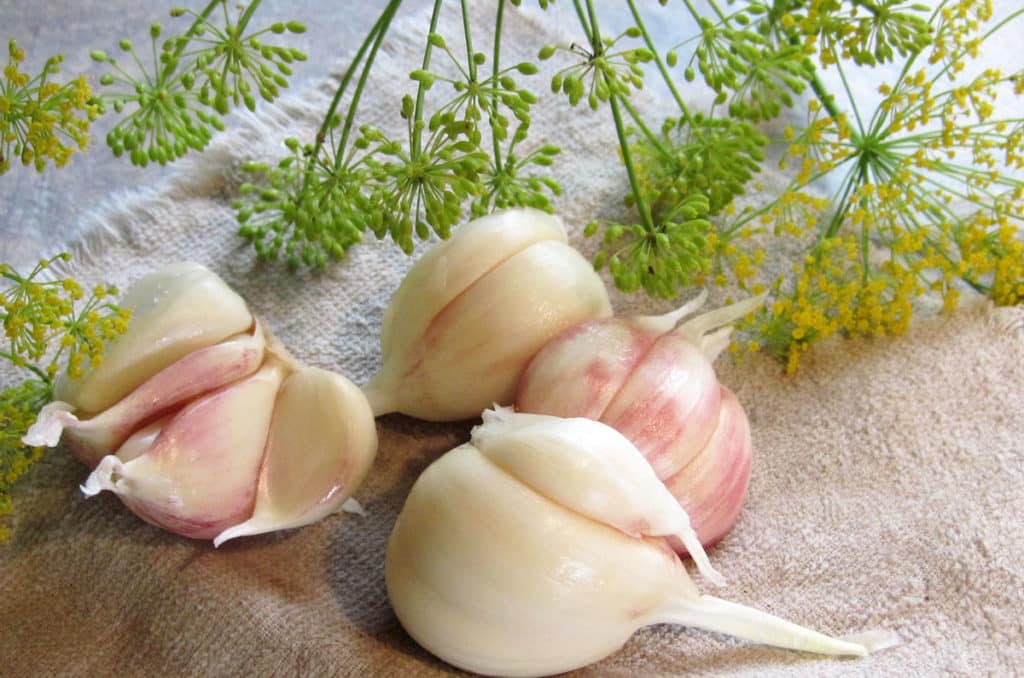 How to Pickle Green Beans
Pickling (adding vinegar and salt) allows you to water bath can vegetables that would otherwise require pressure canning. (Remember, safe water bath canning needs a pH below 4.6.)
Always keep your kitchen tidy and gather your needed equipment before beginning. Use jars that are clean, and check rims for cracks or damage. (The hot water processing sterilizes the jars.) If you don't have a canner, you may process your pickled green beans in a large stock pot with a rack in the bottom.
This Granite Ware Canning Set includes: 21.5 -quart Canner, Jar Rack, Bubble Remover, Jar Lifter, Magnetic Lid Lifter, Jar Wrench and Jar Funnel. It's perfect for the beginning home canner.
Wash beans well and trim them to fit inside the jars. If you don't have fresh dill, use 1/2 to 1 tablespoons of dill seed per jar.
I like to use canning salt in this recipe, but kosher salt or sea salt also works fine. Don't use iodized table salt for canning, as it will make your brine cloudy.
Apple cider vinegar adds more flavor, but will yield a darker brine. If you like a clear brine, opt for white vinegar and use all red pepper flakes instead of cayenne powder. Don't use homemade vinegar, unless you can verify the pH is safe for canning.
Remember to measure headspace from the inside of the lid to the top of the food or liquid. It's important to use correct headspace because the recipes have been tested so that the processing time allows for all the air to be driven out of the headspace, ensuring a good seal and safe preservation.
This recipe is adapted from the Ball Blue Book.
Print
Spicy Pickled Green Beans
These pickled green beans with garlic and cayenne pepper are crunchy and spicy, and let you can green beans without a pressure canner.
Author:
Prep Time:

20 minutes

Cook Time:

10 minutes

Total Time:

30 minutes

Yield:

4 pints

1

x
Category:

Snack

Method:

Canning

Cuisine:

American
2

pounds

green beans

1/4

cup

canning salt

2 1/2

cups

vinegar

2 1/2

cups

water

1 teaspoon

cayenne pepper, divided

4

cloves garlic

4

heads dill

1

–

2

teaspoons mustard seeds and red pepper flakes, optional
Prepare your canner, jars, lids, funnel, tongs, chopstick or thin plastic spatula (for removing air bubbles) and gather your ingredients.
Trim ends off green beans so they fit neatly into a jar.
Make your pickling brine by combining salt, vinegar and water in a large stockpot. Bring to a boil.
Add 1/4 teaspoon cayenne pepper, 1 clove garlic and 1 head dill to each pint jar. I like to put the garlic and cayenne in the bottom and stuff the dill in at the top.
Pack beans lengthwise into hot jars, leaving 1/4 inch headspace. Ladle hot brine over beans, leaving 1/4 inch headspace. Remove air bubbles with a wooden chopstick or thin plastic spatula.
Wipe rims clean with damp cloth. Screw on two piece lids. Process pints and quarts 10 minutes in a boiling water bath canner. When processing time is finished, remove jars from canner and place onto a towel on the counter top to cool completely.
Remove rings, wipe up any spills. Label with date and contents and store in a cool, dry location out of direct sunlight.
Notes
Add 1/4 to 1/2 teaspoon mustard seeds and red pepper flakes per jar along with other spices for an extra kick, if desired.
Keywords: green beans, pickles, condiment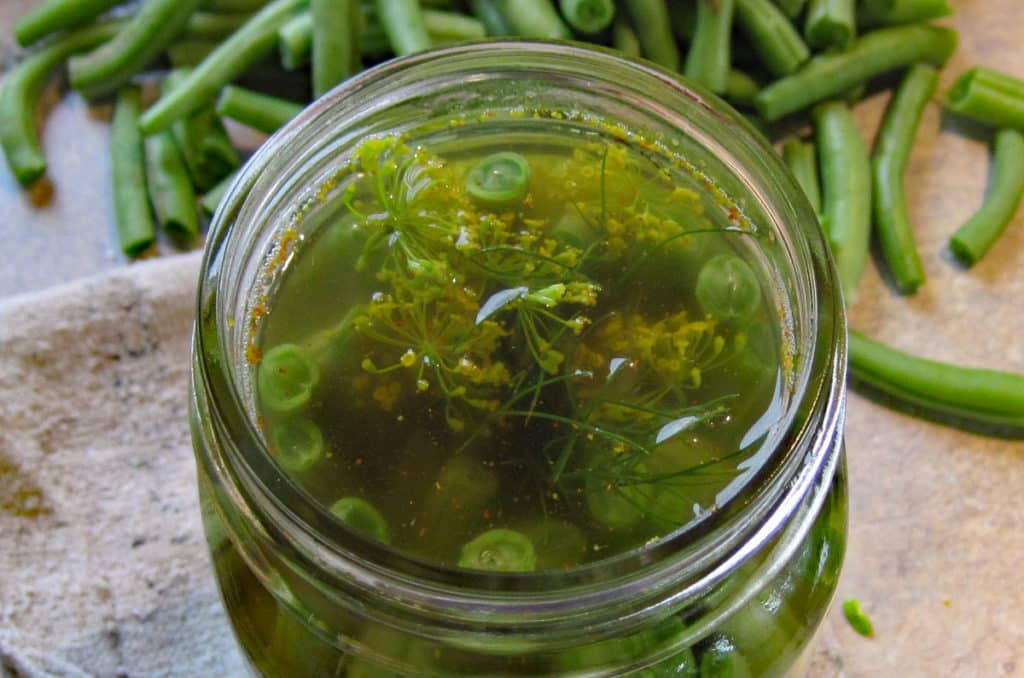 Altitude Adjustments
For boiling water bath canning at an altitude higher than 1000 feet above sea level, adjust boiling water processing time as listed below.
Altitude Feet Increase Processing Time
1,001- 3,000 5 minutes
3,001- 6,000 10 minutes
6,001- 8,000 15 minutes
8,001-10,000 20 minutes
Adapted from Fresh Preserving – High Altitude Canning Adjustments.
Enjoy your beans!
That's all there is to it! Now you can have your own pickled green beans with a little heat and spice to liven up winter meals, or for an interesting hors d'oeuvre.
Serve your dilly beans for holiday gatherings and listen to your friends and relatives comment about how they've never had anything quite like that before (unless, of course, you hang out with other home canners 😉 ).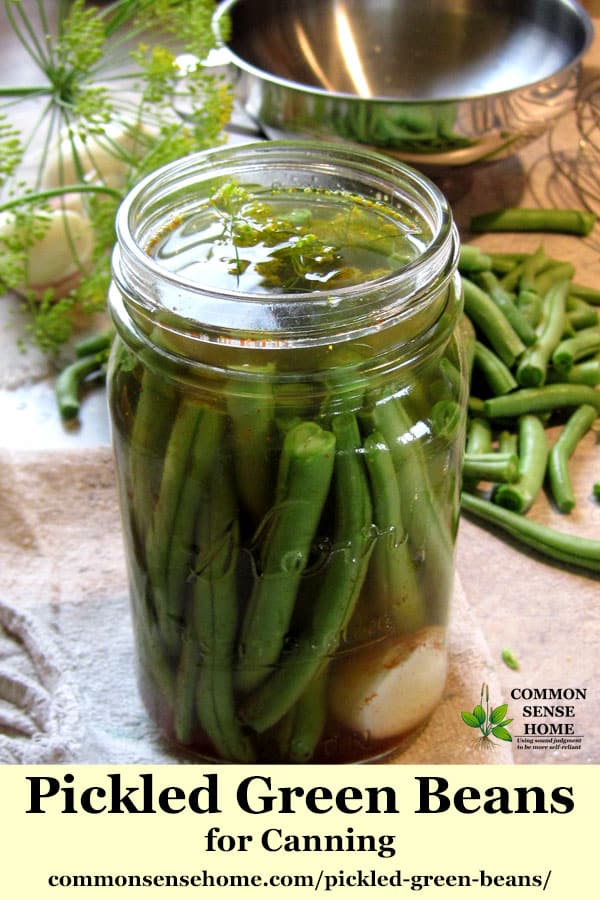 More Canning Recipes and Tips
Be sure to check out our other Canning Recipes and Preserving Guides, including:
Originally published in 2014, last updated in 2019.