Blueberry Peach Jam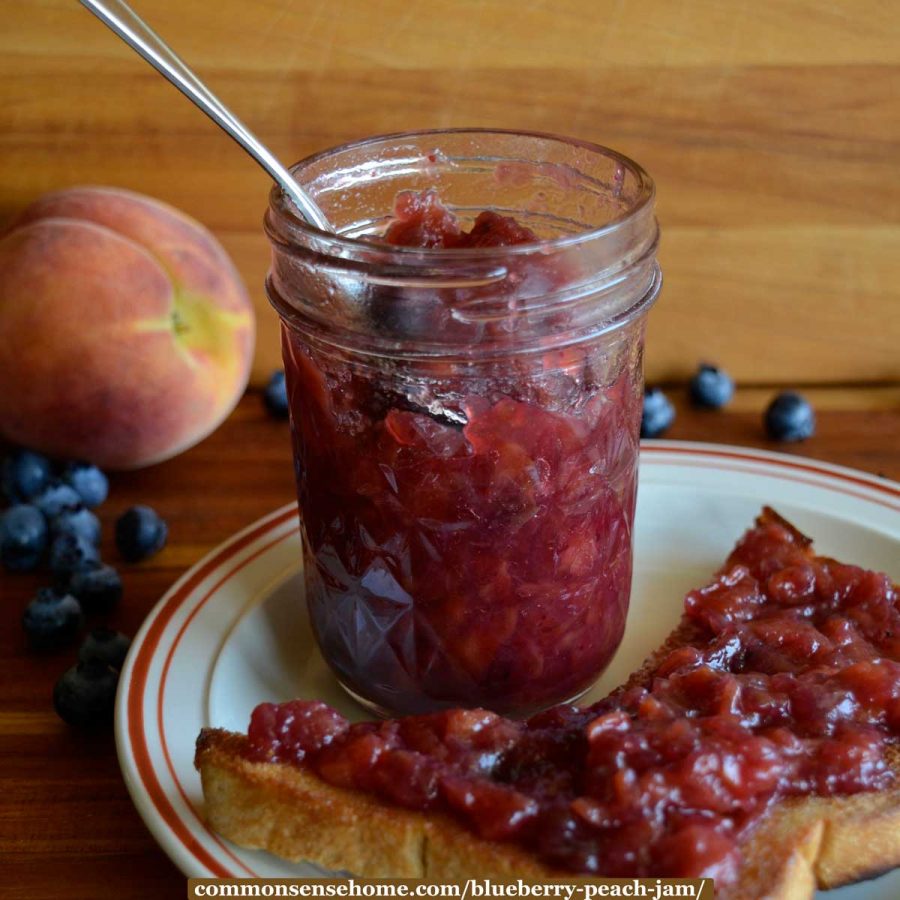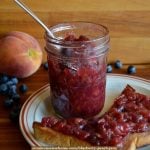 Scale
Ingredients
2

pounds (5-7 medium) peaches, peeled and pitted

8 ounce

s (

1 cup

) fresh blueberries

1/4 cup

lemon juice

1 cup

granulated sugar

2 teaspoon

s Pomona's Universal Pectin

2 teaspoon

s calcium water (included with the pectin)
Instructions
Prepare 5 eight ounce canning jars, lids and bands. Fill and heat water bath canner.
Rinse blueberries and remove stems. Gently pulse peach chunks in food processor until coarsely chopped. Add blueberries and pulse to blend. (Don't liquefy, unless you prefer smooth jam.) You should have roughly 3 cups of fruit in total.
Place fruit, lemon juice and calcium water in a heavy bottomed sauce pan.
In a separate bowl, mix pectin powder and sugar thoroughly. Set aside.
Bring blueberry-peach mixture to a full boil over high heat. Slowly add the pectin-sugar mixture, stirring constantly.  Continue to stir vigorously for 1 to 2 minutes to dissolve pectin while the jam comes back to a rolling boil. Once the jam returns to a full boil, remove it from the heat.
Ladle jam into warm jars, leaving 1/4 inch headspace. Wipe rims with a damp cloth, put on lids and bands and tighten to fingertip tight.
Process in a boiling water bath canner for 10 minutes. Turn off canner and let rest for 5 minutes, and then remove jars from canner and place on a towel on the counter top away from drafts. Let cool for 12 to 24 hours.
Check seals, remove bands and wipe any spills. Date and label. Store in a cool, dry location out of direct light. Best used within one year.
Unsealed jars or partially filled jars should be stored in the refrigerator and used within 3 weeks.