If you're ready to take your organic tomato growing to Tomato Whisperer Guru Ninja Level, check out these tips.
Pick the Best Tomato Variety for Your Needs and Your Area
There are thousands of tomato varieties, even though you may only find a handful at your local garden center. Experimenting with new varieties may introduce you to The Perfect Tomato for YOU (plus it helps keep unusual cultivars in existence).
There are Determinate and Indeterminate types; heirlooms, open-pollinated and hybrids; and colors from white to deep blue, with reds, pinks, greens, purples and oranges in abundance.
You can get tomatoes with fuzz like a peach (Garden Peach tomatoes), stripes, bumps and knobs. Don't be limited by the idea of a red, round tomato!
There are three main types of tomato by use:
Paste Tomatoes: These have thick, meaty walls, and smaller seed cavities. Great for salsa, sauce making and dehydrating. My personal favorite are Amish Paste, Opalka, and San Marzano Gigante. I do grow at least one Purple Russian as emergency backup for unusually cold weather.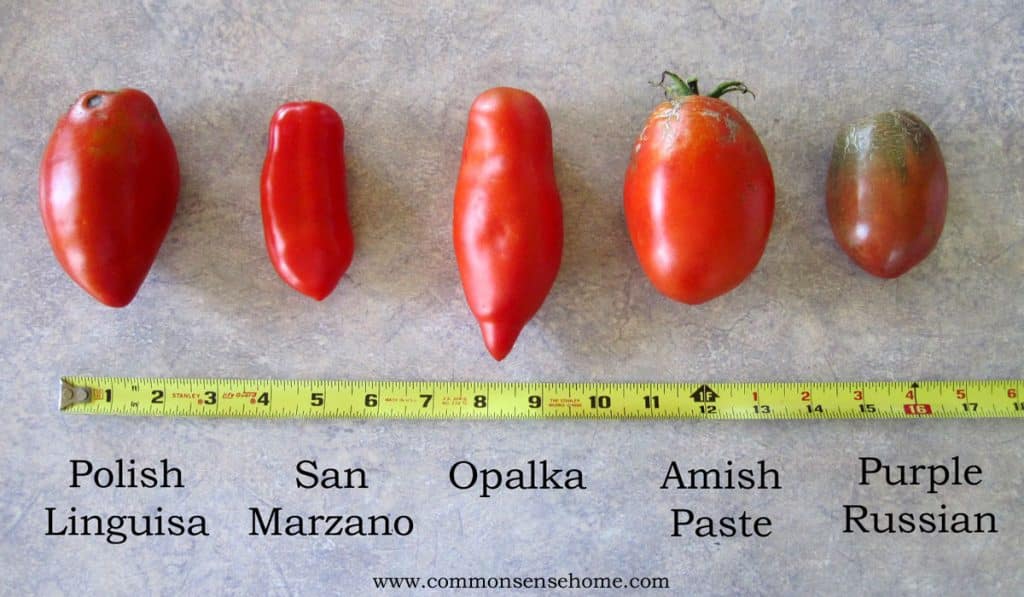 Slicing tomatoes:  Medium to large fruited tomatoes with plenty of juice. These are most common in grocery stores along with cherry tomatoes.
Great for fresh eating. Can be used for salsa and canning, but will require draining or more cooking down to yield a thicker product.
Some of my favorites are Mortgage Lifter (mid-season, large fruit), Garden Peach (long season, medium fruit), Stupice (early, medium fruit), Glacier (early, medium fruit), Defiant hybrid (late blight resistant, medium-large fruit).
Some of my favorite multi-colored slicing tomatoes are shown below.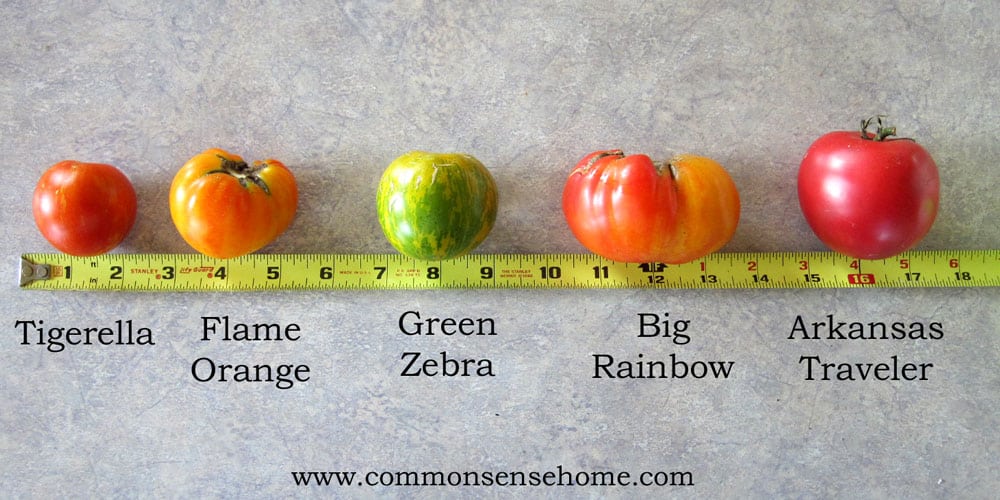 Cherry tomatoes:  Small fruited, generally less than 1 inch in diameter. Plants often make up in volume what they lack in size. If you enjoy tomatoes for fresh eating, especially if you have kids, cherry tomatoes are a must.
My favorites are Sungold (golden), Black Cherry (purple), Peacevine (red), Pearly Pink and Yellow Pear. If you get overrun you can use them for sauce making, but they have a higher water content.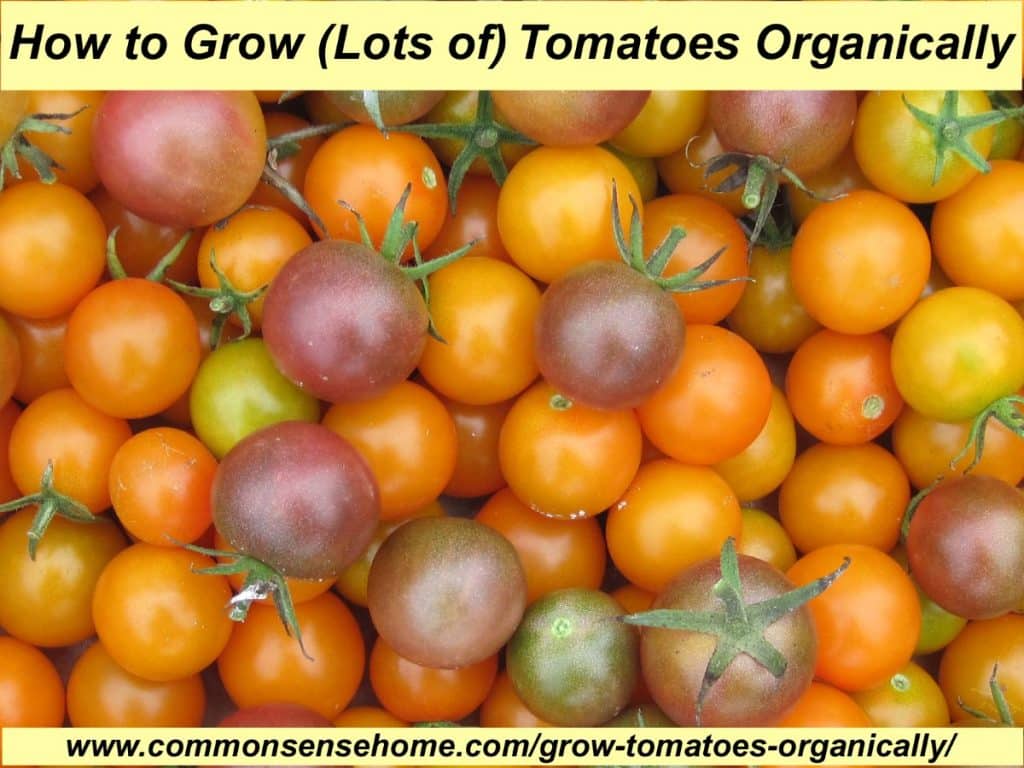 Create a Microclimate for Your Tomatoes
Tomatoes are heat lovers. Block the wind. Use a wall-o-water to trap heat, or create you own heat trapping wall with old milk jugs or vinegar bottled filled with water.
Lay down black or red mulch. Learn more about micro-climates in the post "Extend Your Gardening Season".
Best Companion Plants for Tomatoes
I prefer to plant in families, as suggested in the book Great Garden Companions by Sally jean Cunningham.
My "tomato family" beds include tomatoes, peppers, eggplant, tomatillos, ground cherries, and Cape Gooseberries. Basically, all the nightshades except potatoes are included.
For tomato companion plants, Sally recommends:
Basil
Cleome
Cosmos
Parsley
Queen Anne's Lace
Any tall Aster family flower
I also like to mix in lobelia and sweet asylum, and sometimes painted tongue. I plant my companions at the end of rows of tomatoes, because planting them right next to the tomatoes makes harvest awkward.
With peppers and eggplant, I alternate companions between the plants.
The Vegetable Gardener's Bible recommends:
asparagus, basil, bush beans, cabbage family, carrot, celery, chive, cucumber, garlic, head lettuce, marigold, mint, nasturtium, onion, parsley, pepper and pot marigold as good companions
pole beans, dill, fennel and potatoes as bad companions
Experiment! See what works best in your garden!
Prune to Train, Don't Worry About Suckers
I don't know how many texts I've read that say pinch all your tomato suckers (new stems that begin in the crooks of other stems) because they don't produce fruit.
I've pinched, and I've skipped pinching, and I saw no big changes in production, just more time and hassle. I would also note that my tomato suckers certainly do produce fruit.
I'm not the only one who has given up pinching suckers. Now I only prune to manage growth and train the plants.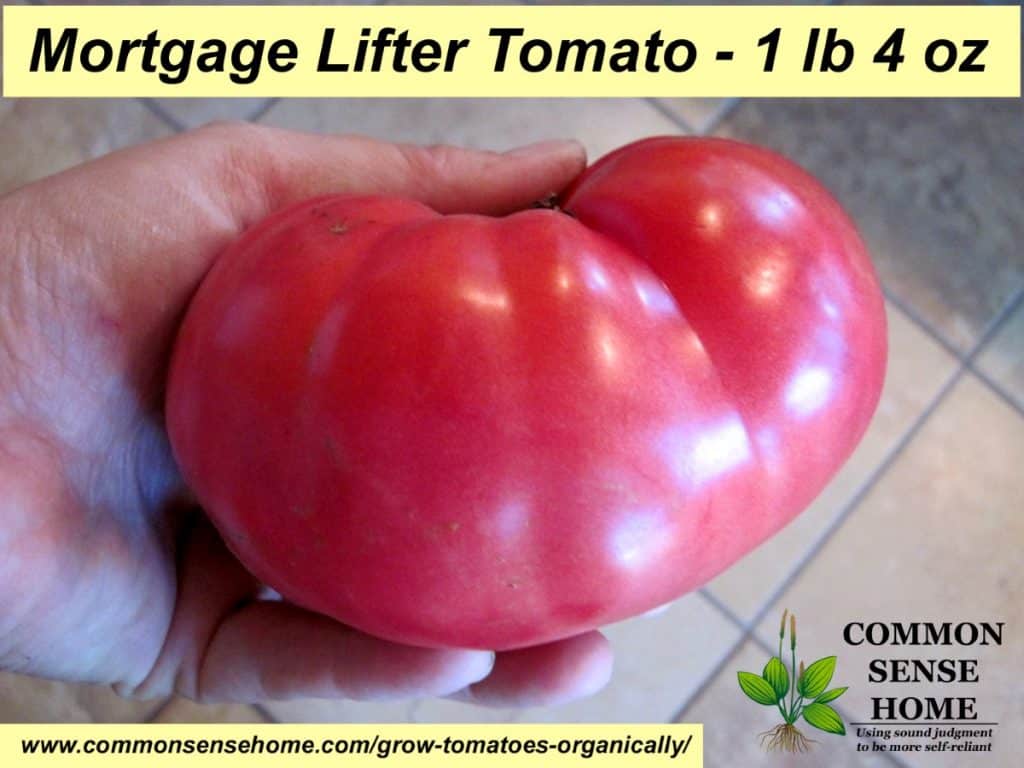 Fertilizing Your Tomatoes
The Natural Food Garden swears that mixing in some bone meal or rock phosphate in your planting hole along with your aged manure or compost will boost fruit production.
They also recommend providing an extra bit of "oomph" about halfway through the growing cycle by top dressing the plants with several inches of well aged manure.
Foliar feeding every few weeks throughout the season helps to gently meet the needs of growing tomato plants. Try fish emulsion, compost tea, worm casting tea or weed tea.
As an added benefit, compost tea has been shown to protect plants by coating the leaves with beneficial organisms that crowd out pathogens, just like consuming probiotic foods and beverages can help keep us healthy.
For more information on compost tea, you can check out The Field Guide II for Actively Aerated Compost Tea by Elaine Ingham, one of the leading experts on the subject, or Compost Tea Making: For Organic Healthier Vegetables, Flowers, Orchards, Vineyards, Lawns, a more basic manual.
A Brix meter can be helpful for evaluating the progress of your fertilization techniques.
Tomato Growing Innovations – Biochar, Effective Microorganisms, Music and Energy
The Planet Whizbang Idea Book for Gardeners instructs you on how to harvest your own biochar from wood stove charcoal.
From Wikipedia, "Biochar can improve water quality, reduce soil emissions of greenhouse gases, reduce nutrient leaching, reduce soil acidity, and reduce irrigation and fertilizer requirements. Biochar was also found under certain circumstances to induce plant systemic responses to foliar fungal diseases and to improve plant responses to diseases caused by soilborne pathogens." 
Biochar is becoming a hot topic worldwide, as evidenced by the International Biochar Initiative.
Effective Microorganisms take the plant probiotic concept all the way to eleven. In Building Soils Naturally, the author sites a study where yields were increased by 50% just using Effective Microorganisms.
I have not yet given these a whirl, but they are on my to-do list to try this season. They are also referred to as "microbial innoculants".
Working with Nature – Shifting Paradigms stretches the boundaries of gardening even further with the use of music and energy to improve plant health and fruit production.
The Secret Life of Plants: a Fascinating Account of the Physical, Emotional, and Spiritual Relations Between Plants and Man also explores rarely traveled plant territory.
Pipe in some classical music while you're working in the garden (before 10 am is best for the music), and if you're inclined to talk to your plants, keep your words positive.
The Power of Vibrant Plant Health
The interview below with John Kempf by Dr. Mercola may provide you with some additional inspiration for trying alternative gardening ideas. I'm in love with this man's gardens. 🙂
The book mentioned in the video is Anatomy of Life & Energy in Agriculture by Ph.D. Arden B. Andersen. That book is no longer published and has become hard to find, but I believe Working with Nature – Shifting Paradigms covers similar content and is applicable for the organic gardener.

I hope you found this article useful, and will Share, Pin, Stumble, Google+ and otherwise spread it to the masses to fire a revolution of phenomenal tomato growing for everyone.
Comments and questions are always welcome. Don't forget to take a peek at our other Gardening articles.
Originally published March 2014, updated April 2016.