11 Best Medicinal Herbs to Grow (Herb Garden & Wildcrafted)
These are my top picks for best medicinal herbs to grow in your herb garden and yard. I love being able to use remedies that I can grow myself, instead of expensive exotic herbs.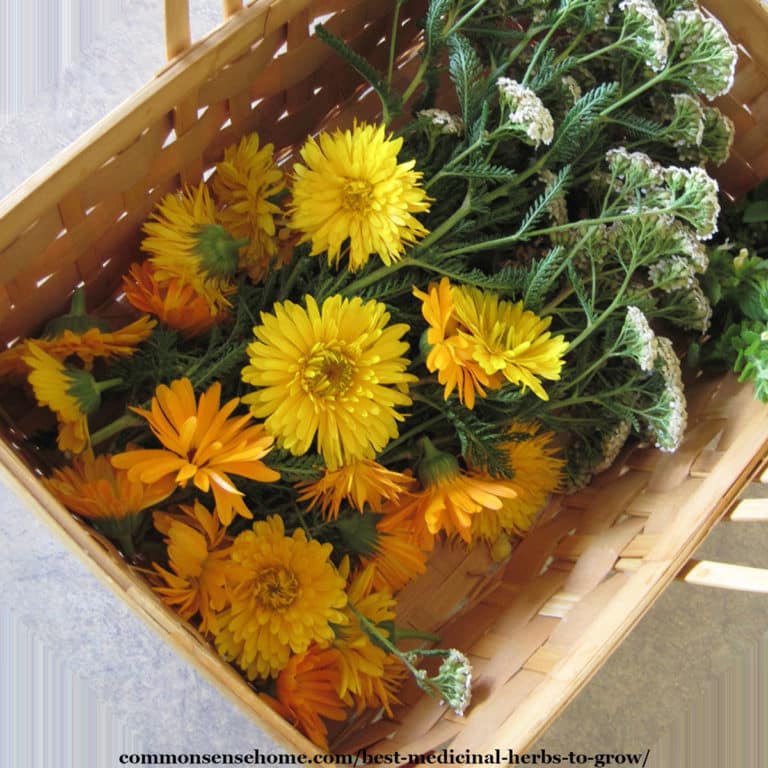 11 Best Medicinal Herbs to Grow
While I'm out working in the garden, I'm not just tending standard food crops, I'm also tending herbs and "weeds". Some I use for culinary purposes, some for medicinal, some for both. (Don't you love it when you can get multiple uses from one item?)
We do have some dedicated herb garden areas, but I also enjoy mixing them with other crops. Many medicinal herbs also work well as companion plants. They keep pests away and attract beneficial insects.
1. Common Plantain (Plantago major)
Plantain is my personal favorite, which is why it's in the website logo. It grows almost anywhere, and actually thrives in compacted soils where other plants struggle. You can start it from seed, or gather it from the wild.
Plantain leaves are amazing for insect bites and stings, and other types of skin conditions. Internally, we use it for coughs and sore throat, and digestive upsets. Learn more in the article "Broadleaf Plantain – The "Weed" You Won't Want to Be Without".
2. Calendula (Calendula officinalis)
Calendula is also know as pot marigold. It should not be confused with French marigolds, Tagetes patula, which is also commonly called "marigold".
Calendula is antiseptic and anti-inflammatory, gentle enough for babies, but soothing enough for adults, too. Use the flowers externally for skin soothing creams and ointments, or internally for gastrointestinal trouble and nourishing the lymphatic system.
3. Peppermint (Metha x piperita) and other members of the mint family
Members of the mint family – peppermint, spearmint, chocolate mint, lemon balm – make lovely herbal teas. They are also good for soothing stomach troubles – cramping, gas, indigestion, vomiting, upset stomach, and colic in babies. I drank mint tea during my pregnancy to help settle my stomach.
Mints spread readily, and cross breed easily. Plant mint containers or spots where you can mow it, and separate varieties. It's best to grow mint from plants, because seeds may not grow true to type.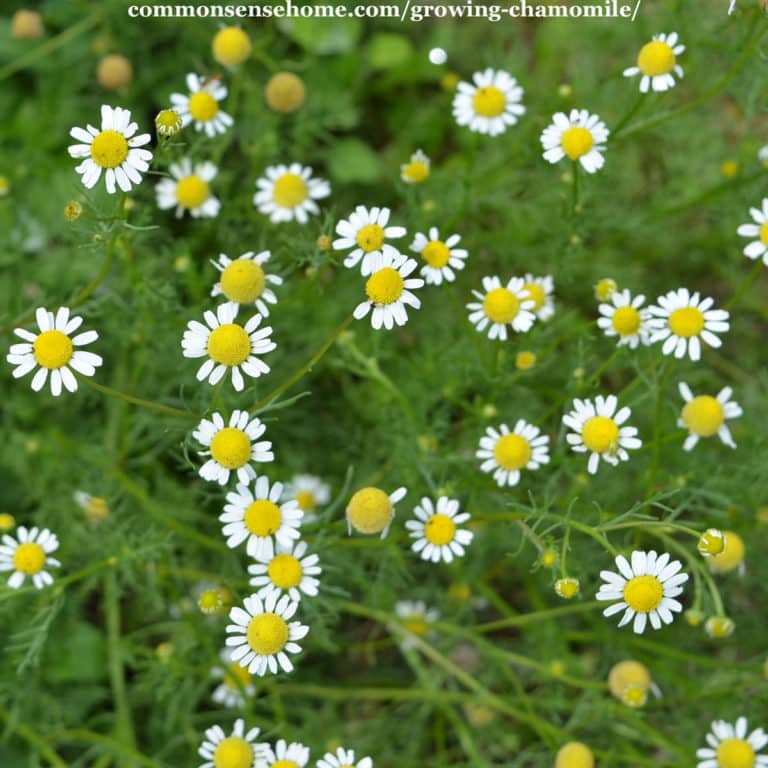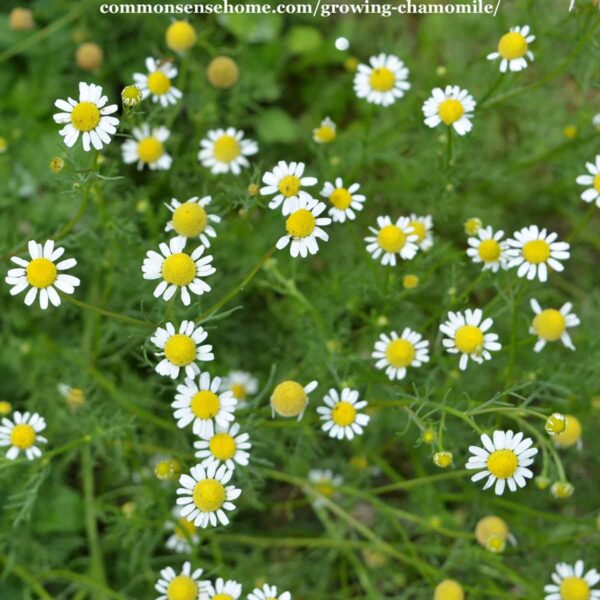 4. German Chamomile (Matricaria chamomilla or Matricaria recutita)
Chamomile is anti-inflammatory and antifever, and provides support for the nervous and digestive systems. Harvest the flowers for a cup of soothing chamomile tea.
Chamomile grows easily from seed, and readily self seeds. I planted it once in my garden, and it now volunteers reliably each year. See "Growing Chamomile" for more growing tips and uses.
5. Elderberry
In recent years, elderberry has become extremely popular as an immune system booster and cough remedy. It's so popular that it's been hard to find the berries at times.
Thankfully, the bushes are fairly easy to grow. The flowers put on a beautiful show in late spring and the berries ripen from summer into fall.
European elderberry (Sambucus nigra) and American elderberry (Sambucus canadensis) have similar medicinal properties. You can learn more in the article, "How to Grow Elderberries for Food and Medicine".
6. Oregano (Origanum vulgare)
Oregano is a tonic herb, which means that it's safe to consume in larger quantities (like loaded into your spaghetti sauce). It's antimicrobial, plus recent research indicates antioxidant, anti-inflammatory, antidiabetic and cancer suppressor properties.
You can harvest the leaves several times per season, and the bees love the blossoms. Sprinkle leaves on animal feed help prevent disease.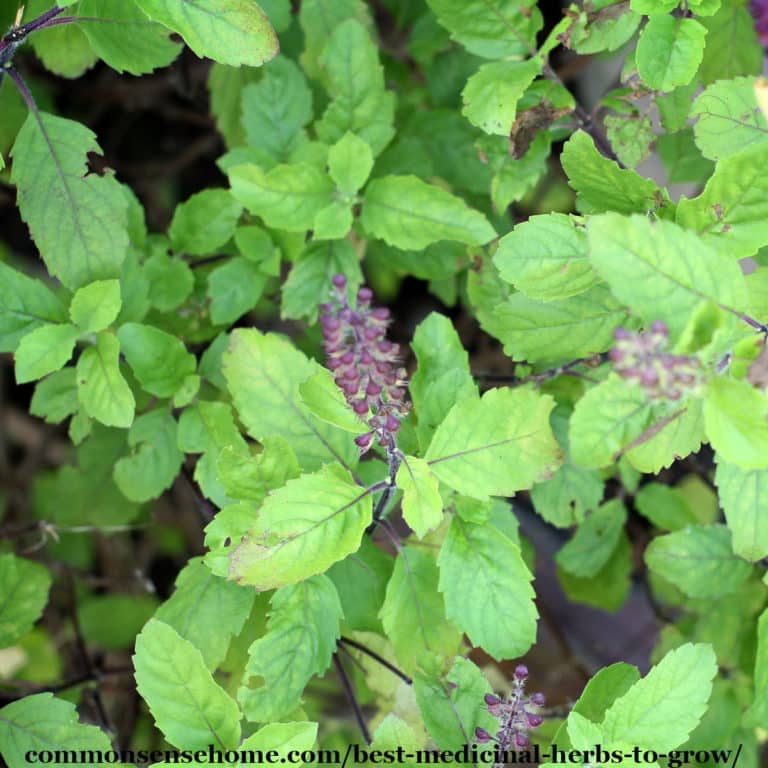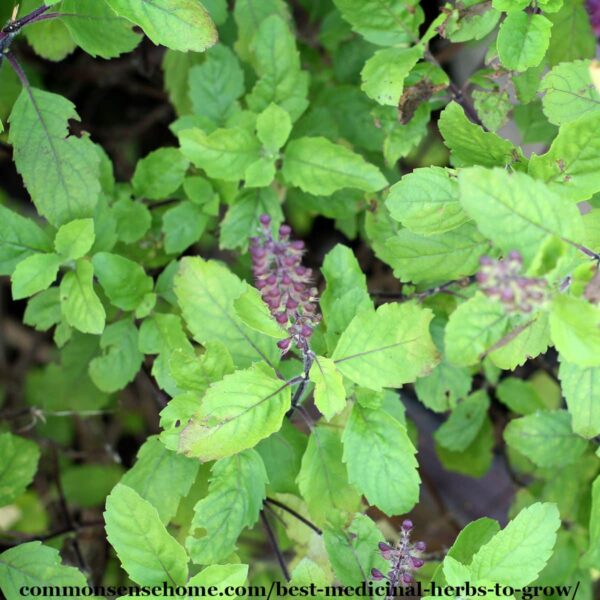 7. Holy Basil (Ocimum tenuiflorum)
Holy basil is a frost tender perennial that I grow as an annual here at my Wisconsin homestead. Use the leaves, flowers and seeds for food and medicine.
This medicinal herb has many health benefits. It lowers fevers, eases pain, and reduces inflammation. Some studies show it helps with blood sugar management, rheumatism, and arthritis.
8. English Lavender (Lavandula angustifolia)
Pain relieving, stress relieving, calming – lavender soothes you inside and out. Gather the flowers for aromatherapy, salves, or culinary use. If you don't have fresh lavender, lavender essential oil is an acceptable substitute for medicinal use.
See "Lavender – Growing Tips & Uses in the Kitchen and Home" for more information.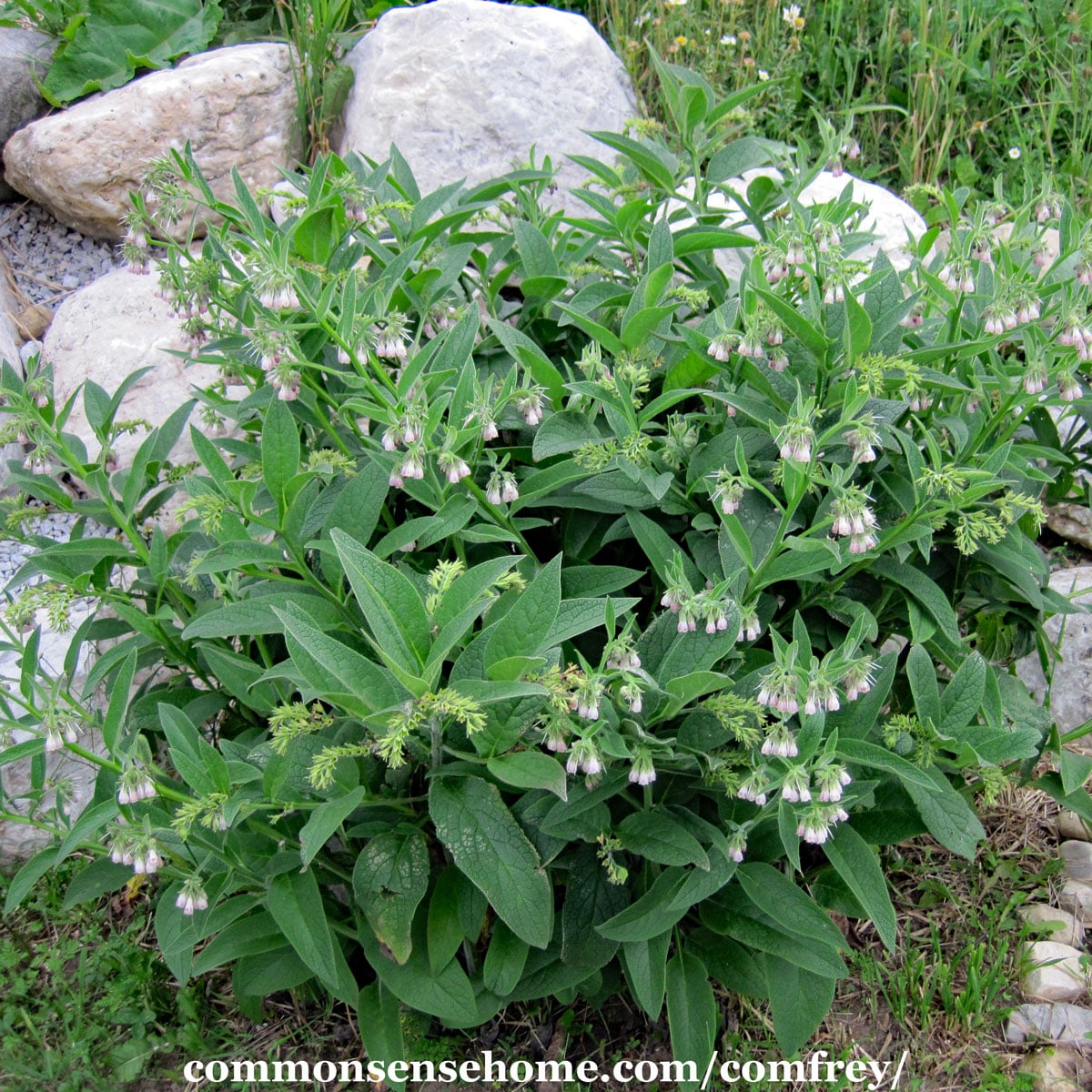 9. Comfrey (Symphytum officinale)
Comfrey is my go to remedy for sprains, bruises, and tears. It's best avoided for deep puncture wounds, as the skin may close before the would heals below.
Use fresh or dried leave to make salve for easier application. Get the instructions here.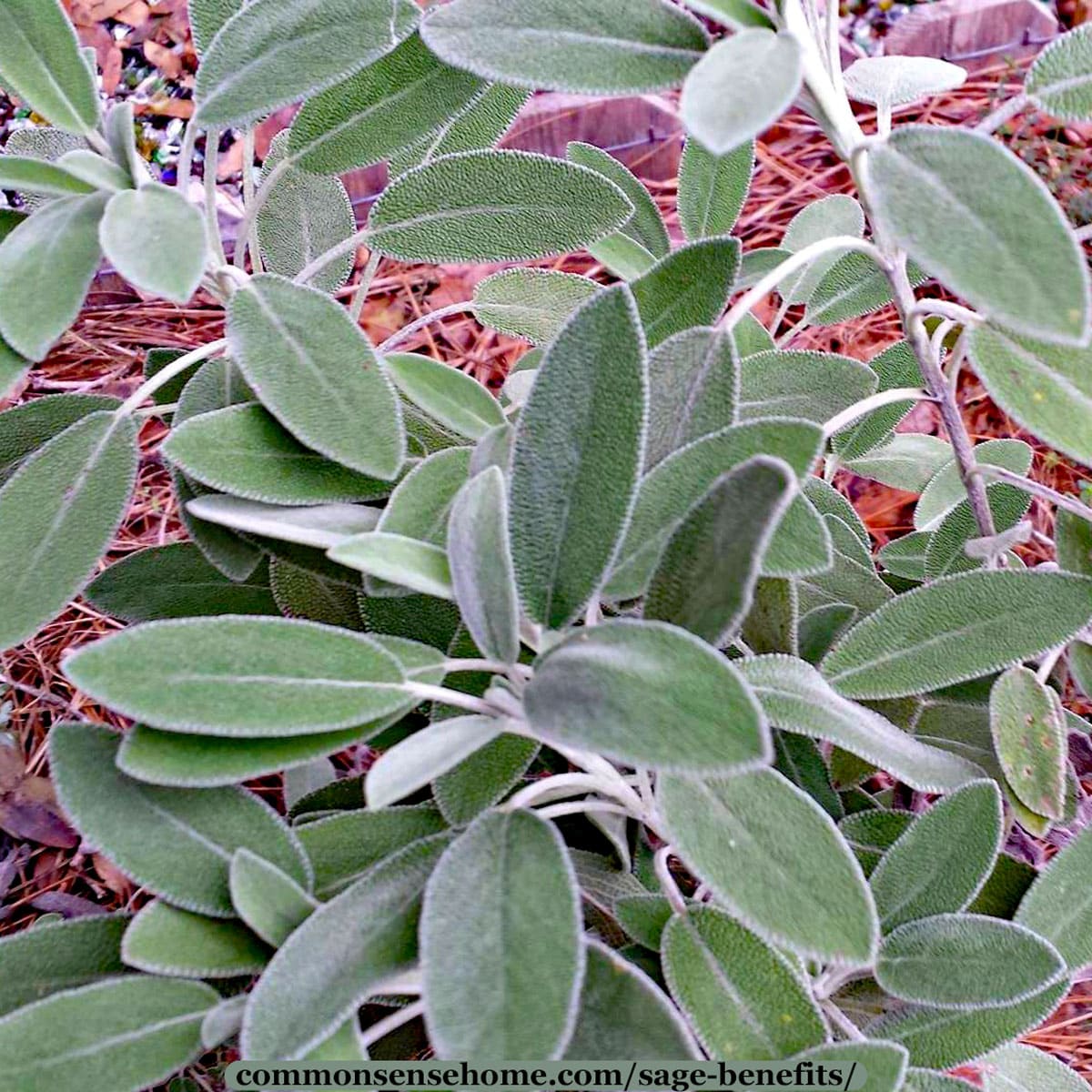 10. Sage (Salvia officinalis)
The distinctive smell of sage fills my greenhouse on warm days, while the bees visit the vibrant blue blossoms. Sage is antimicrobial and anti-inflammatory, with a long history of medicinal use.
You can grow sage as a medicinal herb, but it also works well as a seasoning, and to help with cleaning. Learn more at Sage Benefits.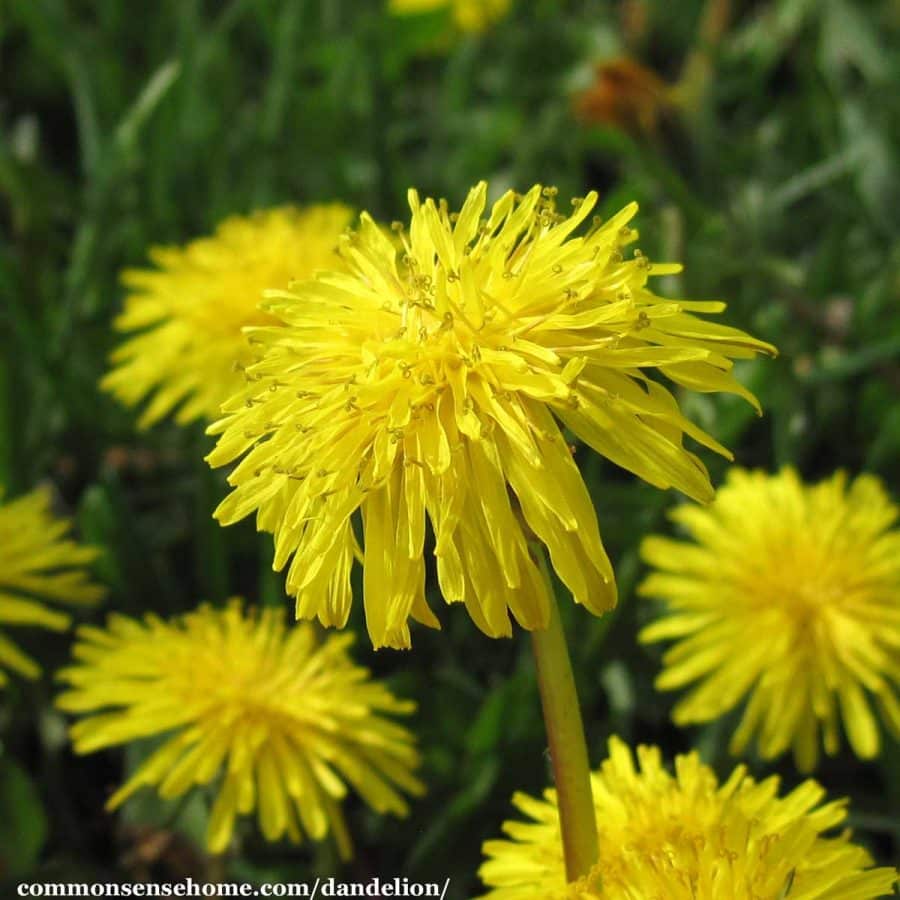 11. Dandelion
Last but not least, the humble dandelion, which is good medicine from root to flower. Dandelion roots act as a diuretic, which can help reduce blood pressure. They help clear out liver congestion, and stimulate digestion.
Dandelion leaves are bitter, which helps to stimulate bile flow and aid digestion. They are a good source of potassium, and high in iron and magnesium.
See "Benefits of Dandelions" to learn more, and view this "weed" in a new light.
Books About Growing Medicinal Herbs
Rosemary Gladstar's Medicinal Herbs is a wonderful book for beginning herbalists. The book contains four chapters – the introduction, how to make herbal remedies, herbal spices, and other medicinal herbs.
The Homesteader's Herbal Companion is a great resource for those who want to safely use herbs around the homestead. There are a wide variety of herbal care products for humans, and herbal remedies for pets and livestock.
The Peterson Field Guide To Medicinal Plants & Herbs covers key traits, habitats, uses, and warnings for more than 530 wild medicinal plants. You'll use this book again and again.
Rosemary Gladstar's Medicinal Herbs: A Beginner's Guide: 33 Healing Herbs to Know, Grow, and Use
The Homesteader's Herbal Companion: The Ultimate Guide to Growing, Preserving, and Using Herbs
Peterson Field Guide To Medicinal Plants & Herbs Of Eastern & Central N. America: Third Edition (Peterson Field Guides)
Rosemary Gladstar's Medicinal Herbs: A Beginner's Guide: 33 Healing Herbs to Know, Grow, and Use
The Homesteader's Herbal Companion: The Ultimate Guide to Growing, Preserving, and Using Herbs
Peterson Field Guide To Medicinal Plants & Herbs Of Eastern & Central N. America: Third Edition (Peterson Field Guides)
More Herbal Goodness
These are some of my favorite medicinal herbs to grow, but there are dozens of other plants to choose from. I like that these use the leaves and flowers for medicine, so you don't have to kill the whole plant.
The Herbs and Wildcrafting articles feature dozens of plants that we grow on our homestead. I hope you'll explore a little, and get know these wonderful home remedies.