Lavender Plants – Growing Tips & Uses in the Kitchen & Home
Lavender plants make a great drought tolerant addition to gardens, plus the flower spikes attract pollinators and ward off insect pests. We share tips to help your plants thrive, and some of my favorite lavender uses.
A Little Lavender History
Lavender is part of the mint family and is one of the most used and cultivated herbs worldwide. Lavender (Lavandula) is a genus of 47 known species. The five main types are:
English- Lavandula angustifolia
Portuguese – Lavandula latifolia
French – Lavandula dentata
Spanish – Lavandula stoechas
The blossoms range in color from a white-pink to dark purple flowers. They attract butterflies and bees, and are wonderfully fragrant. (Did you know that bees prefer flower spikes and blue and yellow flowers more than other types?)
One of the earliest recorded uses of lavender that I could find is from Dioscorides in 60 AD. Dioscorides wrote about lavender in "De Materia Medica". De Materia Medica features historical information on the medicines used by the Greeks, Romans, and other cultures. I found lavender use associated with King Tut's Tomb, Cleopatra and Queen Elizabeth I.
North Carolina State Extension has more information on historical use in the article, "Lavender: History, Taxonomy, and Production".
How to Grow Lavender Plants
I tried to grow lavender plants as one of the first herbs I planted in my garden – and promptly killed them. Since then I learned to pay attention to what the plants need instead of where they'd look nice in the yard.
True lavender is native to the mountains of the Mediterranean region. The ideal growing conditions mimic the Mediterranean, where winters are cool and moist and the summers are hot and dry.
Lavandula species grow in zones 5-9, and sometimes up to zone 11. With care, they can be grown as far north as zone three, as demonstrated by my friend, Chris, from Joybilee Farm.
We live in zone 8 on the east coast and our lavender does really well as long as I remember to prune it for good air circulation. Our plants are almost 4 feet tall and just as wide.
Growing Tips
Select a spot with full sun (6+ hours of sun per day).
Look for well-drained soil with a pH between 6.7 and 7.3 (neutral to slightly alkaline).
If you have clay or heavy soil, grow the plants in raised beds or pots.
For sandy soil, mix with rocks or shells for good drainage.
Don't add organic matter to your potting mix or planting holes. The plants prefer low to moderately fertile soil..
Do not over water – let dry between waterings.
Plant with other drought-tolerant plants, such as purple coneflower and stonecrop.
Water from the bottom, not from overhead.
Allow for ample air flow around the plants, avoiding planting next to a wind block such as buildings.
No need to mulch – you don't want to trap moisture.
Prune your plants back by about half in the fall or spring to promote fresh growth.
Are lavender plants easy to maintain?
With the right conditions, the plants are easy to grow and to maintain. Soil that is too acidic will kill your plants, so if your pH is below 6.5, it may be best to grow in pots.
Be careful not to overwater your plants! Remember, these are mountain natives, adapted to dry conditions. Frequent, shallow watering leads to unhealthy plants.
How long do the plants last?
Lavender is a perennial plant with a typical lifespan of ten years, although some plants have been known to live up to 20 years! Remember to trim them annually to promote good flowering and healthy growth. Unpruned plants tend to grow unevenly with empty centers and fewer flowers.
If your climate is too humid, you may still be able to cultivate lavender as an annual instead of perennial.
Where to Feature it in the Garden
Group several plants together for fragrance and visual impact. (This makes the plants easier to harvest for visiting bees, too.) Lavender is a natural pest repellent, so it's great next to patios and walkways to ward off mosquitoes. The heat reflected off hard surfaces is great for these drought tolerant plants.
How to Cook With Lavender
Most varieties of lavender can be used in cooking, but flavor will vary. It's best to grow your own or buy organic to avoid pesticides or other contaminants. Look for high quality flowers sold specifically for culinary use. You can use leaves or buds fresh or dried.
When harvesting buds, pick them right before they open fully. This maximizes flavor and essential oil content. Lavandula angustifolia blooms between June and August.
What is the difference between lavender and culinary lavender?
Plants or dried herbs sold as culinary lavender are generally harvested from the Lavandula angustifolia species. Lavandula angustifolia species possess a sweeter fragrance and spice. The flavor is floral, with lemon and citrus notes. You can find culinary lavender here.
The leaves, flowers and stems are all used for cooking. Sturdy dried stems make handy skewers for kabobs. Just soak the stems for about an hour before loading them up and using them on the grill.
Finely chop the leaves and sprinkle them on savory foods for a unique flavor twist. Remember, this is a strong flavored herb, so a little goes a long way.
Cooking Ideas
Desserts – add buds before baking or sprinkle on for decoration
Jams or compotes – try it with citrus, pears, or blackberries.
Cocktails, such as this this recipe
Breads – chop buds and mix them in just before baking.
Meat dishes – Herbes de Provence blends dried lavender with thyme, savory, and rosemary.
Garnish – I like to dip my lemons in the dried flowers and place by water or tea for my guests.
Cheeses – I place goat cheese (or other soft cheese) on a nice dish, sprinkle lavender flowers, and then drizzle with honey.
Lavender infused sugar – wonderful for dipping the rim of your drink or using in baking.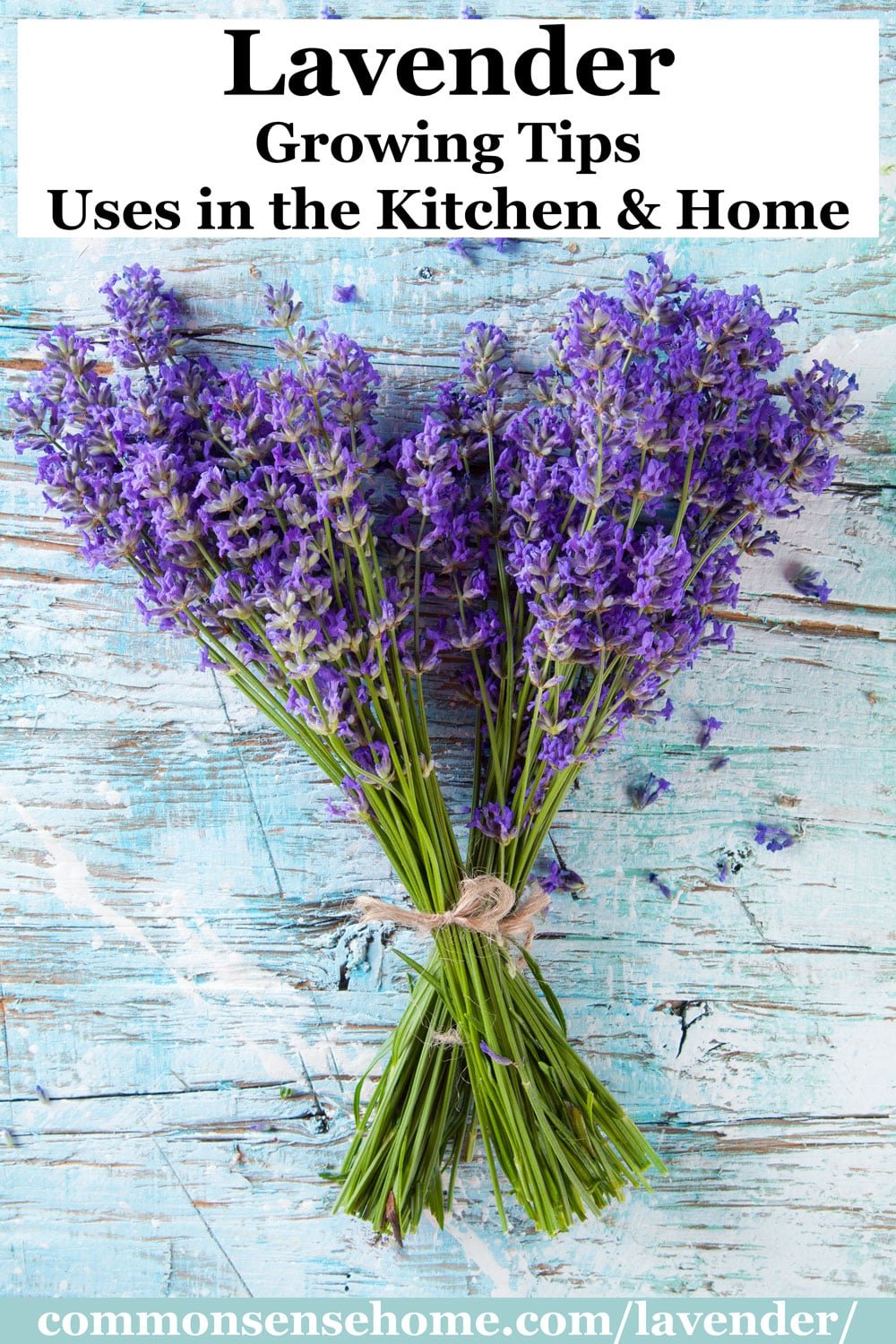 How to Make Lavender Infused Sugar
You will need:
Small glass jar with lid
Sugar
Lavender blossoms
Place a layer of sugar in the bottom of the jar, and top with a layer of flowers. Use roughly four times as much sugar as flowers. (For instance, about one cup of sugar and 1/4 cup blossoms.) Repeat layers until jar is filled.
Place jar in a cupboard or pantry for 4-6 weeks, shaking occasionally to distribute the lavender flavor. Use as you would regular sugar. Leave flowers in or sift out – your choice. The sugar dries and preserves them.
If you don't have your own fresh lavender, you can buy lavender sugar ready made.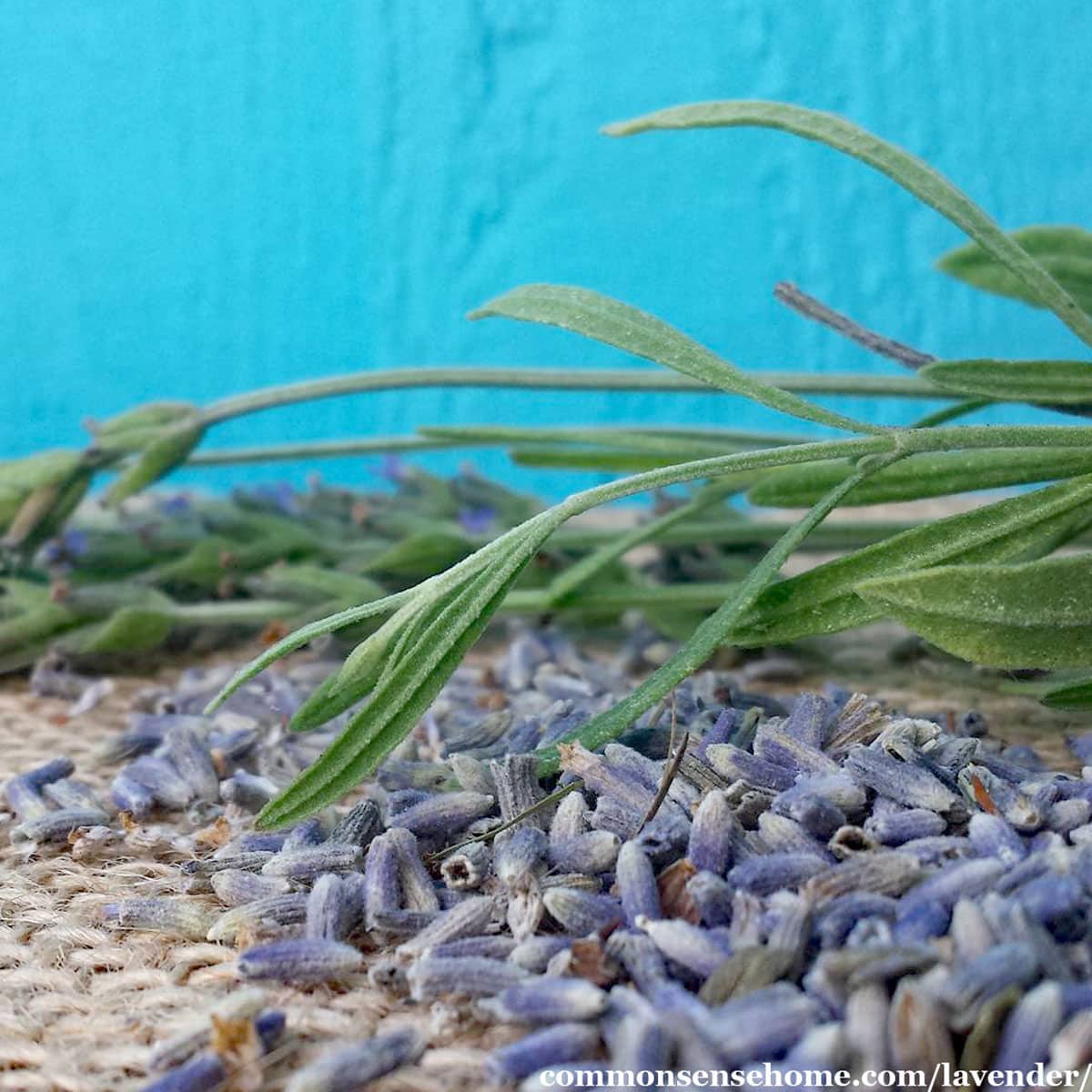 Medicinal Uses
Lavender is my go-to for many of our medical issues – I use it for everything from migraines to burns.
Some of the properties of the plant include:
Anti-Inflammatory
Antifungal
Antidepressant
Antiseptic
Antibacterial
Antimicrobial
Antispasmodic
Analgesic
It's used medicinally for:
Anxiety
Depression
Sleep disorders
Stress
Muscle Pain
Heals burns and wounds
Improves eczema and psoriasis
Antibacterial
Sedative
Headaches and Migraines
Digestive Issues
Chestnut School of Herbal Medicine shares more on Lavender's Medicinal and Aromatherapy Uses.
Lavender Oil or Herb?
Many people will ask me which is better- essential oil or herb? The EO is convenient to use, but it's also handy to be able to grow what you need right in your yard. I discussed this subject in detail in this article, Herbs or Essential Oils – Which is Better?
Always dilute lavender essential oil with a carrier oil. Never use essential oils on cats, small children, or pregnant/nursing moms.
Always ask your doctor or other medical professional when taking herbs or essential oils for health. This post is for general information only.
Other Uses
From cosmetics to teas, lavender has hundreds of applications. It's wonderful in fresh or dried floral arrangements, and lovely in potpourri. I use it to keep bugs away, as well as in craft projects and personal care, such as:
How do you use lavender? Have you grown it in your garden? Share your questions and comments below.
This post is by Amber Bradshaw of My Homestead Life.
Amber and her family live off grid on forty-six acres in the Smoky Mountains in East Tennessee. When this article was written, they lived on the coast of South Carolina.
Amber is the author of The Beginner's Guide to Raising Goats and Beekeeping for Beginners.
Originally posted in 2017, last updated in 2021.