This is a guest post by by Amber Bradshaw of My Homestead Life.
Sage (Salvia officinalis) is a perennial, evergreen subshrub, with woody stems, grayish leaves, and blue to purplish flowers. Salvia (sage) is the largest member of the mint family, containing over 900 species throughout the world.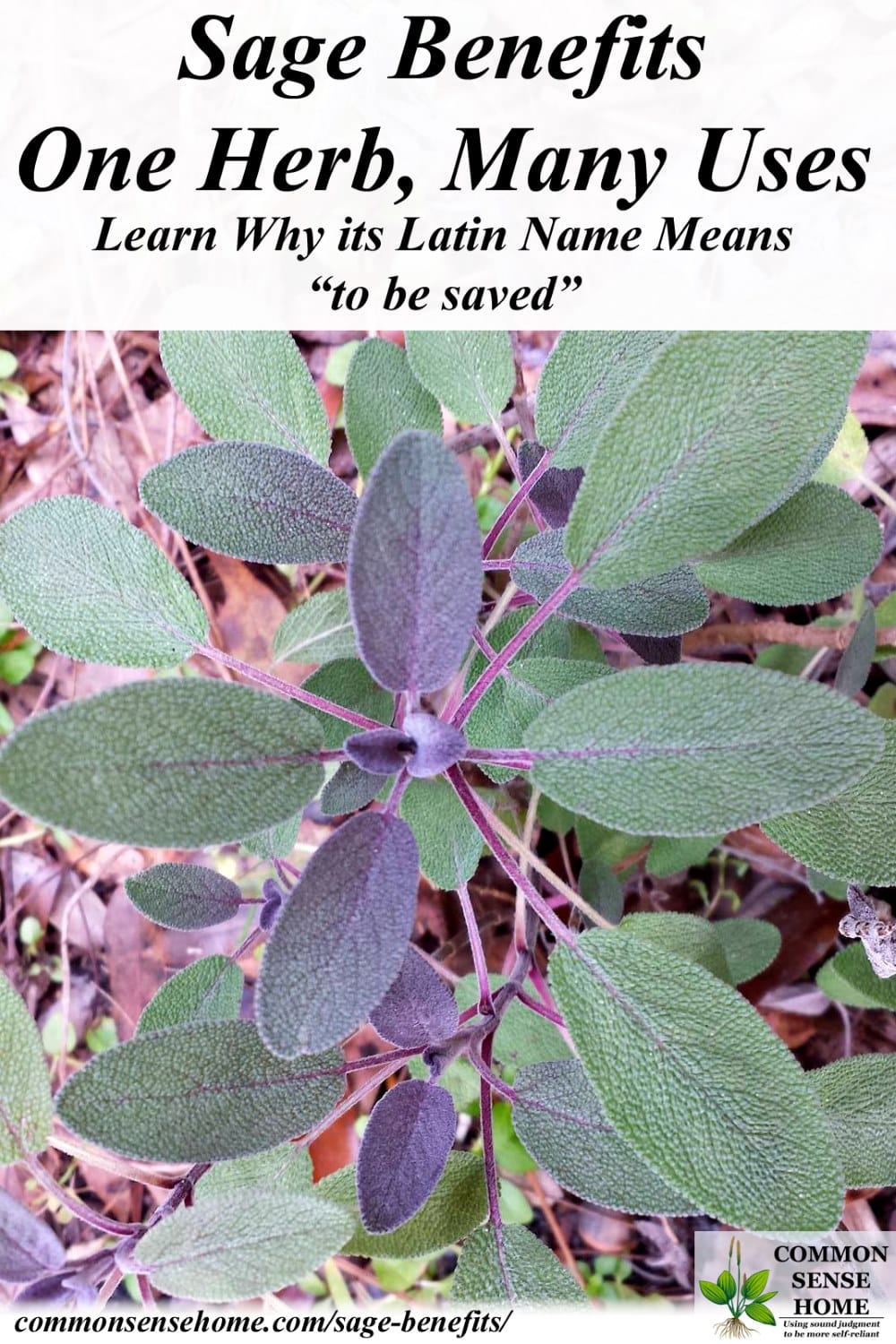 Salvia has been held in high regard throughout history both for its culinary and medicinal properties. Its reputation as a panacea is even represented in its scientific name, Salvia officinalis, derived from the Latin word, salvere, which means "to be saved."
Sage is one of my must-have herbs, definitely on my top five list. The more I explore and begin to understand herbs, the more I love and appreciate them. I realize herbs were put on this planet for a purpose. It is our responsibility to discover that purpose and apply it to our lives so it can benefit us and those we care about.
Tips for Growing Sage
Sage flourishes in a sunny, sandy, well-drained, neutral spot in soil with a pH between 6.5 and 7
The plant is an evergreen perennial shrub in zones 5-8. In zones below 5 and above 8, it is considered an annual because it cannot survive all year in the growing conditions.
Encourage air circulation with mulch and pebbles to help keep the area around the leaves dry
Prune plants back in early spring every year, cutting out the oldest growth in order to promote new growth
Replace plant every 4-5 years
Sage can be grown indoors in a sunny window. To read more about indoor growing, visit Gardening Know How – Growing Sage Indoors.
Cooking with Sage
Both Roman and Greek civilizations used sage as a preservative for meat, a tradition that continued until the beginning of refrigeration. What these cultures knew from experience, that this herb could help to reduce spoilage, is now being confirmed by science. Researchers have isolated the sage's numerous terpene antioxidants, which protect oils from oxidation and prevent rancidity.
Sage has a fragrant aroma and an astringent but warm flavor. Today it is typically used in:
Stuffing, Sausages, Poultry and Fish
Vegetable dishes, especially with beans
As a garnish in herb salads
Season Mixes
Easy Sage Recipes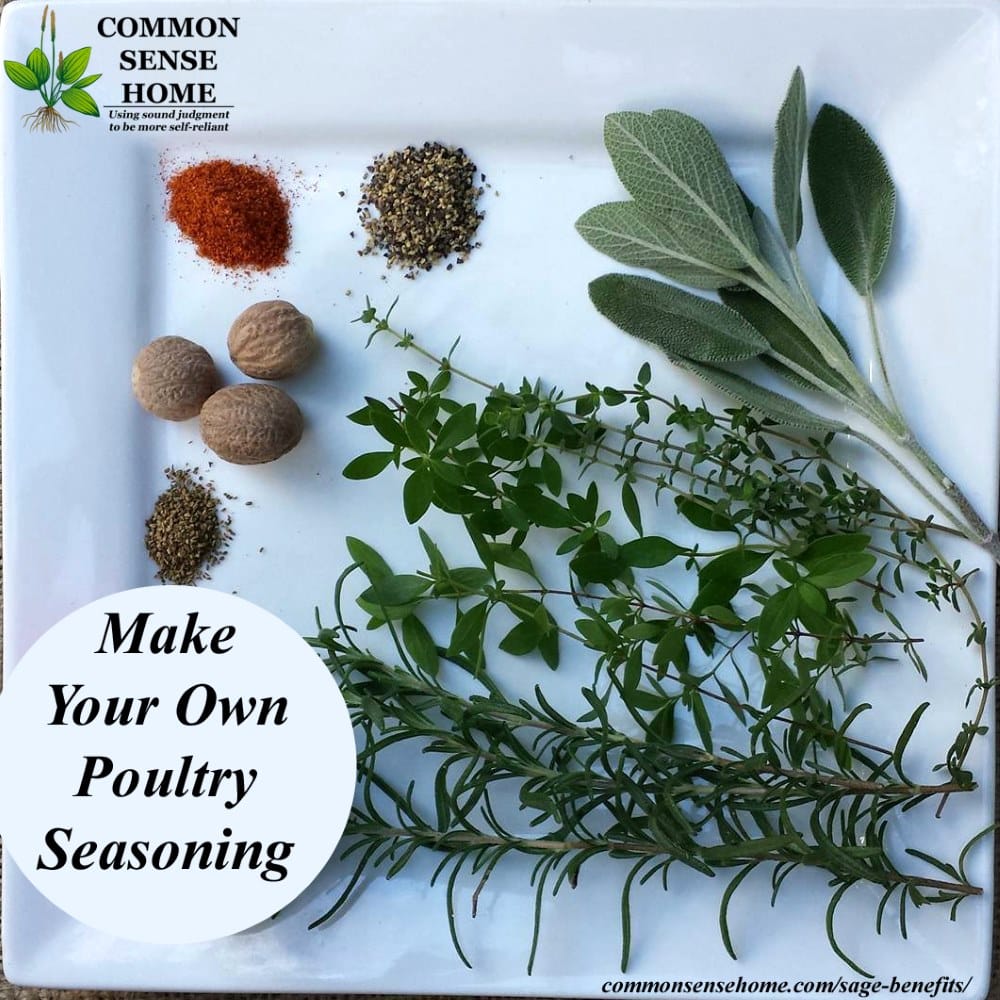 Print
Poultry Seasoning Recipe with Fresh Herbs
A great way to dress up your chicken or turkey.
Scale
Ingredients
3 tbsp

. finely chopped thyme

3 tbsp

. finely chopped rosemary

3 tbsp

. finely chopped sage

1 tbsp

. finely chopped marjoram

1⁄2 tbsp

. freshly ground black pepper

1 tsp

. celery seed

1 tsp

. freshly grated nutmeg

1 tsp

. smoked or regular paprika
Stir together all ingredients in a bowl. Seasoning will keep, refrigerated for about 3 days.
You can mix this seasoning in a stick of unsalted butter to rub your turkey with prior to roasting or insert under the skin.
Nutrition
Calories:

110

Sugar:

1

Sodium:

17

Fat:

4

Saturated Fat:

2

Unsaturated Fat:

1

Trans Fat:

0

Carbohydrates:

22

Protein:

4

Cholesterol:

0
Print
Poultry Seasoning Recipe with Dried Herbs
Scale
Ingredients
1 teaspoon each of
Dried chopped rosemary
Dried chopped sage
Dried thyme
Dried marjoram
Celery salt

1/4 teaspoon

fresh ground pepper
Mix in blender and store in a glass jar.
Nutrition
Calories:

5

Sugar:

0

Sodium:

1

Fat:

0

Saturated Fat:

0

Unsaturated Fat:

0

Trans Fat:

0

Carbohydrates:

1

Protein:

0

Cholesterol:

0
Sage Salt
Makes a great gourmet gift!
Ingredients
½ Cup Sea Salt (or any coarse salt)
¼ Cup Fresh Sage (chopped fine)
Directions
Mix together and spread out on a cookie sheet with a lip edge and bake on 200 * for 25-35 minutes until nice and dry.
You can place Sage Salt in a food processor until fine for use in a salt shaker or leave coarse.
Making your own vitamin water is very cost effective not to mention your guest(s) and children will love them!
Print
Sage Infused Water (Vitamin Water)
Infused water offers an array of healthy natural antioxidants and vitamins. They are visually stimulating, palate pleasing, and help to keep you hydrated.
Scale
Ingredients
1 Cup

of Fruit -cleaned and chopped in big chunks, do not chop berries (see notes for fruit suggestions)

¼ Cup

Fresh Sage Leaves (regular or pineapple sage)
Pitcher of Filtered Water
Add fruit to water. Rub sage between hands to bruise the herb and release the oils, add to water.
Let sit at room temperature for 1-2 hours or in the fridge for 3-4 hours. The longer you infuse the water, the stronger the flavor.
Discard fruit and herbs after 48 hours to prevent from spoiling. Store vitamin water in fridge up to three days.
Notes
Pair up your sage with
Peaches
Watermelon
Grapefruit
Blackberries
Nutrition
Calories:

323

Sugar:

8

Sodium:

10

Fat:

2

Saturated Fat:

1

Unsaturated Fat:

1

Trans Fat:

0

Carbohydrates:

78

Protein:

6

Cholesterol:

0
Medicinal Uses for Sage
In medicinal lore, sage has one of the longest histories of use of any medicinal herb.
Health benefits of sage (short list):
Antioxidant, anti-inflammatory, anti-allergic, anti-fungal, anti-viral and anti-septic properties
Increased intake of sage as a seasoning in food is recommended for persons with inflammatory conditions (like rheumatoid arthritis)
Bronchial Asthma
Alzheimer's Disease- improves memory
Cold Sores
Throat Infections
Typhoid
Gastrointestinal Issues
Beneficial for memory disorders. Sage has been used for centuries as restoratives of lost or declining mental functions such as in Alzheimer's disease
Rich source of several B-complex groups of vitamins such as folate, thiamin, pyridoxine and riboflavin many times higher than the recommended daily level
Contains very good amounts of vitamin-A and beta-carotene levels. Fresh sage leaves are a good source of antioxidant vitamin, vitamin-C
And the list goes on………
Sage Tea for Sore Throats
1 Cup Boiling Water
3 Tbsp. Fresh Sage (rinse off and pat dry) or 1 Tbsp. Dried Sage
Pour water over sage leaves and let steep for 10 minutes, strain and add honey and lemon if desired. Drink or gargle tea.
Note: A strong cup of Sage Tea can help relieve a nervous headache.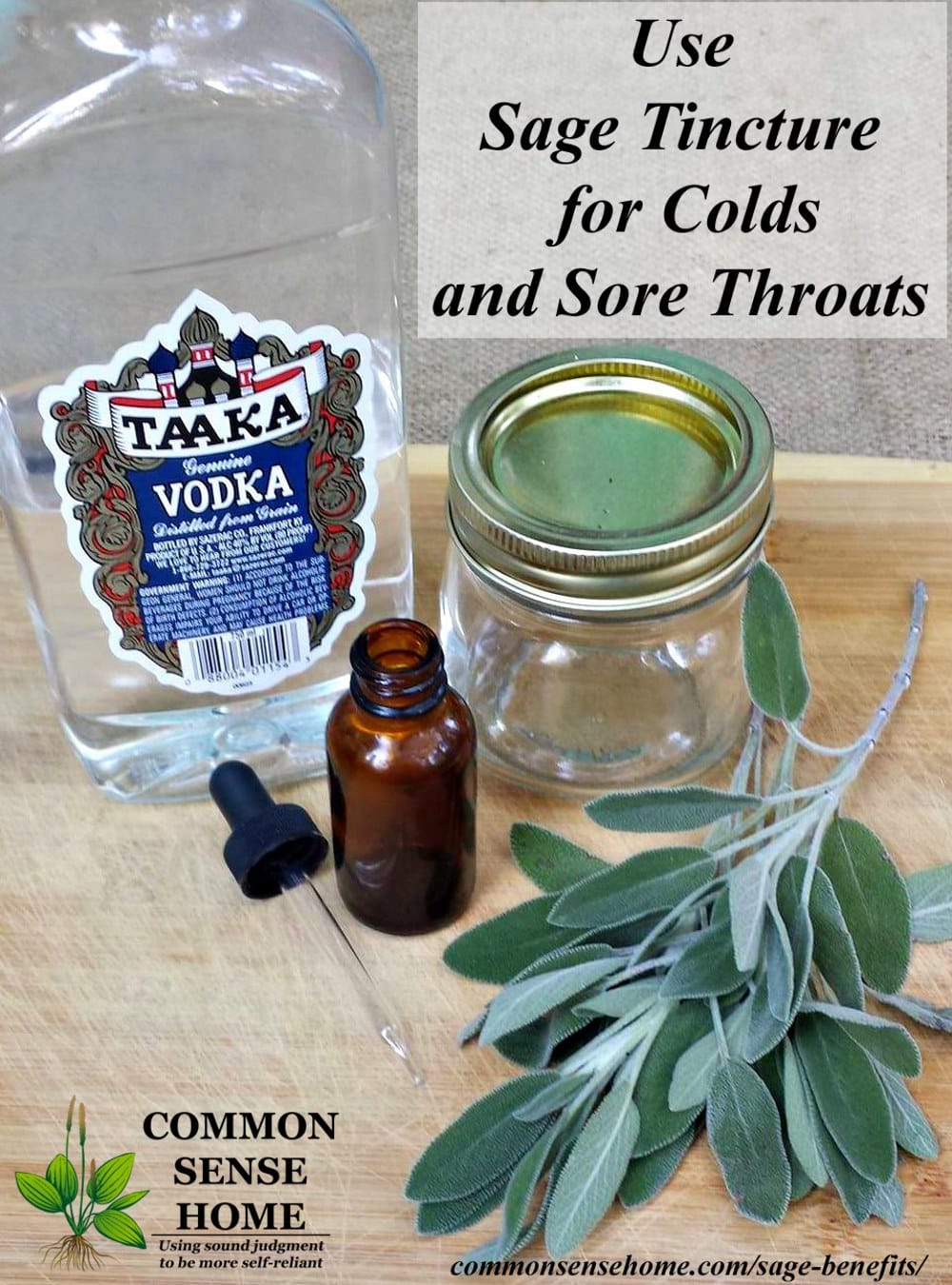 Sage Tincture
Fresh Sage (the amount you will need depends on the size of the jar you use. Fill jar ¾ full with sage)
Vodka (you can use vegetable glycerin in place of vodka)
Glass jar with lid
Instructions
Wash and pat sage dry (thoroughly)
Place sage in clean glass jar ¾ of the way full
Pour vodka (or glycerin) over sage until it is completely covered with ½" above sage.
Cover tightly and place in a cool, dark place for a minimum of 2 weeks.
Shake the jar every couple days to help with the infusion.
Strain and pour tincture in a dark glass jar, preferably with a dropper, and store in a dark place.
You can gargle with sage tincture or take 5-10 drops twice daily at the first sign of a cold or use to treat sore throats. The phenolic acids in sage are particularly potent against Staphylococcus.
*Note: Mothers who are nursing should avoid consuming sage because it can decrease milk flow
For treating Alzheimer's disease, 1 gram of sage per day is recommended. See webmd for more info on using sage for Alzheimer's treatment.
Another way to use sage is in a smudge stick, which is a bundle of dried herbs that is burned to help purify the air and kill airborne bacteria. You can learn how to make a smudge stick in the "How to Get Rid of Unpleasant Smells" section of the DIY emergency potty post.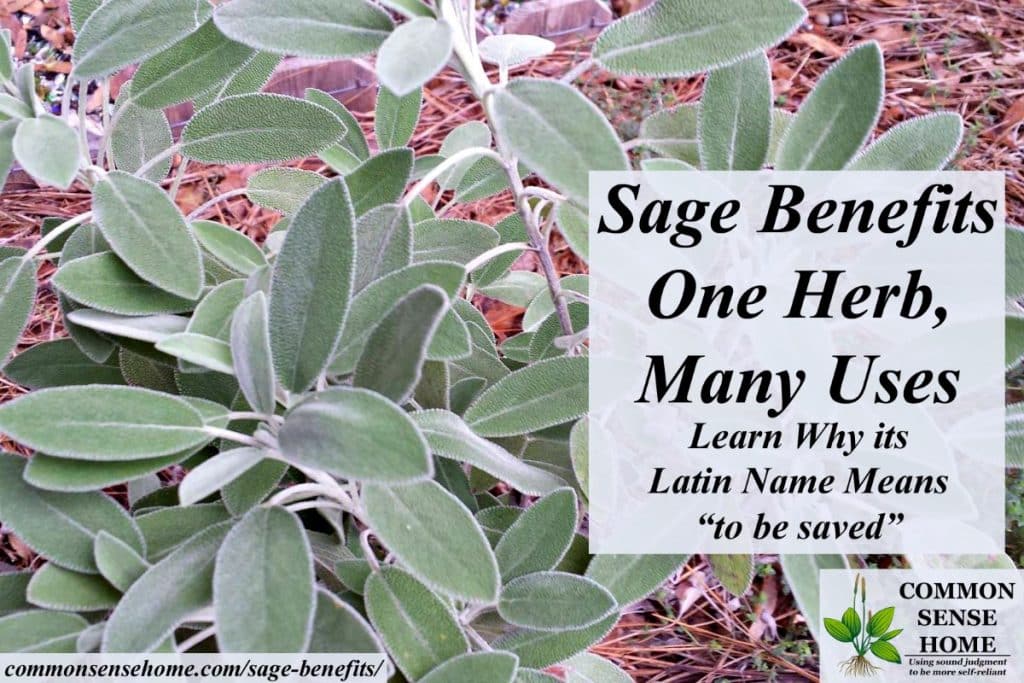 Disclaimer: All material in this article is provided for general information purposes only and does not constitute medical, legal, financial, or other professional advice on any subject matter. Please see a healthcare professional if symptoms are acute or persistent.
You may also enjoy:
This post is by Amber Bradshaw of My Homestead Life.
Amber and her family moved from their tiny homestead by the ocean in South Carolina to forty-six acres in the Smoky Mountains in East Tennessee.
While building their off-the-grid homestead, they live like the days of old – cooking without electricity, collecting water from the creek and raising chickens, goats, pigs, turkeys, bees, and guineas. They've recently filmed their journey for a TV show on the Discovery Channel and the DIY Network/HGTV called Building Off The Grid: The Smokey Mountain Homestead.
Sources