Pumpkin Pie Recipe with Graham Cracker Crust (Maple Sweetened)
This easy pumpkin pie recipe with graham cracker crust is naturally sweetened with maple syrup. The custard filling is rich and delicious, made with cream, not evaporated milk.
We'll take you through the recipe step by step (with video) and share some variations for different diet preferences and allergies.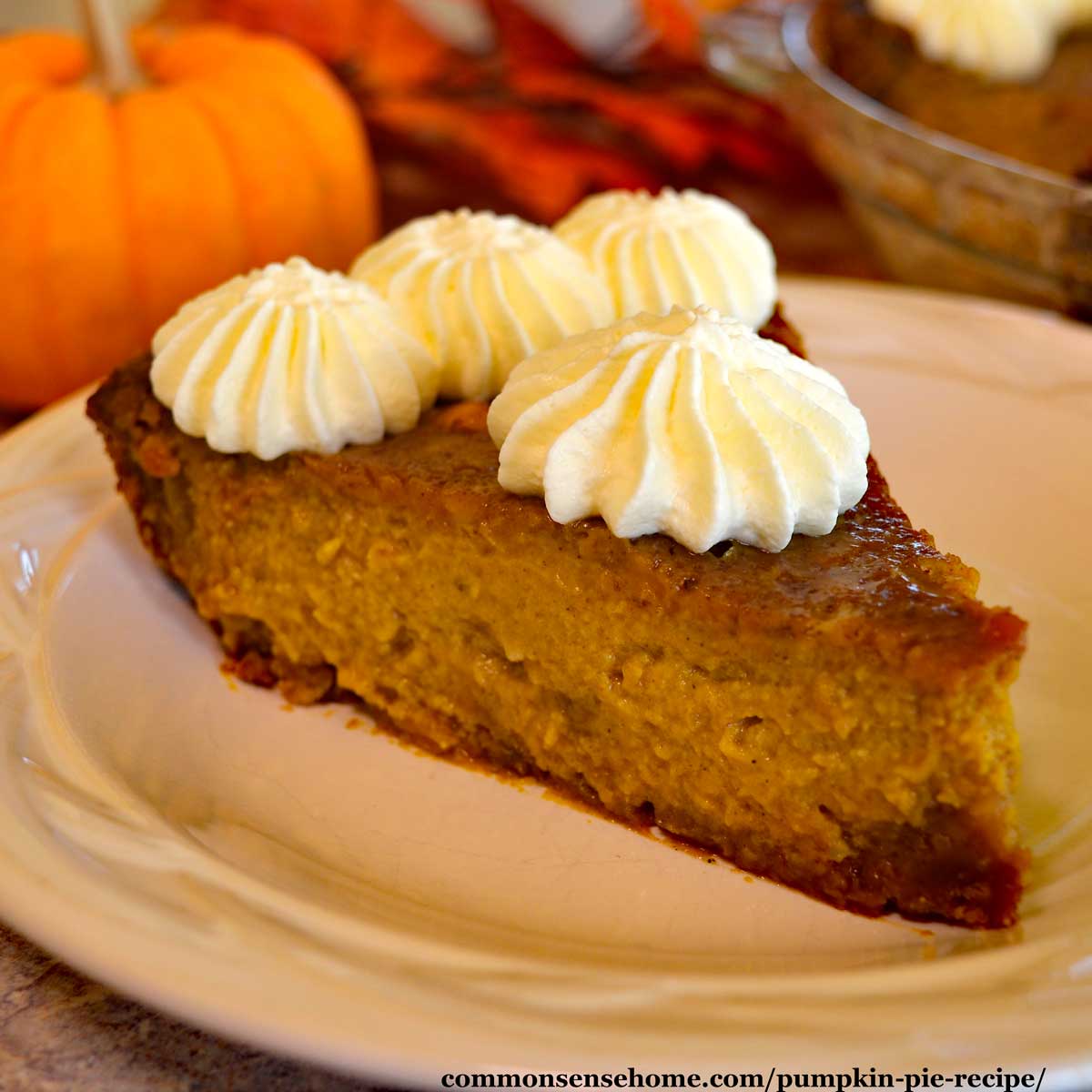 How to Make Pumpkin Pie
The classic pumpkin pie has two parts – the crust, and the filling. We use a graham cracker crust with this recipe, but you are welcome to use a pastry crust if you prefer. See "Best Pie Crust Recipes" for my mom's favorite pastry crust recipe.
In the video, I blind bake the crust before filling. You can skip this step if you like, but it helps to keep the pie shell from getting soggy. The higher temperate at the beginning of baking the pie also helps to set the custard and protect the crust.
I prefer glass pie plates over metal. They distribute the heat more evenly and keep the pie from picking up a metallic flavor.
Baking tip: If you start with ingredients at room temperature, it will speed up your baking time. If ingredients are coming straight out of the refrigerator, increase time as needed.
I use a large bowl or my 8 cup Pyrex measuring cup to mix the crust and filling. The spout on the measuring cup makes it a little easier to fill the pie shell without spilling.
Assembling Your Pie
For the crust, mix the graham cracker crumbs and other ingredients by hand or in the food processor. Press into the pie pan, working around the sides first, and then filling in the bottom. Pre-bake if desired.
For the filling, whisk together all ingredients until well blended. Pour into crust. (You might want to have your crust right next to the oven, so you don't have far to carry it.)
To prevent any drips from reaching the bottom of the oven, bake the filled pie on a half baking sheet or pie drip tray.
At the end of baking, remove pie from oven and cool on a wire rack. Top with whipped cream before serving, if desired. (There's a maple cinnamon whipped cream recipe here, if you would like to try something different.)
Print
Pumpkin Pie Recipe with Graham Cracker Crust
This easy pumpkin pie recipe with graham cracker crust is naturally sweetened with maple syrup. The custard filling is rich and delicious, made with cream, not evaporated milk.
Author:
Prep Time:

10 minutes

Cook Time:

60 minutes

Total Time:

1 hour 10 minutes

Yield: One

9.5

inch pie

1

x
Category:

Dessert

Method:

Baking

Cuisine:

American
Crust
1 1/2

cups

graham cracker crumbs

3 Tablespoons

granulated sugar

6 Tablespoons

butter, softened

1 teaspoon

cinnamon
Filling
1

can (16 oz) solid pack pumpkin, or

2 cups

homemade pumpkin puree

1

cup

maple syrup

1 teaspoon

ground cinnamon

3/4 teaspoon

ground nutmeg

1/2 teaspoon

ground ginger

1/2 teaspoon

salt

1 Tablespoon

all-purpose flour or gluten free flour blend (such as Namaste)

3

eggs, slightly beaten

1

cup

heavy cream

1/2 teaspoon

vanilla
Mix together crust ingredients and press into 10 inch pie shell.
Blind bake (without filling) for ten minutes at 350

℉

. Remove from oven and allow to cool for ten minutes while you prep your filling.
In a large bowl (I like to use my 8 cup Pyrex measuring bowl with pour spout), whisk together filling ingredients thoroughly.
Pour filling into crust. Bake at 400

℉

 for 10 minutes. Reduce heat to 325

℉

and bake for 35-40 minutes, until edges are set and center jiggles only slightly. Pie will set up more as it cools.
Move to wire rack to cool. Store in refrigerator. Taste improves the day after baking.
Notes
You can substitute 2 1/4 teaspoons pumpkin pie spice for the cinnamon, nutmeg and ginger.
For sweetened whipped cream topping, blend 1 cup heavy cream until soft peaks start to form. Add one teaspoon of vanilla and 2 Tablespoons of powdered sugar (or a Tablespoon of maple syrup). Whip until stiff peaks form and serve on chilled pie.
Keywords: maple syrup, pumpkin, no refined sugar, Thanksgiving, fall recipes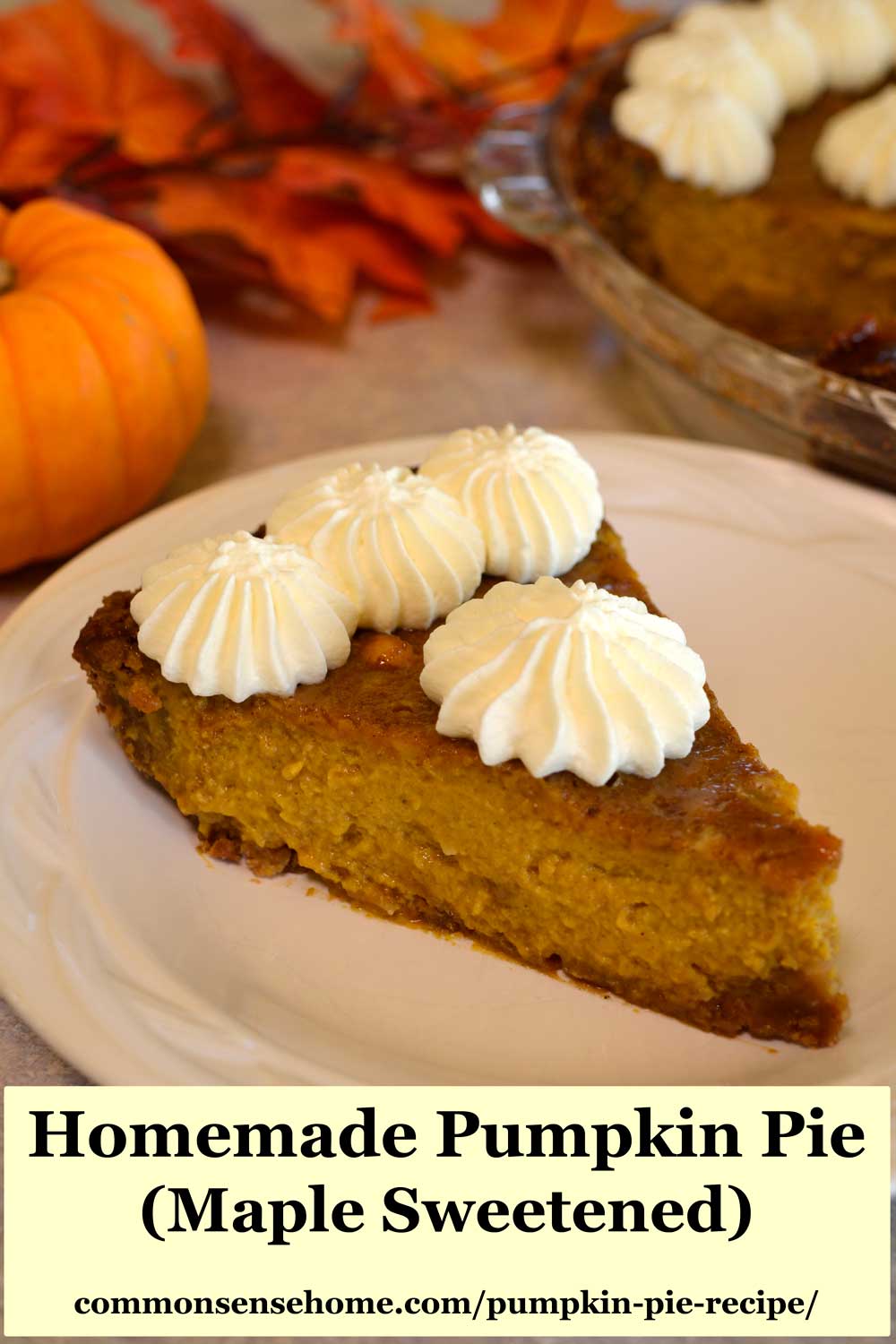 Troubleshooting Tips and Other Pumpkin Pie Questions
For those who are beginning bakers, we have answers to some of the most common questions about pumpkin pie and what to look for when baking.
What does pumpkin pie taste like?
The filling of pumpkin pie is a custard, like pudding, but a bit firmer. This recipe is extra rich and creamy.
Warming spices complement the smoothness of the filling. When you bake your own pie you can adjust the spices to your liking. Adding more or less won't dramatically change the pie texture.
Dairy Free Substitution
Substitute coconut oil for butter in the crust, and coconut milk for the whipping cream in the filling.
Keto Pumpkin Pie
Substitute nut crust or coconut crust (recipes here) for graham cracker crust. Replace maple syrup with granular brown sugar replacement of your choice. Use 1/2 cup to 1 cup. Eliminate the flour.
Gluten Free Substitution
Use gluten free graham crackers for the crust, or switch to a nut or coconut crust. Use a gluten free flour blend for thickening the filling.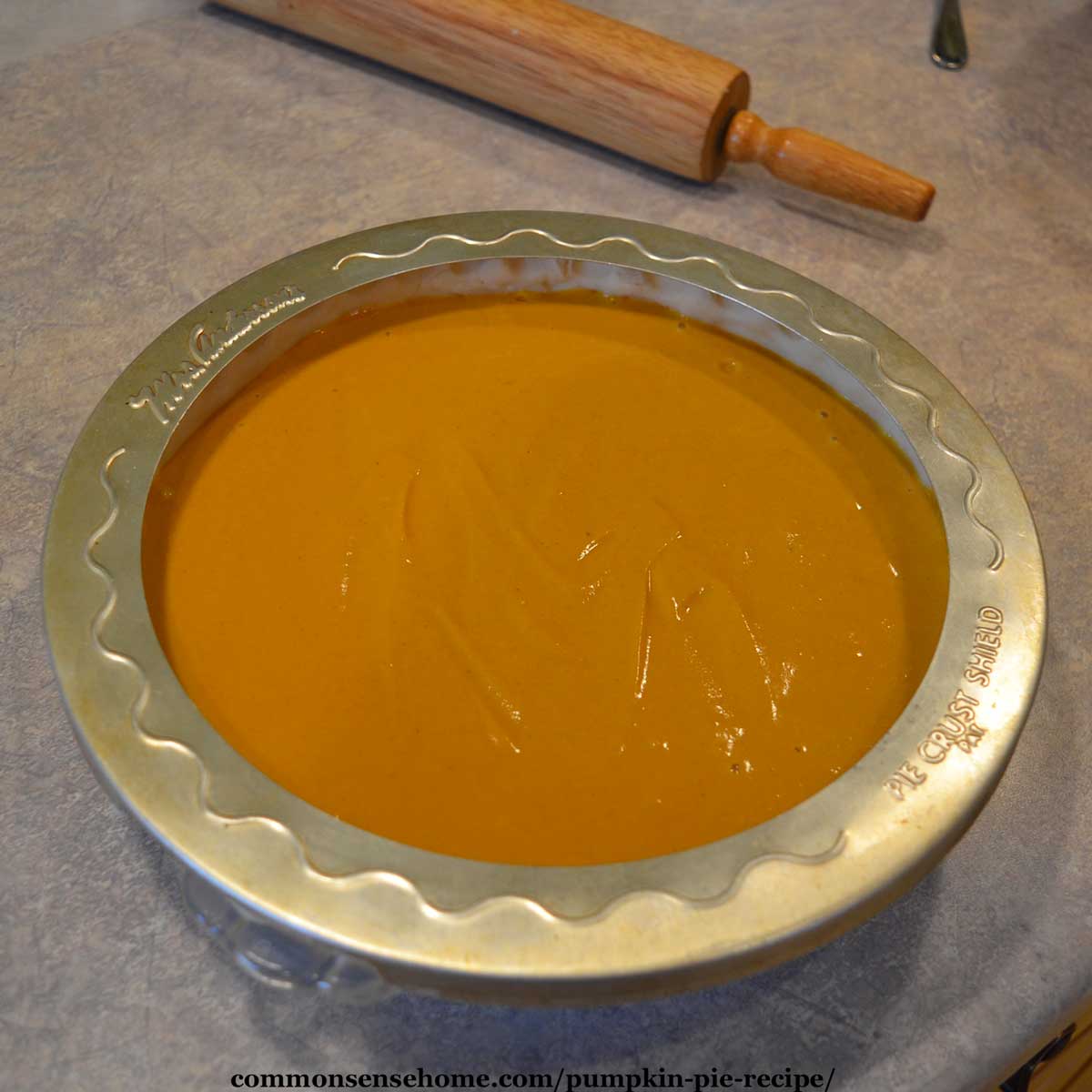 What to Do with Leftover Pumpkin Pie Filling
This recipe makes a 9.5 – 10 inch pie. If you only have a nine inch pie plate, bake the extra pumpkin pie filling separately. Use a second pie pan or other baking dish. For the extra custard, set the oven temperature to 350℉ and bake for 25 to 30 minutes.
You can freeze leftover filling, but the texture may change once thawed.
Another option is to substitute the leftover filling in recipes that call for pumpkin puree, but this can be a little tricky. You'll likely need to reduce the sweetened in the recipe, and may need to add extra flour. We usually just bake it and eat it. It's much simpler than tweaking recipes.
If Your Pumpkin Pie Filling Shrinks
Sometimes when your baking homemade pumpkin pie, the filling will shrink so much that a gap opens around the edge of the crust. While there's nothing wrong with the pie, it looks a little messy.
Once the custard shrinks, there's nothing that can be done to expand it. If you like, you can cover up the crack with whipped cream. It's homemade pie that will be gone in a flash, so don't worry too much.
The "trick" to avoiding shrinkage is to bring the pie temp down slowly after baking. If you have time, turn off the oven once baking is done, and let the pie rest for 15 minutes. Then, crack the oven door and let it rest 15 minutes more. Finally, move to a wire rack to cool to room temperature before refrigerating.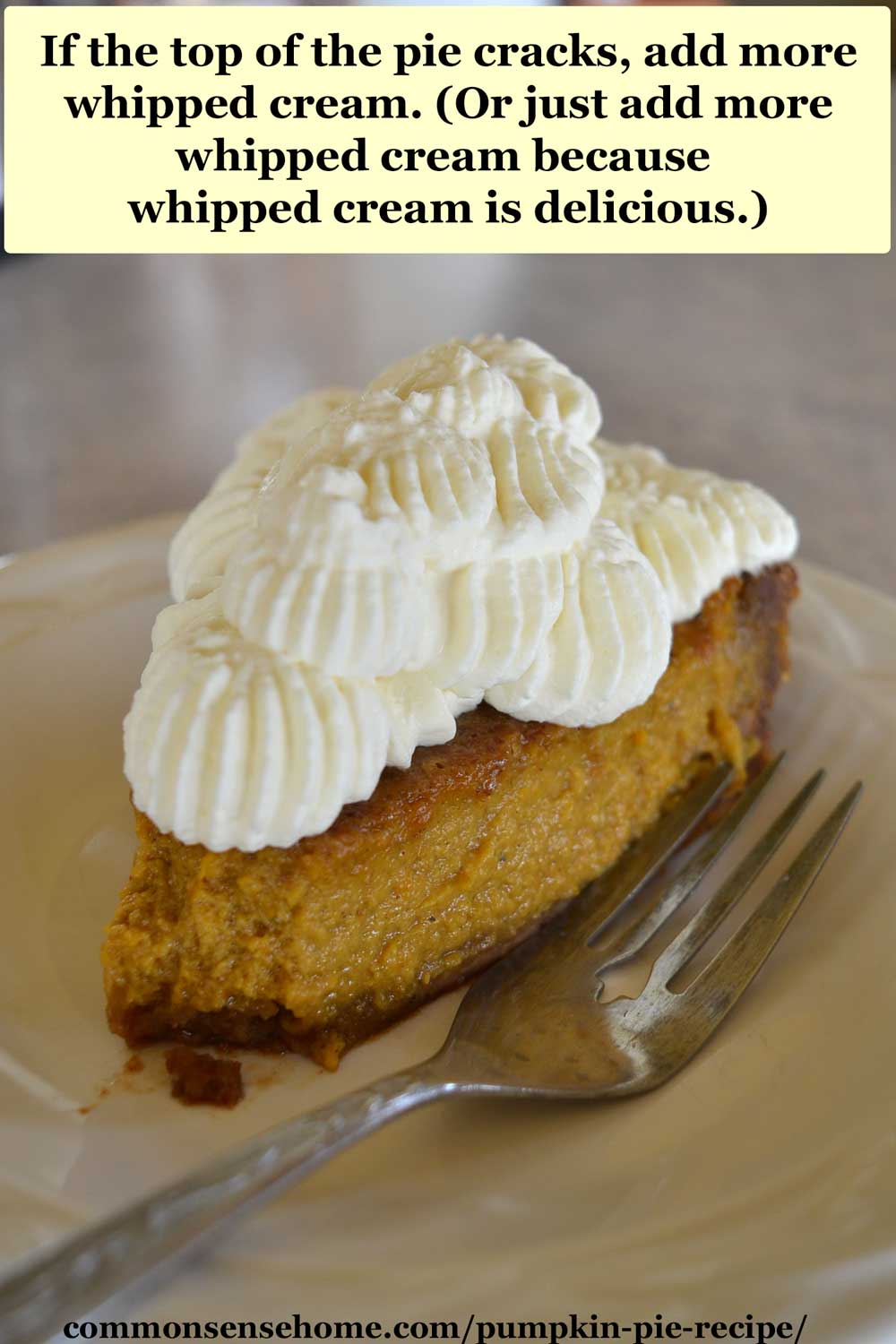 Why is my pumpkin pie watery?
Oddly enough, there are two different types of watery pie issues.
One – where your filling is quite sloppy and doesn't want to firm up. Two, where your custard is firm after baking, but starts shedding liquid (weeping).
If your filling is very wet, the problem was likely with the base recipe or the pumpkin puree. Most pumpkin flesh is watery when you cook it. To get a thick puree, you need to cook off the excess water, or drain it off.
Another alternative is to use winter squash. Many winter squash are naturally drier, so you don't need extra cooking or straining. Commercial pumpkin puree is made from a specific pumpkin variety that is naturally dense and dry, or butternut squash. (Read more about pumpkin versus squash for baking here.)
A pie that gets watery after baking is likely over-baked or baked with the oven temperature too high. This causes the custard to "break" and become watery.
Use a lower temp (325 to 350℉ ) for most of the baking time. (Starting at a high temperature is fine.) Combine this with the slow cool down method listed above to avoid shrinkage, and your pie is less likely to shrink or weep.
More Made From Scratch Recipes
You may also enjoy some of our other made from scratch recipes, which are listed by category on the Recipes and Kitchen Tips page. They include:
Do you have any pie baking questions, or tips you'd like to share? Leave a comment below to share your thoughts. Enjoy your baking!