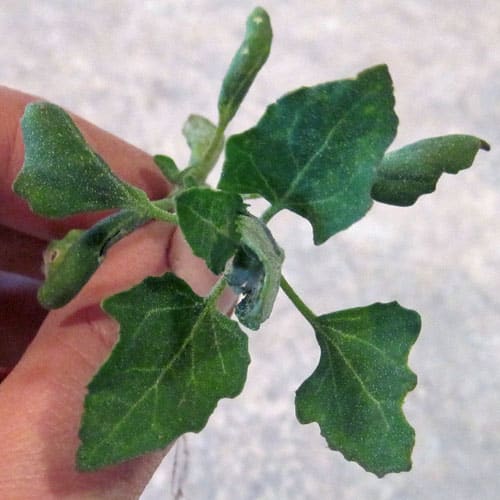 Today's featured plant is Lamb's Quarters, Chenopodium album.
Lamb's Quarters is also known as pitseed, goosefoot, pig weed, wild spinach and huauzontle. It is alternately spelled as lambsquarters or lamb's quarter.
Range and Identification of Lamb's Quarters
Lamb's quarters is native to North America, and was cultivated as a pseudograin (grain-like plant) similar to quinoa. It can be found throughout North America (see map) along roadsides, in fields, and in cultivated ground.
The plant is an annual, and will readily self-sow if allowed to set seed. The weed cookbook (A Lancer Larchmont book)The Weed Cookbook by Adrienne Crowhurst says, "This unattractive and pestiferous weed is one of the finest greens around." I don't find it unattractive, per se, but it's certainly not very showy – all green on green, other than a bit of silver dusting, primarily on the undersides of the leaves. It's more noticeable on the younger plants.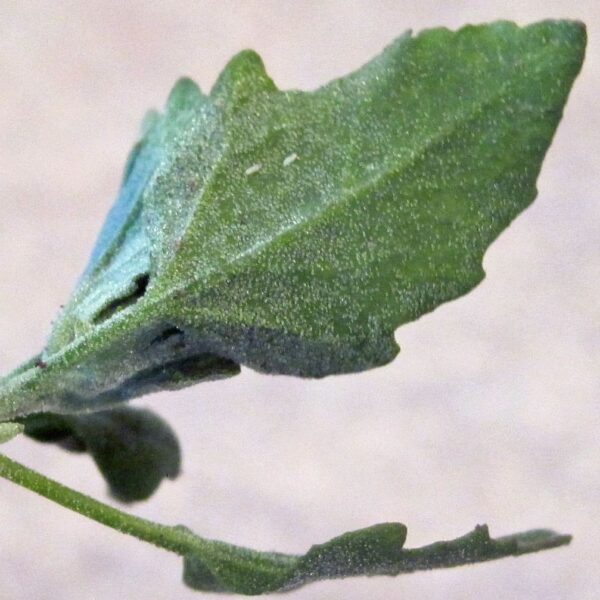 The plants can grow up to 7 feet tall, although 3-5 feet is more typical. In my garden, they like to bush out and and grow shorter. Here you can see several plants flourishing between the lettuce and kale.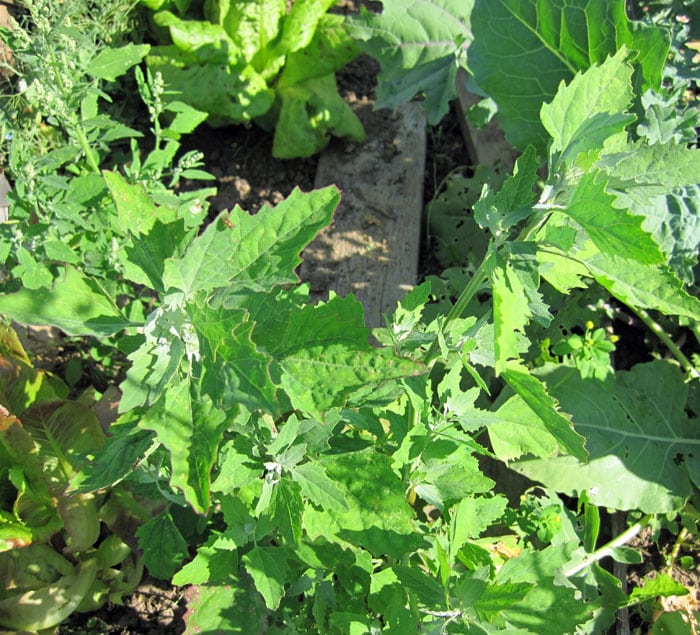 Leaves alternate up the stalk, and are up to 4 inches long. They are lobed farther down on the plant and more lancelike towards the tip. Some varieties resemble maple leaves (these are supposed to be some of the best for eating). Flowers are small and green, and cluster at the growing tip of the plant. The seeds are small and round, either brown or black, and are produced by the thousands. I recommend reading The Forager's Harvest: A Guide to Identifying, Harvesting, and Preparing Edible Wild PlantsThe Forager's Harvest for more detailed descriptions of different varieties and related species. When I was growing up, we always called this one pigweed, and I had no idea it was also people food. There are some beautiful photos of lamb's quarters at Torontowildlife.com.
Lamb's Quarters as food for wildlife and humans
Caterpillars of Painted Ladies and Silver-spotted Skippers eat the leaves of Lamb's Quarters and hide underneath for protection. Meadow Voles, chipmunks, squirrels, and birds eat the seeds. White-tailed Deer eat the whole plant. (source)
Lamb's quarters taste similar to spinach, and can be used in recipes as you would use spinach or other greens. The young shoots or top leaves of older plants are the most tender, and can be harvested until the plant flowers. They can be eaten raw as a salad green, or cooked. Some people may have mild tongue irritation as a result of the silvery powder that covers the leaves, so sample gingerly until you know if you are one of them. The leaves can be steamed or stir-fried, sauteed and used in omelets. (See lamb's quarter recipes) They may be preserved by pressure canning, drying, or blanching and freezing.
The goosefoot family (cheno is goose, pod is foot) includes lamb's quarters, quinoa, spinach, red beets, sugar beets, and Swiss chard (silver beet). Lamb's quarter seeds are totally safe to eat, but there are two cautions to keep in mind when eating lamb's quarter leaves. All edible plants in this family — including spinach and chard — concentrate oxalic acid in the leaves. And oxalic acid can interfere with calcium utilization unless eating with a good source of calcium, such as cheese or yogurt, at the same meal. The roots of lamb's quarter search out and concentrate nitrogen (protein), plants growing in fields that have been heavily fertilized (with chemical fertilizers) can contain large amount of nitrites and nitrates. Fertilized plants have harmed livestock and, theoretically, could harm us.

A half-cup serving (110 grams) contains over 300 mg of calcium. (Swiss chard has 88g, spinach 93g.) And 11,600 IU of vitamin A activity. (Swiss chard has 6500, spinach 8100.) Lamb's quarter greens are also an excellent source of B vitamins, especially riboflavin and folic acid. And they are more than four percent protein.
As always, any medical information is for informational purposes only. Always exercise caution when using any wild plants and make sure you have positively identified the plant.
Update: I just read on Traditional Foods: Easy, Fuss Free that they had success using lamb's quarters as a remedy for nettle sting. I haven't tried this, but it sounds promising. Read more here.
You may also enjoy this recipe for Goosefoot (Lamb's Quarters) Pie.
Please Like, Pin or otherwise share this post if you would like the Weekly Weeder series to continue. 🙂