Jewelweed – Traditional Remedy for Skin Ailments
Jewelweed, Impatiens capensis, is a native North American plant with a history of medicinal use. From treating poison ivy rash to insects bites, jewelweed knowledge is a must-have for outdoor enthusiasts and herbalists. We'll share how to identify this lovely native species, as well as how to use it.
Spotted or orange jewelweed is also known as touch-me-not, spotted touch-me-not, orange balsam, ear jewel, kicking colt, ladies earring, and silverleaf. It resembles the closely-related species pale touch-me-not (Impatiens pallida), which has slightly larger yellow flowers.
Range and Identification
Impatiens capensis is native to North America, and can be found throughout most of the United States and Canada. Some say the name "jewelweed" comes from water droplets sparkling on its leaves like jewels. Others claim it's from how the flowers glow like jewels in the dappled sunlight.
Spotted jewelweed grows in moist soils. This native plant can be found along roadsides, streams, in wetlands and shady areas. It grows 2 to 5 feet tall by mid-summer, and has a shallow, branching taproot.
We saw a fair amount of it when we went elderberry foraging, as they like the same conditions. I also saw a big clump of it hanging on a rock wall in Fonferek Glen, which I thought was interesting. Apparently, it tolerates poor soil – or even no soil.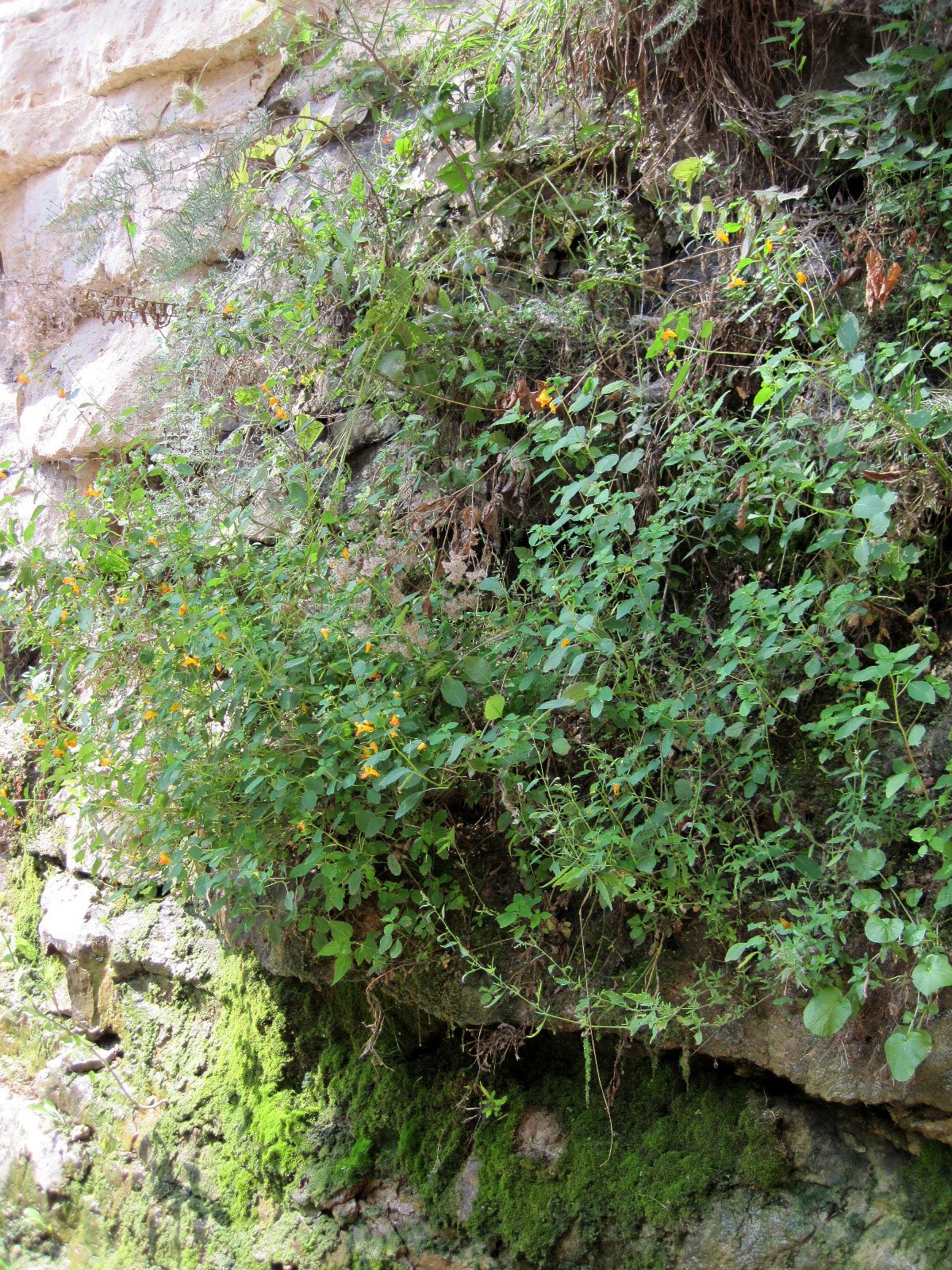 The oval shaped leaves are 1-3″ (2.5-7.5cm) long, with toothed margins. They alternate on short leafstalks. White tailed deer eat the leaves (like they eat almost everything else), as do several types of moths.
Jewelweed blooms from mid-summer until the plants are killed by frost. The flowers are distinctive, with a striking, freckled flame-orange color and tubular shape. They are around 1″(2.5 cm) long. Hummingbirds, bees, and other pollinators savor their nectar.
The plants also have small, self fertilizing flowers at the bases of the leaves. These cleistogamous flowers are tiny (about 1mm long), and never open.
The name "touch-me-not" comes from the long, banana-shaped seed pods. The ripe pods splits open when touched, spraying seeds in every direction. Mice and birds eat the seeds and seed pods.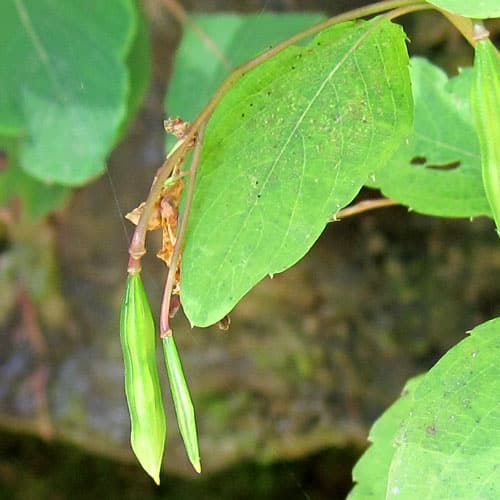 Propagation
Jewelweed is an annual and propagates by seed. They're a hummingbird favorite, as the flowers produce nectar with an unusually high sugar content. This makes them a great choice for wildlife gardens and native flower plantings.
Gather seeds in early fall (leave some to reseed), spread on prepared soil and lightly water in. The seeds need light to germinate, so don't cover them with soil. You can also start seedlings inside and plant them out in spring.
Remember, these plants do best in some shade and moist conditions. Once established, they should self seed, and are vigorous enough to hold their own against invasive species like garlic mustard (Alliaria petiolata).
Jewelweed Seeds
Strictly Medicinal carries Impatiens capensis seeds, as does Prairie Moon Nursery. You may also be able to find them at other native plant nurseries.
Jewelweed Uses
Where jewelweed shines is for skin irritation, although timing is important. The faster it's is applied, the more likely you will get relief. Native Americans and other herbalists historically used it for conditions such as:
burns
ringworm
impetigo
contact dermatitis
nettle stings
rashes
eczema
poison ivy rash
sprains
bruises
insect stings
blisters
sunburn
hemorrhoids
You can mash and apply the plant as a poultice, or prepare it as a succus, tea, soap, salve or vinegar. My friend, Tami, whose sons juice a lot of jewelweed, says the medicinal properties are best before it flowers. You'll often find jewelweed growing near poison ivy or stinging nettle.
How to Apply
One of the best (and easiest) ways to use jewelweed is as a succus. To make a succus, simply chop and blend the plant with enough water to make a liquid. Strain and use immediately, or freeze for up to a year. Rub the ice cubes on for cooling skin relief, or thaw and apply with a cotton ball.
For a shelf stable option, make infused vinegar. Chop leaves and stems and fill a jar about half full. Pour in enough vinegar to fill the jar to the top, and still to remove air bubbles. Screw on the lid and allow to steep for two to three weeks, and then strain.
Use a plastic cover to prevent corrosion, or place a layer of wax paper under the lid. Label and store the finished product in a cool, dark location for up to a year. Apple cider vinegar works well for sunburn on its own, so the combination of jewelweed and ACV packs two remedies together.
Is Jewelweed Safe to Eat?
In the book Edible & Medicinal Wild Plants of the Midwest, Matthew Alfs shares a variety of jewelweed uses. He does eat the plants, but only when they are under six inches tall, and only with special preparation. I don't recommend it for the casual reader, as it may cause severe stomach upset. He says the ripe seeds taste a bit like walnuts, and uses them as "a trail nibble".
Remember, always exercise caution when using any wild plants and make sure you have positively identified the plant.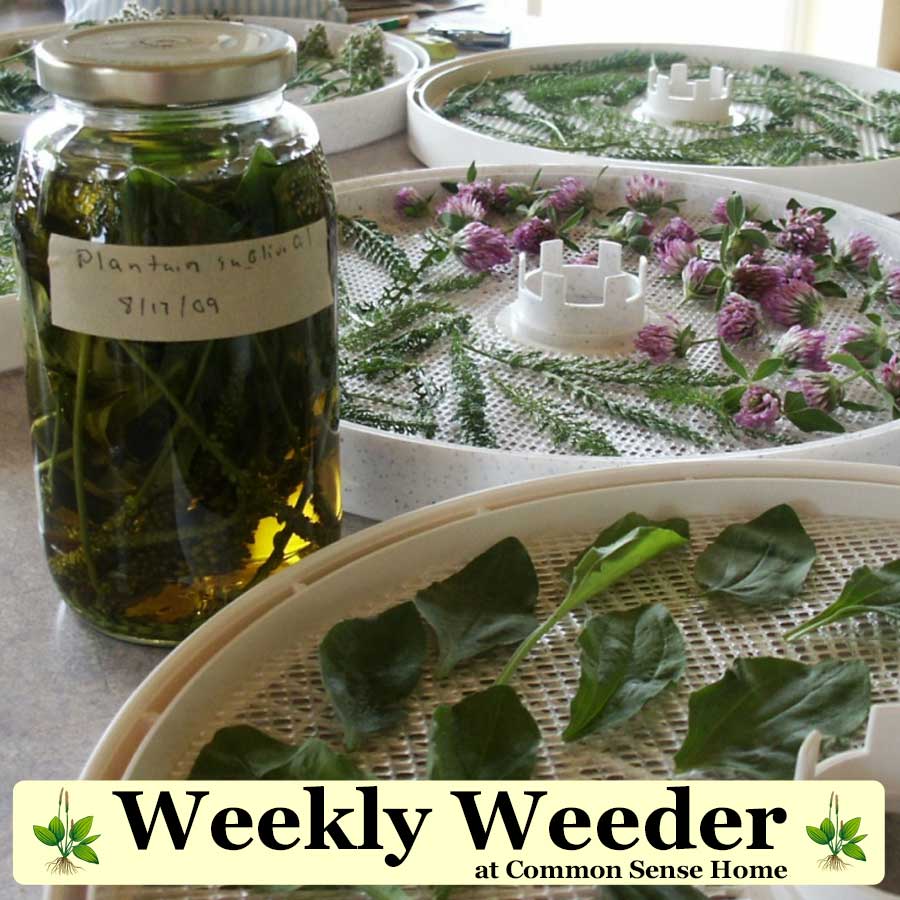 More Wildcrafting Information
This article is part of the Weekly Weeder series, which shares how to use wild plants for food and medicine.
Other articles in the series include:
My Favorite Wildcrafting Books and Resources
Lambs Quarters – Wild "Spinach" that Tolerates Hot Weather
Chickweed – The Inflammation Soother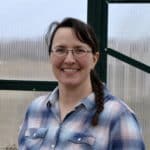 This article is written by Laurie Neverman. Laurie was raised on a small dairy farm in northwest Wisconsin, where she gathered wildflowers from the woods and pastures. Now she and her family have 35 acres in northeast Wisconsin, where they cultivate biodiversity with a combination of intentional plantings and semi-wild areas. Every season is a new opportunity to learn more about working with wild plants.
Originally published in 2012, last updated in 2023.