Is the cleaner you're using to spray your counters, your fridge, your stove, or even your baby's high chair safe to use?
Several years ago I was cleaning my kitchen and happened to glance at the label of a cleaner that I used for everything. It said "Do not use on kitchen surfaces."
I was horrified! I can't use it on my kitchen surfaces?? I had used that particular cleaner to clean EVERYTHING, as did my Mom when I was growing up. It dawned on me in that moment that just because they kill germs it does not make them safe (which I probably should have realized sooner).
You cook on those surfaces and your kids drop food on those surfaces and then eat that food. Topical exposure isn't the only worry though. When you spray a surface you are dispersing those chemicals into the air for everyone to inhale. They can do a lot of damage to our lungs and other organs.
Often times we think that we are using household cleaners to "clean" but take no mind of what they are leaving behind. I'm not sure which is more dangerous, the germs on the counter or the chemicals that killed the germs. Of course, we want the surfaces in our home to be clean but we want them to be clean of chemicals as well. So what do we do?
We can make our own cleaners that are very effective at killing germs while not causing harm to our family members.
I have an easy to make and easy to use list of DIY natural cleaners that smell good and work great!
One word of caution when using citrus oils… Citrus oils can eat plastic, so you may want to use a glass spray bottle for long term storage of cleaners that contain citrus oils.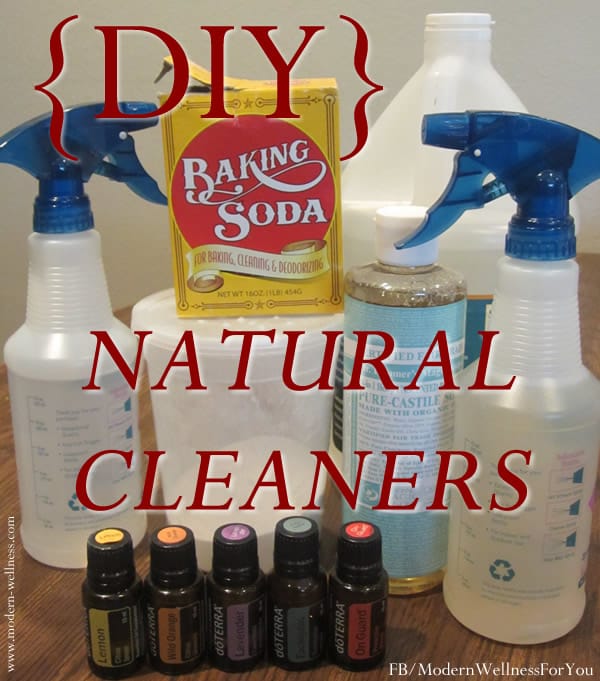 7 Essential Oil Based DIY Natural Cleaners
All-Purpose Spray Recipe
Essential Oils To Try:
15 drops each lavender & lemon
10 drops each eucalyptus, peppermint, and wild orange
30 drops OnGuard
Add all ingredients to a spray bottle. Shake thoroughly before spraying.
Window & Mirror Cleaner Recipe
Pour ingredients into a spray bottle, and shake to blend, apply and wipe clean.
Floor Cleaner Recipe
Combine in a large bucket. Use a mop or rag to clean the floor. Rinsing optional.
Toilet Bowl Cleaner Recipe
Mix baking soda and salt together. Add the oils to the vinegar. Spray the inside of the toilet bowl with the vinegar mixture, and then sprinkle on the powder. It should be fizzy; if it is not, spray a bit more vinegar. Let cleanser sit 10-15 min. before scrubbing with a brush. Flush.
Tile, Grout, and Tub Cleaner Recipe
Mix all the ingredients together. You can add more water depending on how thin or thick you want the mixture to be. Paint on with foam craft brush (or your hand if you want to). Let sit for 15 – 20 min. Get it wet with a spray bottle, scrub with a scouring pad, and wipe clean with a wet cloth.
Air Freshener
You can easily use a diffuser to disperse the aroma of essential oils in your home or you can also use a spray bottle.
15 drops essential oil
Mix with water in a spray bottle.
Essential Oils To Try:
Lemon
Lavender
Peppermint
Or a combination of them
Carpet Freshener
1-2 C baking soda (depending on the area you'll be sprinkling it on)
15-30 drops essential oil
Mix in a container with a sprinkle top or one you can make holes in to create your own sprinkle top. A large yogurt tub works good. Sprinkle on the carpet. Let sit overnight and then vacuum.
Essential Oils To Try:
Lemon
Peppermint
Lavender
Wild Orange
Purify
Citrus Bliss
What homemade cleaners do you like to use? We'd love to hear about them!
P.S. Editor's note: I've put all the recipes in an easy to print pdf file with the recipes on one page and the label text "7 Easy Natural Cleaner Recipes with Essential Oils" on the second page.
You can print just the recipes for easy reference, or print the two pages back to back, roll the recipes up and include them in a gift basket with the ingredients to make the cleaners.
To make a gift basket, I gathered an assortment of glass jars to repackage bulk items in a basket from the thrift store. (I knew I was saving those bottles for a reason.) I also included a few bottles of essential oils, a glass spray bottle, an upcycled kitchen scrubbie, and two kitchen washcloths.
You may also enjoy the posts:
This is a guest post by Christy Fechser.
Christy Fechser is the wife to 1, mother of 3, lover of health, wellness, the beach and sunshine. She is passionate about living an inspired life and loves to inspire others to live life at their fullest.