The Ultimate Guide to Practical Cold Weather Clothing
Cold weather clothes are a must for us here in Wisconsin. Recent winters have been milder, but we've had past years with weeks of extreme cold weather, well below zero. From wicking layers to windshells, we'll help you pick the right cold weather clothes to stay toasty, even in extreme cold.
In this article, we'll answer common questions about warm clothes and dressing for different conditions. Then we'll get into the four layers of cold weather clothing, and our picks for those layers. We also talk about winter gear, including socks, underwear, boots, hats, gloves, and pants.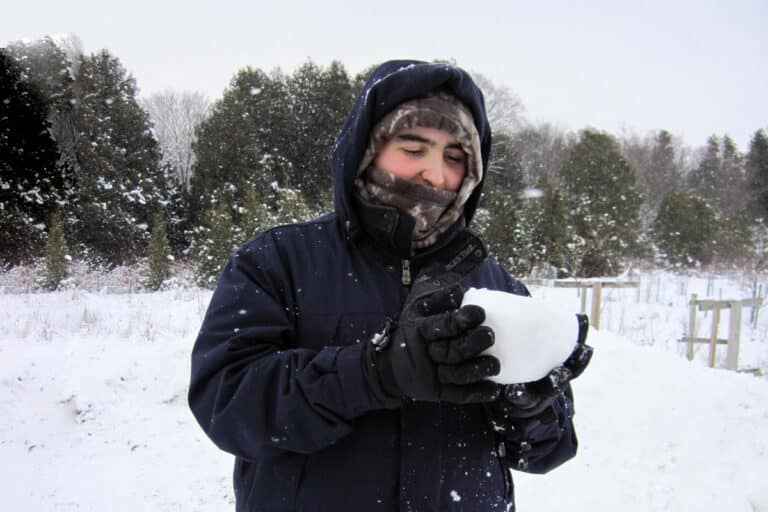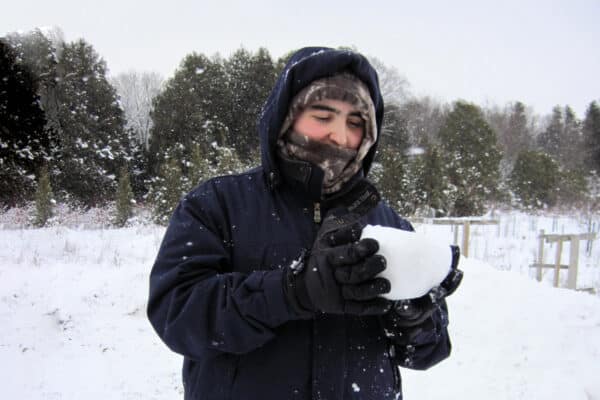 Cold Weather Clothes – The Basics
In general, you want to get insulation/protection between you and the environment. Layers work well, because you can add or remove them to avoid sweating. For instance, a wind shell combined with a light mid layer may work better than one heavy insulation layer.
Why is sweat a problem? Some materials lose their insulation value when wet. Cold + damp = higher risk of hypothermia, which may be life threatening. Moisture on the skin will result in cooling which is great if it is hot out, but really bad if its 30 below zero.
Find out what "normal" conditions are for your area. Then make sure you have winter clothes that will protect you to that temp, and at least ten degrees lower. (Recent winters are breaking records in many areas.)
Plan your winter wardrobe for conditions, your cold tolerance, and your activity level. "Cold weather clothes" is a relative term. Calm and temps of 20°F(-6°C) feels a lot different than windy and -20°F(-28°C). What feels a "little chilly" to northern dwellers could be frigid to southerners.
Which materials provide warmth even when wet?
Wool keeps you warm, even when wet, and is naturally odor resistant. It wicks moisture, though not quite as well as synthetics. Wool is also durable, and can absorb up to 30% of its weight in moisture without feeling damp. My husband is such a fan of wool socks that he wears them year round.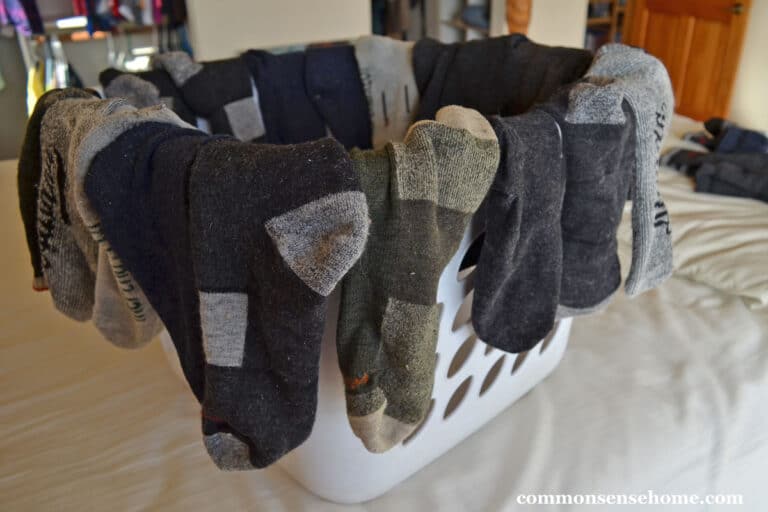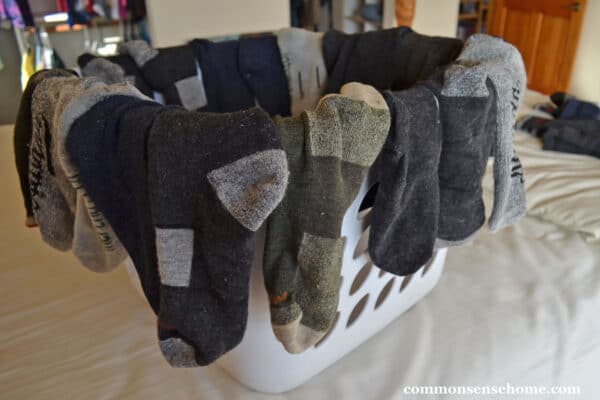 If it's not too cold and you are less active, silk is a good natural fiber option. It does not retain odors, and is moderately wicking. A thin layer of silk can fit under almost any garment. Silk is less durable than wool.
Synthetic fabrics like polyester and polypropylene wick moisture away and insulate even when wet.
Cotton is a poor choice as a base layer, because it absorbs water and holds the water next to your skin. Save the cotton for warmer weather, or as a part of the outfit not intended to protect you from the weather.
One of our readers, an avid outdoorsman, notes:
"Super fine merino sheep wool and silk – worn correctly – out perform synthetics for extended wear. Wool is lousy in wind, but is such a luxurious warmth when worn under a wind barrier outer. Silk is surprisingly warm for its thinness – AND NEITHER SMELL!

I have worn them every day for weeks when hiking and no pong. They got a fair bit icky/sticky by the end, though. Synthetics can stink after just 1 day of use.

Then there's angora: yak wool: musk ox & Possum fur/merino mix (from Kiwi land). These are all just gorgeously warm. Even hemp can be okay. Synthetic materials require less TLC."
The 4 Layers of Extreme Cold Weather Clothing (ECW)
The key to cold weather clothing comfort is layers, whether it's slightly chilly or dangerously cold. Even if you're not battling the bone chilling temperatures of the South Pole, you can mix and match these winter clothing layers for comfort.
These four layers of Extreme Cold Weather Clothing are adapted from the Field Manual for the U.S. Antarctic Program. For more details on layering extreme cold weather gear, see: US ARMY – SUSTAINING HEALTH & PERFORMANCE IN COLD WEATHER OPERATIONS.
1. Long Underwear
Your first layer should be your long underwear. It should fit snugly against your skin and be made of a nonabsorbent material. This layer works by wicking away water and keeping your skin dry.
Water is 25X more conductive than air. If your sweat, slush, cow slobber or anything else stays trapped next to your skin, the heat of your body is channeled through that moisture away from you.
(Personal note – I have thick calves and broad shoulders, so I usually buy men's long underwear, as the women's tends to be cut skimpy.)
Some long underwear options: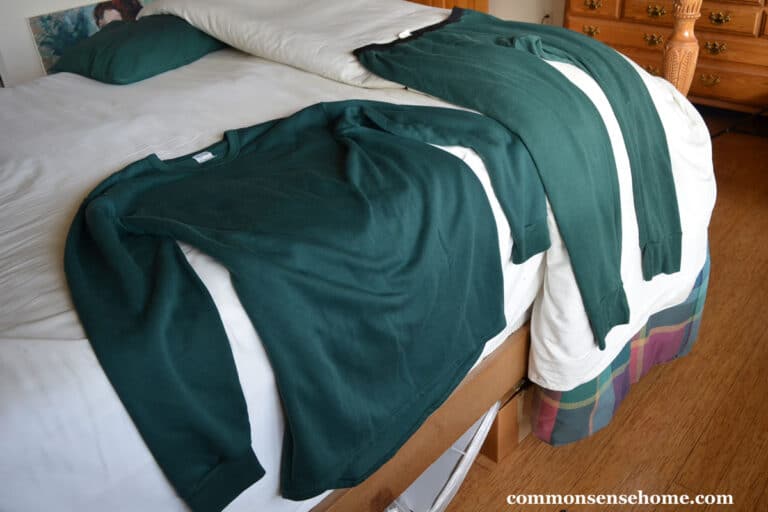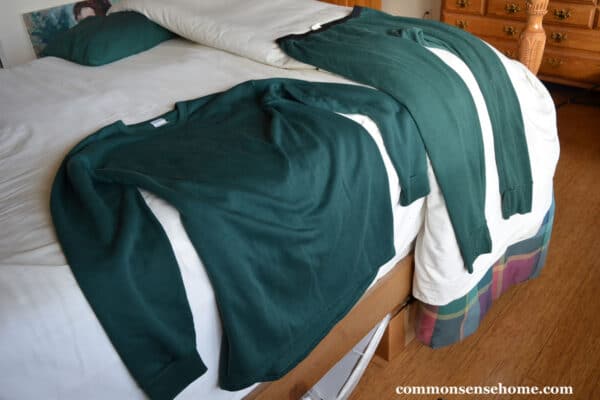 2. Middle Layers
The next layers are important because they serve to absorb the moisture out of your long underwear and transport it to the environment through evaporation.
Look for synthetics, angora, or wool. This layer includes warm clothes like long sleeved fitted shirts, flannel shirts, sweaters, and thick skirts or trousers.
Pay close attention to the fit, as the mid layers work by trapping air and preventing it from circulating and carrying away your body heat. In general you want them fitted, but not tight. Exterior layers should also be fitted but not tight. You don't want a draft blowing up your parka or under your shirt to give you a chill.
Some mid layer options include:
3. Insulation Layer
Thickness is warmth, because of the air trapped in the fabric. If you are holding still or it's extremely cold, choose an outer garment with several inches of loft. Down, Polarguard, Holofill, Thinsulate, and Primaloft are the types of insulation that the USAP uses in the ECW gear.
Some Down Coat Options:
Down loses most of its loft when wet and takes a long time to dry, so you must be careful to avoid getting down garments wet.
Are Puffer Jackets Warm?
I find my puffer jacker comfortable to wear in 40 to 20 degree F weather. Once it drops into the teens (or lower), I switch to a heavier jacket, especially if it's windy. If I'm running errands where I'm going in and out of buildings, the puffer jacket is okay in colder temps.
Parka options with synthetic insulation:
Rothco N-3B Parka, Black, X-Large
Amazon Essentials Women's Lightweight Water-Resistant Hooded Puffer Coat (Available in Plus Size), Black, X-Large
Rothco Vintage N-3B Parka, Olive Drab, Large
Rothco N-3B Parka, Black, X-Large
Amazon Essentials Women's Lightweight Water-Resistant Hooded Puffer Coat (Available in Plus Size), Black, X-Large
Rothco Vintage N-3B Parka, Olive Drab, Large
4. Shell Layer (Outer layer)
A windshell is a critical part of your cold weather clothing. Studies conducted by Recreational Equipment Co-Op show that in still air, windshells worn over any garment can add up to 25°F of warmth. In windy conditions, windshells can increase warmth by 50°F or more.
Personnel working near McMurdo get a windshell that is windproof but not waterproof. Because of the dry climate, fabrics without water resistance are superior, because they allow your perspiration to escape more easily.
Personnel working in the Peninsula area get a waterproof/breathable windshell because of the potentially wet conditions encountered there.
Some windshell options:
Cold Weather Pants
For working outside in cold, dry conditions, flannel lined jeans are a great option. For extreme cold, add layers such as insulated overalls or snowmobile bibs.
My sons and husband are the same size, so sometimes my husband finds his lined jeans missing from the closet. (It might be time to get our sons their own pairs for Christmas…).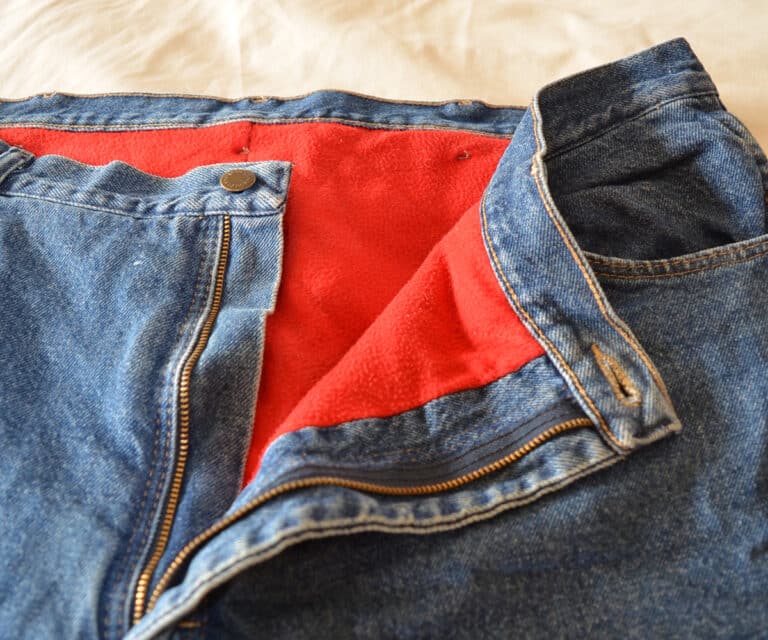 Flannel lined jeans are great for 1 to 3 hours of light use. The problem is that they will hold moisture. For any extended use, activity levels that get you sweaty, or high moisture conditions, the overalls or bibs are a better choice.
Some lined jean options include:
Cold Weather Head Protection
While the old adage that you lose 40% of your heat through your head isn't accurate. (The head is similar to other areas of the body for heat loss per square inch.) That said, you still need cold weather clothing that protects your head and face in winter.
There are dozens of options to protect your head from cold conditions, and layering is a good idea in extreme cold. You can wear a "ski mask" or balaclava with an aviator hat or with a full parka snorkel hood. Wool and silk remain good 1st layers, since they keep you warm even when damp with sweat.
When August was in the military in Duluth Minnesota with the air temp of -22°F with about -40°F wind-chill. For a 6 hour flight-line guard shift, the bunny boots, parka and dual layer gloves (wool and leather) were critical to keeping warm. That same gear in +5°F would overheat you.
Any well rated N3B style parka will protect from extreme cold. The N3B style is based on a military parka, and has an integrated fur lined snorkel hood. We find the fur snorkel much warmer and more comfortable than the face mask options – if the loss of peripheral vision is acceptable.
Note: A full parka with a snorkel hood will be too warm unless the temperature is below -10°F (-23°C). For extreme cold, -30°F (-34°C) and below, layer as noted above, with the parka as the shell. Use a ski-mask or balaclava under the parka hood.
Colder than -30°F (-34°C)(Extreme Cold/Blizzard)
Combine headwear with a fur lined snorkel integrated with a parka, and possibly an under layer balaclava. As an outer shell with the base layers, parkas will keep you warm well to -40°F (-40°C) or lower if you are active. For parkas, get a size larger if you plan to wear a layer under it.
0°F to -30°F (Very Cold)
32°F to 0°F (cold)
Try different types of headgear on at your local sporting goods location if possible, so you have a feel for how different styles of headgear feel. Hooded jackets provide an extra layer of protection when winter gets bitter cold. You may also want to have wrap around sunglasses for dealing with snow glare.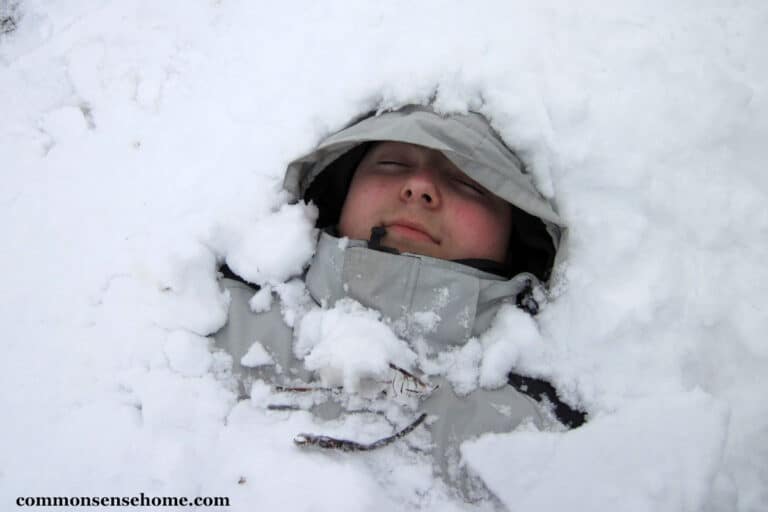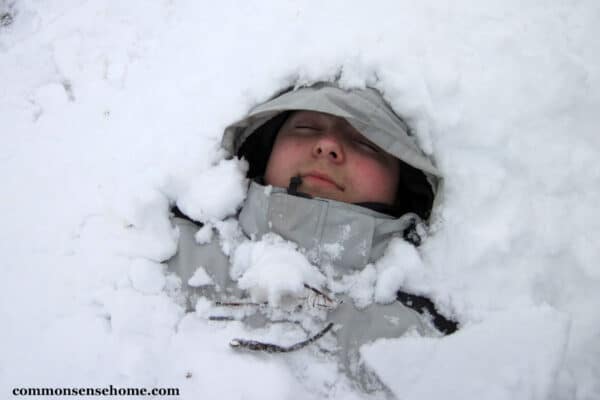 Cold Weather Clothing – Gloves and Mittens
For work that must be done without heavy gloves or mittens (for dexterity), use poly glove liners. Fingerless alpaca wool gloves might also work. Alpaca wool is known for its warmth.
Gloves with pockets for hand warmers add heat without the bulk of the heavy duty gloves.
For extreme cold, you will want mittens with warm liners, so they will need to be large enough for your gloved hand.
Some options include:
-30°F and lower
-10°F to -30°F
0° to -10°F
Northstar Mens Deerskin Buttersoft
32°F to 0°F
Dachstein Woolwear Extreme Warm Boiled Wool Alpine Mittens
Winter Socks and Slippers
Keep your feet warm inside with a good pair of slippers. A reader recommended MukLuk slippers, saying that she's be very happy with the ones she received as a gift. (Most used Christmas gift ever.) MukLuks come in several different styles, including:
Another reader recommended Warrior Alpaca Socks, saying that they kept her feet warm even though she has Raynaud's phenomenon. Carhartt synthetic/wool blend socks are durable and breathe well. Arctic Extreme socks are fully synthetic and very well reviewed on Amazon.
See also: "Emergency Underwear and Socks – More Important Than You May Realize".
Cold Weather Boots
No cold weather clothing outfit is complete without boots. Get boots that are a size larger than your regular shoe size to accommodate thicker socks or boot liners. If you plan to double layer socks, you might need two sizes larger. If possible, try on similar boots with the socks you plan to wear outside.
Amazon is good with size swaps for Baffin, so keep that in mind if you find it too large or too small. For 0°F to -10°F, any decent boots that will fit your feet while wearing thick wool socks will keep you warm enough – for extreme cold weather gear, see below.
All Day -40°F or colder
White Military Bunny Boots —The white ones are theoretically good to -60°F. The black ones are NOT the same. We could not find the white ones except in military surplus stores, so you will need to search.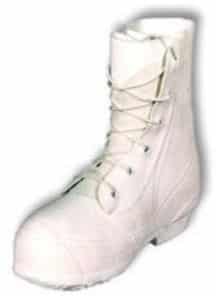 All Day -20°F to -40°F
All Day -10°F to -20°F
Black Military Bunny Combat Winter Boots (these are not the same as the white ones – more in the -10°F to -20°F range)
The warmest boots August ever wore were the White Military Bunny boots or Mickey Mouse boots when he was in the USAF. We can't find them any more.
What are Your "Go to" Winter Clothes?
What's your favorite cold weather gear? We'd love to hear from you, or offer suggestions if you need help dealing with the cold.
You may also find useful: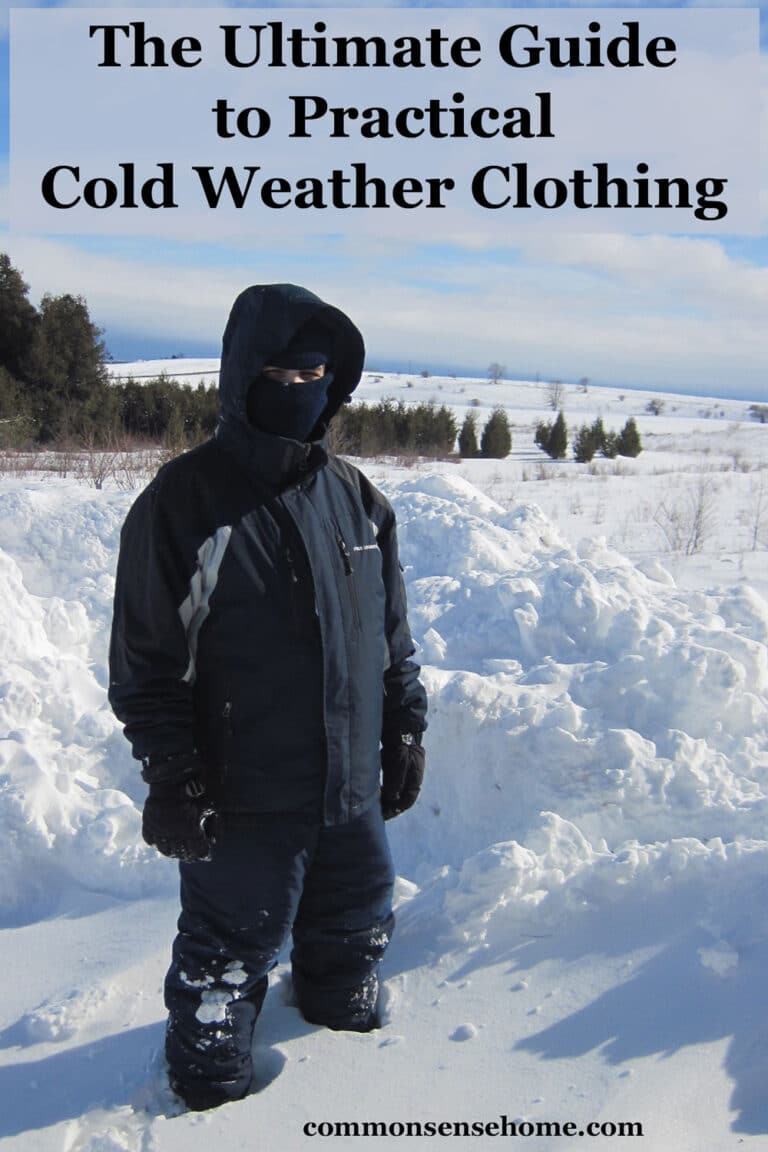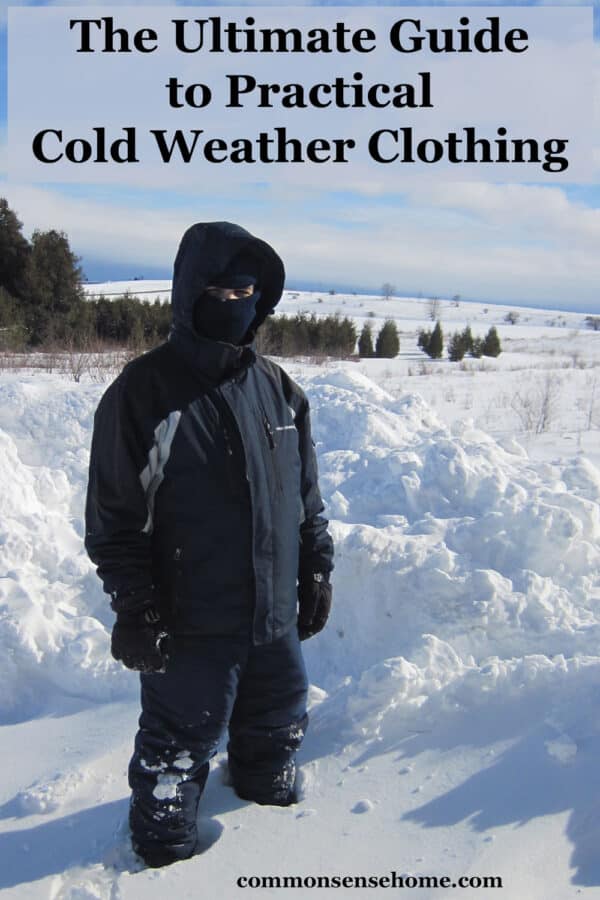 This article is by Laurie Neverman. She has a BS in Math/Physics and MS in Mechanical Engineering with an emphasis in renewable energy. Laurie and her family live in a "concrete bunker" (ICF home) with a permaculture food forest, greenhouses, and three types of solar. They "walk the talk" of preparedness by living a more self-reliant lifestyle.
Last updated in 2023.