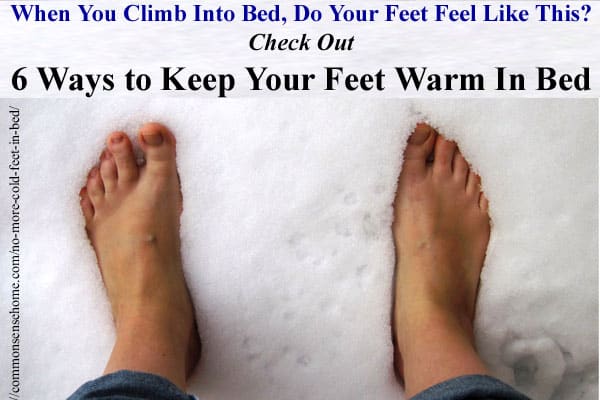 When the thermometer drops into the single digits and we keep the house temps on the chilly side to help save energy, I'm sometimes stuck with cold feet in bed. I don't know about you, but if my feet are cold, I have an awfully hard time falling asleep. If my husband comes to bed after I do, I can't always cheat and warm my feet up on him. 🙂 Since I figured others might be in the same boat, I made up this list of winter foot warming ideas to help you keep your feet toasty, too.
No More Cold Feet in Bed Option # 1 – Warm socks
Yes, I have been known to go to bed with socks on. Recently, I've been wearing socks in conjunction with using Herbalix detox deodorant on my feet, so I've been sticking to cotton, but wool and other natural fibers like alpaca or even silk are great for keeping in the heat. Make sure your socks are loose enough to be comfortable – decreased circulation is going to cool you down. Before bedtime, I sometimes layer socks and slippers, to make sure my toes are toasty *before* I jump into bed. it's so much easier to keep your feet warm than to try and warm up feet that are already cold. Cost – $14.99 for Heat Holders women's socks, $12.99 for a two pack of wool socks, electrically heated booties – $30.
No More Cold Feet in Bed Option #2 – Hot Packs
My first microwavable hot pack was given to me by a friend of mine who works for Core Products of northwest Wisconsin. The first winter I tried it I fell in love – and ordered more. The packs are filled with a non-toxic, biodegradable gel, and are heated briefly in the microwave. They have a soft cover to make them comfy against your skin. Once heated, they stay warm all night. I warm mine up, stick it in bed while I go brush my teeth and get my jammies on, and slip under the covers to a toasty foot reception. Aaaaaah! All items from Core Products are made in the USA. Cost: The 10×13 inch CorPak Soft Comfort Hot & Cold pad is $11.01.

MY LATEST VIDEOS
No More Cold Feet in Bed Option #3 – Heated Mattress Pads and Blankets
My sis has a heated mattress pad that swears by when winter hits. Before bedtime, she preheats the bed, then shuts it off and climbs into a warm and cozy nest This minimizes her electricity costs and her exposure to EMFs. My husband's grandmother was a huge fan of electric blankets. She had more than enough for every bed in the house. Either option concentrates the heat where you need it – on you. Team them up with a programmable thermostat, and you can drop the temp 5 or more degrees at night and still wake up to a warm enough house to shower in the morning. It takes a lot less energy to heat one or more beds than to heat an entire house. Cost: Full sized heated mattress pads start at around $45, plushy king sized pads can be around $150.
No More Cold Feet in Bed Option #4 – Hot Water Bottles and Heated Bricks
Oldie but a goodies, these heat providers can be prepped in microwave free and off grid households. New hot water bottles are less likely to leak than older models, and many come with easy to use covers (although you could use a pillowcase in a pinch, or sew your own). Fill your bottle with very warm – not boiling – water, and use in a manner similar to the hot packs. These will not retain heat quite a long but are likely to be more than enough to help you fall comfortably asleep. Cost – $11.95 for a water bottle with two funky slipcovers, $6.64 for a basic rubber bottle with no slip cover.
Clean bricks can be heated near a wood stove and covered with a soft cover such as an old, thick sock. Don't overheat – you should be able to handle it barehanded. You don't want to burn your feet, just warm them up. Cost – probably free, if you can find a spare brick somewhere. 🙂
No More Cold Feet in Bed Option #5 – Hot Foot Soak
Give those tootsies a warm bath in a basin or tub before you head to bed to bump up their temp. Make sure they're well dried. For an extra treat, follow with socks fresh out of the dryer. (Not the wool socks. Don't put those in the dryer. 🙂 )
No More Cold Feet in Bed Option #6 – Spicy Foot Massage
Everyone knows massages help to increase circulation, but if you pair up your message with a bit of spice, the effect is longer lasting. Sprinkle a bit of ginger or cayenne into your favorite oil (such as coconut or olive oil) and mix well. Rub this mixture into your feet before bedtime. A little goes a long way, so don't overdo it. Allow oils to soak in, and cover with cotton socks to absorb any excess oil. If you're not sure about rubbing spices on your feet, you can go for a whole body warm up by sipping some ginger tea. Cost: varies, depending on your herbs and oils.
If you have persistently cold feet (not just when it's cold), you may have metabolism issues such as hypothyroidism, so talk to your health care professional. Earth Clinic also has a brief discussion of cold hands and feet. If you've got cooperative pet, they can make pretty good foot warmers, too. 🙂
You may also enjoy:
Please share if you find this post useful, and stay warm!
Get Homesteading 101 FREE, plus weekly updates and Subscribers Only information delivered to your inbox.