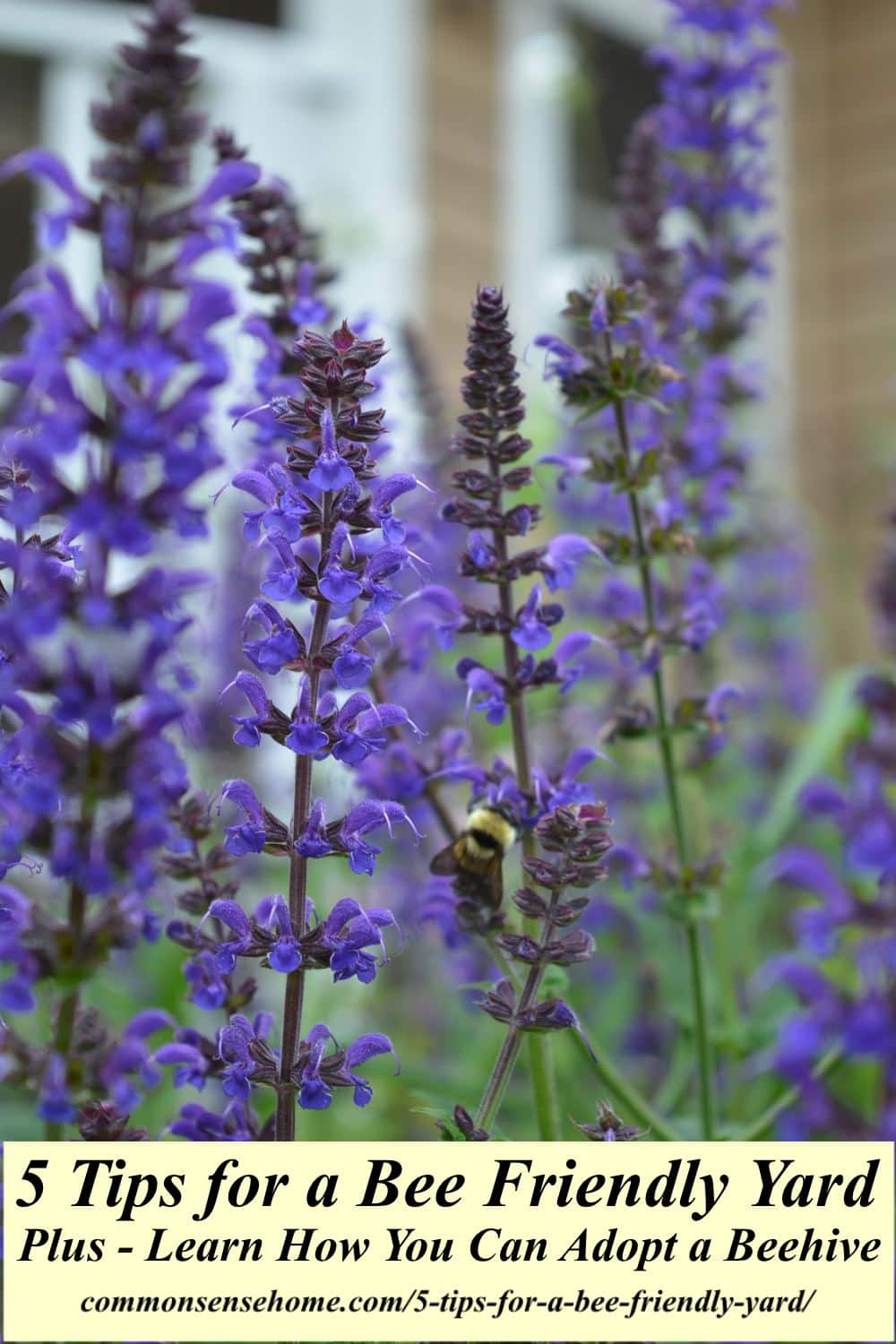 Bees, bees, bees! Whether it's honey bees, bumblebees, mason bees or other native bees, we need our bees. Colony Collapse Disorder (CCD) has taken a terrible toll on honeybees. The USDA Agricultural Research Service states that as of May 2015:
Total annual losses were 42.1 percent for April 2014 through April 2015. The new figure is up from 34.2 percent for 2013-2014.
You don't have to be a math whiz to know that those percentages spell trouble. So far as I know, there's no consensus on whether the problem is due to one or more causes – mites, pesticides, Rudolf Steiner's prediction of a weakened bee genome due to artificial queening, limited varieties of pollen for commercial hives – they just can't say for sure.
So what can you do to help the bees? You can create a bee friendly yard and garden; support responsible apiaries by buying honey, beeswax and other bee products from trusted sources; and join an Adopt a Hive program. Let's start with a bee friendly landscape.
Bee Friendly Yard Tip #1 – Plant the Right Flowers
Bees like flowers that make good landing platforms or tubular flowers with nectar at the base – think daises, dandelions or snapdragons; not modern hybrids such as double petaled impatiens or massive ruffled roses. Many of the new hybrids are bred for showy color displays, but have very little pollen and nectar. (Some are even bred specifically to shed less pollen for less mess.)
Plants with flower spikes are also enjoyed, as the bees can move from flower to flower very quickly – think catnip,  and goldenrod.
Blue and yellow are favorite bee colors. Bees can't see red! White Dutch clover and other flowering groundcovers provide a grass alternative that can create a bee oasis in the smallest yard.
Whenever possible, try to incorporate native plants into your landscape. They are already adapted to your area, and many perennial species bloom very early or late in the season, before or after annual flowers are at their prime.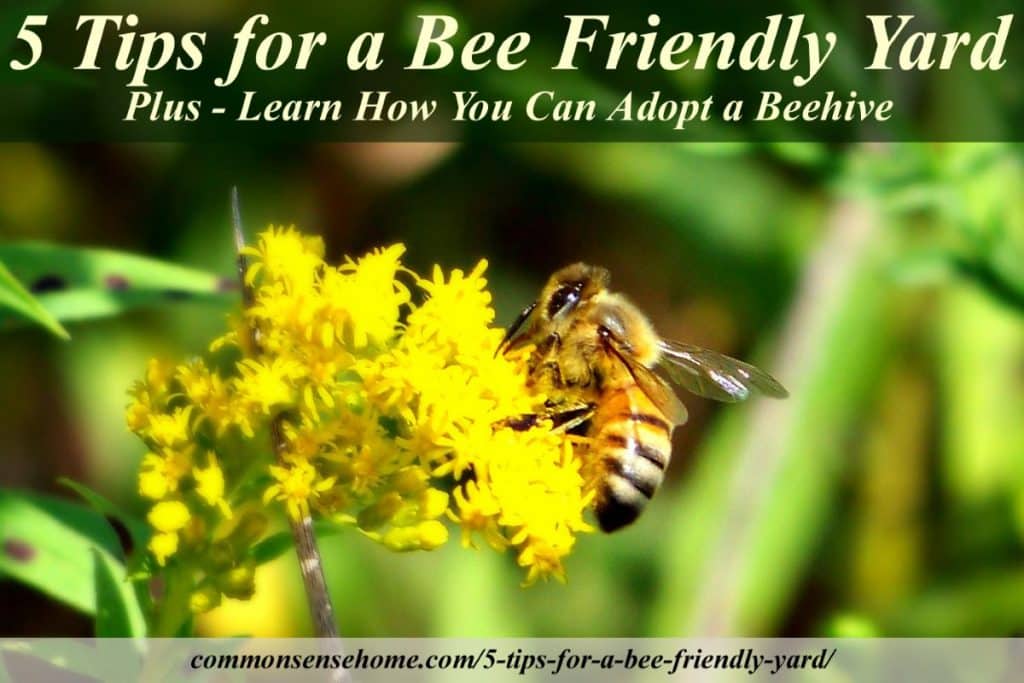 Bee Friendly Yard Tip #2:  Use Trees and Shrubs to Help Provide Pollen and Nectar Throughout the Season
Trees and shrubs can provide a flush of pollen and nectar early in the season before other plants have a chance to emerge. They should be a part of almost every yard. Grass lawns offer no shelter and no food to pollinators. In contrast, trees and shrubs offer both food and shelter, creating a microclimate and safe haven of relatively undisturbed habitat.
You want to have a mix of flowers with early, mid-season and late season bloom to provide food throughout the year. The University of Maine Cooperative Extension offers some suggestions for bee friendly plants:
Early-­season Bee Nectar Plants
Trees: maples, apples, shadbush, willows, cherries, plums, native honeysuckles
Perennials: blueberries, bugloss, lungwort, pigsqueak, crocus, viola
Midseason Bee Nectar Plants
Shrubs: spirea, rose, summersweet, rosebay rhododendron
Perennials: milkweed, purple coneflower, blazingstar, mint, oregano
Annuals: single-­flowered marigold, borage, tickseed, blanketflower
Late season Bee Nectar Plants
Perennials: aster, bottle gentian, phlox, yellow and purple coneflowers, goldenrod
Annuals: cosmos, snapdragon
Bee Friendly Yard Tip #3 – Have Shallow Water Available for the Bees
Just like everything else, bees need water to survive. If the water container is too deep, they may drown. Place some small stones or floating some pieces of wood in your bird bath, or purchase a bird bath with a very gently sloping outside edge. Fountains and moving water are much loved by bees, butterflies and other insects – but not mosquitoes, who need still water to lay their eggs in. There are even tiny solar fountains that you can float right in your birdbath for a simple option to create moving water. Bees can't swim, so they have to be able to access water without treading water.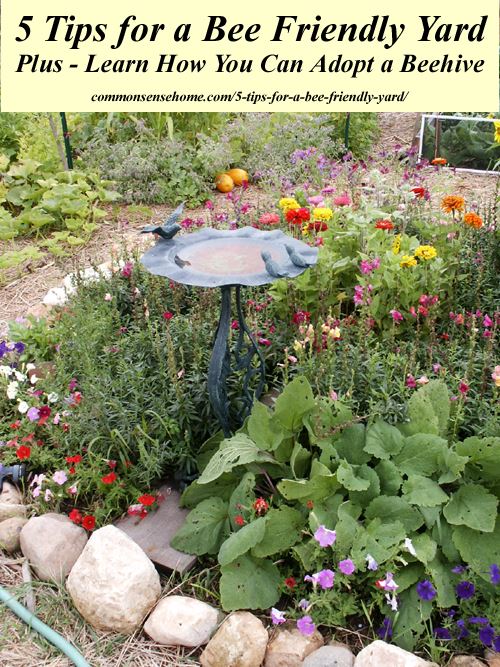 Bee Friendly Yard Tip #4 – No Pesticides!
Even "organic" pesticides can be dangerous to bees, so please be very, very careful about what you spray in your garden. A report by the Xerxes Society indicated that neonicotinoids are of particular concern. Specifically:
Several of these insecticides are highly toxic to honey bees and bumblebees.
Neonicotinoid residues are found in pollen and nectar consumed by pollinators such as bees and butterflies. The residues can reach lethal concentrations in some situations.
Neonicotinoids can persist in soil for months or years after a single application. Measurable amounts of residues were found in woody plants up to six years after application.
Untreated plants may absorb chemical residues left over in the soil from the previous year.
Products approved for homeowners to use in gardens, lawns, and on ornamental trees have manufacturer-recommended application rates up to 120 times higher than rates approved for agricultural crops.
There is no direct link demonstrated between neonicotinoids and the honey bee syndrome known as Colony Collapse Disorder (CCD). However, recent research suggests that neonicotinoids may make honey bees more susceptible to parasites and pathogens, including the intestinal parasite Nosema, which has been implicated as one causative factor in CCD.
The Center for Food Safety has compiled a list of home and garden products containing neonicotinoids.
You can download a copy of the full report "ARE NEONICOTINOIDS KILLING BEES? A Review of Research into the Effects of Neonicotinoid Insecticides on Bees, with Recommendations for Action" here.
Bee Friendly Yard Tip #5 – Provide Nesting Sites for Bees in Your Landscape
This tip is primarily for the bumblebees and other native bees that don't live in hives. (Of course, sometimes honey bees do form wild hives, but most of us don't necessarily have the space to accommodate a large wild hive.) Bumblebees are ground or box nesters, depending on the species. (Old mouse nests are a favorite.) They need a natural, less disturbed area to nest, which may be able to be more easily worked into yard or garden edges.
Many native bees, such as mason bees, are solitary nesters. They prefer nest blocks or hollow plant stems for shelter. Don't be so quick to clear out all garden debris! A bundle of sunflower stalks tucked into a corner can make a great nest site.
Kim from EcoBeneficial shares:
70% of our native bee species nest in the ground and must have access to a sunny location with bare soil or very little vegetation. The other 30% of our native bees make their nests in old mouse tunnels, beetle tunnels, holes in trees, pithy plant stems or twigs, and in similar spots. To help native bees, leave an area of bare soil in a sunny location, keep perennials up over winter as bee nesting cavities, and leave some less tidy areas with old logs and dead trees, cut back to a safe height in highly trafficked areas.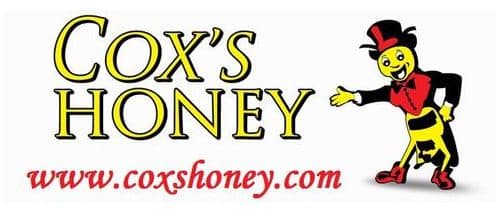 Support Beekeepers – Adopt a Hive
Cox Honey contacted me to help get the word out about their Adopt a Hive initiative. Delaun Mills Cox started caring for bees all the way back in 1880, and the beekeeping tradition has been passed down through the family for over  100 years. Their bees forage on high mountain clover. Their honey is gently heated for extraction – never pasteurized – preserving the enzymes present in the raw honey. It is also screened rather than filtered, to retain the trace amounts of pollen in the honey. Cox Honey Farms Creamed Honey has a rich, velvety texture that makes it easy to spread and enjoy.
By adopting a hive you become a beehive sponsor ensuring that a community of bees are protected and cared for correctly and their research can continue to solve the major environmental issues. Also 10% of every purchase will be donated The American Beekeeping Federation in your name to further preservation efforts for the Honey Bee.
The benefits of owning your own beehive without the hassle include:
10% off all honey purchases at www.coxshoney.com
A 10% donation in your name to The American Bee Federation
Bulk supply of liquid and creamed honey (1 month – 1 year, depending on your adoption package)


I received the Platinum Membership, which includes:
​ Personalized Welcome Kit: Certificate of Adoption, GPS Locations, Pictures
​ 12 oz Liquid Squeeze Bear and 20 oz Creamed Honey Container
​ 10% off all online purchase at www.coxshoney.com
​ A 10% Donation will be made to The American Bee Federation
​ 30 Pounds of Honey: 7.5 lbs of Liquid Honey sent in February

7.5 lbs of Creamed Honey sent in May
7.5 lbs of Liquid Honey sent in August
7.5 lbs of Creamed Honey sent in November
​All Memberships will renew automatically at the end of their membership year unless notification is received. Please review terms and conditions. Memberships received in February, May, August, November will have honey sent 31 days after Membership start date.
What are you doing to help the bees?
Which bee friendly plants do well in your area? How have you made your yard and garden more bee friendly? Are you a beekeeper? I'd love to read about your experiences.
Please Share or Pin this post to help make everywhere a little more bee friendly!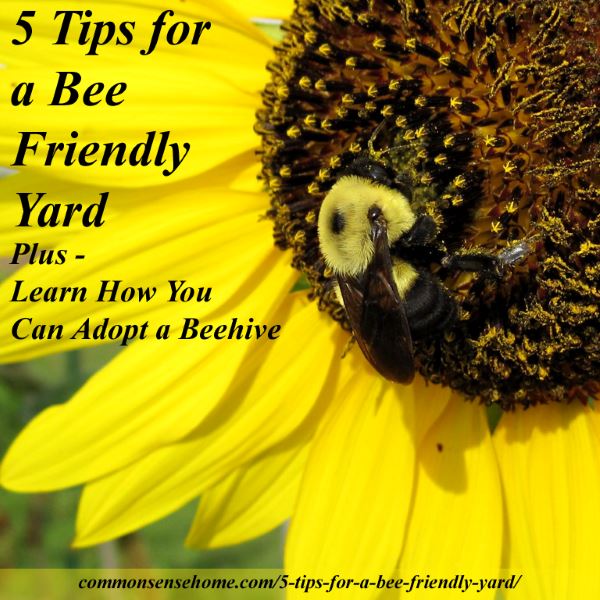 You may also enjoy: