Nitecore TINI2 Flashlight Review and Specifications
The Nitecore Tini 2 has a max 500 lumen output and a handy OLED screen to track mode and battery life. It's a great keychain flashlight, and you're sure to want it in your EDC gear.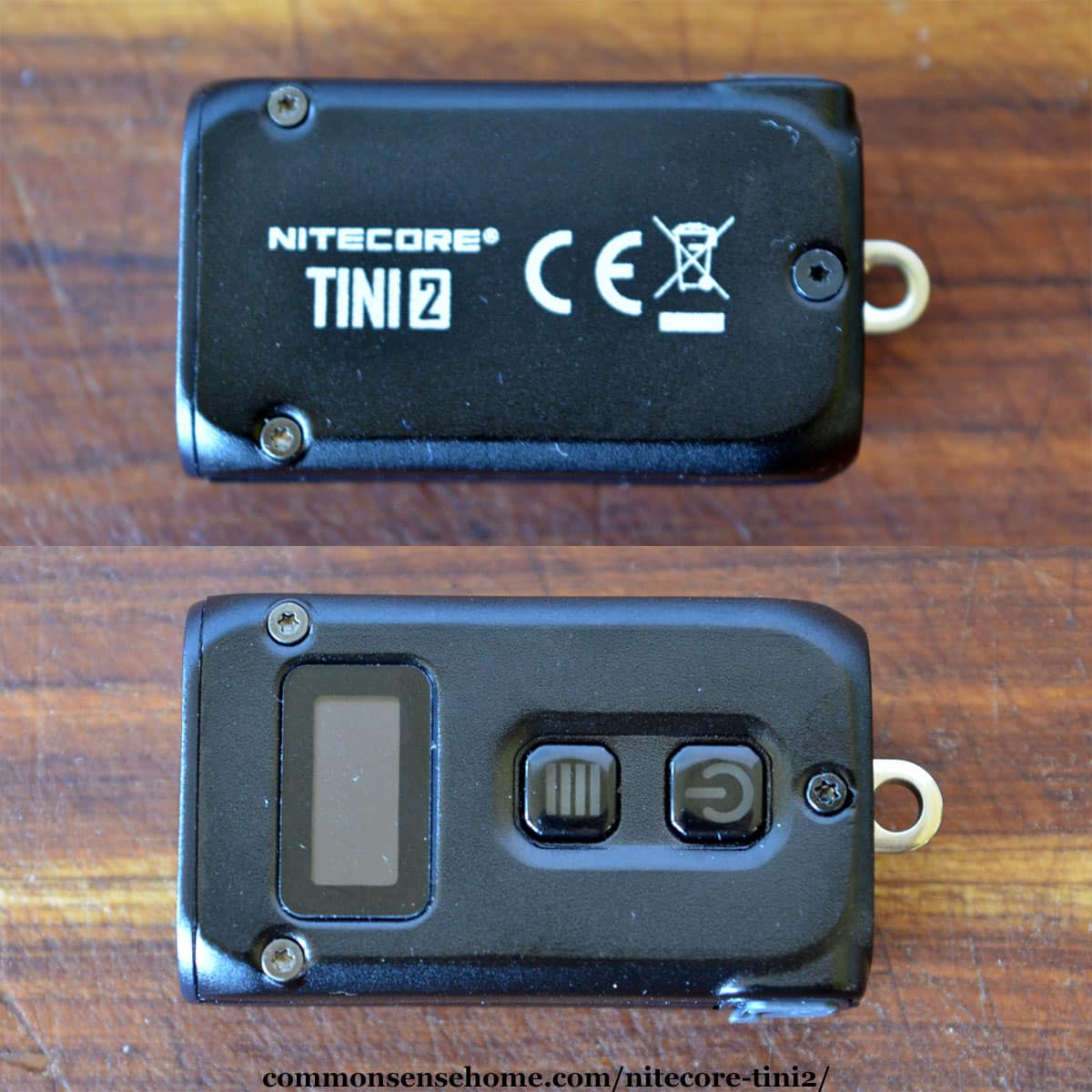 Nitecore TINI2 Specifications
Battery Type: Internal Li-ion Rechargeable USB-C 280mAh
Max Lumens: 500 (2 x OSRAM P8 LEDs)
On/Off: Button
5 Modes: Turbo: 500lm, High: 200lm, Med: 65lm, Low: 15lm, and ultralow 1lm
Length 46.6 mm / 1.83 in
Head Size 12.5 mm / 0.49 in
Weight (includes built in battery) 18.8 g / 0.66 oz
Water resistance: IP54 (Water Resistant)
MODES
Lumens
(brightness)
Runtime *
(actual was lower)
Throw (range)
meters and feet**
TURBO
500
15min
89m (291ft)
HIGH
200
45min
56m (183ft)
MID
65
2hr 30min
32m (104ft)
LOW
15
8hrs
14m (45ft)
ULTRALOW
1
60hrs
6m (19ft)
Nitecore TINI2 Runtime details
*We found that the runtimes are about 10% to 20% less. Usually you do not have a full charge because you are carrying it around on your keychain.
**In our testing the USABLE throw (range) for Turbo is about 100ft (33m). The manual says 89m or 291ft on Turbo. We disagree with the vendor on the throw for all the modes. Our opinion is the throw numbers are about 2 to 2.5x what we felt was usable.
Using the Nitecore TINI2
How to Select TININ2 default brightness
Press the Power button to turn on the light. Then press the mode button to cycle through the 5 brightness modes.
When finished, tap the power button to turn the light off. This will memorize the "last mode" you had selected. It has a small OLED display so you can see the modes.
How to use TINI2 TURBO mode
Access to the turbo mode is easy. Press and hold the MODE button (it will stay in turbo as long as you hold the mode button). If this does not work, you might be in FULL LOCKOUT (see below).
TINI2 Lockout Modes
There are two lockout modes (not brightness levels). These prevent accidentally turning the light on when it is not in use.
Lockout Mode 1: also referred to "half lockout" keeps the flashlight from accidentally turning on. Push the menu button until the "Lockout 1" icon is visible. It turns off the power button but TURBO remains available.
Lockout Mode 2:

(Full lockout mode) To turn this on, push the menu button until the Lockout 2 icon is visible.

This is "full lockout mode" which disables both buttons.
How do I unlock Nitecore tini2?
There are two ways to unlock the Tini2.
The easiest way. The light will AUTOMATICALLY UNLOCK when being recharged in either locked mode.
Control Button Unlock Steps. Short press then long press the power button. The screen will show an unlock icon and progress bar, until the light is activated to exit Lockout mode. The light will access the memorized brightness level.
TINI2 Demo Mode
While in Demo Mode, the TINI2 automatically turns off after 30 seconds in whatever brightness mode it's in.
To turn on Demo mode, press the Power button and Mode button at the same time to switch between DAILY and DEMO modes. The LED will flash once to indicate DEMO mode and twice for DAILY mode.
For more information on the flashlight operations see the Nitecore Tini2 Manual.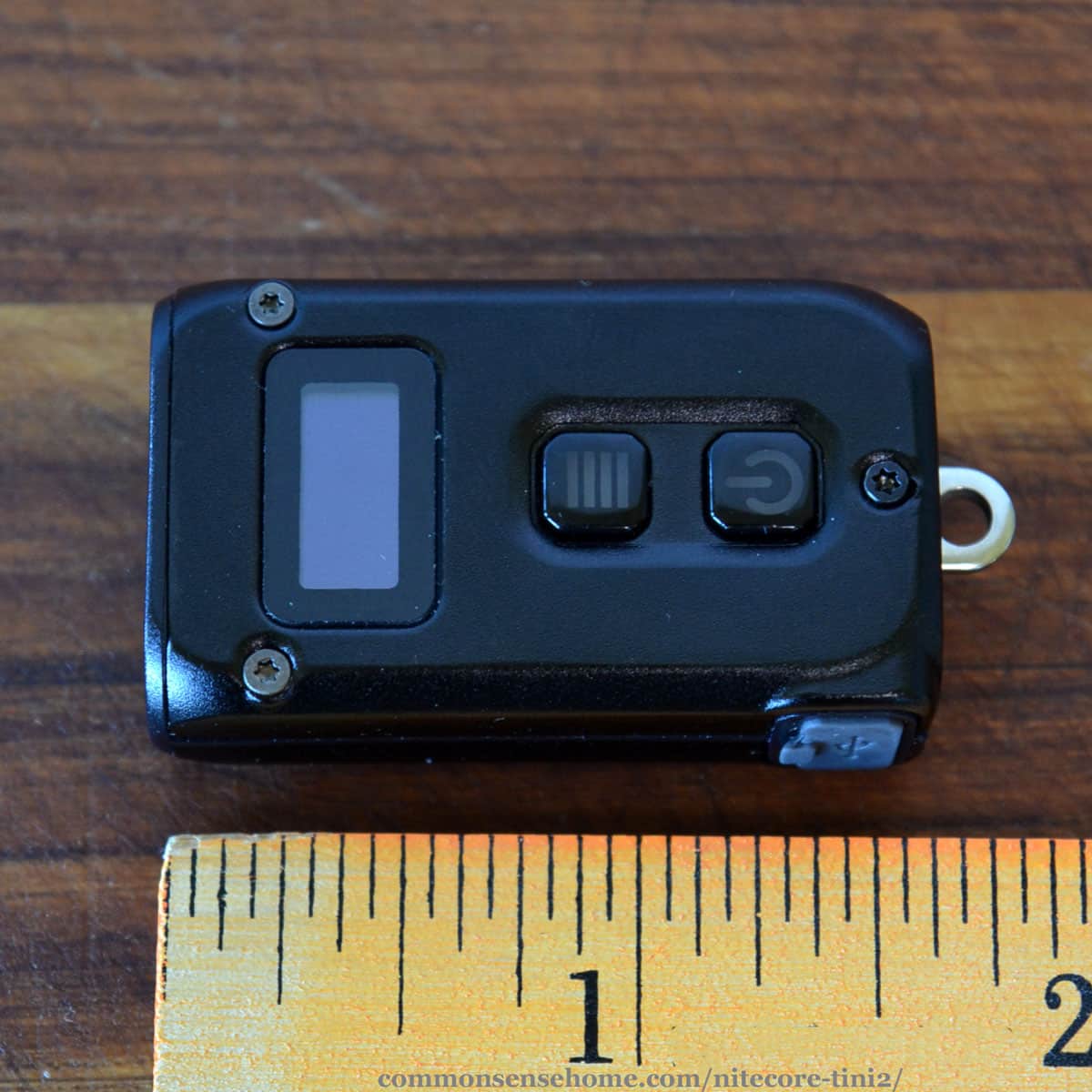 NiteCore TINI2 Review
The 500 Lumen Nitecore TINI 2 Lumen USB-C Rechargeable Keychain Flashlight utilizes a total reflective optic, packing a lot of brightness in a small container.
It is far and away the best and brightest keychain flashlight we have ever used. It will light up an entire room, and is brighter than a number of our inexpensive AA LED flashlights.
The packaging includes the flashlight, a keyring clip, a USB to USB-C cable and the manual. It is an excellent EDC flashlight.
The power connector is USB-C and has a small flexible cover (see image below). It will charge even if it is only 2amp USB, just more slowly.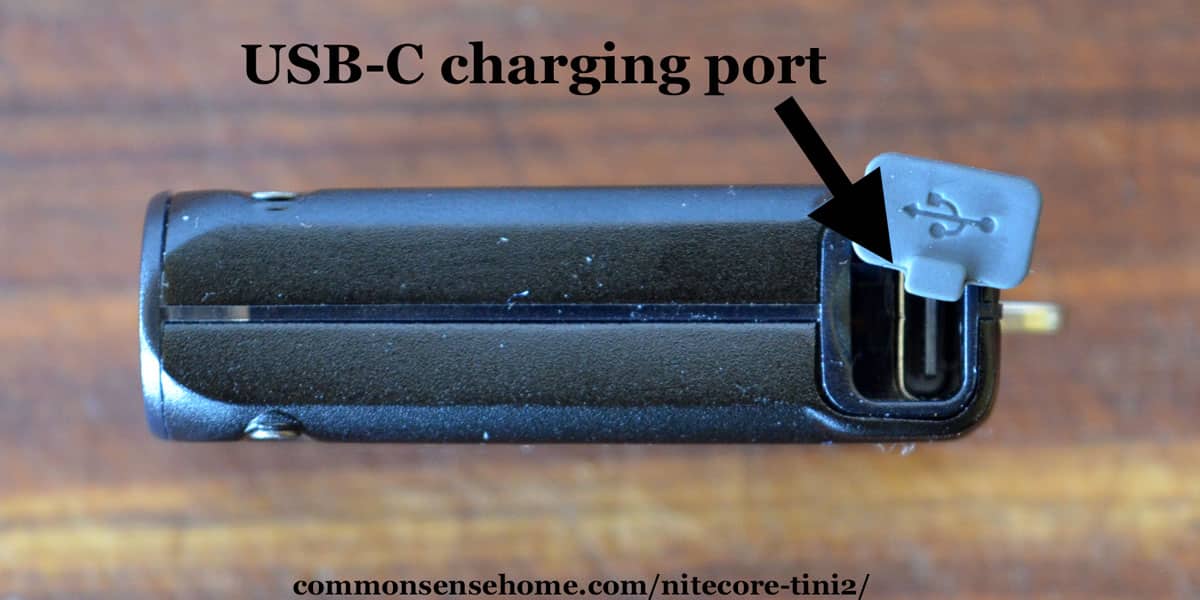 This small Nitecore keychain flashlight is about 2.5x the price of the AAA Lumintop EDC01, but as noted, this flashlight is crazy bright and small.
Best feature? The USB-C charging setup is great. USB-C type connectors are symmetrical, so they go in right side up or upside down. It's much easier to use than a micro USB type connector.
There are no external batteries required, and it's the brightest small flashlight we have, hands down. The 1 lumen Ultralow and 15 lumen Low modes are enough to move around in the dark without waking everyone else up.
The IP54 rating means the Tini2 is protected from limited amounts of dust and water. It will survive a water spray or a bit of rain, but it is NOT waterproof or submersible.
The TINI2 has a small LED display that displays the mode and remaining runtime, as well as other settings. It's small, so it may be challenging to read for those who don't have the best vision.
The vendor documentation says its impact resistant up to 1m (3ft) drops. We have not tested that intentionally, but have dropped and it still works.
Nitecore TINI2 vs Original TINI
The TINI2 500 lumen is better than the original 380 lumen TINI (which is no longer available). It does not get as hot as quickly as the old model. It is brighter and has a wider throw. For comparison, both the Tini2 and Tini are brighter than our Samsung and Apple iPhone cellphone flashlight modes.
The new TINI 2 is slightly heavier than the original TINI model. It is a bit heavier than one of our car key fobs, but lighter than the other.
Nitecore TINI2 alternatives
Both the newer Nitecore TIP SE 700 lumen and newer TIP2 720 lumen are brighter. Both are EXCELLENT alternatives.
Nitecore Tini2 Battery Life
We found the TINI2 has a longer battery life between charges than the original TINI in day to day use, even though the manual indicates it is the same or lower than the original TINI.
When fully charged: Turbo 15min, High 45min, Mid 2hr 30min, Low 8hr, Ultralow 60hr. It was able to hold a charge for over a month with infrequent use.
Note: The battery life is short if you run it at "turbo" mode, just like the original TINI. In the lower 200 lumen mode, it is still bright enough to easily see in a completely dark room with this tiny keychain flashlight.
Conclusion
Pros: The TINI2 is an excellent tiny, lightweight EDC flashlight. It has 5modes and is a super bright keychain flashlight. It is easy to charge using USB-C and has a decent battery life. Has survived over a year of getting bumped around on a keychain.
Cons: I wish it had a belt clip, and the mode settings are a bit tricky to get used to. It doesn't have a strobe setting or red light setting. We would also like an option for double or triple battery for longer runtime on the higher modes.
No question, this is one of our favorite flashlights. We highly recommend it.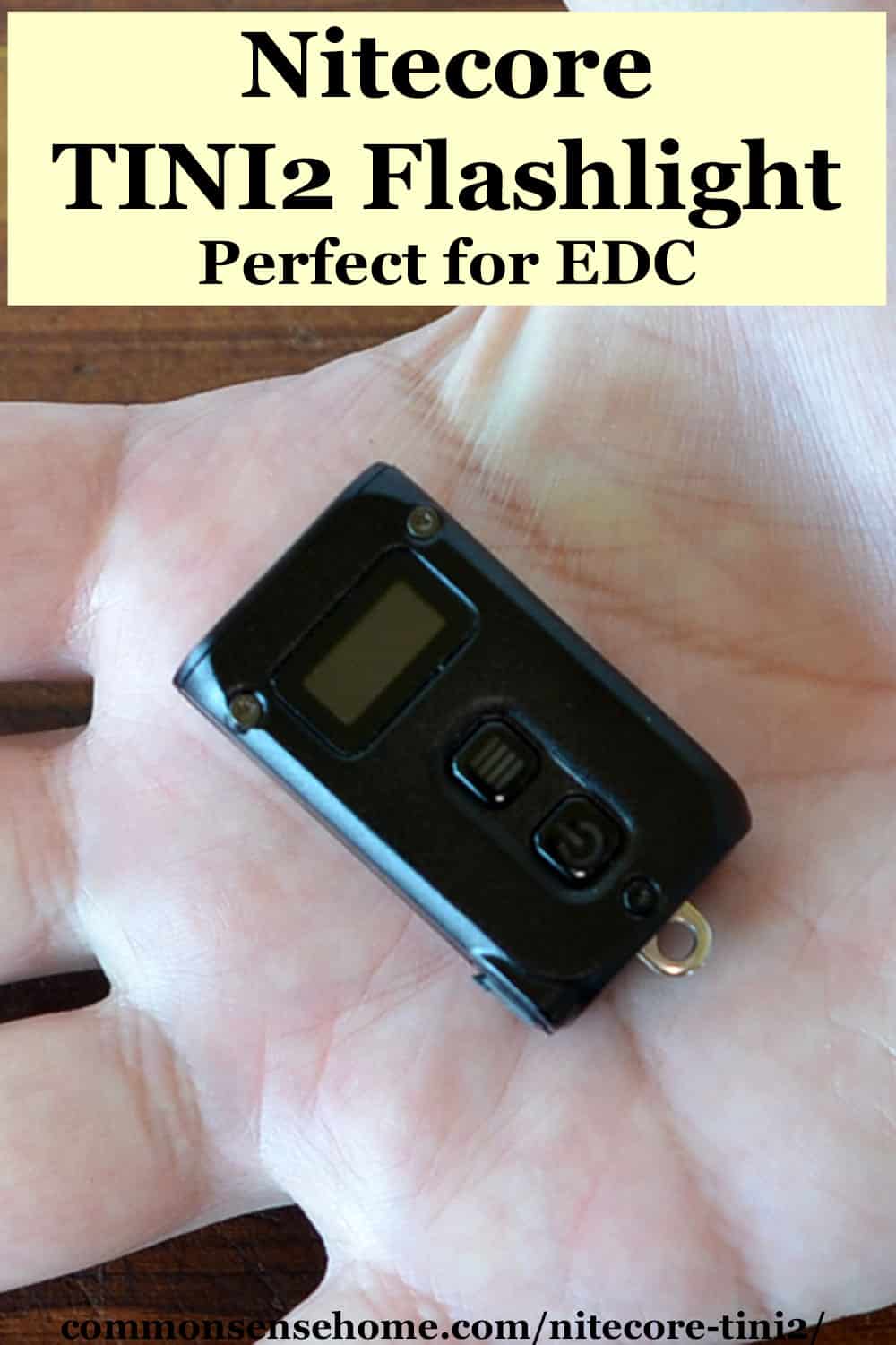 Related Posts