Pruning Shears – Choosing the Best Pruning Tool
What's the best pruning shear? The best pruning shears are those that are right for the job you need to do, and your strength and skill level.
I'll walk you through some common questions about pruning tools, tool types, and how to choose the tools that are right for you.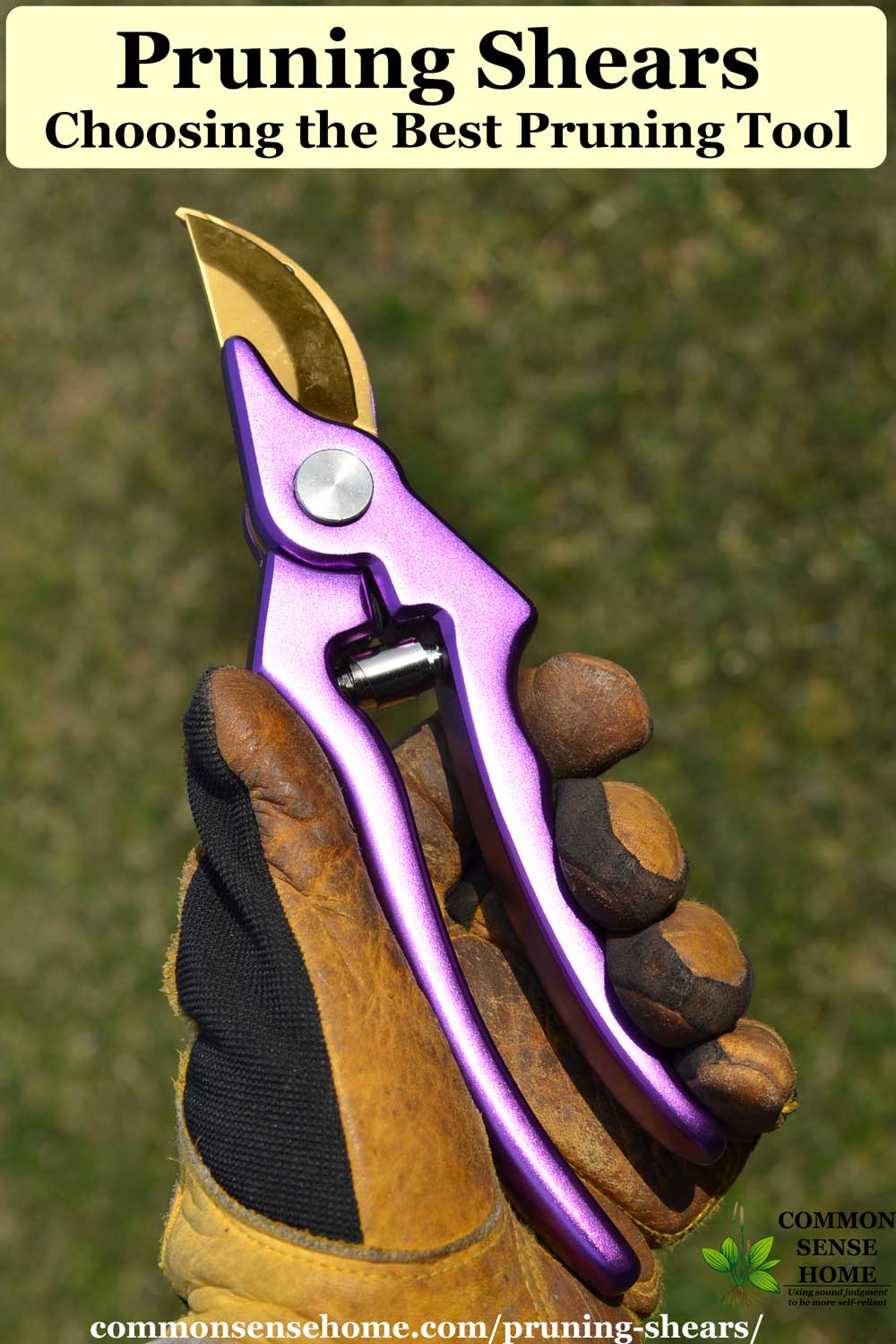 What are pruning shears?
Pruning shears are garden tools that act like heavy duty scissors for plants.
I usually call mine hand pruners. In Europe, you may see them called "secateurs".
Along with hand pruners, I also use their larger cousins, loppers, and pruning saws to keep our trees, shrubs, brambles, vines and everything else in shape.
Can I use scissors instead of pruning shears?
Please don't, especially you want to use them for cutting anything else.
Sure, you can lop off a flower head or two, but anything larger needs a tougher tool. Think of high quality garden shears as an investment that will pay you back for years to come.
How much are pruning shears?
I've seen prices ranging from around $10 to over $50. To some extent, you get what you pay for, so buyer beware. Cheap pruners usually don't hold an edge, and dull pruners make it tough to get a clean cut.
During the nine years on our suburban homestead and the nearly 16 years on our country homestead, I've done a lot of pruning. Trust me, it's much easier with quality tools.
Types of Pruning Shears
Hand pruners have different types of blades – bypass or anvil – and can be manual or powered. Manufacturers also use different materials for blades, as well as a variety of other design features to customize your cut.
Which is better, bypass or anvil pruners?
Most of the time, I use bypass pruners.
Why? Because bypass pruning shears are designed to make the clean cuts that are best for live plant material.
With a sharp bypass pruner, you can cut live stems and branches up to 1/2 inch in diameter without crushing the plant. The cutting blade sweeps past (passes by) a lower blade or lower jaw, like a pair of scissors.
Anvil pruners have a single sharp blade that presses into a stationary base, or anvil.
For dead branches, an anvil pruner is the best tool for the job.
They pinch and snap the wood, which works fine for brittle wood, but can leave a ragged edge on live wood that is slow to heal.
Note on Trimming Larger Dead Branches
Although hand held anvil pruners may say they are okay to cut dead branches up to 1/2 inch in diameter, if you have a lot of dead wood to trim, get a lopper or hand saw.
Trimming a half inch diameter dead branch with a small hand tool requires a fair amount of hand strength, and will dull your blade. A lopper gives you more leverage, and a saw can tackle thick branches (larger than 3/4″ inch) with ease.
If You Need Extra Cutting Power
If you have a little trouble with your grip strength, ratchet pruners or power pruners may be right for you.
As you squeeze the handles on a ratcheting hand pruner, the internal ratchet adds power to your grip.
From the Ratcheting Hand Pruner description on Garrett Wade:
Using it is easy and intuitive–as you meet maximum resistance while exerting pressure on any difficult material, just relax your grip a bit and the ratchet resets with the jaws in place, giving you the power for an extra squeeze. It's almost like an extra gear on your pruners, and gives your hands that bit of extra strength after a long day's work.
Powered pruners are powered by a rechargeable battery pack. You squeeze to initiate the cut and let the tool do the rest.
Choosing the Right Blade Material
If you walk into your local hardware store, you may be limited in your pruning sheer options. If you're willing to shop around, you have a lot more choices.
Stainless steel blades are rust resistant, but they tend to dull quickly. These are most common on low end pruners. If you only need to do a little light duty pruning, they may get the job done.
Carbon steel blades are tougher and stronger than stainless steel, but are more likely to rust. Keep the blades cleaned and oiled for longer life. (Some companies offer replacement blades so you can swap in a fresh blade while you sharpen the other blade.)
Titanium coated blades are the top dog when it comes to pruning shears. They are corrosion resistant, sharp, and durable.
You can tell you have a titanium coated blade by the light golden color. (See photo at top of post.)
As you sharpen the blade, you reveal more of the carbon steal edge, while still leaving the bulk of the blade protected by the coating.
Other Features
Non-stick coatings can keep your blades from getting stuck together with sap. This is especially helpful when pruning certain evergreens.
A sap groove is a recessed area area on the bottom blade of a bypass pruner that channels sap away from the blade.
Covered springs keep plant material from getting stuck in your pruning shears. Many hand pruners have a simple coil spring, which sometimes gets jammed with small twigs. I prefer the springs that look like nested cylinders, because they keep plant chunks out.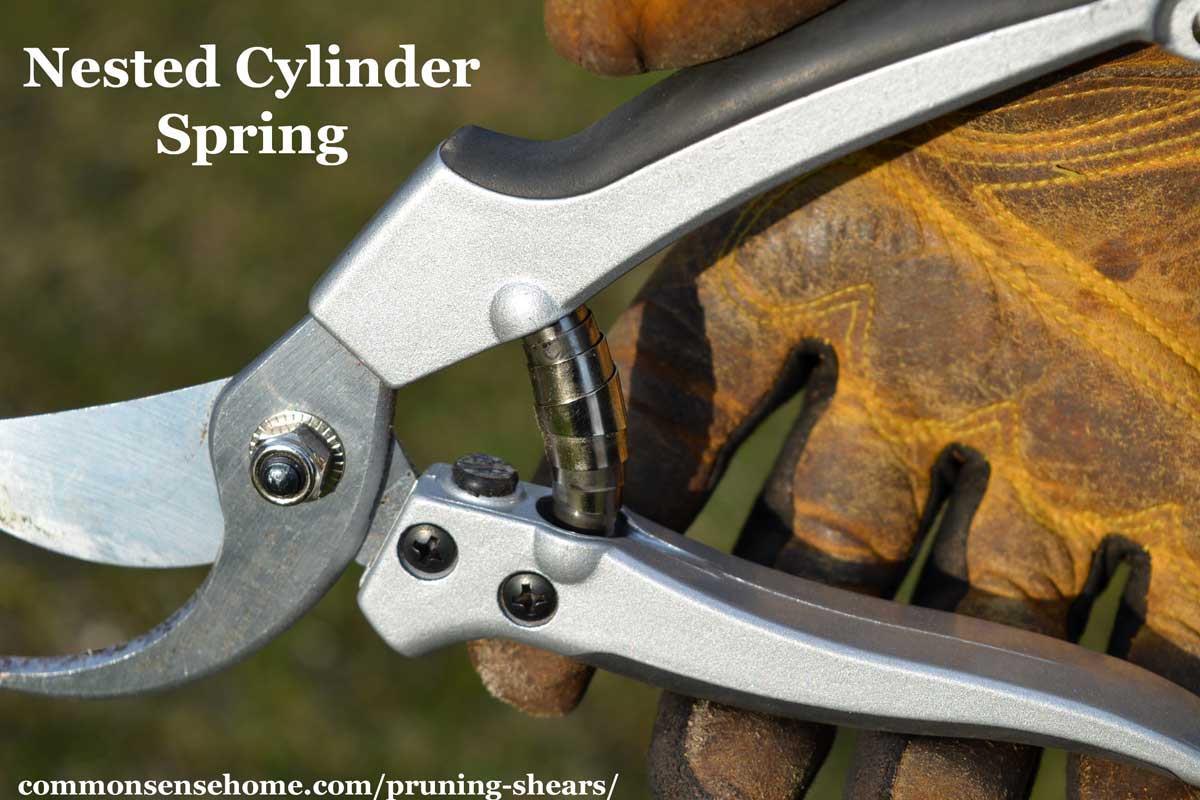 Look for an easy to use lock mechanism that won't get accidentally bumped. I prefer a lock near the blade or at the back end of the pruner.
Ergonomic design is a great sales pitch, but you might need to try a few different hand pruner styles before you find one that fits your hand.
I prefer:
Anti-slip grip
Moderate size handles – not too skinny or too fat
Blades in line with the handle – they might claim offset blades are easier on your hands, but they feel wonky to me
The Best Pruning Sheers
These are our top picks from Garrett Wade. I discovered Garrett Wade in spring 2019 when I went hunting for better quality garden tools.
I was sick and tired of dealing with pruners that wouldn't hold an edge, and I don't like cheap plastic crap.
GW stocks tools made from wood and metal. We've used the tools for two pruning seasons and are very happy with them.
Best Overall Pruning Shears
The Garrett Wade Basic Bypass Pruner with high carbon steel blade, cast aluminum handle, and rubber grips.
This pruner is about 8 inches long, with a spring loaded snap catch on the back to lock the blade. It has a nested cylinder spring.
This pruner is also available at a discount when you buy it with the matching anvil pruner and flower cutter.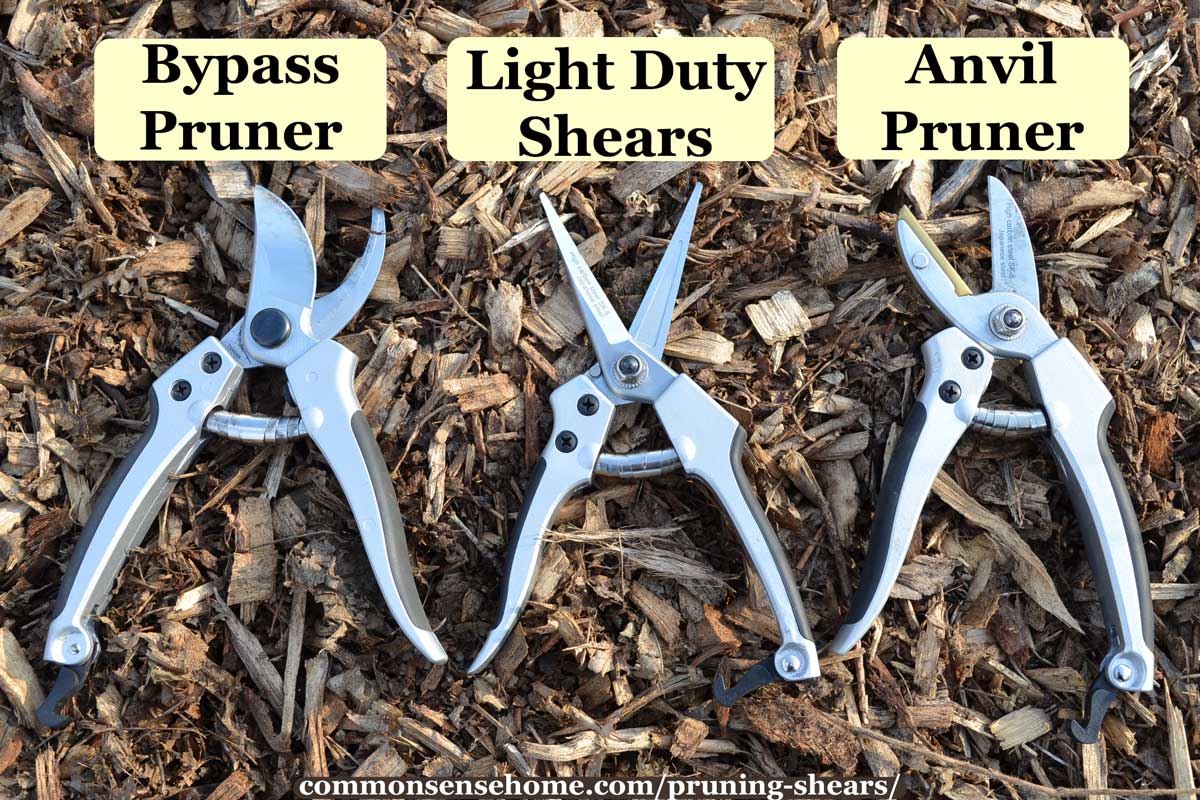 Runner Up – the GW Ultra-Sharp Pruner with titanium nitride coated blades and brushed aluminum handle.
This pruner is about 9 inches long and crazy sharp, but the handle gets a little slippery to use in cold weather.
Best Light Duty Garden Shears
The matching Basic Flower Cutters from Garrett Wade also feature a high carbon steel blade, cast aluminum handle, and rubber grips.
They have narrow, 2-1/2 inch long scissorlike blades to make it easy to collect your favorite flowers.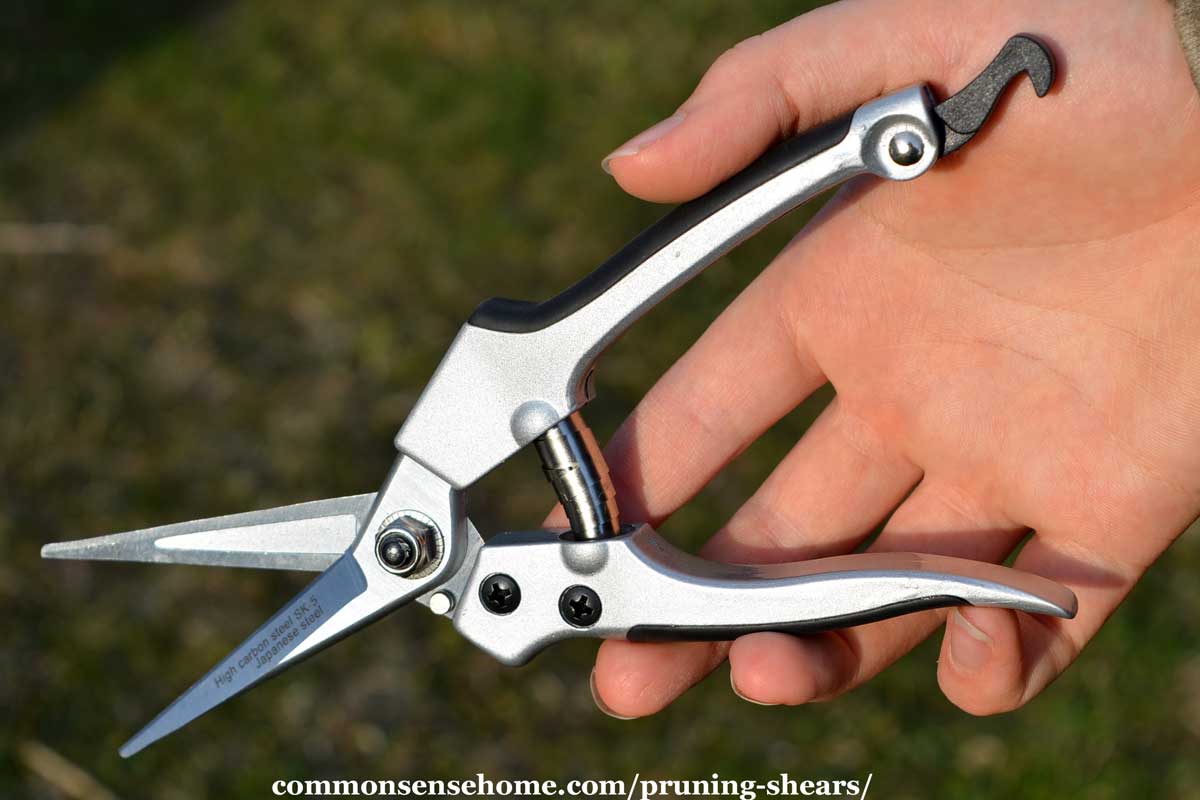 Best Pruner for Bigger Branches
The Premium Ratcheting Pruning Loppers are amazing. They can tackle live branches up to 2″ thick, and have telescoping handles to extend your reach.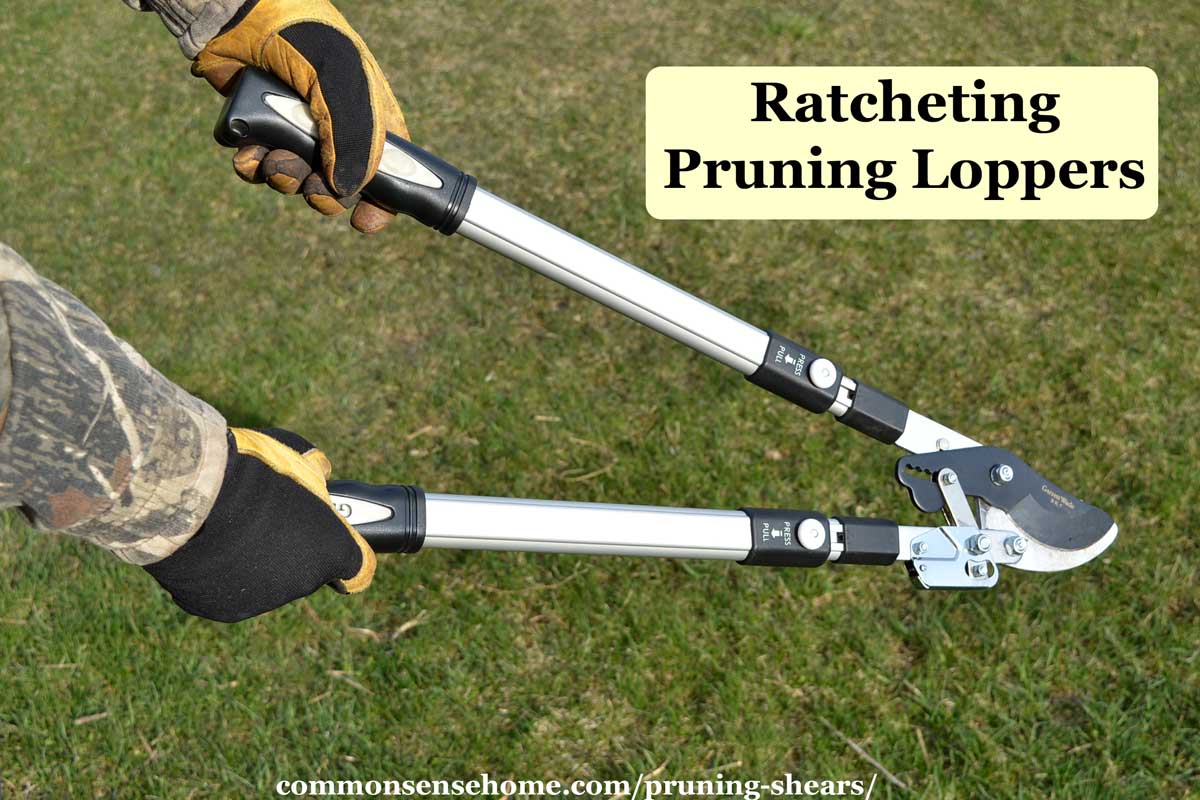 GW also offers a folding pruning saw with full 10″ blade and rubber coated steel handle for durability. These two tools make quick work of branches up to several inches in diameter.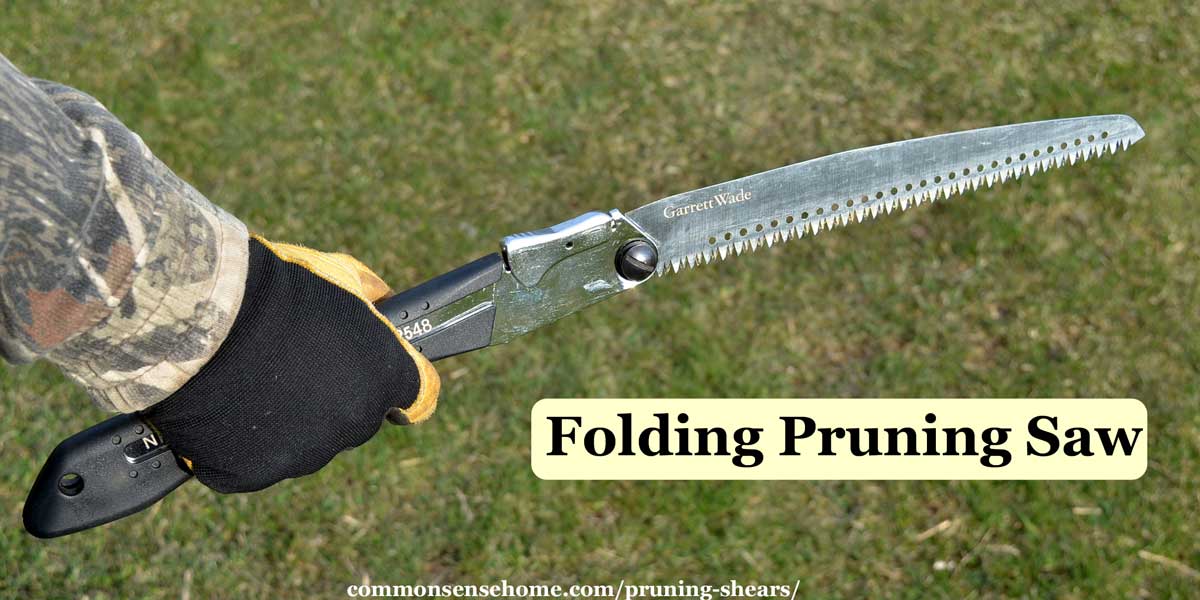 More Gardening Articles
We have over 100 gardening articles on the website, all listed by category on the Common Sense Gardening index page.
They include:
Tree Pruning – Easy Tips for Beginners
Cleaning and Sharpening Garden Tools
Raised Garden Beds – 5 Tips for Success
Growing Blueberries – Best Tips for the Home Gardener