Free Gardening Journal Templates and Other Garden Record Keeping Tips
A gardening journal is a great way to track failure and success in the garden. Some folks like to keep a formal bound journal, but I find it handy to organize my notes in a big three ring binder.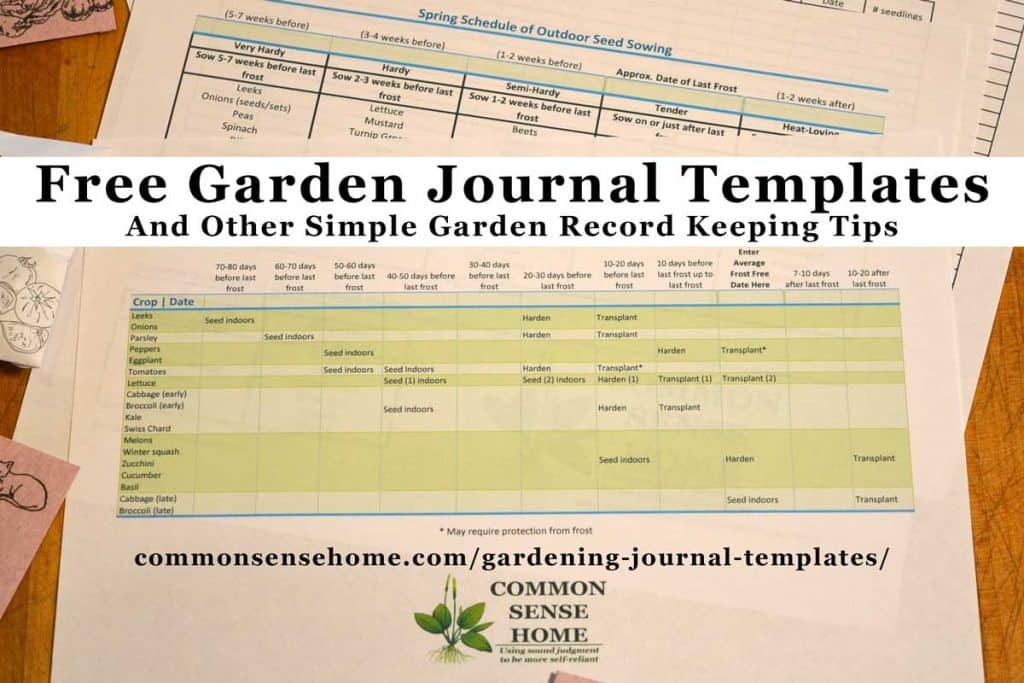 I carry over some information from year to year, like my seed sowing schedule, plant spacing and seed longevity charts.
Other information I fill out annually, like my seed purchase log and planting and germination records. During the season I can take notes about the plants and growing conditions, and add pages to the binder as needed.
Free Gardening Journal Templates – Common Sense Home Garden Planning Kit
I've put together my gardening journal templates as a free "thank you" download for our subscribers. (You can use the form below to sign up.)
The templates are available as an MS Excel workbook and printable PDF. (There are also instructions on the download page for those who are using Macs or don't have Excel, but would still like the version that they can edit.)
The Common Sense Home Garden Planning Kit Includes:
Seed purchase log
Planting and Germination record
Seed Starting and Transplanting Calendar
Customizable seed sowing schedule
Seed longevity chart
Seed germination rates after storage
Plant spacing chart
You'll also get regular updates throughout the year with gardening and food preservation tips in our weekly newsletter, and the opportunity to share your ideas for upcoming gardening courses.
How to Use the Common Sense Home Garden Planning Kit
The Seed Longevity Chart shows how long garden seeds are likely to remain viable when stored in cool, dry conditions.
Your results may vary (I've had tomato seeds in storage for 10 years that were still good), but it'll give you an idea if your leftover seed is still good.
The Seed Germination After Storage shows the expected percent germination of seeds after storage, along with best temperature for germination and days to germination. If you'd like to get an overview of these sheets, you can visit …
The Plant Spacing Chart shows the minimum distance between plants in a row and between rows.
There will be some variation depending on the plant varieties you choose (some plants grow intentionally smaller to make them better suited for container growing). The chart assumes garden beds that are 3-4 feet across.
The Seed Starting and Transplanting Calendar is for indoor seed sowing. The Customizable Seed Sowing Schedule is for outdoor seed sowing based on last and first frosts of the season. When you enter your frost dates, these calendars adjust to your area.
The Seed Purchase Log helps you track you seed orders, listing the variety, seed company, catalog number, purchase date, number of packets, price and seeds per packet.
Finally, the Planting and Germination Record includes:
Date planted
Variety
Number of cells/containers
Number of seeds planted
Year of seed packet
Company
Date of first seedlings
Number of seedlings
Date of full germination
Number of seedlings total
Transplant to garden date
I find this handy for monitoring older seed. If germination rates suddenly drop off or time to first seedling emerges increases noticeably, it's probably time for new seed. (Or you can plant thickly to compensate and hope for the best.)
More Easy Garden Record Keeping Tips
In addition to the gardening journal pages listed above, I like label, bundle and draw to help track my garden progress.
When I'm working with seedlings inside, I use craft sticks to label the containers. They're cheap, and easy to use. Each stick can be broken in half to mark two containers (when the plants are still tiny). When I'm dealing with larger transplants, I use the whole stick.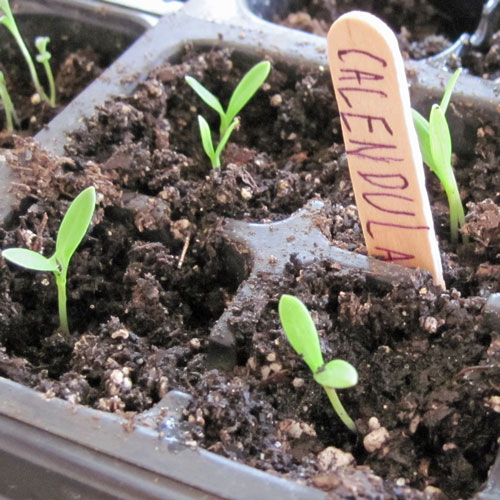 I keep my seeds in plastic shoe boxes, and bundle "like" seeds together. I grow over 100 different varieties of this and that, so I'll just start working my way through a type of something, say carrots, in a block planting.
All my tomatoes, the melons or different types of root veggies get bundled together. Similar plants usually have similar needs, so I can grab a bundle and plant a bunch at one time.
I have a hand drawn diagram of my garden, and I label what was planted in each area from year to year.
This allows me to rotate crop families and plant heavy feeders in areas that have been more recently manured. (My neighbor brings over several loads of rotted manure each year, and that rotates through the garden along with the crops.)
The drawings go into my gardening journal (3 ring binder) so I can track crop rotations from year to year.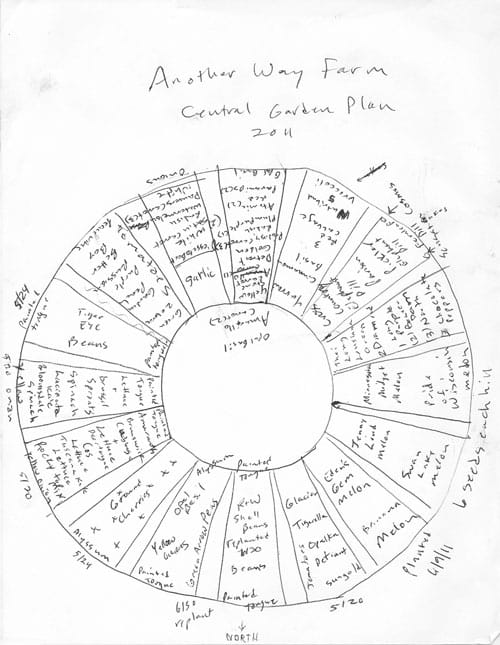 The drawings are not to scale (not even close). They simply allow me to track roughly where things were planted. Some examples from past gardens are shown below.

The more you work in your garden, the more you'll get a feel for how much space you need and how much of a fruit or veggies you use.
There are plenty of resources that will tell you exactly how much to plant to get a certain amount of vegetables. Use them at your own risk.
After decades of gardening, it's been my experience that the only guarantees you have for production are that it changes every year.
Concentrate on the Garden Information that's Most Useful to You
If you want to get super organized, you can get out your graph paper and the plant spacing chart and closely map your beds before planting.
(The book Square Foot Gardening is a good resource for intensive planting. It's a well written book, but not for me. I'm more of a wild woman in the garden.)
I fill out my spreadsheets, scratch some notes in my garden binder, and take photos of the garden at regular intervals. One year I put together a slide show of the central garden wheel through the season, which was pretty cool.
What if volunteer plants show up in the garden? Some of them are allowed to survive, provided I don't need the space for another crop. (I like food that plants itself.)
What about weeds? Some of those are allowed to survive, too, especially those that are edible and/or medicinal. This includes a lot more weeds than you might realize. (You can check out the Weekly Weeder series to find out more.)
Anything you can do to make garden record keeping easier will make it more likely to happen. Don't stress over your gardening journal details so much that you forget to enjoy your garden. That's one of the best parts.
I'd love to hear how you keep track of things in your garden, and what questions I can answer in Common Sense Gardening posts and classes.
Leave a comment and share your thoughts, and don't forget to share the link with your gardening friends.
You may also enjoy: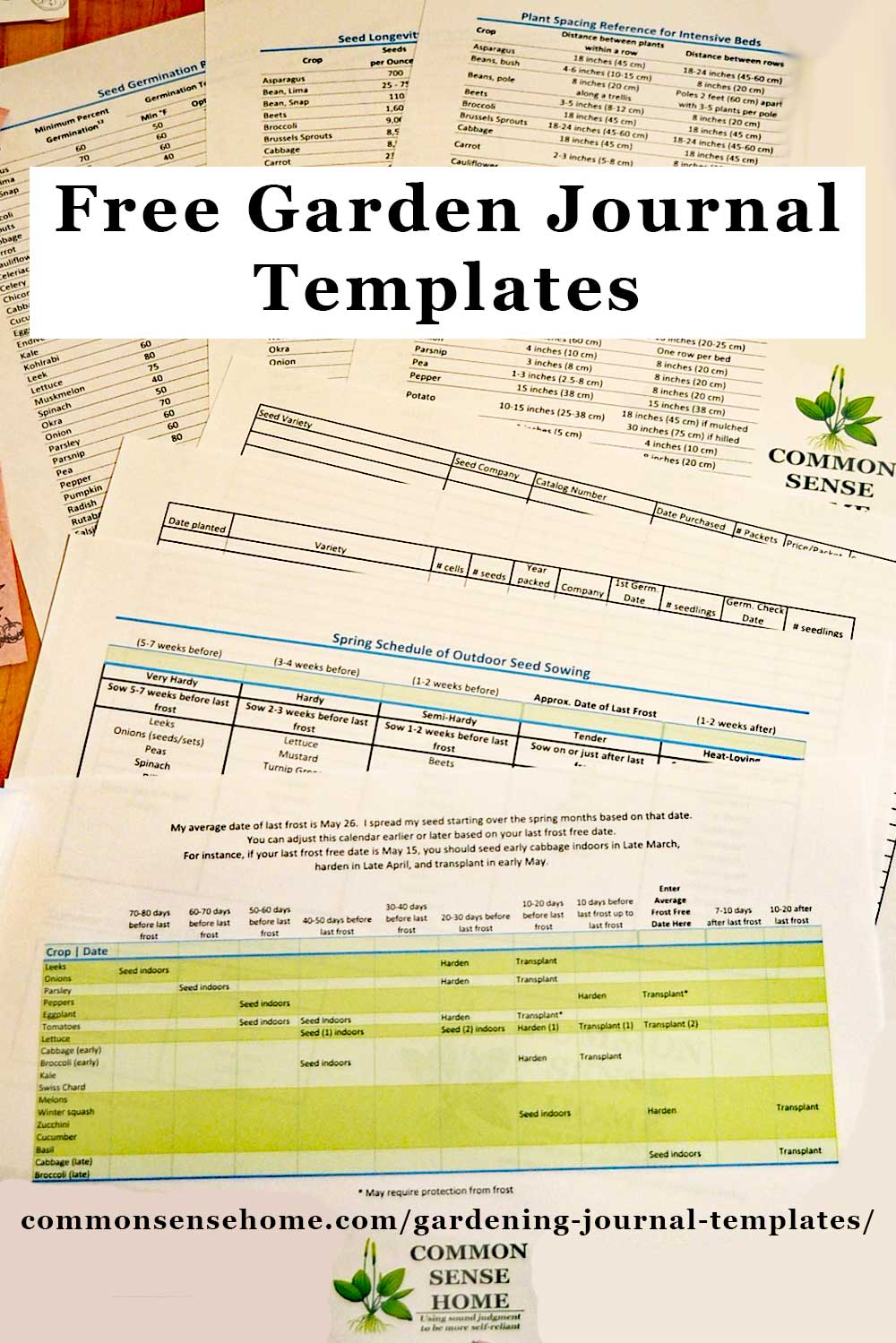 Originally published in 2012, updated in 2018.