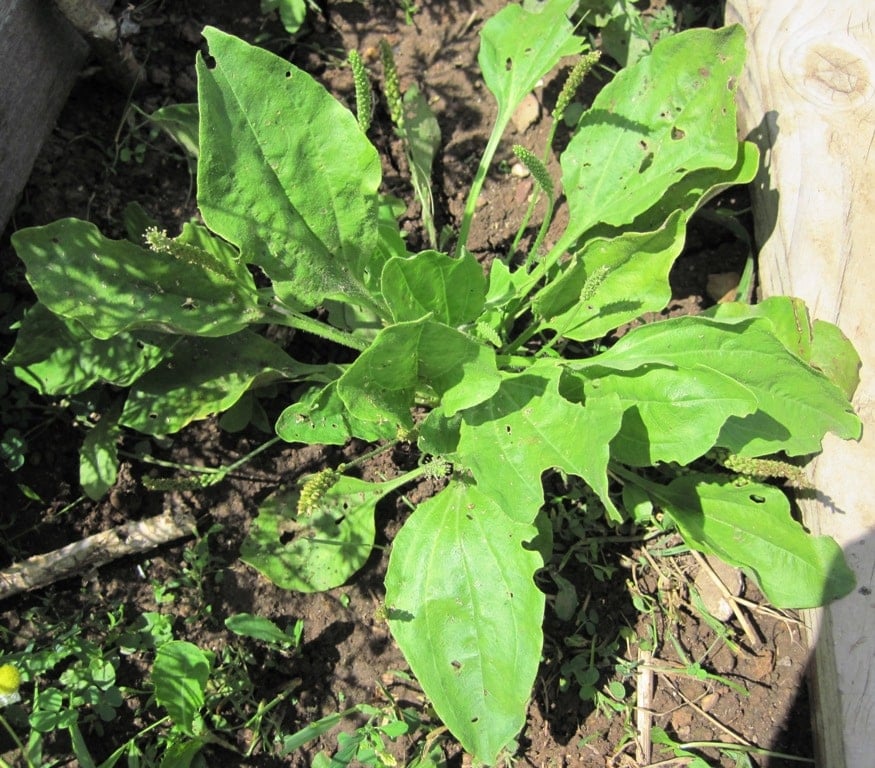 Today's featured plant is Common Plantain, Plantago major.
Common Plantain is also known as broadleaf plantain, plantain, dooryard plantain, Ripple Grass, Waybread, Slan-lus, Waybroad, Snakeweed, Cuckoo's Bread, soldier's herb, Englishman's Foot and white man's foot.
Range and Identification of Common Plantain
Common plantain is native to Europe and temperate parts of Asia. It is now found throughout the United States, as you can see from the the USDA Natural Resources Conservation Service range map. The USDA also classifies it as weedy or invasive, but for me it's one of my favorite "weeds". It grows just about anywhere – from cracks in sidewalks to roadsides and meadows to garden beds. It is much frowned upon in lawns, as the rosettes crowd out the grass growing near them with their broad leaves.
Plants are prostrate, growing low to the ground in a rosette pattern. Leaves are 1-6 inches in length, oblong in shape and strongly ribbed, like celery. If you break a leaf in half, it has strings.
The flowers shoot up in spikes 3-12 inches tall. They're rather dull colored, changing from green to brown as the seeds mature.
The small brown seed pods each contain 4-20 seeds. When they mature, pods split open and spill the seeds to the ground. Plantain seeds can last at least 60 years in the soil, so if you've had plantain show up in your garden once, chances are you'll see it again, even if you don't let new plants go to seed.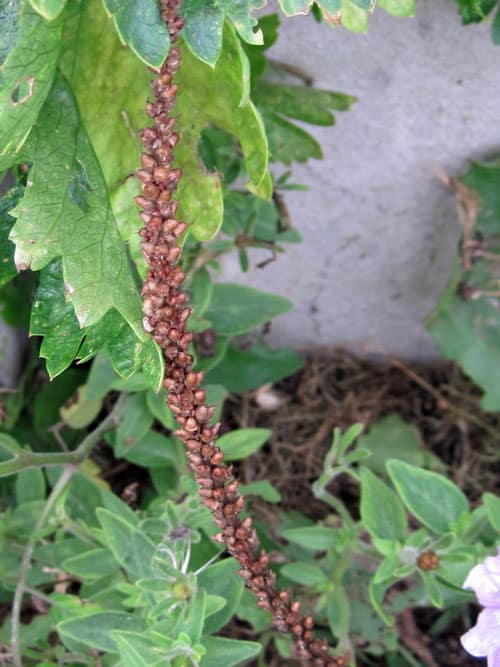 Common Plantain as Food and Habitat for Wildlife
Illinois wildflowers.info provides information on wildlife uses of plantain:
Because the flowers are wind-pollinated, they attract few insect visitors. However, Syrphid flies sometimes feed on the pollen. The caterpillars of the butterfly Junonia coenia (Buckeye) and several species of moth (see Moth Table) feed on Plantago spp. (primarily the foliage). Other insect feeders include Dysaphis plantaginea (Rosy Apple Aphid), Dibolia borealis (Flea Beetle sp.), Gymnaetron pascuorum (Seedpod Weevil sp.), and Melanoplus bivittatus (Two-Striped Grasshopper). Cardinals, Grasshopper Sparrows, and probably other birds feed on either the seeds or seed capsules to a minor extent; the Ruffed Grouse occasionally eats the leaves. The non-toxic leaves and flowering stalks of Common Plantain are readily consumed by groundhogs, rabbits, deer, cattle, sheep, and other mammalian herbivores.
Medicinal Uses of Common Plantain
The Alternative Nature Herbal discusses the medicinal properties of plantain. (Please visit their site to view the full article.)
Plantain is edible and medicinal, the young leaves are edible raw in salad or cooked as a pot herb, they are very rich in vitamin B1 and riboflavin. The herb has a long history of use as an alternative medicine dating back to ancient times. Being used as a panacea (medicinal for everything) in some cultures, one American Indian name for the plant translates to "life medicine." And recent research indicates that this name may not be far from true! The chemical analysis of Plantgo Major reveals the remarkable glycoside Aucubin. Acubin has been reported in the Journal Of Toxicology as a powerful anti-toxin. There are many more highly effective constituents in this plant including Ascorbic-acid, Apigenin, Baicalein, Benzoic-acid, Chlorogenic-acid, Citric-acid, Ferulic-acid, Oleanolic-acid, Salicylic-acid, and Ursolic-acid. The leaves and the seed are medicinal used as an antibacterial, antidote, astringent, antiinflammatory, antiseptic, antitussive, cardiac, demulcent, diuretic, expectorant, haemostatic, laxative, ophthalmic, poultice, refrigerant, and vermifuge. Medical evidence exists to confirm uses as an alternative medicine for asthma, emphysema, bladder problems, bronchitis, fever, hypertension, rheumatism and blood sugar control.
A decoction of the roots is used in the treatment of a wide range of complaints including diarrhoea, dysentery, gastritis, peptic ulcers, irritable bowel syndrome, haemorrhage, haemorrhoids, cystitis, bronchitis, catarrh, sinusitis, coughs, asthma and hay fever. It also causes a natural aversion to tobacco and is currently being used in stop smoking preparations. Extracts of the plant have antibacterial activity, it is a safe and effective treatment for bleeding, it quickly stops blood flow and encourages the repair of damaged tissue. The heated leaves are used as a wet dressing for wounds, skin inflammations, malignant ulcers, cuts, stings and swellings and said to promote healing without scars. Poultice of hot leaves is bound onto cuts and wounds to draw out thorns, splinters and inflammation. The root is said to be used as an anti-venom for rattlesnakes bites. Plantain seeds contain up to 30% mucilage which swells in the gut, acting as a bulk laxative and soothing irritated membranes. The seeds are used in the treatment of parasitic worms. A distilled water made from the plant makes an excellent eye lotion.
I have used plantain directly on insect bites and infused it into oil. It works AMAZINGLY well on mosquitoes bites and wasp stings. I have also made a salve from the infused oil, which is great for spot treatments and hemorrhoids. I have dried some plantain as well, but for the most part I use the oil and salve.
Plantain is also good for drawing out slivers. Simply place some fresh, smashed plantain or plantain salve on the sliver spot, cover with a bandage, and leave overnight. The next morning you should be able to gently squeeze out the sliver or pluck it from the wound.
Common plantain is a close relative of the plant used to make Metamucil and other bulk laxatives, Plantago psyllium.
Plantain in Folklore
Living Natural Made Easy states, "Trotula,a healer and midwife from the 11th century,said it could restore "the very essence of women", by making her appear a virgin once again."  (Note:  I haven't tried this application.)
Suite 101 shares more historical references:
Legend has it that Plantain was a young girl who longed for her lover's return and spent so much time watching and waiting for him by the roadside that she eventually transformed into this common roadside plant.

Plantain was one of the nine sacred herbs of the ancient Saxons and was an early Christian symbol of the path followed by the multitudes of the devout.

It derives one of its common names, White Man's Foot, from American Indian folklore, as the plant seemed to follow the path of the white settlers everywhere they went. Longfellow made mention of this in the classic Hiawatha
…
Many cultures have reference to Plantain as an aphrodisiac.

A Dr. Robinson of the New Family Herbal of days past, says that the Assembly of South Carolina presented an Indian a "great reward" for his discovery that the Plantain was the 'chief remedy' for the cure of the rattlesnake bite.

Folklore tells us to place Plantain beneath the feet to ease tiredness, or carry it in the pocket to protect from snakebite. One source says to bind Plantain to the head with a red wool sash to cure headaches.
Plantain is the wildcrafted plant that I use most. I make up enough salve to share with family and friends because it works so well for skin irritations. I wouldn't be without it. Grandma Catherine was right – it is a medicine leaf.
Other plantain articles on the site:
I hope you've enjoyed this post. If so, please pass it along.