Carrot Cake Jam – Tastes Like Carrot Cake in a Jar
This carrot cake jam recipe is a fun mix of fruit, carrots, and fall spices. As the name implies, it tastes like carrot cake in a jar. This is a great recipe for gift giving, and makes your morning toast extra special.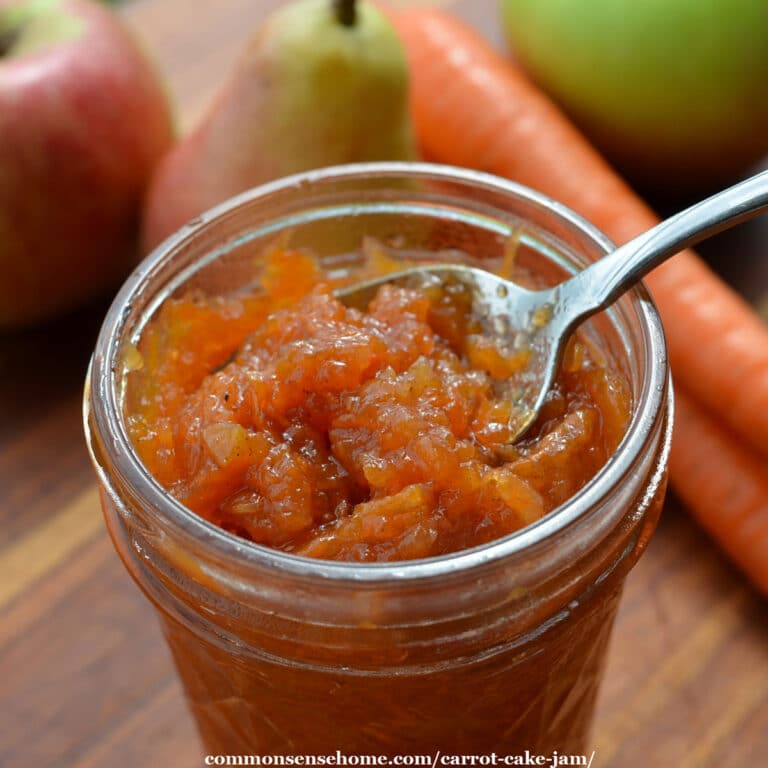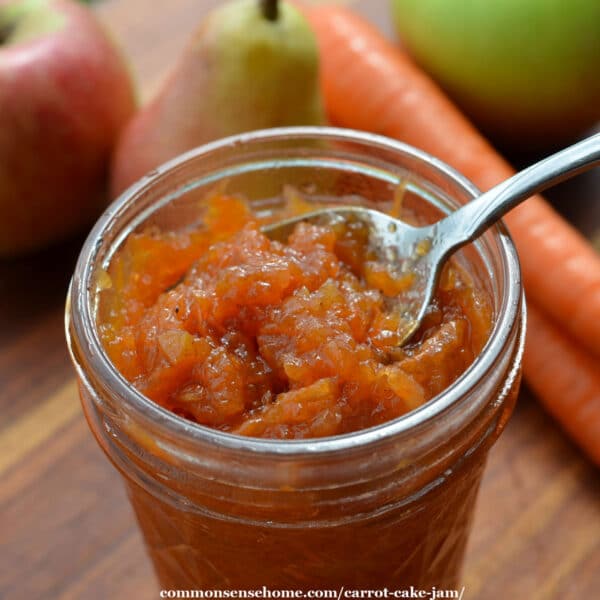 The fall spices make it a nice glaze for pork or ham. Just heat gently and brush over the meat for the last 30 minutes of roasting.
It's perfect for thumbprint cookies or layer cake filling, since the apples help the jam stay nice and thick. (No runny spills escaping your cookies!)
This recipe was adapted from the Ball Complete Book of Home Preserving. The original recipe had more sugar than fruit. (Six and a half cups sugar to 4 3/4 cup fruit.) Plus, they used canned crushed pineapple, which, alas, I cannot grow in my backyard.
We had a bumper crop of apples and pears this year, so I used both in the carrot cake jam recipe. The mix provides a nice balance of flavor and texture to the jam.
This is a water bath canning recipe, but you could also freeze the jam in freezer safe containers.
Preparing for Canning
It's important to prep your canning equipment before you start chopping up the fruit. Fill the water bath canner, and prep your jars and lids. When making a small batch recipe like this carrot cake jam, I heat up my jars in my water bath canner. You can also heat them in the dishwasher.
Current recommendations for Ball canning lids suggest washing them in warm, soapy water before use, but not preheating. I find that my seal rates are best when I keep my lids warm in a small pot on the stove.
Preheating lids is important if you use lids with thicker seals, like Lehman's lids. They have a nice, thick rubber ring, so it takes a little bit of time to soften. Never boil your lids before canning.
Carrot Cake Jam Ingredients
You will need:
Carrots (about 4)
Pears (3-4)
Apples (about 2)
Lemon juice
Cinnamon
Nutmeg
Cloves
Cardamom (optional)
Granulated sugar
Pomona's Pectin and Calcium water (included with Pomona's Pectin)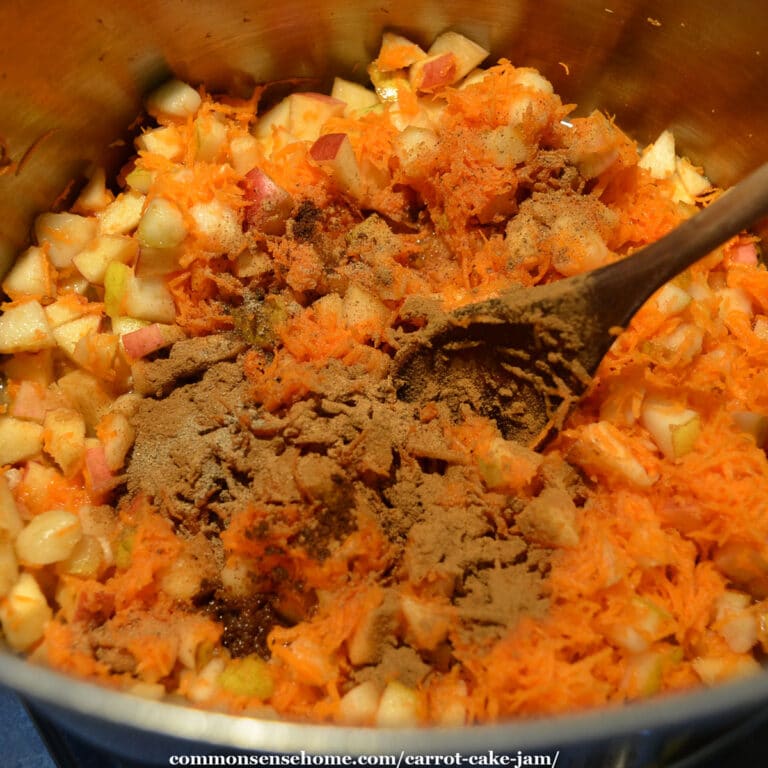 Print
Carrot Cake Jam Recipe
Fall spices, carrots, and fruit combine in a unique jam. Enjoy it on toast, as a meat glaze, or as a filling for cookies or cakes.
Author:
Prep Time:

10 minutes

Processing Time:

15 minutes

Cook Time:

20 minutes

Total Time:

45 minutes

Yield:

4

–

5

cups

1

x
Category:

jam
1 1/2

cups

carrots, finely grated (about 4 carrots)

1 1/2

cups

pears, cored and finely chopped (3 – 4 pears)

2

cups

apples, cored and finely chopped (about 2 apples)

1/2

cup

lemon juice

1 1/2 teaspoons

cinnamon

1/2 teaspoon

nutmeg, ground

1/8

–

1/4

teaspoon cloves, ground

1/8 teaspoon

cardamom, ground (optional)

2

cups

granulated sugar

2 teaspoons

Pomona's pectin powder

2 teaspoons

calcium water (included with Pomona's pectin)
Prepare water bath canner, jars, and two piece lids.
Combine carrots, pears, apples, lemon juice, cinnamon, nutmeg, cloves, cardamom, and calcium water in a large stockpot. Simmer for about 20 minutes, stirring occasionally. Mash with a potato masher to make sure the jam is well blended.
In a small bowl, mix together sugar and pectin powder. Bring the fruit mixture to a full rolling boil, and stir in the sugar/pectin mix. Return the mixture to a full rolling boil, stirring constantly. Boil for one minute and turn off heat. Skim of foam, if needed.
Ladle jam into hot jars, leaving 1/4 inch (0.5 cm) headspace. Remove air bubbles and adjust headspace, if needed, by adding hot jam. Wipe rim. Screw on lid to fingertip tight.
Place jars in canner, ensuring that they are completely covered with water. Bring to a boil and process for 10 minutes. Turn off heat, remove canner lid, and let jar rest five minutes in the canner. Remove the jars, placing them on a kitchen towel on the counter to cool completely.
Check seals, date, label, and store in a cool, dark location. For best quality, use within 18 months. Once opened, store jars in the refrigerator.
Notes
Pomona's Pectin uses calcium to gel instead of sugar, so if you like, you can reduce the sugar to one cup, or eliminate it completely. (Sugar does extend the shelf life of jam and helps it retain color and texture.)
If you don't have Pomona's Pectin, use less ripe apples, and cook until the jam starts to thicken and passes the gel test. It's okay to double or triple the recipe, but the jam will take longer to thicken.
Keywords: fall, preserves, canning, carrots, pears, apples
Pomonas Pectin Universal 1.1 Ounce (Pack of 3)
Granite Ware 8 Piece Enamelware Water bath Canning Pot (Speckled Black) with Canning Toolset and Rack. Canning Supplies Starter Kit, Canning Supplies. Canning Kit
Ball Complete Book of Home Preserving
Pomonas Pectin Universal 1.1 Ounce (Pack of 3)
Granite Ware 8 Piece Enamelware Water bath Canning Pot (Speckled Black) with Canning Toolset and Rack. Canning Supplies Starter Kit, Canning Supplies. Canning Kit
Ball Complete Book of Home Preserving
Substituting Pineapple in Your Carrot Cake Jam
If you like crushed pineapple in your carrot cake, go ahead and substitute it for the apples. Keep in mind that pineapple is low in pectin, so you will need commercial pectin for the jam to set.
If you use apples, adding a little pectin speeds up cooking time, but is not essential. If you use tart or less ripe apples, your jam will set without commercial pectin. Simply cook the jam longer, until it thickens and passes the gel test.
You may use fresh pineapple, but fresh pineapple contains enzymes that break down pectin. Before making the jam, bring the pineapple to a boil and boil for several minutes to de-activate the enzymes.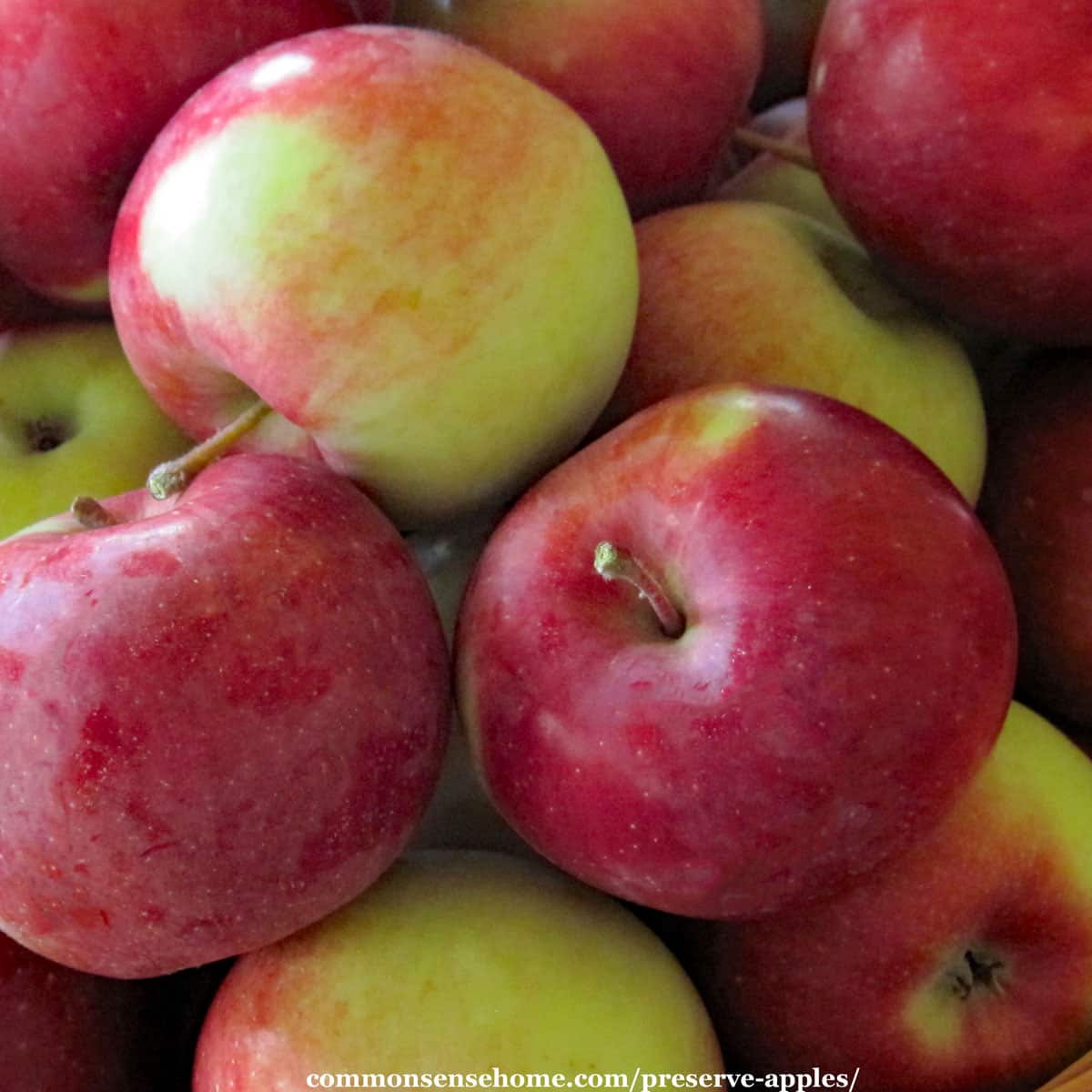 What is Calcium Water?
Calcium water is made from calcium powder included in each package of Pomona's Pectin. Normal pectin needs sugar or long cooking to gel. Pomona's Pectin gels with calcium, so you can use little or no sugar.
I use Pomona's Pectin for almost all my jams and jellies. One box makes several batches of jam, jelly or preserves. It allows me to use less sugar and speeds up cooking time.
Learn more about Pomona's Pectin here.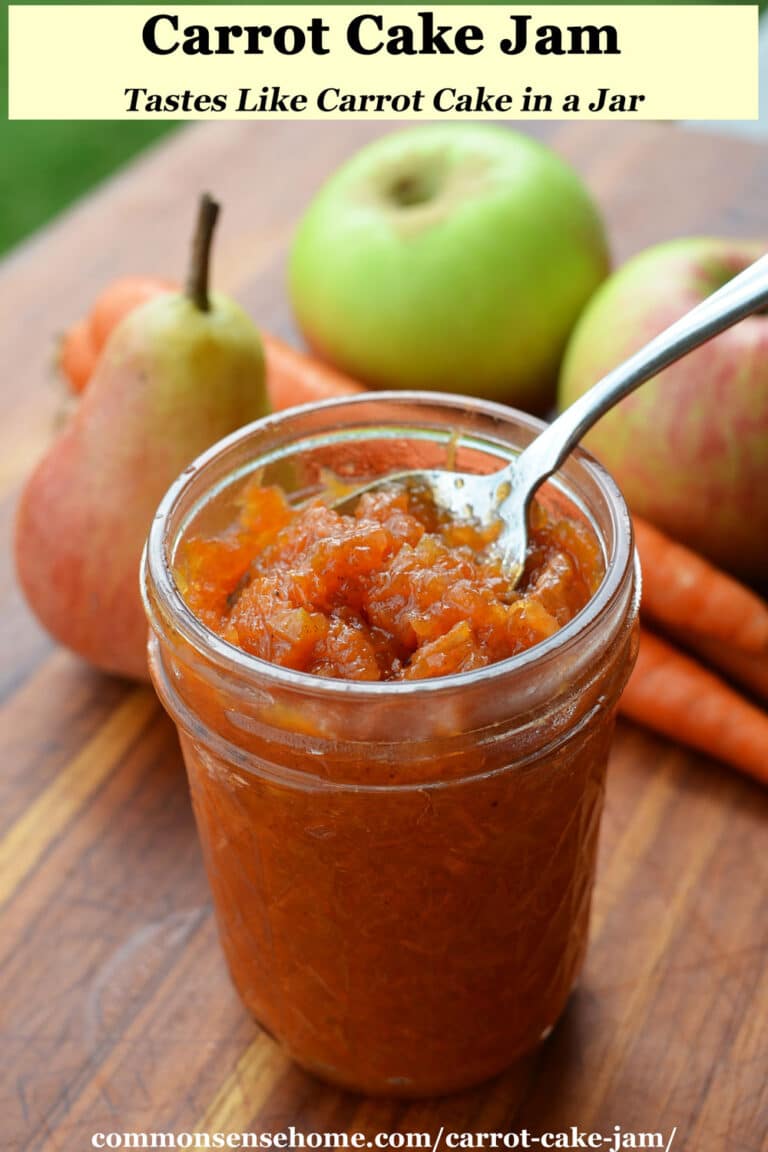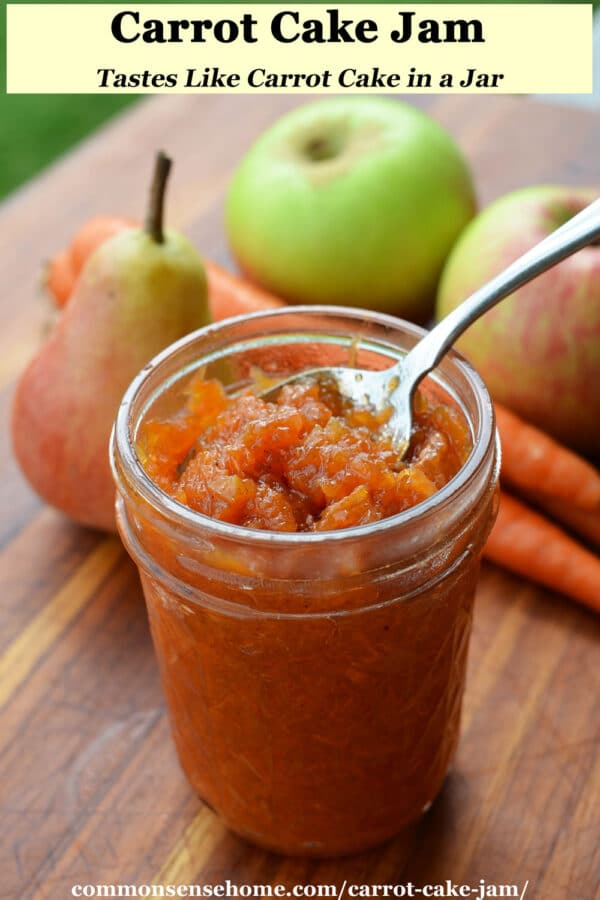 More Pear and Apple Recipes for Canning
Between the food forest growing in our backyard and swapping produce with neighbors, we do a lot of canning and preserving. I enjoy trying new recipes each year, especially ones that you can't find in stores. Carrot cake jam was new to us this year, and it's a keeper. Here are some more interesting recipes we've made.
Brandied Cinnamon Apple Preserves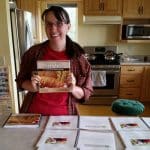 This article is written by Laurie Neverman. Laurie grew up in the kitchen, learning baking and home cooking from her momma. At age 15, she and her mom and two sisters created Irene's Custom Cakes & Catering, which was her summer job through most of high school and college.
Now she combines old and new recipes and garden fresh produce to make tasty, easy to prepare foods. Along with her passion for growing nutrient dense food, she also enjoys ancient history, adorable ducks, and lifelong learning.