Blackberry Jam Recipe (Low Sugar)
Homemade blackberry jam is a tasty way to enjoy the bounty of summer blackberries all year round. We usually make our jam seedless, but feel free to leave the seeds in if you prefer.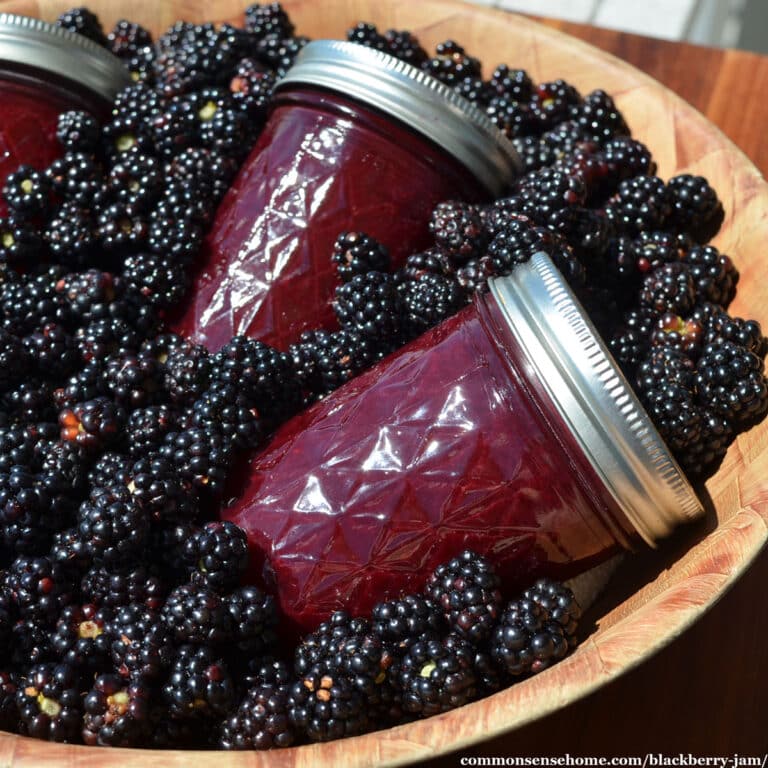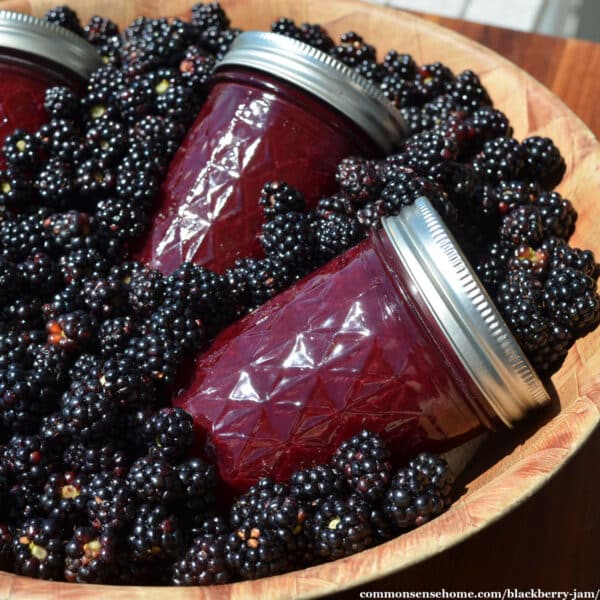 This small batch recipe uses less sugar and Pomona's Universal Pectin to preserve that fresh berry flavor. I process mine in a water bath canner, but you can safely keep it in the refrigerator for several weeks.
Blackberry Jam Ingredients
Blackberries, fresh or frozen – about 3-4 quarts
Granulated Sugar or Honey
Pomona's Pectin and Calcium Water (included with Pomona's Pectin – get it here)
Lemon juice* (if using Sweet blackberries, see below)
Blackberries have a fair amount of pectin (mainly in the seeds), so you can make blackberry jam without pectin. To get a gel with only the pectin in the berries, you need to add more sugar, or cook the berries longer. I prefer a less sweet flavor and shorter cooking time.
Learn more about Pomona's Pectin and how it works here.
I normally use organic granulated cane sugar or honey for sweetener. Cane sugar cooks up a little differently than beet sugar, plus you reduce the risk of glyphosate contamination.
Honey sweetened blackberry jam will set a little bit softer than sugar sweetened jam. Strong flavored honey will impact the flavor of the jam.
It's fine to double or even triple the recipe. If you try to make a larger batch than that, it will slow down gelling. It's better to make multiple slower batches to reduce cooking time.
Equipment
Large saucepan or stockpot
Wooden spoon
Potato masher (optional, to mash the blackberries)
Food strainer or food mill (optional, to strain out seeds)
Sterilized jars and canning lids
Jar funnel
Ladle to transfer hot jam to the jars
Water bath canner
Jar lifter
Lid lifter or tongs for grabbing lids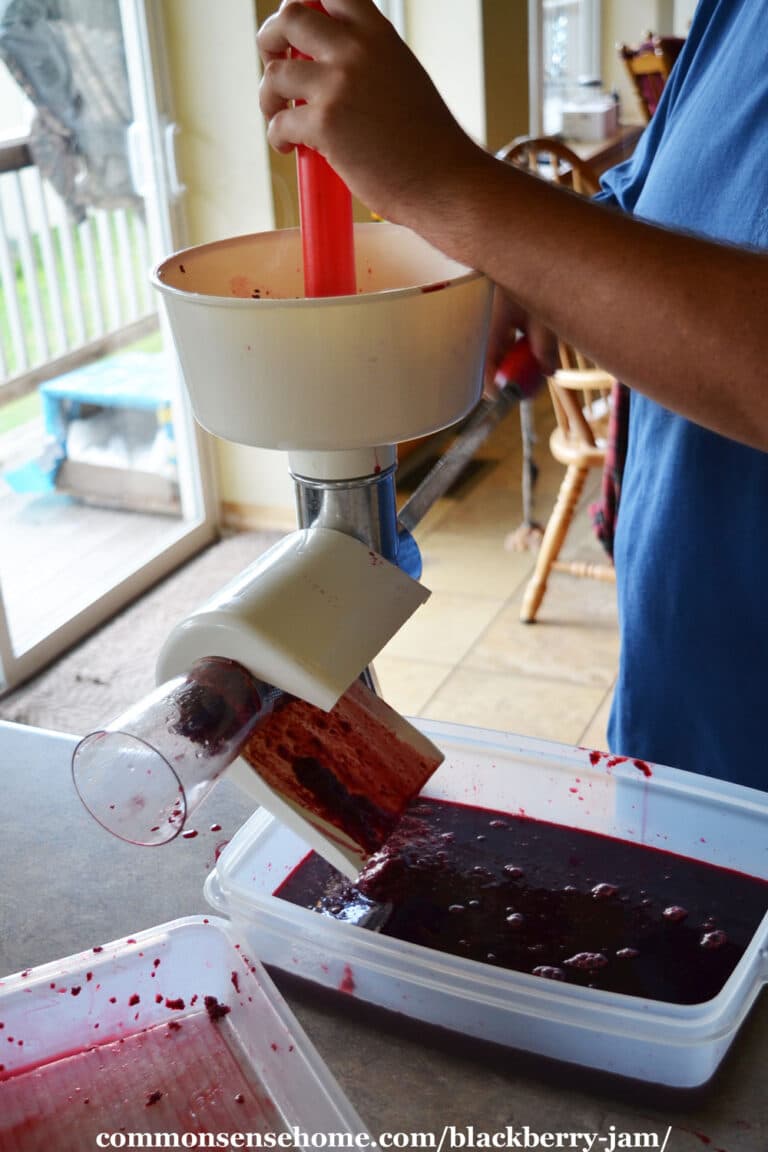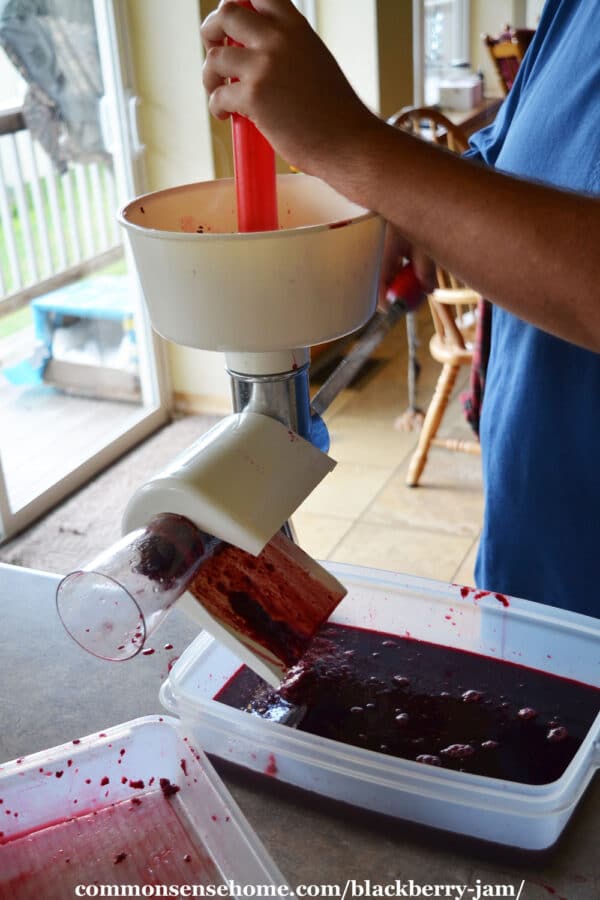 Blackberries vs Sweet Blackberries
Most varieties of blackberries are fairly acidic, with a pH ranging from around 3.2 to 4.0. (Remember, for safe water bath canning, we need a pH of 4.6 or lower.)
In recent years, however, breeders have developed varieties that are sweeter and less acidic to cater to consumers' sweet tooth. (The variety Von from North Carolina State University is one example.)
If you suspect that you're working with a "sweet" blackberry variety, add one fourth cup lemon juice to your fruit puree. This will make sure it's safe for water bath canning, plus the lemon adds brightness to the flavor of the jam.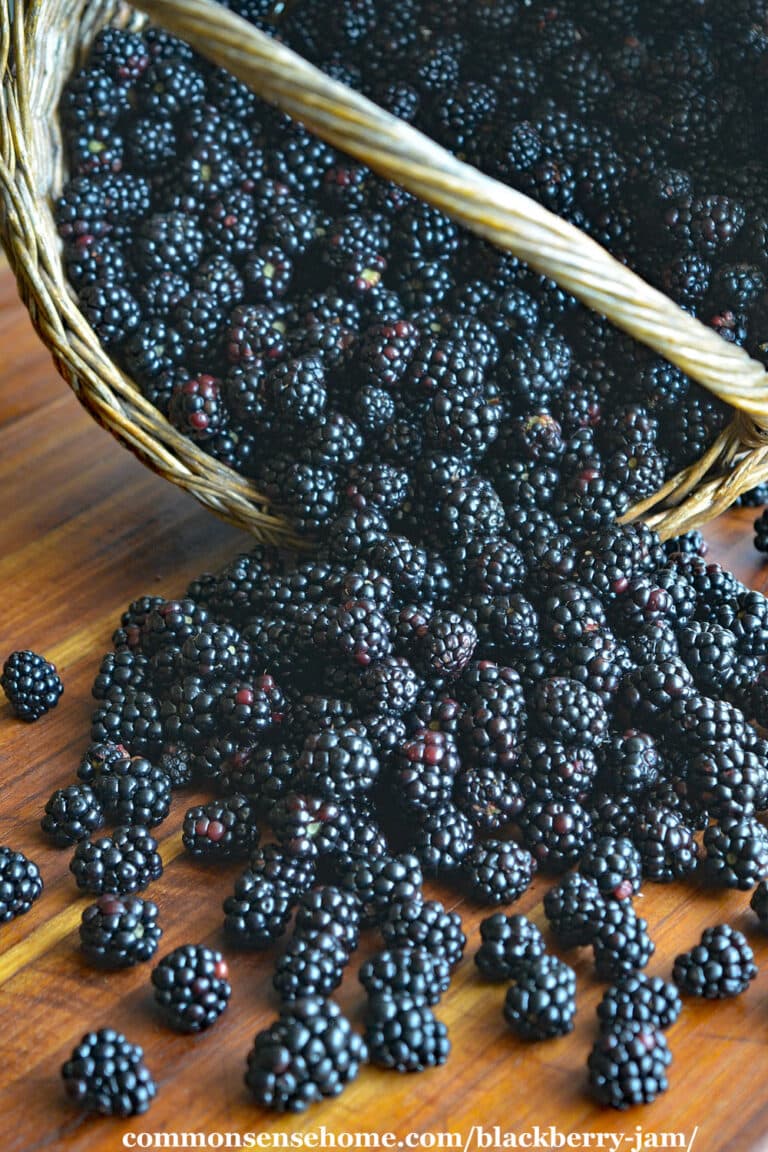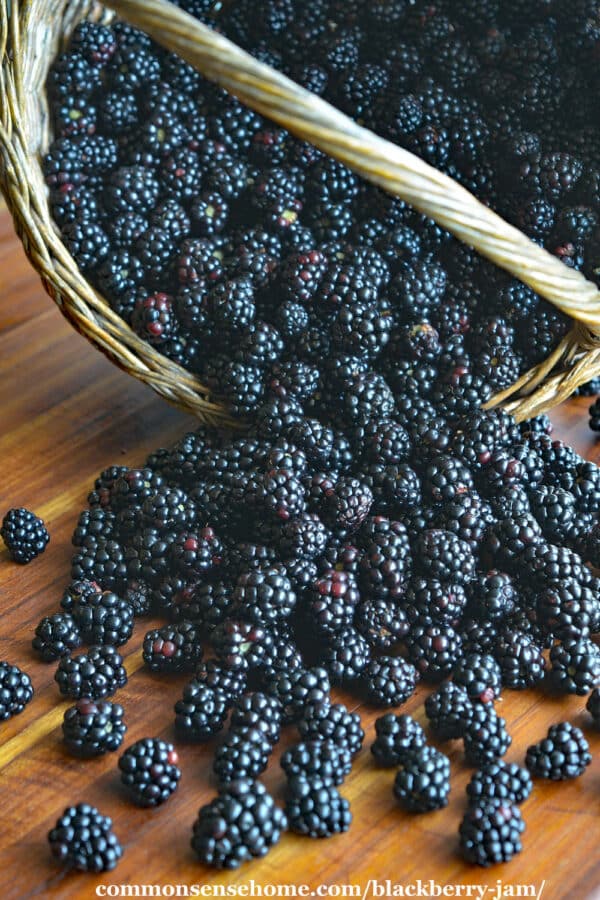 Print
Blackberry Jam Recipe (Low Sugar)
Author:
Prep Time:

15 minutes

Cook Time:

10 minutes

Total Time:

25 minutes

Yield:

4

–

5

cups

1

x
Category:

Jam
4

cups

of blackberry puree or mashed blackberries(will need 3-4 quarts of fresh blackberries or 2 1/2 10oz packages of frozen to start, depending on how many seeds you let through)

2 teaspoons

calcium water (included with Pomona's Pectin)

2

cups

sugar or 1 cup honey

2 teaspoons

Pomona's Pectin powder

1/4

cup

lemon juice*
Prepare blackberries by cleaning (if needed) and gently cooking in a heavy bottom pot. I use my 8 quart stock pot.
Once softened, run through a food mill or strainer to remove some of the seeds if you like (once for fewer seeds, twice for more seeds) or simply mash berries.
Measure out 4 cups of berry puree and return puree to pot. Add lemon juice, if using.
Clean and check edges on five 8-ounce canning jars, keep hot. Prepare lids and rings.
Fill water bath canner and bring to boil.
In a small bowl, mix together sugar (or honey) and pectin powder. (Don't skip this step, or your pectin will clump.) Set aside.
Add calcium water to blackberry puree. Bring to a full boil, stirring constantly.
Add sugar-pectin (or honey-pectin) mixture to berry puree, stir vigorously 1-2 minutes while cooking to dissolve pectin.
Return to boil, then remove from heat.
Ladle hot jam into warm jars, leaving 1/4″ headspace.
Wipe rims clean and screw on the lids. Process for 10 minutes in water bath canner (add 1 minute for every 1,000 feet above sea level).
Refrigerate open jars. Jam will last about three weeks once opened. Makes around 4-5 cups.
Notes
*Lemon juice is not required for most blackberry varieties. Add lemon juice if you are using sweet blackberries without a lot of acidity.
For best quality, use within 18 months. Store in a cool, dark location, out of direct sunlight.
Blackberry Peach Jam
Substitute two cups of peeled and chopped peaches for half of the blackberry puree.
If you end up with excess puree, you can either eat it, refrigerate and use within a few days, or scale up the recipe.
Nutrition information is based on using two cup granulated sugar.
Keywords: blackberries, jam, summer fruit, preserving
Blackberry Peach Jam
This is one of those "happy accidents" that come about when experimenting in the kitchen.
I had peaches that needed to be used up, and not quite enough blackberry puree for a full batch of jam. Instead, I combined 2 cups of peaches (peeled and chopped) with 2 cups blackberry puree. It turned out delicious and I would definitely make it again!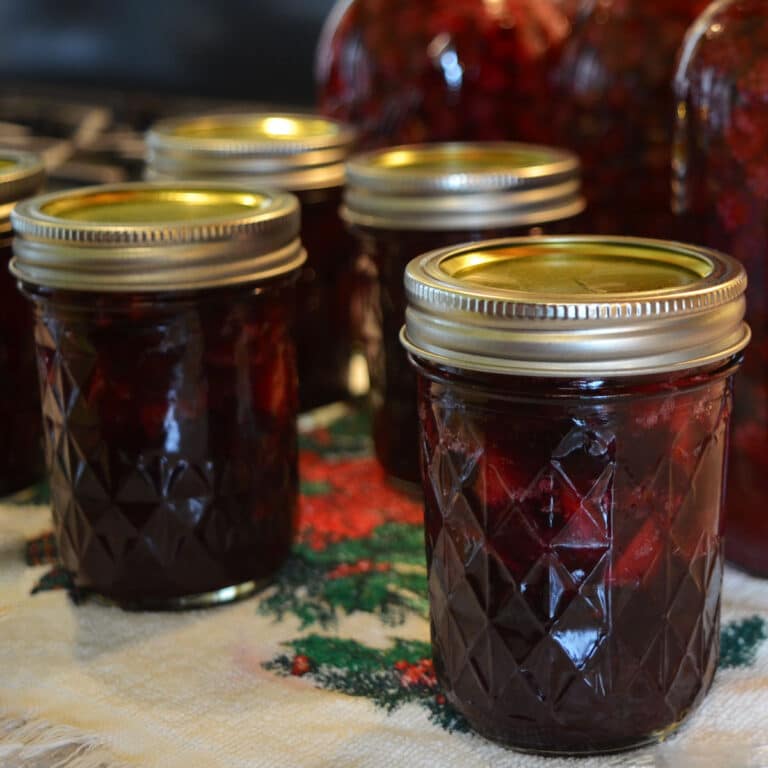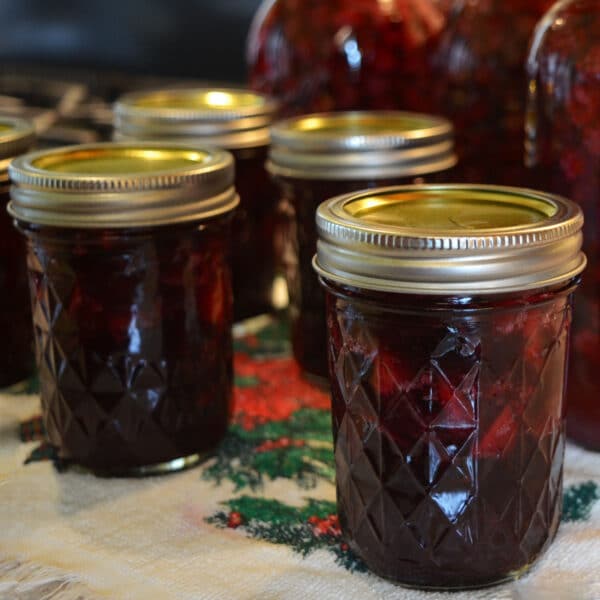 Blackberry Jam Recipe without Pectin
The old school method of jam making was to combine equal amounts of berries and sugar and cook it down, stirring constantly until it gelled. (105°C/221°F on an instant read thermometer, or use the gel test.)
To do the gel test, place a small plate in your freezer. When the jams starts to thicken, take out the plate, put a small amount of jam on it. Wait a minute or two, and see if it gels. If it doesn't, cook it a bit longer and repeat until the jam gels on the plate.
This can take a while to gel, and the jam is quite sweet. You can reduce the sugar to one part sugar to four parts berries, but this will increase cooking time.
Speeding up the Process
If you use some berries that are slightly underripe, that will speed up gelling. Less ripe berries have more pectin. You can also try adding a bit of shredded tart apple for extra pectin to speed up gelling. Adding lemon juice reduces the pH, which also helps with gelling.
Freezing berries breaks down the pectin a little, so jam made with frozen berries may take longer to gel.
Foaming
Blackberries tend to foam quite a bit during cooking, so make sure to use a large enough pot. Regular stirring keeps the foam down, and prevents scorching. The foam will settle once you turn off the heat.
Older recipes called for adding a dab of butter (about 1/4 teaspoon) to the berry puree to reduce foaming. I used to do this, but found that stirring works nearly as well, so now I don't bother.
Freezing instead of Canning
Yes, it's safe to store your homemade blackberry jam in the freezer instead of canning. Use straight sided jars marked "freezer safe". For best quality, use frozen jam within 6 months.
More Yummy Recipes
Cherry Jam Recipes – Cherry, Cherry Amaretto, Cherry Berry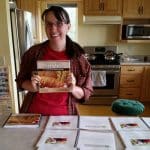 This article is written by Laurie Neverman. Laurie grew up in the kitchen, learning baking and home cooking from her momma. At age 15, she and her mom and two sisters created Irene's Custom Cakes & Catering, which was her summer job through most of high school and college.
Now she combines old fashioned recipes, garden fresh produce, and cooking for special diets to make tasty, easy to prepare foods. Along with her passion for growing nutrient dense food, she also enjoys ancient history, adorable ducks, and lifelong learning.