Canning Questions Answered – A Great Canning Resource
As a beginning canner, there are often canning questions that come up that might seem obvious to experienced food preservers, but aren't so obvious when you're starting out. I've teamed up with some of my blogging friends (Chaya Foedus from Pantry Paratus, Janet Garman from Timber Creek Farm, and Diane Hamilton Coe from Peaceful Acres Farm) to answer over 15 of your home food preservation questions and recommend some great resources. If you don't find an answer to your question here, feel free to leave a comment below and I'll do my best to help you out.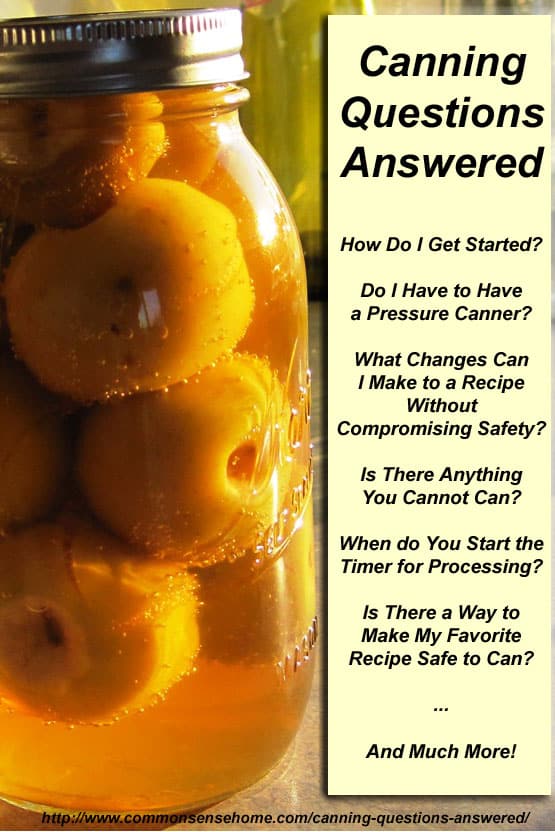 How do I get started canning? What do I go to the store and buy?
The post "Getting Started With Home Canning" gives a detailed list of equipment commonly used for canning. The most important piece is the canner. A water bath canner, which is basically a large pot with a rack in the bottom, is the easiest to use and less expensive than a pressure canner.
Foods that can be safely canned in a water bath canner are those that are acidic (they have a pH ≤ 4.6). These include:
Most fruits
Tomatoes*
Pickled vegetables (those that are processed with added acid)
Jams and jellies
Salsas and chutneys (those recipes that are approved for canning)
*Some modern tomato varieties are less acidic, so the USDA recommends adding extra acid as part of safe canning guidelines for tomatoes.
Along with your canner, you'll need jars and lids (make sure your jars are free of nicks and chips). A jar lifter, small non-metal spatula, lid lifter, jar funnel and canning ladle are also recommended.
The Getting Started Canning post includes additional items for specific canning projects, like jelly bags, food strainers, kitchen scales and an apple peeler/corer/slicer.
I'm new to canning, but would love to learn. What is the best step-by-step resource?
Diane says, "I personally think Jackie Clay is one of the best experts there is!!! You can find her at Backwoods Home, in the Ask Jackie Online Archives."
Janet says, "One of my favorites is Sharon at Simply Canning."
Blue Book Guide to Preserving (by Jarden Home Brands) and Ball Complete Book of Home Preserving are great basic reference guides for canning, freezing and dehydrating, offering step by step instructions for safe food preservation. Preserving with Pomona's Pectin: The Revolutionary Low-Sugar, High-Flavor Method for Crafting and Canning Jams, Jellies, Conserves, and More is a recently published book by the folks at Pomona's that's a great resource for those looking for recipes that are lower in sugar.
Do I have to have a pressure canner, or is water bath adequate for most canning? I want to preserve mainly pickles and tomatoes.
You do not need a pressure canner for tomatoes (although some tomato sauces may require a pressure canner) or high acid pickles. The first few years I canned I only used a water bath canner, and I preserved jams, jellies, fruit, tomatoes and pickles.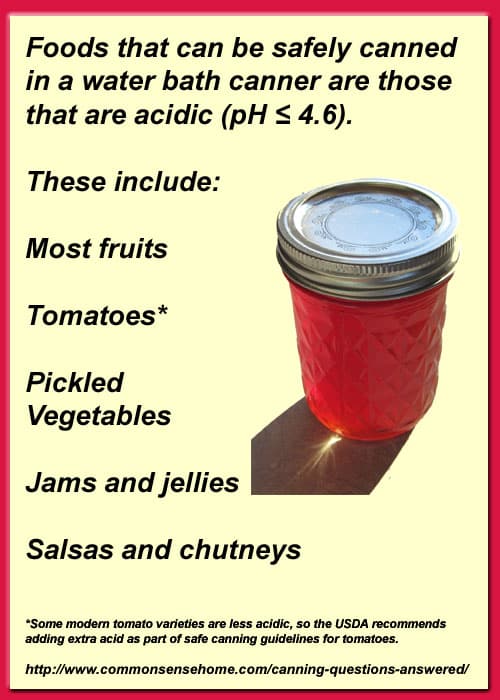 What kinds of modifications can you make to a recipe without compromising safety? (For both water bath and pressure canning)
Chaya says, "With water bath canning, it is very dependent upon the acid levels. It is not a good idea to tweak the recipe. The one exception might be adjusting the spices in pickling (some of us like peppercorns, some of us don't), but with the plethora of recipes available there shouldn't really be a need to adjust at all…someone has the perfect recipe out there for you! Check out the books & videos at Pantry Paratus. Also, Kendra Homestead-Girl 's new video (At Home Canning for Beginners & Beyond) is a great place to start."
The Natural Canning Resource Book gives detailed guidelines on safe recipe creation, including a discussion of pH testing, water activity (the free water available to microbes), heat penetration, salt and sugar concentrations, pectin content and more. For the home food preserver who just wants to use what they have on hand or tweak recipes just a little bit for their family's tastes, stick to high acid products. Fruits that are naturally high in acid (pH ≤ 4.6) are safe to mix together in a jam, jelly or preserve. The chart below will give you an idea of safe fruit canning combinations. (Adapted from The Natural Canning Resource Book.) As Chaya mentions, small amounts of dry herbs and spices may also be added or removed. Fresh herbs (especially in quantity) will raise the pH, so they are not safe to casually experiment with.
pH 4.0-4.9 (borderline)
pH 3.5-4.0
pH 3.0-3.5
pH 2.0-3.0
pH < 2.0
Asian pear
Banana, Fig, Ripe mango, tomato
guava
overripe blackberries
some grapes, some raspberries, peach, pineapple, ripe apples, ripe apricots, sweet cherry, tomatillo, underripe pear
blackberry, blueberry, grapefruit, orange, some grapes, some raspberries, ripe plums, rhubarbstrawberriessour (pie) cherriestamarind

underripe apples

underripe apricots

underripe peaches

Gooseberries, grapes (Concord and wild), lemons, underripe plums
Limes
For a list of of pH from Abalone to Zwiebach, visit the USFDA "Approximate pH of Foods and Food Products".
The Utah State University Cooperative Extension offers these guidelines for safe canning changes.
You may safely:
Change salt level in anything except pickles. Salt acts as a preservative and adds flavor and crispness to pickles. In other foods, it is mainly used as a flavoring agent and is added as a personal preference.
Change sugar level in syrup used for canned fruit. Sugar helps fruit retain a bright color and firm texture, but is not necessary for safety.
Add EXTRA vinegar or lemon juice. Bottled acids help obtain required pH (acid levels) in tomatoes and pickles. If a more tart or sour flavor is desired,
more vinegar, lemon or lime juice may be added.
Decrease any vegetable except tomatoes in salsas. Salsa recipes have been tested to ensure that they contain enough acid to be safely processed in a boiling water-bath canner. This
acid is provided by the correct amount of tomatoes. The addition of vegetables has also been calibrated to balance the acid level. While it is dangerous to add more vegetables to salsa
recipes, fewer may be used for a milder flavor.
Substitute bell peppers, long green peppers or jalapeño peppers for each other in salsa recipes. So long as the total amount of peppers remains the same (or fewer) as what is listed in
the tested recipe, peppers may be interchanged.
You can download a set of pdf instructions for making and creating your own low and no-sugar jams and jellies with Pomona's Pectin using the image or text below. Shared with permission from Pomona's Pectin.
I'm new to pressure canning and it intimidates me to can meats. I want to broaden my skills but getting some one sick scares me. Any good tips, and what are the risks?
Janet says, "I used to be afraid too, Kim but the desire to save the beans and other produce that could not be hot water bath canned finally won out. If you follow good hygiene habits in the kitchen and wash the veggies first, there should be very little risk. Also, remember, you probably won't be eating right from the jar. I usually boil the green beans again before serving. With your meats, the pressure is so high that it would kill just about anything that was in there to begin with. I trust home canned chicken and beef more than store bought any day."
Diane says, "Kim, I too was scared to death not of eating the food but of the canner exploding! This canner is so easy to use and as long as you follow the instructions and like Janet said, boil the food for 10+ minutes it will kill any bacteria….plus if the lid bubbles the toss jar and all. But we too LOVE pressure canned green beans! I know by that point I've killed all the nutrients but I love them anyway!!!!! We've eaten many a jar of stew, meats etc. They came in handy when we had family emergencies that we only had an hour to pack and get out of town for a dying loved one."
If you follow safe canning guidelines, risks are minimal. The only stories I've seen about people getting sick from home canned meat are ones where they were very foolish, doing things like eating foods from jars with failed seals, or water bath canning instead of pressure canning for low acid foods.
Basic Canning Safety Tips
Keep Everything Clean
Always Use Fresh, Good Quality Food Products (you can cut our blemishes, but discard items with signs of spoilage)
Keep Your Hot Items Hot
Use the Right Method of Canning – Water Bath for High Acid Foods, Pressure Canning for Low Acid Foods
Use the Correct Processing Time
Process at the Correct Pressure (for Pressure Canning)
Do Not Tilt Jars When Removing from Canner (Food may get between the jar and rim and ruin the seal)
Allow Jars to Sit and Cool Without Being Disturbed
Remove Rings and Check Seals Before Storage, Wipe Jars Clean
Date and Label Contents of Jars
Do Not Stack Jars in Storage (stacking may give the appearance of a false seal due to weight of jar on top of other jar)
For Best Quality, Use in 1 – 2 Years
Most of the time when food is spoiled, there are signs of spoilage – mold, foul odor or discoloration. One deadly microbe you can't see is Clostiridum botulinum – otherwise known as botulism toxin – which can be deadly. This bacteria lives in soils and sediments, so it's everywhere, but most of the time it doesn't cause trouble, because it lives with lots of other bacteria. Here's the problem – botulism grows at temperatures between 40-120°F (5-49ºC) and oxygen levels below 2 percent – like the inside of a sealed canning jar. High acid foods (pH ≤ 4.6) keep botulism spores from germinating into live cells. Adding sugar and salt to foods also ties up the water in the food, making that water unavailable to the bacteria, so the bacteria can't grow. Canning also eliminates the other bacteria that would keep the botulism bacteria in check. To destroy the botulism spores, low acid foods must be processed at 240-250 F (116-121 C) under pressure of 10-15 pounds per square inch (psi) at sea level. Always follow a tested recipe when canning low acid foods.
I canned some carrots and the water level dropped in one of the jars but the seal is good. Are they safe to eat?
Chaya says, "Yes, they are safe to eat but they might change appearance over time. They are shelf-stable but they should be eaten first in your rotation because they will not last as long as the others. (Most canned vegetables will retain best quality for 1-2 years.)"
Is there anything you cannot can?
It is not recommended to can:*
Quick Bread
Thick, Viscous, low acid foods
Summer Squash and Zucchini
Tomatoes that have not been acidified
Hominy processed with lye
Herb-flavored oil and pesto
*Adapted from The Natural Canning Resource Book.
When in doubt, find an approved recipe from a tested source, or use another food preservation method. Lots of folks on the internet use recipes that do not follow current guidelines.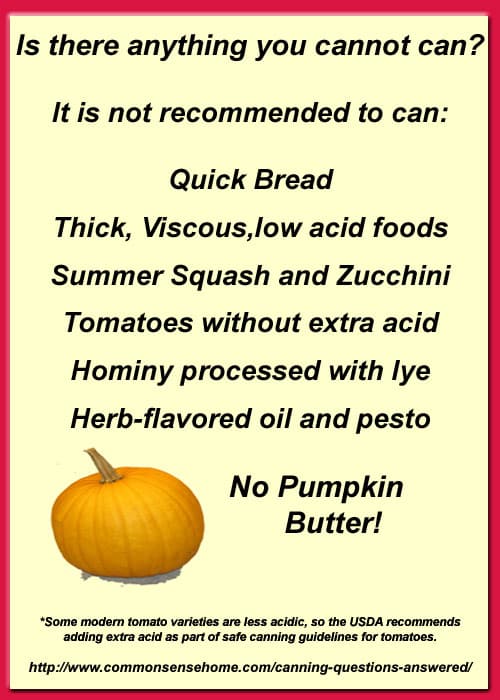 Are there veggies/foods that I should be blanching first?
Yes. For those who don't know, blanching is a quick dip in boiling water, followed by an ice water (or cold water) bath to stop cooking. Blanching softens tough skins and breaks down enzymes that break down the food.
Generally high acid foods (like the fruits listed above) do not require blanching. Foods that readily convert from sugar to starch (like peas and corn), benefit highly from blanching, because it keeps them sweet. Greens (like kale and asparagus) will be more tender and palatable with blanching. Chaya talks more about blanching in the article, "To Blanch or Not to Blanch".
When do you start the timer for the processing time? I always end up processing things way too long, because I can't tell when is the right time to start counting it as officially "processing," in water bath OR pressure canning.
For Water Bath Canning: After jars have been added to the canner and are covered by at least two inches of water, cover the canner and turn the burner to high until the water boils vigorously. Start the processing time at this point.
Note: Following the current guidelines for cucumber pickle canning have produced nothing but soggy cukes for me, so I usually do at least one batch of refrigerated dill pickles with a salt and vinegar brine. These must be kept in the refrigerator – they are not shelf stable. See No Canning Required Dill Pickles for the recipe.
For Pressure Canning: Fill canner with water as directed, place the jars in and close the lid. Turn the burner until a steady stream of steam is produced, and vent the canner for 10 minutes. This removes oxygen from the canning vessel. Place the weight on the vent pipe or close the petcock. Bring the canner to the correct pressure, and then start your processing time.
If you are craving crunch, I highly recommend looking into lacto-fermatation for part of your food preservation. A good reference on the topic is "The Complete Idiot's Guide to Fermenting Foods".
I have some favorite marinara sauce and salsa recipes that are not "canning" recipes. I would really like to find out if it is safe to can these or learn ways to tell if regular recipes are ok to be canned or if there are ways to alter them a tad to make them more safe. Everything I see says to always stick with canning recipes.
Chaya says, "Yes, it's best to stick with safety tested recipes, because of acid levels. If you have a favorite recipe for marinara or salsa you should be able to safely can it in a pressure canner based upon the guidelines given in the manual–the All American pressure canner comes with an awesome manual that will lay out the times for you based upon altitude."
How long is canned food good for? Does it depend on what it is?
As I mentioned earlier, quality is best during the first 1-2 years. As long as safe canning processes were followed and there is no sign of damage or seal failure, foods should be safer to eat considerably longer. Acid, salt and sugar will all extend the shelf life of foods and help prevent discoloration and changes in texture and flavor. (This is why salt and sugar are loaded into cheap mass produced food.)
Storing your canned goods in a cool, dark, dry location will greatly improve storage life and quality. Having your jars on display on an open shelf in your kitchen looks great, but doesn't do the food any favors in terms of shelf life.
Do I Really Need a Pressure Canner?
If you want to can vegetables, meat or meals – YES. I pressure can more green beans than anything else out of my garden. They're my boys' favorite veggie.
Is It Hard to Use a Pressure Canner?
Not really. It takes more patience than anything else. With a water bath canner, you lower jars into boiling water and start your timer. With a pressure canner, you must let the canner exhaust steam for ten minutes. Then you put the pressure regulator in place.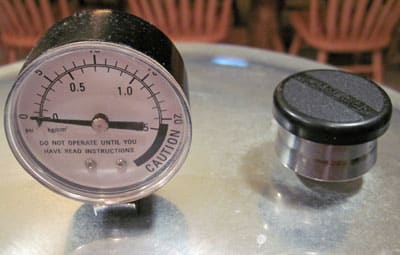 See the little round black thing on the right? That's the pressure regulator. Once the regulator is on, you wait for the pressure to build. Once the pressure gets high enough, there's a little button (the air vent/cover lock) that pops up to stop steam from venting (at least on my canner).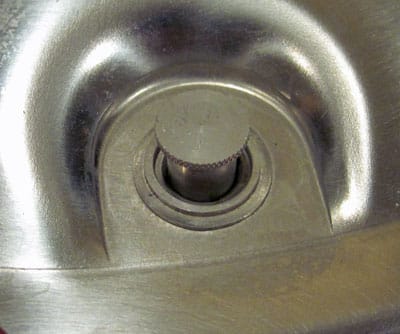 Once the button sets in place, you wait for the pressure to build some more, until you reach processing pressure. Then you hold it at pressure for the required amount of time. Then you turn off the heat and let the pressure drop to zero on it's own (the little button will also pop back down). When the button is up, you can't open the lid. This helps prevent you from doing something stupid by either burning yourself and/or busting all your jars. Complicated – no, time consuming – yes. Mom told me it's a lot faster than when gramma had to water bath can everything for a really, really long time.
Will My Pressure Canner Explode?
Not very likely, unless you use some plastique. It may be possible with older canners, which have been damaged or were improperly forged, but recently made steam pressure canners are pretty tough. Mine is equipped with a locking mechanism, others bolt shut. You can't operate the canner unless it's locked tightly, and that is some pretty thick metal. It also has a little overpressure plug that will blow if the pressure gets too high.
My brother-in-law has told my sister than she can can everything in a boiler bath because the Amish do it and are okay. Yikes! Any information I can arm her with any information/guidelines to convince him she needs a pressure canner for low acid foods would be greatly appreciated.
Chaya says, "See if you can hook her up with her local Cooperative Extension Office. They often have local canning classes. Community colleges do, too. Simply Canning is a great website with a lot of this type of information."
Note: See the discussion above about safe canning guidelines and botulism. Water bath canning of low acid foods creates the perfect conditions for botulism.
I canned beef last fall in chunks and although the flavor is good, and certainly works in a pinch – I just like more tender/rare beef that doesn't come apart in strings. Is there a way to can meat safely and not have it quite so well-done?
Chaya replies, "Did you raw-pack or heat pack? That means, did you can the meat while still raw, or cook it first? It's safe both ways, but that might change the texture for you."
I need more ideas for strawberries. I'm getting a pound a day and about over making jam. Also, tried honeysuckle jelly this year and I really couldn't get the flavor to take right. It always had a twang of lemon following. Can I put less lemon juice in and it still set right?
Pomona's Pectin give the following recommendations for substituting citric acid for lemon:
Citric Acid can be substituted for lemon juice – it will adjust the acidity (lower the pH) of the fruit, which is what you want to do. 1/2 teaspoon powdered Citric Acid is equivalent to 1 Tablespoon lemon juice. 2 teaspoons powdered Citric Acid is equivalent to ¼ cup lemon juice (4 Tablespoons). Citric Acid lowers pH and imparts tartness to the fruit mixture, but it doesn't add a particular flavor.
As for the strawberries, check out, "Preserving Strawberries Four Ways – Freezing, Drying, Fruit Leather and Kombucha".
I hope you find this resource helpful, and much appreciate your sharing it with friends on social media.