Backpacker's Pantry Review – Freeze Dried & Dehydrated Meals
In our quest to test and compare freeze dried emergency food, we discovered Backpacker's Pantry. In this review, we'll share what we liked and didn't like about the meals, and a little background on the company.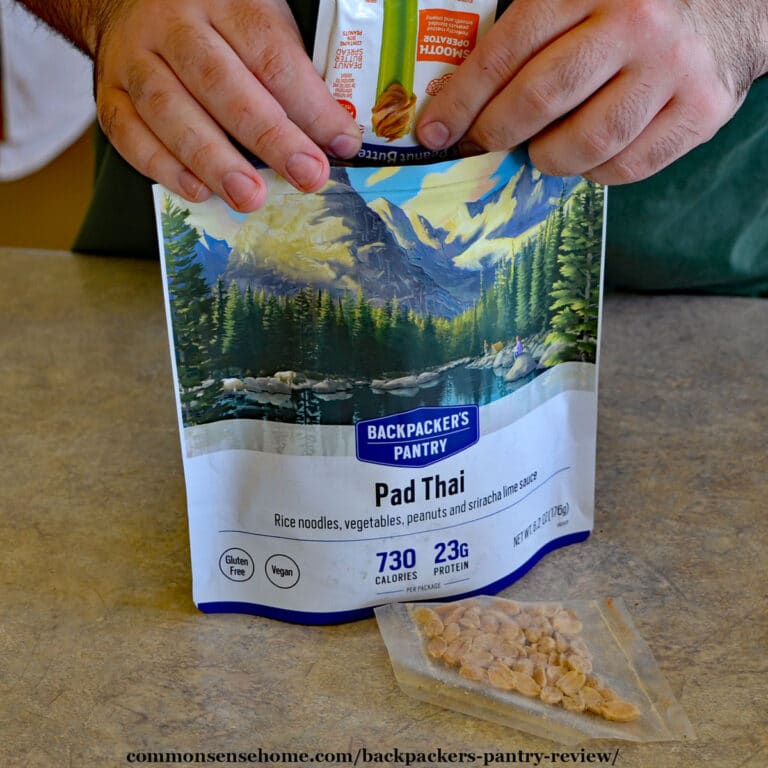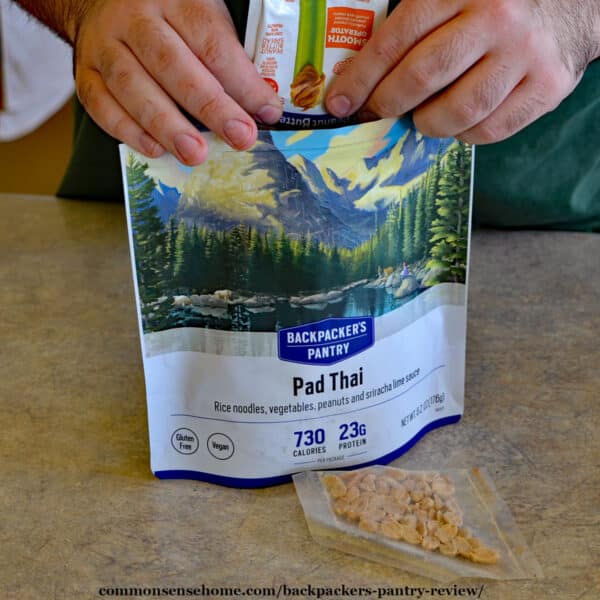 We received some product samples, but as always, my opinions are my own.
Backpacker's Pantry Pros and Cons
What we liked:
We liked that they are non-GMO, with some organic ingredients. The entrees with meat include actual meat, not just "meat flavor". They include big enough veggie bits, like red bell peppers, to add a pop of flavor and color.
There are also a good assortment of allergy friendly options, and the company works to lower their environmental impact.
What we didn't like:
Rehydrating took longer than expected, and worked better with simmering. The Green Curry was not tasty, at least not to us. (A popular sporting goods site also had quite a few negative reviews on that meal, though others were well rated.)
They don't have the larger meal kit options, as they focus more on the backpacking market. For those who want to stock up for emergencies, see "8 Best Freeze Dried Foods (For Prepping & Long Term Storage)"
About Backpacker's Pantry
I had a chance to chat with their new CEO, Duane Primozich, who joined the company in the fall of 2022. I asked what he felt set Backpacker's Pantry apart from other freeze dried meal providers:
Backpacker's Pantry has been around for 72 years and remains 100% family-owned. We don't have any investors and we're not owned by private equity. As such, we have the privilege of running our business with three imperatives:
Run a financially sound and independent business.
Commit at least 1% of sales to public land conservation, fresh water conservation, outdoor access & education and food security.
Put as many smiles on the faces of as many of our employees as we can, as frequently as we can.
The Meals
The meals are lightweight, convenient, and easy to prepare. Some include toppings, like crushed peanuts for the Pad Thai. According to the package directions, you boil water, add it to the contents of the meal pouch, and wait for 15-20 minutes.
We found that when we did this, the meals did not rehydrate evenly. We had much better results with simmering the meals with water in a small pot for about 10 – 15 minutes. (Rehydration time increases with elevation, but we are not in the mountains.)
Backpacker's Pantry meals include a wide array of allergy friendly and special diet options, such as:
Vegan
Vegetarian
Gluten Free
Dairy Free
Peanut Free
Soy Free
Tree nut free
Their recipes include beef stroganoff and chicken fettuccini alfredo, but they also offer flavors from around the world. Some of their most popular meals include Pad Thai, Cuban Coconut Rice & Black Beans, and Louisiana Red Beans & Rice.
When it comes to value, Backpacker's Pantry meals are priced reasonably. The meals come in single or double serving sizes, and they are easy to pack and transport. Since they are lightweight and take up minimal space, they are a good option for backpackers.
How long do Backpacker's Pantry meals last?
Backpacker's Pantry meals have a long shelf life due to their freeze-drying process and airtight packaging. The meals are designed to last for several years, making them ideal for long-term storage and emergency preparedness.
Generally, Backpacker's Pantry meals can last anywhere from 2 to 10 years.
Shelf life will vary, depending on the specific product and storage conditions. For instance, the Pad Thai doesn't last as long as the Fettuccini.
For best shelf life, keep meals in a cool, dry place away from direct sunlight, heat sources, and moisture. (Just like most other non-perishable food storage.) Store them in their original packaging or in an airtight container to prevent exposure to air and moisture.
While Backpacker's Pantry meals have a long shelf life, it's important to check the expiration date before consuming them. If the meal shows any signs of spoilage, such as a foul odor or strange texture, don't eat it.
How much water do you need?
The amount of water required to prepare a Backpacker's Pantry meal varies depending on the specific product and serving size. Generally, you'll need 1 to 2 cups (8 to 16 fluid ounces or 237 to 473 milliliters) per serving.
The instructions include the recommended amount of water needed for preparation, along with detailed cooking instructions. (As noted, we prefer simmering the food for even hydration.)
Overhydration can result in a soupy or watery meal, while underhydration can lead to a crunchy or tough texture. If you're simmering the food, you can cook it a bit longer or add extra water to get the texture right.
Commitment to Sustainability
Backpacker's Pantry does not use GMOs. They use organic ingredients, including rainbow quinoa, white quinoa, oats, tomato flakes, onion powder, hemp seeds, garlic powder, skim milk, black beans and evaporated cane juice.
Their facility is USDA Organic certified, Gluten Free certified, Kosher, USDA inspected daily, and Non GMO Project certified. They are powered 100% by solar energy, and use high efficiency lighting and HVAC.
Where is Backpacker's Pantry made?
Backpacker's Pantry is a US-based company that manufactures its products in Boulder, Colorado. They source as many ingredient as possible domestically.
How much do the meals weigh?
The weight of Backpacker's Pantry meals varies depending on the specific product and serving size. Generally, Backpacker's Pantry meals range from 2.5 to 6.7 ounces (71 to 190 grams) per serving.
Overall, Backpacker's Pantry freeze-dried meals are a good option for outdoor enthusiasts and preparedness. They offer high-quality ingredients, a wide variety of tasty options, and a reasonable value for the money.
More No Power/Low Power Tips and Reviews
Whether you're a camper or just want to be prepared for the occasional power outage, we've got you covered.
Check out:
Best Camping Shower Bags Comparison, Plus Outdoor Shower Tips
The Best Inexpensive USB Solar Charger
10 Ways to Have a Hot Meal When the Power Goes Out
DIY Portable Toilet (Emergency Use Bucket Toilet)
Best Lighter for Emergencies and Every Day Use