Safe Rooms Checklist for New or Retrofit Construction
Like any aspect of preparedness, safe rooms are only as good as the planning and products that go into them. Cut corners, and they may fail you when you need them most. A safe room is also known as a tornado shelter, storm shelter or panic room.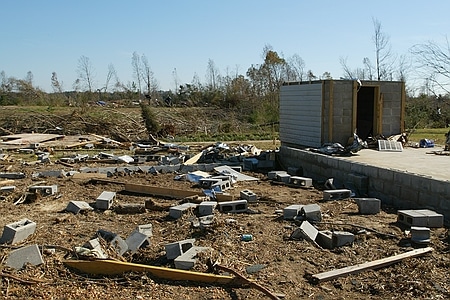 Choose the Right Safe Room for Your Area
Build your room to address the seismic, weather and other potential hazards such as home invasion you are likely to face in your area. Look at every aspect of the room, including the entrance – a weak door is a fail point. A strong door in a weak frame is a fail point.
Most of us have seen tornado and hurricane debris driven through tree trunks and appliances – a standard lightweight door is not going to cut it. Make sure the door opens in to the shelter, not out, in case debris blocks the exit. Many are prefab, but may need concrete slab foundation.
Safe rooms are also known as a tornado shelter or panic room. Many have 6 inches or more concrete with rebar to stop tornado or hurricane debris.
There are both above ground and in ground shelters. If you build an in ground storm shelter or add an earth berm to an above ground storm shelter either could also double as a root cellar, gun safe or a wine cellar. Your state FEMA rep can provide specifications for approved shelters and specs for construction.
Safe Room Features
Traditionally shelters have a "land line" phone in them so that you can call out. Consider placing your internet/phone service inside the shelter to ensure you could communicate with rescue personnel after the disaster.
There prefab safe rooms and custom safe room designs. Simple shelters sold by many companies, to large custom shelters such as https://www.atlassurvivalshelters.com/ in Texas. Some custom shelters include sleeping space, and advanced shelters include full blown living space. These tend to be very large and very expensive.
Consider FEMA Safe Room Funding
Some states will have FEMA reimbursement for new construction or retrofit of a Safe Room or Tornado/Storm Shelter. The Hazard Mitigation Grant will reimburse up to 75% or $4000 in areas that are prone to severe storms.
To get accurate information contact your state FEMA rep (link #2) below. If you are sure you have FEMA coverage in your state Link #3 can fast track reimbursement.
Safe Room Cross-bracing and Foundations
Proper cross-bracing and/or reinforcement in the walls and ceiling is essential. A safe room that collapses under load (winds, building collapse, etc.) is nothing more than a death trap. Do some research before you build – don't be that guy who just starts digging a hole in the backyard, only to run into a high water table or unstable earth. Don't think you can just bury any old shipping container in the yard and call it good. Soil is heavy, and wet soil is even heavier.
Whether your safe room is at or below ground level, make sure it is securely tied in to a foundation. You don't want to have a projectile proof walls and door only to have the entire structure tear loose.
Safe Room Questions and Answers
Do Safe Rooms Work? In a word YES. If they are built correctly they can make the difference between life and death. There are 12,000+ tornados per year alone, tornado shelters WORK.
How much does a safe room cost? Costs vary widely. Realistic costs start at $5000 and can exceed $30,000. Remember you might qualify for up to $4000 in United States Federal Emergency Management Agency (FEMA) through some state FEMA reps.
How big should a safe room be? FEMA says between 8ft wide x 8ft long x 8ft tall and 14ft wide x 14ft long and 8ft tall. You need enough space for the adults, children and pets in your family.
Safe Rooms Need a Fresh Air Supply
Make sure your safe room has a source of fresh air. My entire home is made from insulated concrete forms (ICFs), a popular choice for safe rooms, and I can guarantee that it gets a little stuffy inside when the doors and windows are closed. Now imagine – small room, several people, possibly pets, emergency supplies, panicked breathing – and no fresh air. You get the picture.
Follow the FEMA specs for air handling if you want reimbursement. Otherwise, have at least TWO vents. Two 4″ to 8″ PVC pipes with one low and one high (in/out flow). Those same vents help if you are using the space as a root cellar also.
What Supplies Do You Want to Store With You?
Think about who and what is going to be in that room. Will you have enough room for your entire family? Will others be allowed inside? What about pets? Which critical supplies stay in the room, which are placed nearby in hopes that you will be able to reach them if needed? Water, at least one cellphone, food, blankets, lighting, communication, medicine, valuables, ammo, some items for the kids – where are your priorities?
Minimum shelter supplies include: water for each adult for 3 days; food is optional but water is not; a crank radio flashlight, and blankets. Optional items include comfort items such as: extra crank lighting; sleeping bags; food; emergency bucket toilet; personal hygiene items; two-way radio; crowbar/halligan tool; and board games/cards and gum/candy.
Think about being stuck in a small space for days. You can look over 72hour kit lists to think of other items. Possibly leave your bug out bags in the safe room.
New Construction Safe Room
During new construction you can add an above ground pre-made room, and likely get FEMA funding for it. For homes with basements, the front entry area is a good spot to build a safe room as there are already 4 walls (footings). Add a secure, solid core door with a deadbolt, must be added and a reinforced ceiling.
Underground is preferable to above ground, but a high water table or solid rock can eliminate that option. You dont want to DROWN in your shelter.
Remember, the shelter can function as gun room, root cellar or even wine cellar. Doubling as a root cellar is a benefit as there would be food in your safe room. Adding power to the room can give you more options also.
Add a safe room to an existing house
Retrofitting a safe room in an existing home will be 20% or more than the cost of building new. Consider an exterior underground tornado shelter or adding an above ground tornado shelter and give it earth berms. Even a retrofit likely can qualify for FEMA funding noted above.
My husband is ex-military, and he likes to site the "7 Ps" – "Proper Prior Planning Prevents Piss Poor Performance". Know your risks, plan appropriately, and stay safe when it counts. Having a safe room will give you peace of mind.
This post is based on an excerpt that I wrote for the book "Preppers Home Defense".
You may find useful: