5 Creative Cutting Board Uses – In and Out of the Kitchen
In the past I've talked about why wooden cutting boards are best, and 7 things you should never do to your cutting board, and done a review of Proteak (Teakhaus) cutting boards, so when Madeline from Teakhaus by Proteak contacted me about sharing their beautiful cutting boards with you again, I thought, "What could I say that I haven't said already?" I decided to have a little fun with this one and offer some suggestions for cutting board uses other than cutting, since the Teakhaus boards are so beautiful you'll want to show them off. I'm also including some basic cutting board info, to familiarize you with different types of cutting boards.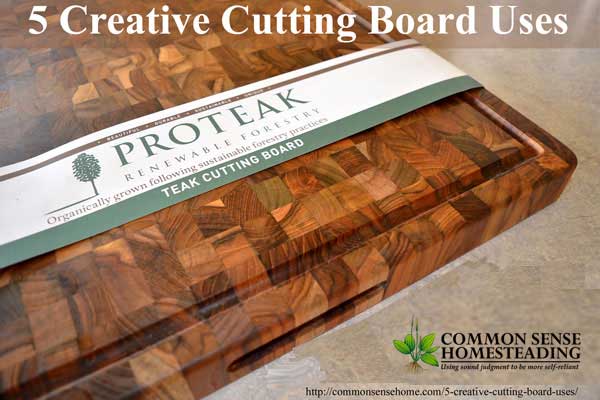 Note: Proteak recently rebranded their cutting board division into Teakhaus by Proteak. New website, same quality product. This post originally featured a giveaway, which has ended.
Cutting Board Use #1 – Serving Platter
It's great to be able to carve meat right at the table for large gatherings, but carving up a critter on your favorite platter is hard on the knife and the platter. Teakhaus cutting boards are pretty enough for company, and the built in juice canal on many of the boards keep potential messes off the tablecloth. They also make a great fruit and cheese platter for hors d'oeuvres or buffets.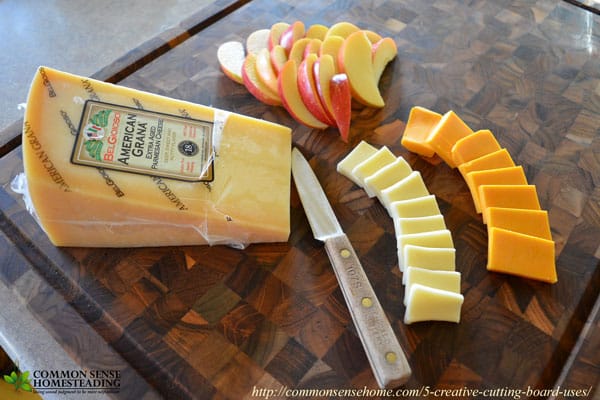 Cutting Board Use #2 – Trivet for Hot Dishes
Smaller cutting boards are great for keeping fresh out of the oven pans from scorching your table or countertop. While I certainly wouldn't stick them in the oven (cutting boards are not roasting planks), or leave them sitting on a burner (my mom "branded" the pig shaped cutting board I made in junior high by leaving it on the electric stove burner), a quality cutting board will hold up to a range of temperatures.
It should be noted that over time, long term exposure to extremes of temperature and humidity will weaken the glue that holds boards together. For instance, do NOT soak your board for an hour in dishwater and then dry it by the stove. That would be bad – very bad. Letting a pan cool on it or cutting half frozen meat – not a problem.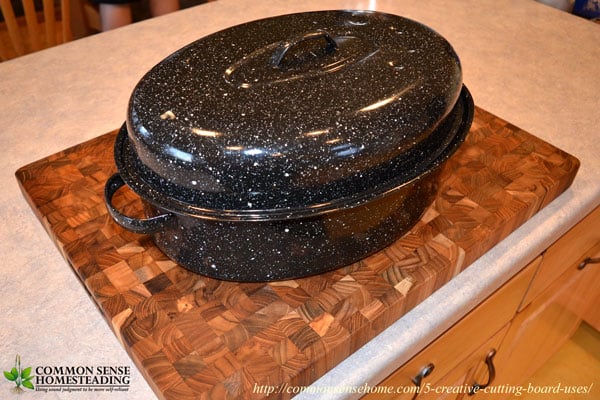 Cutting Board Use #3 – Photo Backdrop
For those of us who dedicate a portion of our time to pretty photos, a quality cutting board can make a great backdrop. Those who have poked around the site have likely seen the Teakhaus cutting boards in a number of my posts. The warm tones and patterns of the wood grain complement most foods without making the photo look too busy.
Cutting Board Use #4 – Art Easel
When I was a little girl, every year I would pine over the big art kit in the Sears catalog. I loved arts and crafts. I never did get that kit (it was pretty spendy and the Christmas budget was small), but over time I created my own kit of supplies and improvised materials. One item I found that worked great for an improvised easel was my mom's biggest cutting board. A couple of oversized clips to hold my paper in place, a kitchen chair to set it on, and I was in business. My boys never had the fun of improvising like I did, since grandma Jane found them a used easel at a garage sale, but I have many fond memories of my homemade "art studio".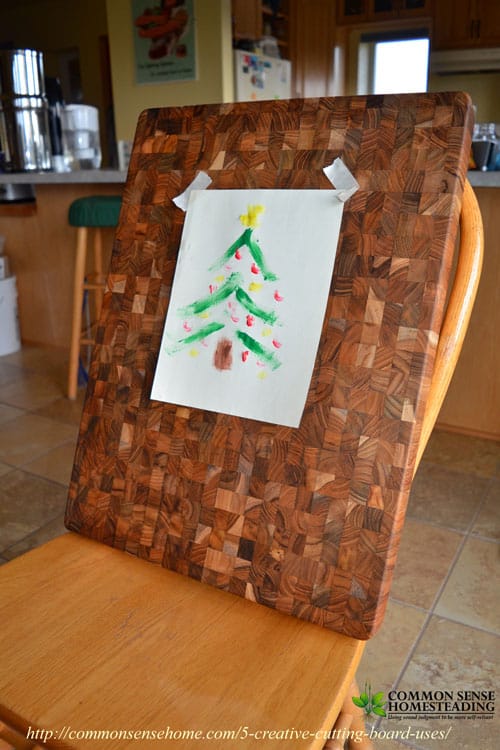 Cutting Board Use #5 – Cake Plate
Back when we had the family catering business (Irene's Custom Cakes and Catering), we had an assortment of boards specifically cut to size that we used and reused for wedding cakes and such. I don't do many fancy decorated cakes since the business has long closed down, but once in a while I do like to dress things up. Round cakes I can fit on a large plate, but I don't have a platter big enough for a 9″x13″ cake. I do have several large cutting boards. 🙂 Cutting boards also make great bases to build gingerbread houses.
To use a cutting board for a cake platter, I prefer to cover it first with a piece of butcher paper – shiny side out. This will provide a blank backdrop for your cake, protect your board, and make it easier to wipe up any wild frosting spills.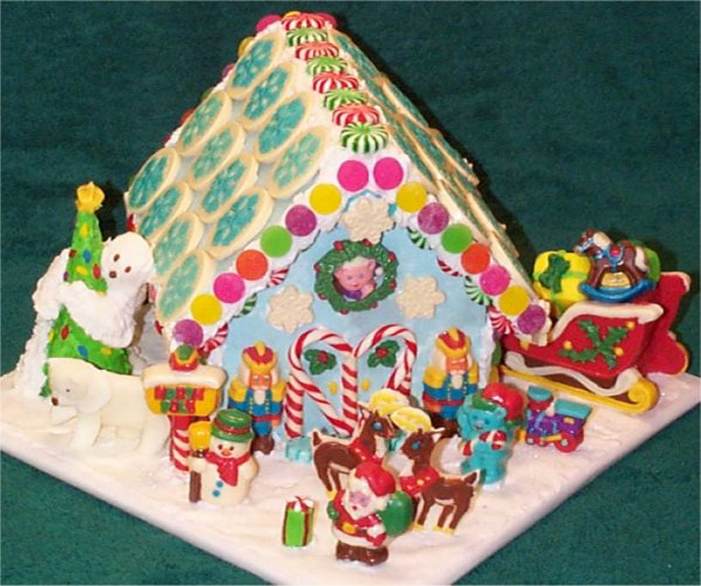 What's the Difference Between a Butcher Block and a Cutting Board?
Traditionally, butcher blocks have been used as the name would imply – for butchering. They tend to be large, thick and made using an end grain. Larger boards are heavy enough to stay put pretty well on their own. Smaller boards may have rubber feet to help keep them in place.
What's the difference between "end grain" and "edge grain"?
CuttingBoard.com states in the article "Butcher Blocks vs Cutting Boards, What's the Difference?":
End grain means that the end of the wood fibers are exposed, whereas edge grain means that the grain is running along the outside. The major difference is that end grain is resistant to cuts and scarring and is even self-healing over time, as the density of the fibers will push back into place.
So those beautiful squares of wood aren't just attractive – they make a butcher block cutting board tougher and more long lasting.
Why Use a Teak Cutting Board?
The article "Teak Cutting Boards – Worth the Hype?" lists the main attributes of teak as:
Nearly Maintenance Free
Resistant to Scarring
Extremely Durable
Sustainably Harvested, if you buy from the right source
Teakhaus Cutting Boards were also rated as the best cutting boards by Cooks Illustrated (best overall board) and Wirecutter (best wooden board).