Today's featured plant is Wild Strawberry, Fragaria virginiana.
Wild Strawberry is also known as Virginia strawberry or common strawberry. It is related to the alpine strawberry, Fragaria alpina, the woodland strawberry, Fragaria vesca, and the coastal strawberry, Fragaria chiloensis. Fragaria virginiana and Fragaria chiloensis are the parent plants of the modern hybrid strawberry. The leaves are similar to the leaves of sulfur cinquefoil, Potentilla recta., and both are in the Rosaceae family, but they are not closely related.
Range and Identification of Wild Strawberry
Wild strawberry is native to North America. it can be found throughout most of the U.S. and Canada, except for the extreme southeast, extreme north and a few other states. (see map). It prefers dry locations with rich loamy soil, often near the edges of woods, but also commonly found in yards and along roadsides.
Wild strawberries are perennials, coming back year after year. The plant multiplies predominantly by sending out runners, spreading in clumps throughout an area. They grow most vigorously in spring, and may die back and go dormant as late summer heat sets in.
The leaves have three parts, are coarsely toothed, and grow on a long, hairy stalk from a central location. The group of three leaves is about 3 inches across, with each leaflet being around 1 inch in length. (This "leaves of three" is perfectly safe, unlike poison ivy.)
The plants bloom from late spring to early summer, followed by berries. The flowers are white with five white, round petals surrounding a yellow center. When the flowers mature, they produce a small, red fruit that looks like a miniature strawberry. It's said that Native Americans referred to it as a heart berry, because it resembles a small heart. They are very sweet and tasty, but typically less than 1/4 inch across. (See Wildflowers of Wisconsin for more information.)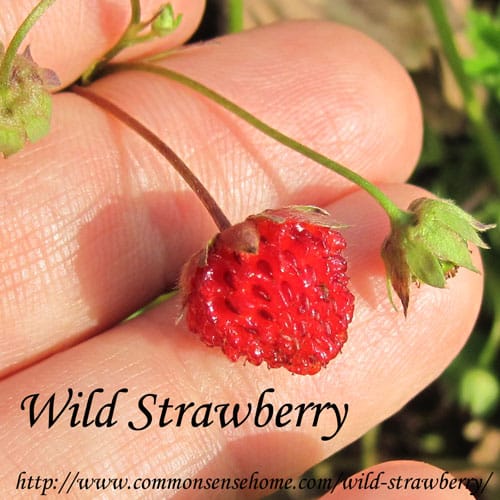 Wild Strawberry as Wildlife Habitat
Wild strawberries are much loved by wildlife, for blossoms, fruit and leaves. Illinois wildflowers lists faunal associations:
The ecological value of Wild Strawberry to various insects, birds, and animals is high. The flowers attract long-tongued bees, short-tongued bees, flies, small butterflies, and skippers. Among these, small bees are the most important pollinator of the flowers; this includes such visitors as Little Carpenter bees, Nomadine Cuckoo bees, Mason bees, Halictid bees, and Andrenine bees. The caterpillars of several species of moths feed on the foliage and flowers of Wild Strawberry. Other insects that feed on Wild Strawberry include Chactosiphum fragraefolii (Strawberry Aphid), Aphis forbesi (Strawberry Root Aphid), and Otiochynchus ovatus (Strawberry Root Weevil). Various upland gamebirds, songbirds, and mammals eat the fruit or foliage, including such prairie-inhabiting species as Tympanuchus cupido (Greater Prairie Chicken) and Phasianus colchicus (Ring-Necked Pheasant). These birds and animals help to distribute the seeds far and wide. People also nibble on the fruits.
Fairfax County Public Schools has a nice webpage in their ecology section that lists additional animal uses of wild strawberries:
Many animals eat strawberry fruits, including Common Crow, Gray Catbird, sparrows, Wild Turkey, Cedar Waxwing, Red-bellied Woodpecker, Blue Jay, Northern Mockingbird,European Starling, American Robin, Northern Cardinal, Virginia Opossum, Striped Skunk, Eastern Chipmunk, Meadow Vole, White-footed Mouse, and Eastern Box Turtle.

Animals that eat strawberry leaves include Eastern Cottontail, White-tailed Deer, nematodes, mites, slugs, stinkbugs, spittlebugs, weevils, and other insects . Wild Strawberry flowers provide nectar and pollen for many insect species, including bees, flies, ants, and butterflies. Some common species which use flowers for food include Honey Bee, Golden Northern Bumble Bee, Eastern Tailed Blue, Cabbage White, and Clouded Sulphur.

Strawberry is also excellent cover for small animals throughout the Spring and Summer. Toads, salamanders, centipedes, spiders, and many insects can crawl and hide among the leaves.
Wild Strawberry for Food and Medicine
I personally find wild strawberries to be very tasty, sweeter and deeper in flavor than most of their cultivated kin. The tricky part is finding enough of them to do anything other than enjoy a few sweet bites. When I was a little girl, I had a few favorite roadside patches that I would pick from that had an unusually large number of berries. One year I even gathered enough to make a tiny pie. When I checked my favorite spots years later, the plants had been overgrown by other wild plants.
Wild strawberries are high in Vitamin C, potassium, folate and fiber, and have a long history of medicinal use by native peoples . (See The Wild Strawberry:  A Sacred Purifier.)
Eat The Weeds states in Strawberries of Spring:
Beside the usual delicious uses strawberries can settle an upset stomach, the juice from the plant is good for face sores, red eyes and excessive tears. Root decoctions soothe liver problems, staunches menstrual flow, and firms the gums. Nearly every Indian tribe had a medical use for the entire plant. For some 700 years it has also been used as an ananaphrodisiac, that is, to dull the libido. … And a tea can be made from fresh or dry leaves, but not semi-dried leaves.
They don't list references and don't give amounts, and I haven't been able to find detailed references, but this is something I hope to learn more about. If you have more wild strawberry references, please let me know.
In another interesting study, researchers found that the higher antioxidants levels in wild strawberries might be useful for fighting cancer. That's my kind of medicine.
As always, any medical information is for informational purposes only. Always exercise caution when using any wild plants and make sure you have positively identified the plant.
Please Like, Pin or otherwise share this post if you would like the Weekly Weeder series to continue.
You may also enjoy other posts in the Weekly Weeder series.