Valley Food Storage Review (Read Before You Buy)
Over the years, my family and I have sampled a lot of freeze dried meals, and Valley Food Storage remains one of our favorites.
I asked my husband what he thought people would want to know in a Valley Food Storage review. His response was, "Is it cheap, and does it taste good?"
I asked a homesteading neighbor the same question, and she replied, "How long does it store and how it should be stored? Best tasting? Ingredients lists? How to reconstitute, if applicable."
I'll do my best to answer these questions and more in this review.
My husband's questions are easy to answer. The products are a competitively priced for the quality, and everything we've tried so far has indeed been tasty. Some of my personal favorites are the pasta primavera, Irish pub cheddar potato soup, and the fruity breakfast cereals.
Valley Food Storage Pros and Cons
VFS offers Emergency Food Kits, including:
In addition, their website offers a modest selection of water storage containers, portable generators, and survival tools. They also have a "Deals" page listing current sales/featured products.
There are a LOT of emergency food companies on the market now, so how does VFS stack up?
| | |
| --- | --- |
| Pros | Cons |
| High quality, Non-GMO, no hydrogenated oils | Many entrees don't contain meat (but extra protein is included in food kits) |
| Long term food kits include breakfast, entrees, plus extra protein and vegetables | Powdered eggs are the only savory breakfast option |
| Packed in Mylar bags for 25 year shelf life | Not designed to be cooked in the pouch |
| Allergy Friendly Options (soy free, dairy free, gluten free, vegetarian) | No Allergy Friendly Long Term Food Kits (Items must be purchased separately) |
| Short ingredient lists and tastes good! | |
| Easy to prepare | |
| Made in the USA | |
Like all dry good storage, this food will last best in a cool, dry location out of direct light. That said, the buckets have a waterproof seal. Even if you're dealing with flooding or other water damage, your food will be protected.
Once opened, each pouch has a resealable zipper, so you don't need to eat it all at once or move the contents to another package.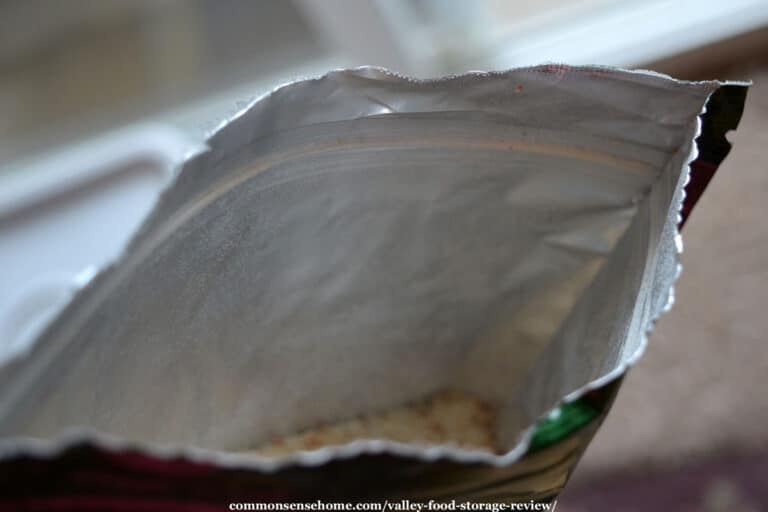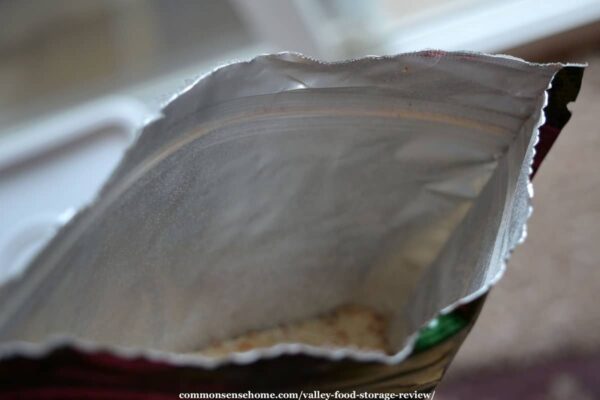 Best Value – Long Term Food Kits
You can purchase entrees, breakfasts, proteins, fruits and vegetables separately, but Valley Food Storage Long Term Food Kits provide the best value for the money.
For instance, we received the 175 Serving Long Term Food Kit, which contains:
7 pouches of breakfast
10 pouches of entrees
2 pouches of freeze dried protein
2 pouches of freeze dried vegetables
These are all packed in a water resistant bucket. VFS mixes and matches food options depending on availability.
Breakfast options include:
Eggs
Apple Oatmeal
Maple & Brown Sugar Oatmeal
Multigrain Cereal
Strawberry Cream of Wheat
Strawberry Oatmeal
Apple Cream of Wheat
Entrée options include:
Chicken à la King
Chicken Teriyaki
Enchilada Beans & Rice
Fettuccine Alfredo
Irish Pub Cheddar Potato Soup
Italian Wild Risotto
Mac & Cheese
Mango Habanero Chili
Pasta Primavera
Sweet & Sour Asian Rice
White Bean & Lime Chili
The proteins are Freeze Dried Cheddar/Mozzarella Cheese and Dehydrated Milk.
Vegetables may include:
Sweet Corn
Asparagus
Green Beans
Peas
Potato Dices
Diced Red Bell Pepper
Cauliflower
Of course, if you have fussy eaters, it may be better to bulk buy specific foods. Valley Food Storage also sells ten pack buckets with specific food items, like a ten pack of apple cream of wheat pouches, or ten bags of diced chicken.
How do the calories stack up?
The total calories in a Valley Food Storage 175 serving long term food kit is around 23,600. This equals around 135 calories per serving.
If we want roughly 2500 calories per day for men and 2000 calories per day for women, the food would last around 10 days and 12 days, respectively.
This is why we recommend storing a mix of foods, not just freeze dried emergency food. While freeze dried foods are easy and convenient, you can stretch you emergency food budget farther with some canned goods and other shelf stable foods.
See "Long Shelf Life Foods – What Lasts Best (with Chart)" for more food storage ideas.
How to Use the Food
Freeze dried fruits, vegetables, and meats can be eaten right out of the package without rehydrating, or combined to make other dishes. (The meat pieces are fully cooked.)
Freeze drying fruit intensifies the sweetness. Like my brother says, it tastes better than candy. Once a package of freeze dried fruit is opened, it doesn't tend to last long around here.
The book "Pantry Stuffers Rehydration Calculations Made Easy" provides measurements and rehydrating instructions for a wide variety of foods.
What we do most of the time is to add freeze dried items directly into soups, stews, and casseroles. They rehydrate during cooking, and we don't worry about exact measurements.
The entrees and breakfasts are best served rehydrated and cooked. Here's an example of cooking instructions for the white bean and lime chili:
Bring 1 cup of water to a boil. Add 1/3 cup o mix to boiling water, stir well.
Boil for 2 minutes and lower heat to a simmer. Stir occasionally to avoid sticking.
Cook for 3-5 minutes, or until beans are to liking. Let it cool and enjoy.
It's pretty straightforward. If you can boil water, you can make freeze dried meals. We usually allow a little more time for cooking for all the liquid to absorb.
For cooking without power, see "Emergency Cooking – How to Have a Hot Meal When the Power Goes Out".
Valley Food Storage Gluten Free Options
Gluten free options from VFS include:
Mango Habanero Chili
Chicken Teriyaki
Sweet and Sour Asian Rice
Italian Wild Risotto
Tomato Basil Soup
Irish Pub Cheddar Potato Soup
Enchilada Beans and Rice
White Bean and Lime Chili
Maple Brown Sugar Oatmeal
Apple Oatmeal
Strawberry Oatmeal
See all gluten free options here.
The Irish pub cheddar potato soup is good comfort food, and other entrees like the mango habanero chili add some zip to mealtimes.
Here's a typical ingredient list (White Bean & Lime Chili):
Navy beans, corn starch, freeze dried mozzarella cheese, chicken broth, yeast extract, natural flavor, salt, natural chili lime seasoning, sugar, white onion, less than 2% of salt, celery, spice, chili powder, citric acid.
For those who need or want to meet very specific dietary guidelines, you may want to consider a home freeze dryer.
Where is Valley Food Storage Located?
The contact address listed on their website is in Akron, Ohio.
For customer service, call 800.403.8182. They have phone support available Monday through Friday, 9:00 am – 5:00 pm EST. You can also email them at [email protected].
Related Articles
How to Store Rice Long Term (Over 20 Years!)
8 Best Freeze Dried Foods (For Prepping & Long Term Storage)
23 Common Sense Ways to Stretch Your Food Budget
Foods to Stock Up On (for Daily Use or Emergencies)