The Best Inexpensive USB Solar Charger
We needed a cheap, reliable, portable USB solar charger. The solar USB charger we picked is the Nekteck 28w solar charger. It has IPX4 water resistance, dual USB and dual output and is simple to use.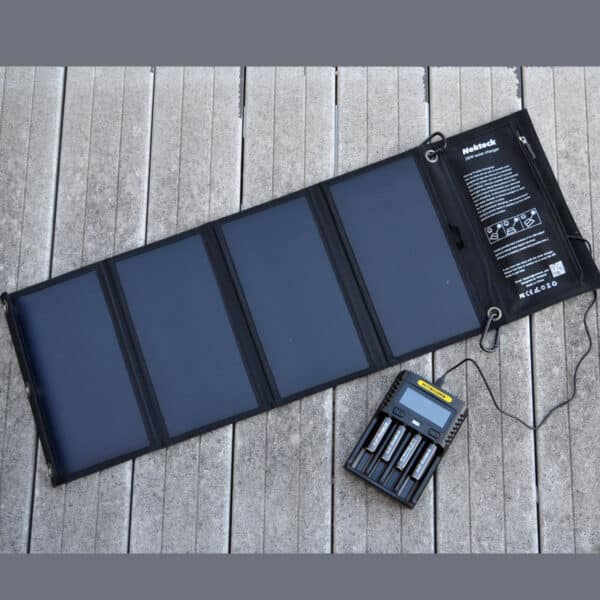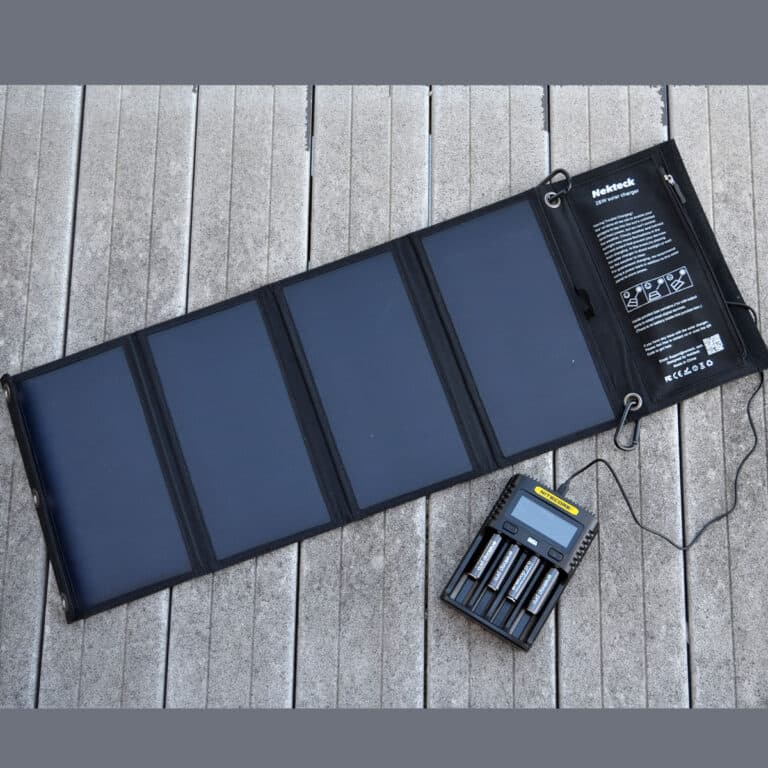 We have successfully used this portable solar charger to recharge AA, AAA, 18650 batteries and 21700 batteries with the sun. It is good for outdoor activities, camping, and trips. It also provides a USB power source if the grid is down due to a storm or blackout.
Our Top Pick for USB Solar Charger – the Nekteck 28w
The Nekteck 28watt Solar Charger can charge nearly any USB device with the sun. We have used the Nekteck to power battery packs, the Nitecore UMS4 Charger, XTAR VC4S and numerous other devices.
Nekteck 28 Specifications
Solar panels: Each panel puts out approximately 700~1000mA in good sunlight. The whole unit provides 2100 to 4000 milliamps or 2.1 to 4amps
Ports: Two standard USB ports (not micro or USB C)
Amperage: Up to 4amps at 5v for a single USB port, and up to 2.4amps at 5volts for 2 USB ports.
Folded Size: 6.3inches x 11.1inches x 1.5inches folded opened
Unfolded Size: 32.3inches x 11.2inches x 0.7inches
Weight: 23 ounces
Water Resistance: The charger is rated IPX4. This means it can be splashed with water or a bit of rain, but putting it under water will probably ruin it.
Best Uses
This USB Solar Panel is a good fit for:
Charging Cellphones
Recharging AA, AAA, 18650 and 21700 batteries using the Nitecore CI4 Battery Charger.
Charging USB Battery packs such as the Anker PowerCore 26800.
Charging other USB devices such as flashlights, radios, or GPS devices
Physical Review
The Nekteck 28 is reasonably tough. The folded size is a bit taller than an 8.5″ x 11″ piece of paper. Folded out it is 32.3″ wide by 11.2″ tall by about 1″ thick.
The folded thickness varies from 1.1″ for most of the unit 1.5″ where the USB ports are. The area where the ports are is wider by almost 1/2 inch.
The USB port has a small green LED light to indicate that panel is providing power. It will light up in almost any sunlight level, but max power is provided in full outdoor sun.
The Nekteck 28 has a series of panels with fabric between them. This allows you to adjust the surface area to be fully exposed to the sun.
There is a mesh zipper compartment, but it is quite small. It will easily fit USB cables and small to medium size cellphone, but is too small for a charger.
If you need a USB powered AA/AAA/18650/14500+ NiMH/Li-ION battery charger, the Nitecore CI4 is a great option.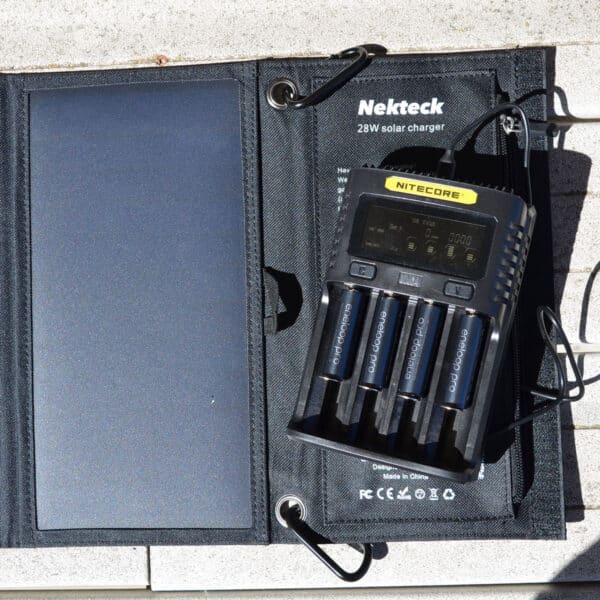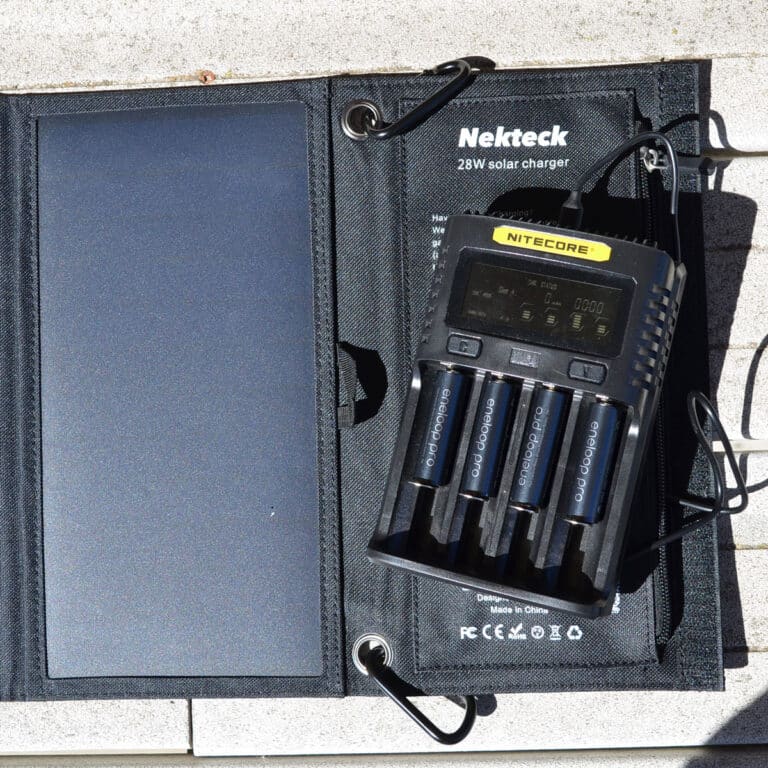 The case for this solar panel charger has small eye rings. These are nice to tie or clip the unit open to the back of backpack or side of tent, or other structure to keep it secure and angled into the sun.
Charging Using the Nekteck 28W Solar Charger
For basic use, place the solar panel in the sun, and plug it into the phone, battery charger or other USB device. We were able to use the charger by setting it in a window on the south side of our house.
The Nekteck 28W Solar Panel has two standard USB ports (not micro). Each port can provide up to 2.4 amps at 5v. If you limit power output to one port and the Nekteck can provide up to 4amps at 5v. You may need USB to Micro USB cables or USB to USB-C or USB to iPhone cables to charge your devices.
Tips for Charging Cellphones with Solar
If you are trying to charge a cellphone quickly, plug in the cellphone and nothing else. Put the solar charger outside in full sun. Charging through a window (indoors) reduces the amperage. How much less sun reaches the panel depends on the type of window coating.
NOTE: The newer iPhone and Samsung prefer clean (steady) amperage for charging. The natural variation in sunlight may cause these devices to give error messages and not charge properly with a solar charger.
To work around this, we use the USB solar charger to charge a powerbank such as the Anker PowerCore 26800. Then we use the powerbank to charge the cellphones, which eliminates the error messages.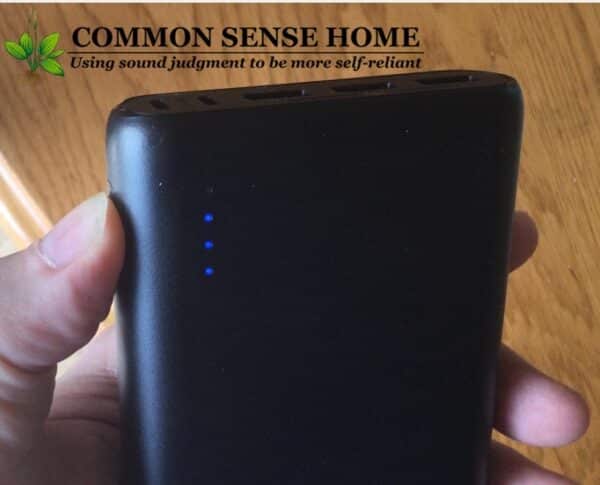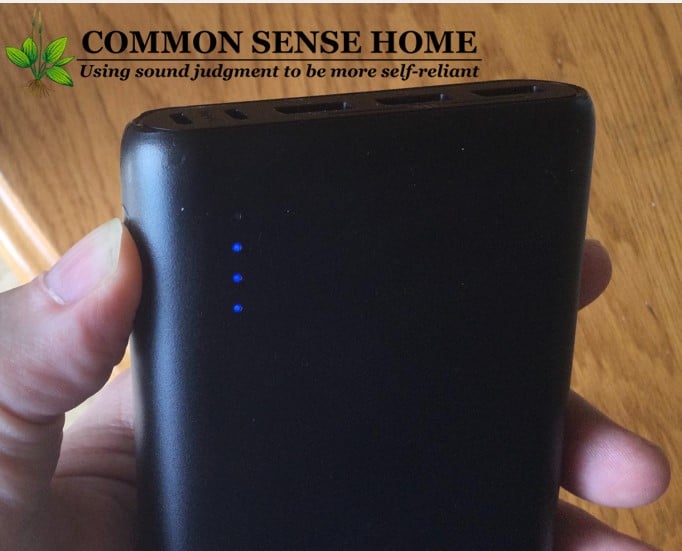 Working with the Sun
Note1: If a cloud passes and the sun goes away, the power stops momentarily. This can cause a problem on a NiMH/Li-ION battery charger – causing a recharge cycle to restart. We think that is what caused the problem with iPhone also.
It is better to do simple battery charging, not charger refresh cycles. Alternately, we charge a couple solar power banks, and then use those for charging phones or other devices.
Note2: ALL solar chargers require a sunny day for full efficiency. The time it takes to fully charge any device using a solar panel will vary. Charging time depends on the power needed and the amount of direct sun.
Nekteck 28W Solar Charger Conclusion
Common sense home rating: Functional, Reliable and Recommended.
We recommend the Nekteck 28 Solar Charger because it:
is fairly inexpensive
is fairly tough and water resistant (IPX4)
can function as a solar phone charger
can charge two standard USB devices at once
can be used easily by anyone without reading the manual
What we don't like. The mesh bag could be bigger. They should switch to two USB-C ports to make it smaller. They should rework the charger to eliminate (or at least shrink) the bumped out USB "box", reducing the risk of that getting ripped off inside a backpack, bug out bag or camping kit.
This unit will not reliability provide a full 5amp 5v fast charge. It can only go to a bit over 4 amps, so some devices may fast charge, others may not. The Nekteck does not included a built in battery pack. If you need fast charge, get an external backup battery pack or two such as the Anker PowerCore 26800.
Nekteck 28w Solar Charger Alternatives
There are numerous 20 to 100 watt portable solar panels that can charge nearly any USB device. We considered the Goal Zero 20, the Big Blue 28w Solar charger and a few others.
The Goal Zero is durable but expensive. You could get 3 or 4 Nekteck 28W solar panels for the price of one Goal Zero 20 solar panel and we believe spares are always good. The Big Blue is basically the same as the Nekteck, but costs more.
Related Posts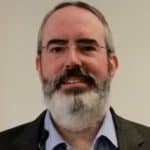 This post was written by August Neverman IV. August served on several emergency preparedness teams during his tenure at Brown County, and at a 13 hospital system, as well as undergoing emergency response training during his time with the Air National Guard.