What is a 18650?
18650s are in more and more electronics. This post will tell you everything you need to know about 18650 batteries. An 18650 is a lithium ion rechargeable battery. Their proper name is "18650 cell". The 18650 cell has voltage of 3.7v and has between 1800mAh and 3500mAh (mili-amp-hours). There are two types; protected and unprotected. We absolutely recommend protected 18650 batteries. The average 18650 battery charge time is about 4 hours. Charge time can vary with amperage and voltage of the charger and the battery type.
Quick Common Battery Comparison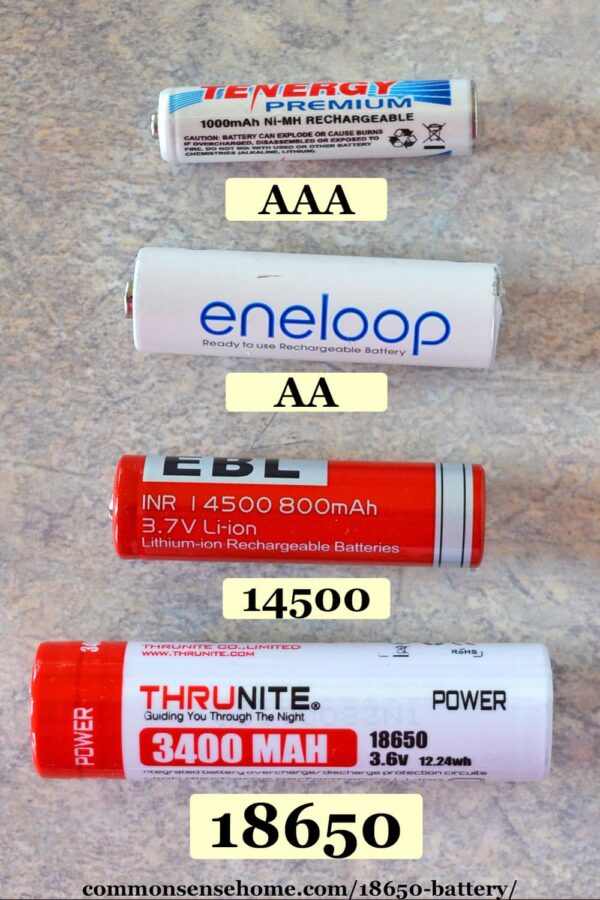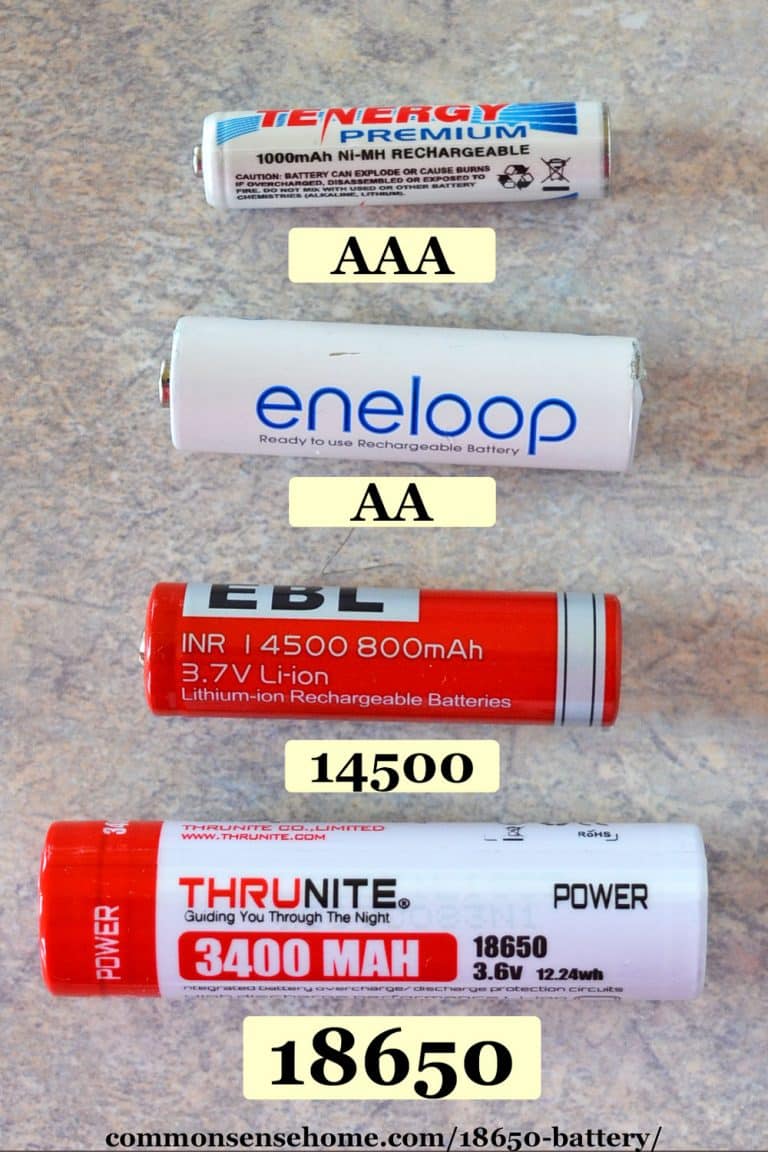 Comparing sizes in the picture above the 18650 is 1170 cubic mm, the 14500 and AA are 700 cubic mm, the AAA is 467 cubic mm. Note the 14500's cannot be used in all AA devices unless they support both 3.7 and 1.5 volt batteries.
Protected vs Unprotected 18650 Batteries?
18650 protected batteries have an electronic circuit. The circuit is embedded in the cell packaging (battery casing) that protects the cell from "over charge", heat or "over discharge", over current and short circuit. A 18650 protected battery is safer than an 18650 unprotected battery (less likely to overheat, start on fire).
Unprotected 18650 batteries are cheaper, but we do not recommend their use. Unprotected batteries should only be used in where load/draw and charging is externally monitored and controlled. Properly dispose of any damaged 18650 batteries at a battery recycling center. The protected batteries normally have a "button top", but check the specs to make sure.
How much power does an 18650 have?
A 3.7v a 3400mAh 18650 stores about 2 aH  to max of 3.5 aH. It can store about 10 to 13 watt hours. A small air conditioning unit that can cool about 9000 BTU uses about 1100 watts per hour. So it would take more than 110 of the 18650 batteries to run the air conditioner for 1 hour. In comparison you would need three 12v 40 amp car batteries. But 110 18650s is smaller than 3 car batteries.
How many times can you recharge an 18650 or other battery?
Recharge cycles vary and are limited. Think of it like a bucket. The trick is that the bucket also gets filled with other junk over time, so there is less room. As it is reused, the battery degrades due to oxidation and electro-chemical degradation. This happens to any rechargeable battery such as an 18650, 26650, 14500, AA, AAA or even a car battery. They can only be recharged a limited number of times.
You want to select rechargeable batteries that can be recharged many times. We specifically recommend the  because they have the ability to be recharged 1000 to 2000 times.
What are 18650 batteries used for?
Flashlights, electronics, vaping and even electric vehicles use 18650s. The Tesla uses 7180 of these batteries. Some high lumen flashlights such as the Thrunite TN14 or Fenix PD35 use the 18650. Laptops and other electronic devices use a one or more 18650's allowing them to be recharged. They are also used in vaping (smoking) devices.
18650s are are generally Lithium Ion batteries. If you are familiar with electronics you can change out some battery packs manually, but be careful though – using the wrong type of 18650 or using it incorrectly can cause a fire.
Which is the Best 18650 Battery?
Overall best 18650 battery – The Orbtronic 18650 battery. This is an 18650 3.7v 3500mAh Protected cell. This is a high drain battery.
Best low cost 18650 battery – The Panasonic NCR18650b. The Panasonic 18650 is an 18650 3.7v 3400mAh Protected cell. Less expensive and slightly lower amp hours. This cheap 18650 battery is still more expensive than the unprotected ones. Note: Some resellers don't clarify if the NCR is protect or not – buyer beware.
Best travel 18650 battery – Nitecore NL1834R. This is a two pack of 18650 3.7v 3400mAh Protected cells. It has a built-in micro-USB charger. It is a few dollars more, but it allows you to charge it on the go and not have to carry a dedicated charger. (The unit we have has slightly different packaging, so we used the current image from Amazon.)
In simple day to day testing, the Orbtronic, Panasonic and Nitecore are good reliable 18650 rechargeable cells. Buy them from a reputable source. We don't like the Samsung 18650 battery line because of the lower voltage and amperage which results in lower amp hours and wattage.
18650 Battery Charger
18650 batteries are rechargeable, so you will need a good charger. We use two different 18650 chargers.
The best 18650 battery charger is the Nitecore D4 because it can charge pretty much anything. Specifically, it supports: lithium ion 26650, 22650, 18650, 17670, 18490, 17500, 18350, 16340 (the 16340 is also known as RCR123), 14500, 10440 and Ni-MH and Ni-Cd AA, AAA, AAAA, C rechargeable batteries. This is our favorite charger for the 18650s.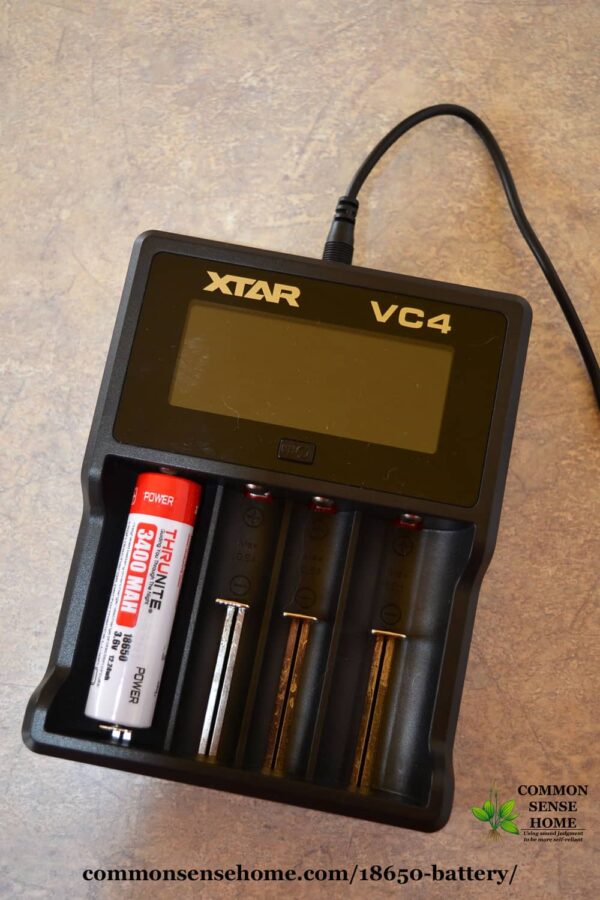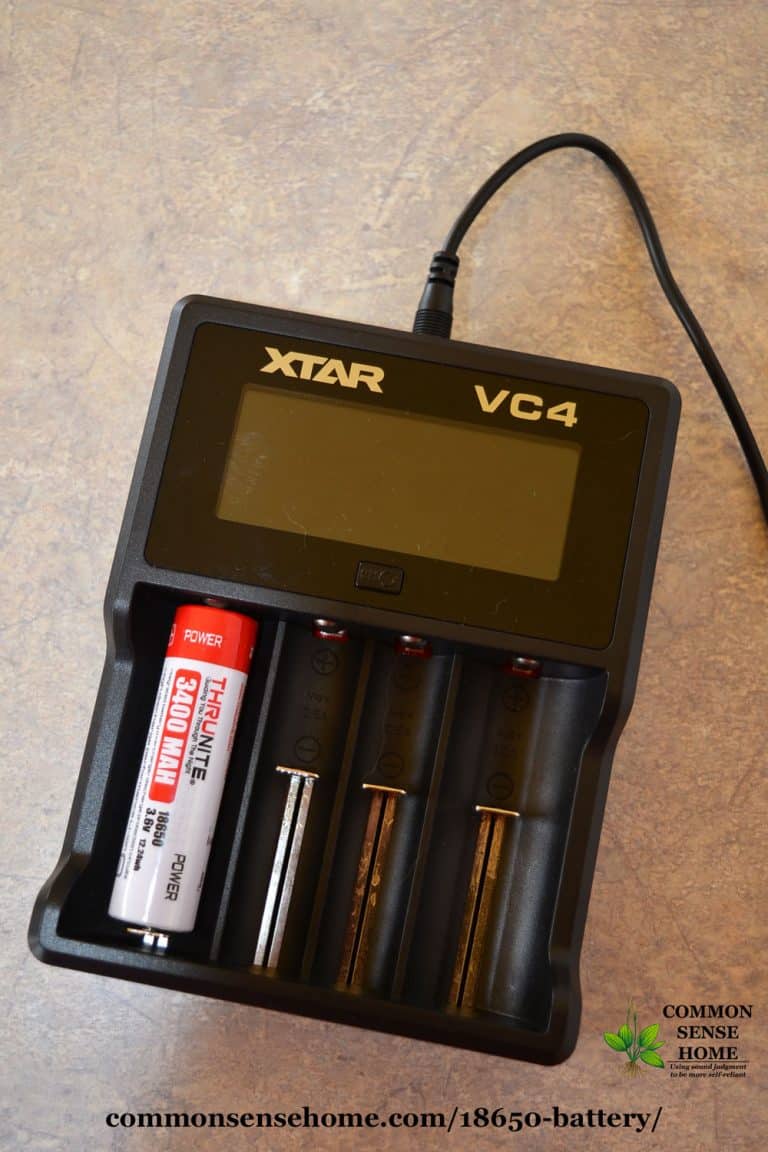 Our runner up is the XTAR VC4 Charger. It is a USB powered 18650 charger, so it charges the batteries with any USB power source. This unit is dependent on the power source, and has an LCD display for charging status. A 2amp interface yields slower charge speeds. Even the 5amp is slow because it charges at .5 amps. We use the XTAR with a Nektek solar panel that has a 2amp USB interface and it has consistently worked.
18650 Flashlight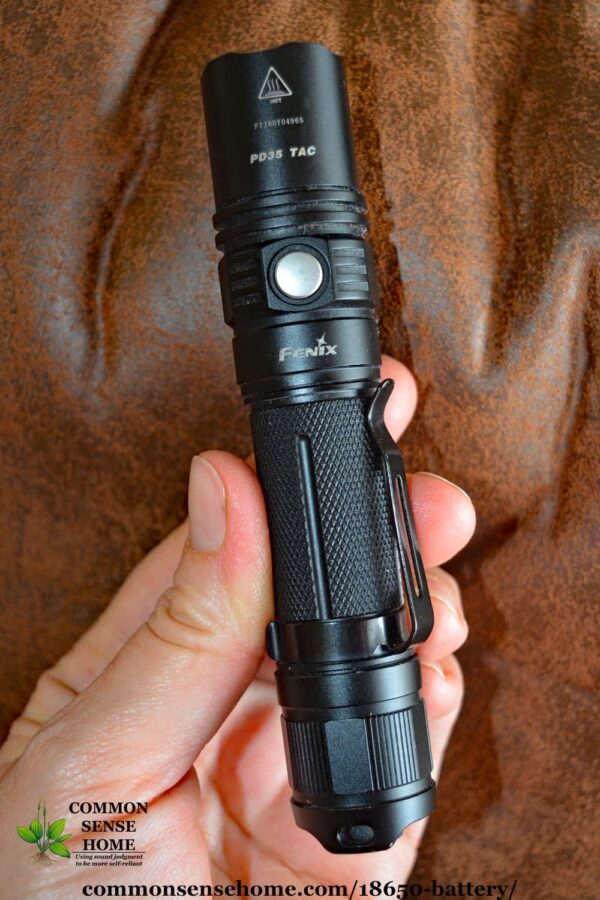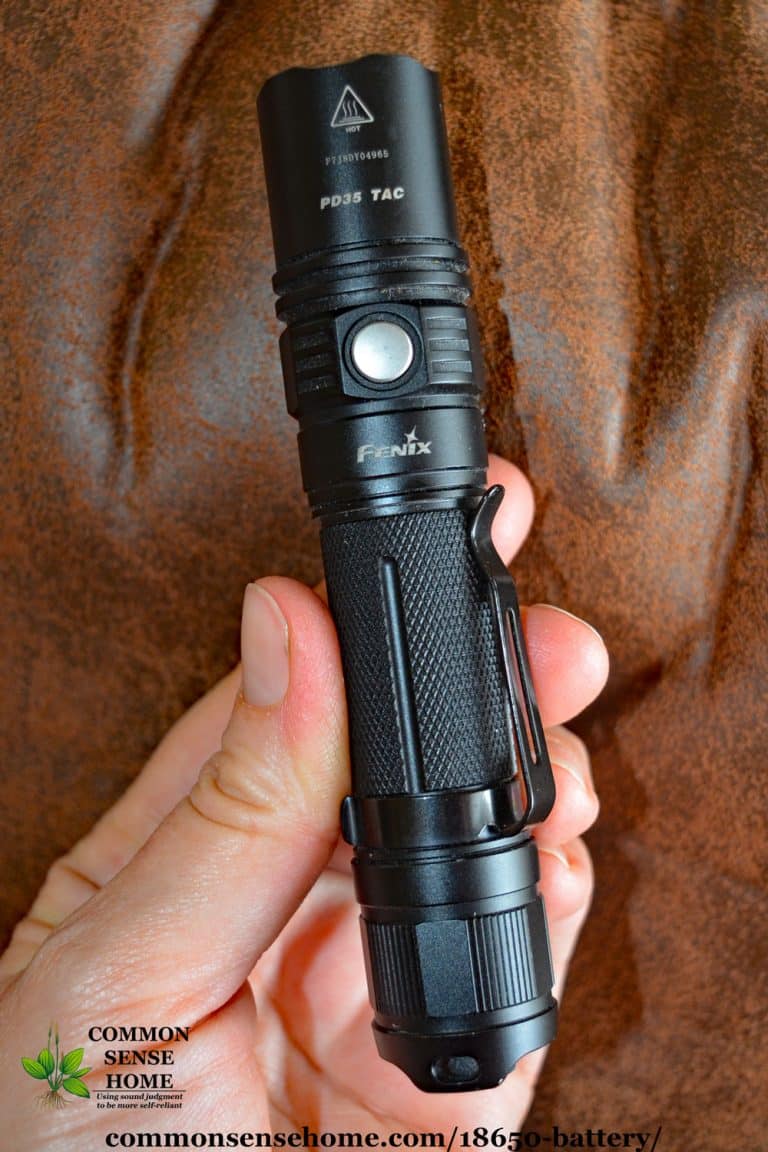 The best 18650 flashlight is the Fenix PD35. It is not cheap but it is durable and very bright, and has a pocket clip. The light level is 1000 lumens, and it is water resistant to IPX8. It has six modes 1000 Lumen Turbo; 500 Lumen High; 200 Lumen Mid; 60 Lumen Low, 8 Lumen Eco and the 1000 Lumen strobe. Firemen, law enforcement and military personnel regularly use this tactical flashlight.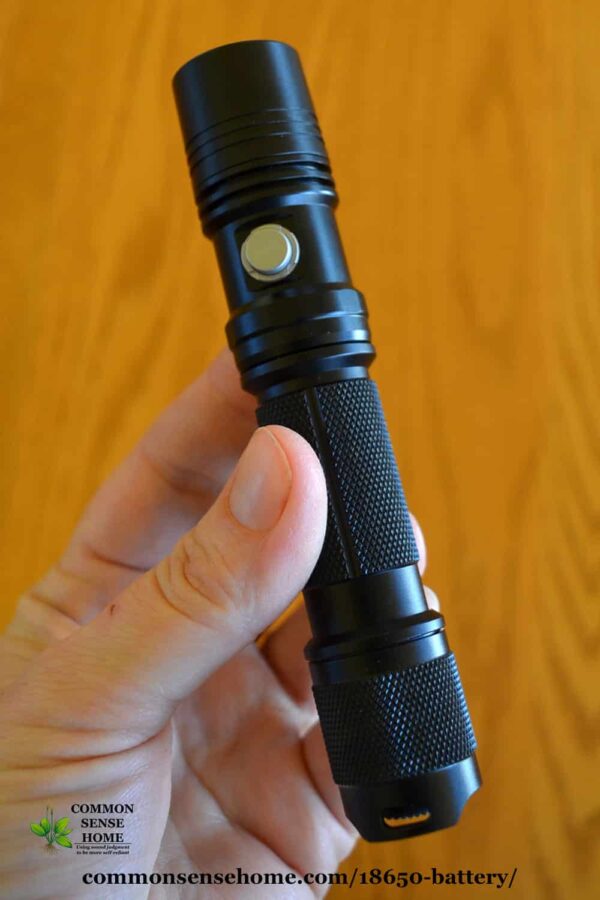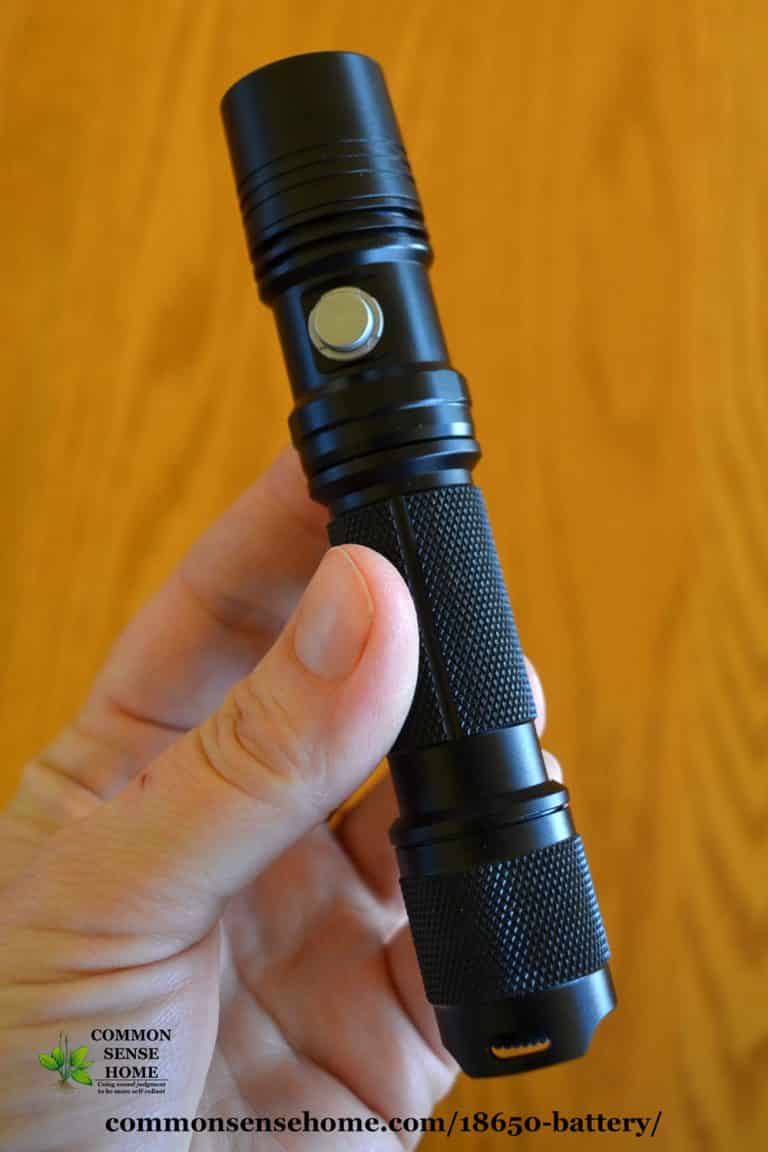 The best mid to low priced 18650 flashlight is the Thrunite TN12 1050 lumen flashlight. It is about 1/2 the price of the PD35 and slightly brighter. It is a GREAT buy (we have a couple in emergency kits).
Either of these are great LED Flashlights that use the powerful 18650 battery.
Related Posts
Be sure to check out our full listing of over 100 Preparedness articles, including: