Surviveware Large First Aid Kit Review – Pros and Cons
We reviewed many first aid kits, and the Surviveware Large First Aid Kit is a winner. We'll share some pros, cons and use tips for this kit.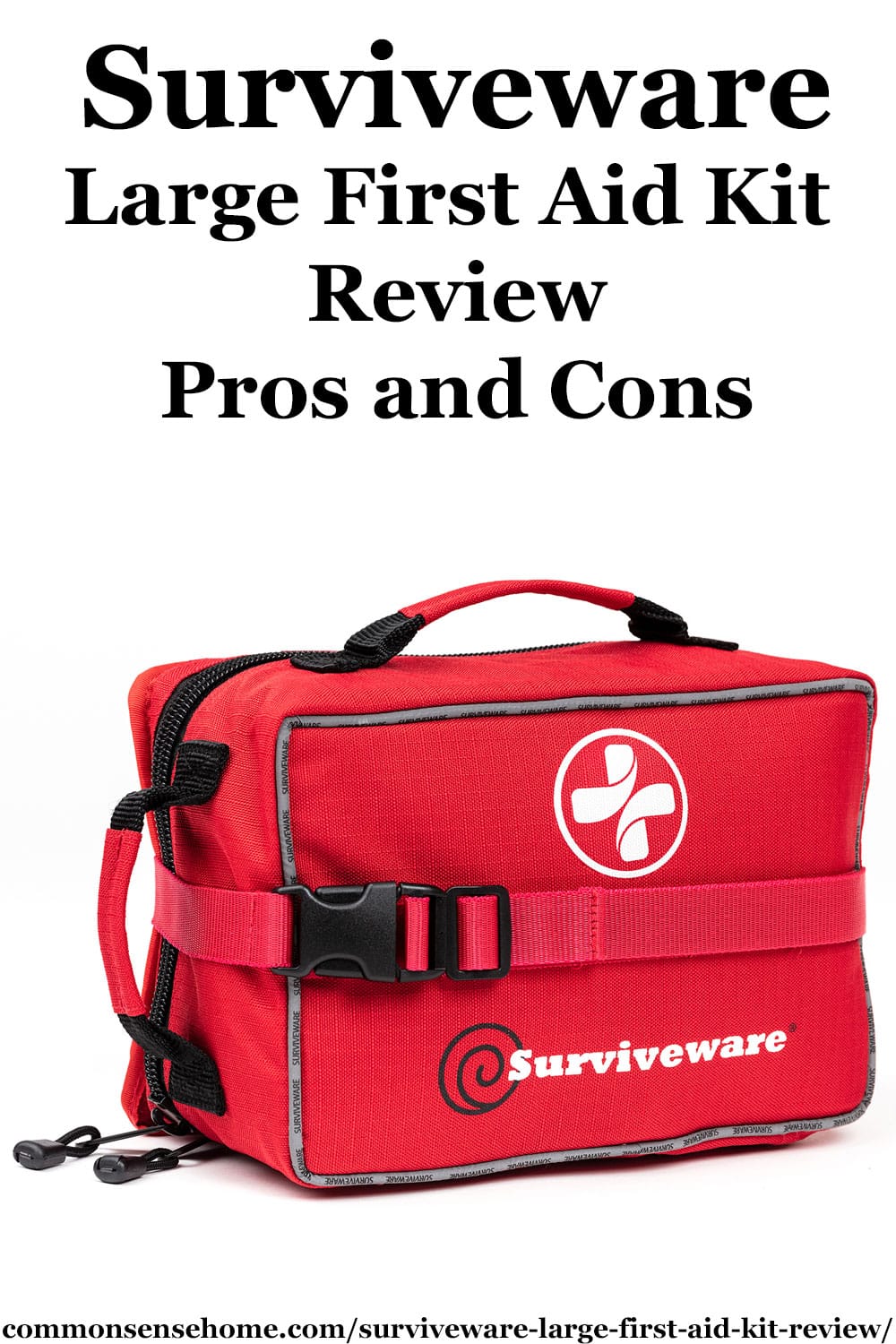 Surviveware Pros
This is a well labeled, well organized, tri-fold first aid kit. The med kit comes with 200 basic first aid items, including a short first aid booklet.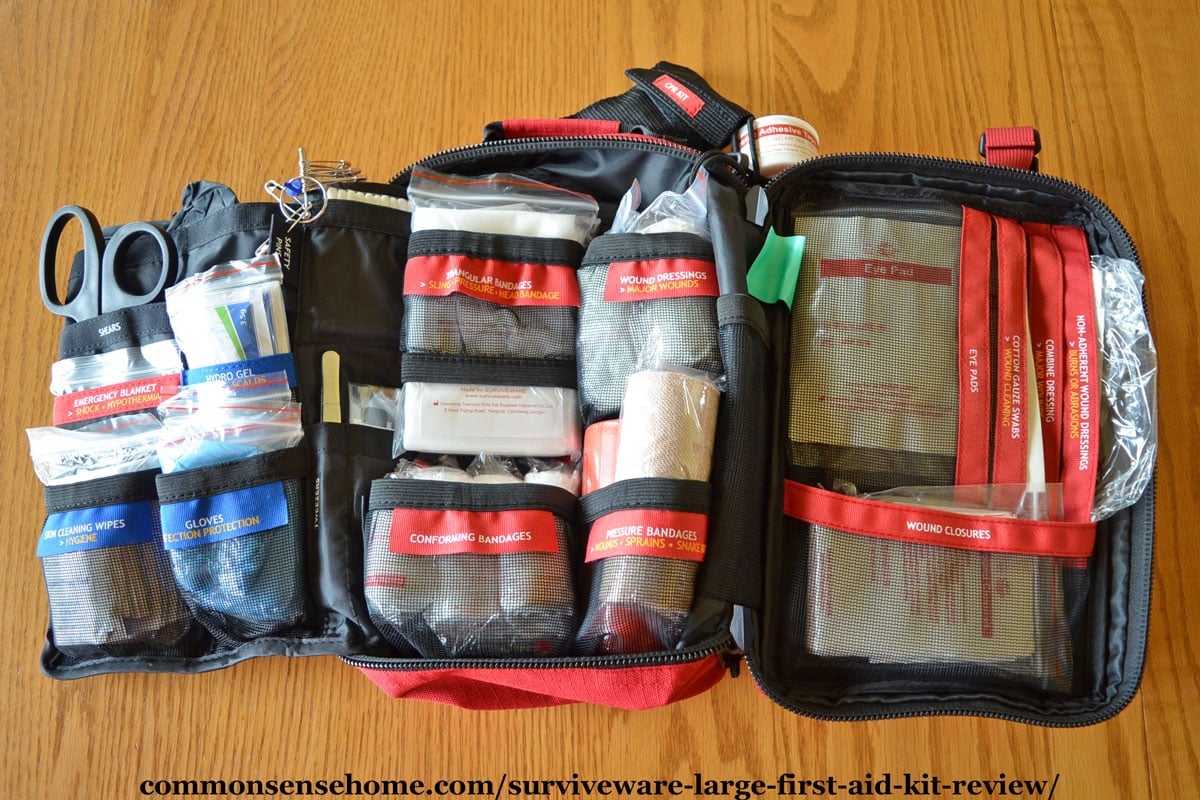 Each sleeve is labeled according to its function, to keep your supplies in an orderly fashion. Items can easily be retrieved and afterward replaced with new supplies as needed.
Keep this MOLLE compatible kit in a trunk, or carabiner link it to your car headrest or backpack. It's good for hiking or travel.
The kit includes shears, a good array of latex free bandages. The polyester casing is water resistant, and it floats. Items inside the kit are packed in laminate pouches.
Our Surviveware large first aid kit had a card for a bonus CAT Tourniquet. (You have to call in or text in to get the add on.)
The bonus 50 piece mini-kit is great. It has the basics and can be reconfigured slightly for EDC (every day carry).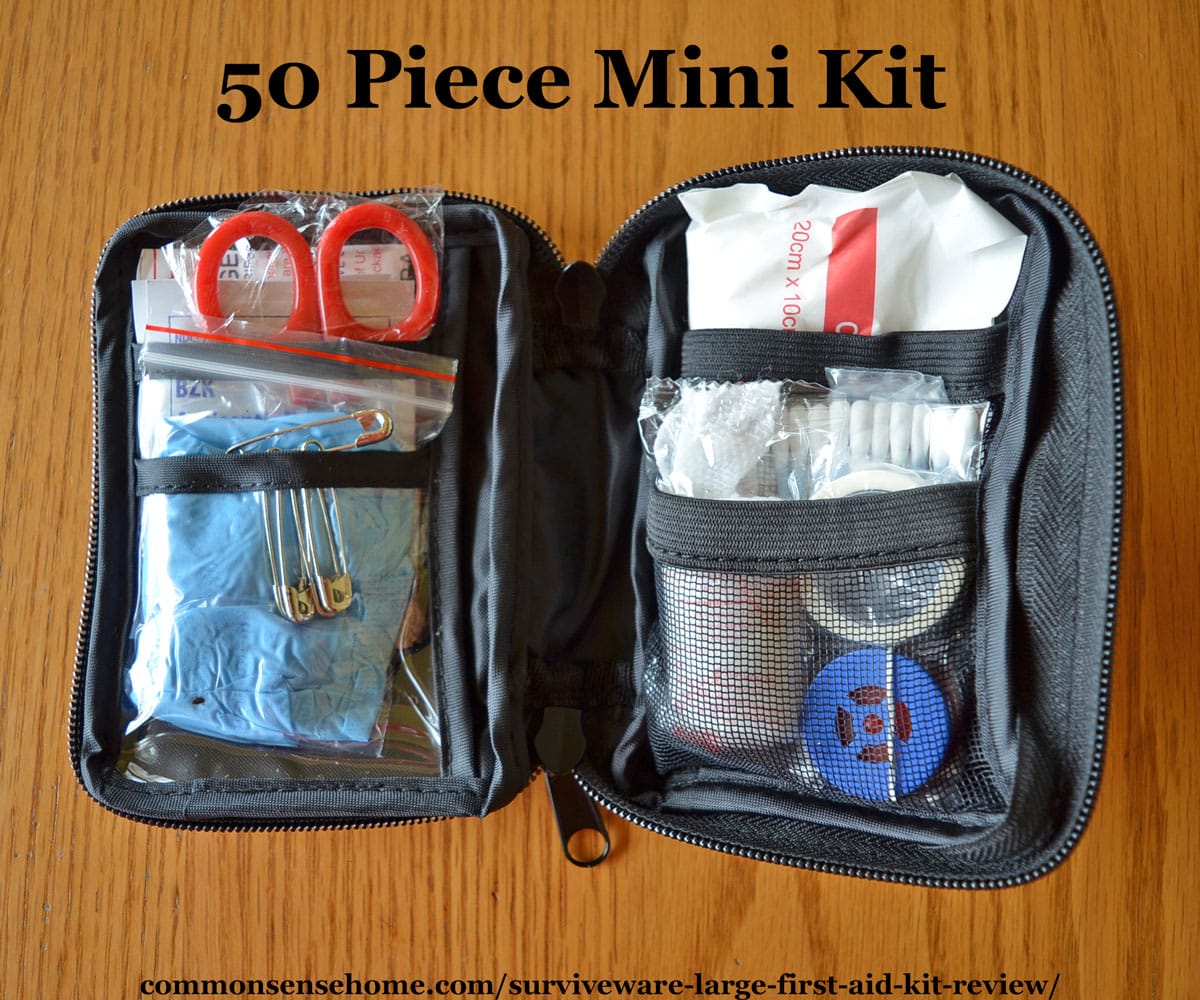 There's additional space to add medications and supplementary gear.We recommend that you consider some basic medications, duct tape, and a few other items.
For a full list see, "What else should be in your first aid kit?"
Surviveware Cons
The first aid kit doesn't come with medications, and the shears are a bit lightweight. It's not cheap, but we think you get what you pay for and quality is worth it.
NOTE: This is NOT a trauma kit. A trauma kit should have a tourniquet, chest seal, Quik clot (or similar), likely includes a needle decompression and a compression bandage such as the Israeli 6″ or NAR ETD. This kit does have a tourniquet BUT you have to mail in to get it.
It is not fully waterproof, only water resistant. They do have a waterproof version of the kit.
SUGGESTION: The kit does not include an inventory list. Print out the contents list below and put it in the kit. That way if you use something, you know what to get to replace the item.
First Aid Kit Sizes
The Surviveware Large First Aid Kit is about 12″ x 8″ x 6″. It is about the size of a purse at and weighs about 3.25 pounds.
The included mini-kit is about 6″ x 4″ x 2.5″ – small enough to carry on a belt loop or backpack with ease.
Although it is called "large kit", it is a medium sized kit compared to full paramedic, a STOMP or other heavy duty first aid kit.
Surviveware Large First Aid Kit Contents
The Large Surviveware First Aid Kit contains:
600D Polyester Bag(1), 7.5″ Shears(1), 18″ Splint(1), Adhesive Bandages: Butterfly – Large(5), Butterfly – Medium(5), Large(5), Standard(30), Square(5), Mini(5), H-Shape(5), Cold Pack(1), Combine Dressing(1), Conforming Bandages(6), Gauze Swabs(5), EarBuds(20), Emergency Blanket(1), Eye Pads(4), First Aid Handbook(1), Hydro Gel(5), Tape, Non-Adhesive Dressings(10), Laminate Baggies(6), Refuse Bag(1), Pressure Bandage(1), Safety Pins(10), Splinter Probes(10), Strip Closures(9), Triangular Bandage(2), Tweezers(1), Whistle(1), Wound Dressings(2).
** Contents may vary with the specific kit, confirm at time of purchase 
Uses of this Kit
Use it as your home emergency kit. Get one for camping, a vacation house or cabin, or for hiking.  Put one in your boat (remember, it floats). Combined with a trauma kit you would be covered for 95% of emergencies.
Stick the Surviveware Large First Aid Kit it in a car or truck off the headrest, in the back seat or the trunk. It is a bit too big to stash under the seat for most cars and some trucks.
Surviveware has other kits that would be good for traveling and backpacking for shorter distances, and a restock kit.
Conclusion
This is a great first aid kit for a car/truck kit, backpacking kit or get home bag.  We recommend you add some items as noted. It is an excellent first aid kit. Get training, get this kit and consider a trauma kit also.
Here are some links to first aid classes:
Paid Classes
Free Classes
Related Articles
We have over 100 Common Sense Preparedness articles on the site, all listed by category on the preparedness index page.