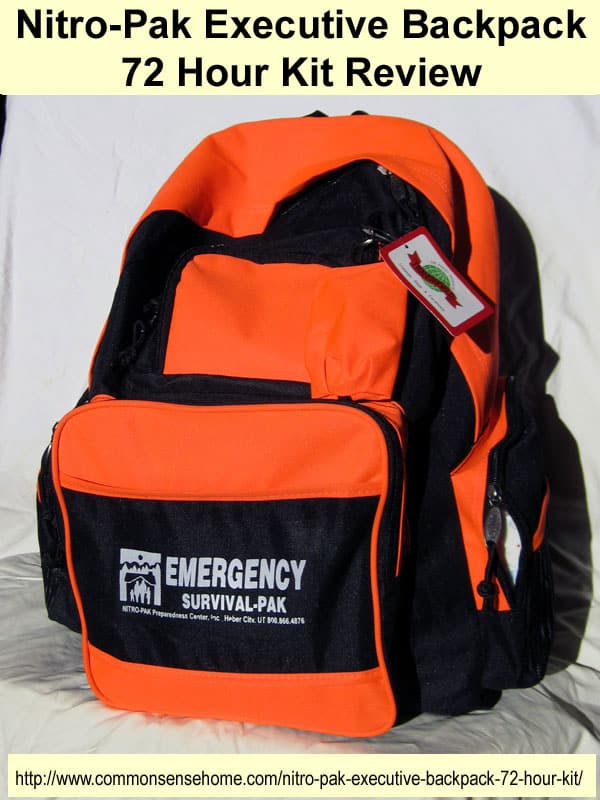 As part of our Preparedness series, today I'm sharing a review of a Nitro-Pak Preparedness Center "Executive Backpack 72 hour kit", which is a starter kit for two people for 72 hours. A 72 hour kit is not the same as a bug out bag. They do contain some similar items however, so this kit could be used to build a bug out bag. This kit is a fast way to jumpstart your preparedness, and is just right for the likely events such as a tornado, hurricane or big storm that would leave you without power. Having at least a 72 hour kit is critical for everyone.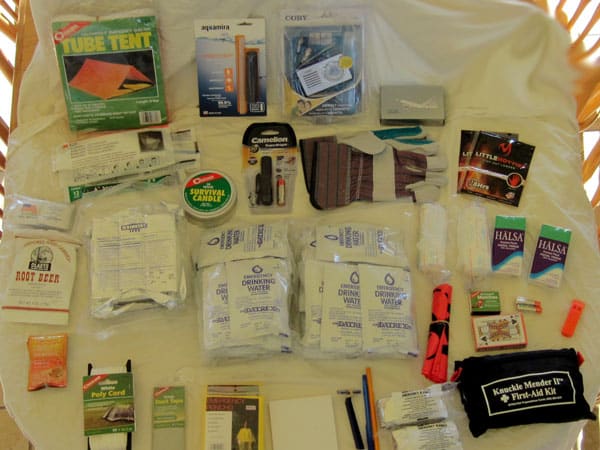 What is in the Nitro-Pak Executive Backpack 72 Hour Kit?
The Nitro-Pak Executive Backpack 72 hour kit Item #5808 contains the following:
Heavy Duty Nylon Orange Backpack. The kit is blaze orange and black. It has The stitching looks good and is sealed on the inside. The Kit has six smaller compartments plus the main compartment. Padding is minimal but well protected. The bright blaze orange labeled emergency backpack is easy to spot in an emergency.
First Aid Kit. Contains 60 items(counting the individual wipes and bandages), including a pocket medical guide.
When we tried to open the small nylon kit labeled "Knuckle Mender II" we found that it had nylon lock, you need to cut the strip to open the kit. We cut that and found the following items in the kit:
Rubber gloves inside a resealable bag
Stainless pocket knife with knife, scissors, cork screw, two safety pins, can opener, bottle opener, and file
Medical tape
3 single use strip thermometer
Package of bandages
This is a very basic first aid kit, so you may want to consider adding prescription and regular medicine, more bandages, medical tape, stretch wrap, liquid bandage or superglue, more rubber gloves, and small bottle of medical alcohol.
The kit separately includes:
Two- N95 Evacuation Respirator (facemasks)
One- Shaving Razor
Multifunction Pocket Knife. The multifunction knife comes in a nylon belt pouch. It has all the basics and appears to be entirely stainless steel. It is very stiff to open so oiling and using it some before an emergency is highly recommended. It comes sharp so be careful opening it. The multifunction knife has:
Knife
Can opener
Bottle opener
Cork screw
Flathead screwdriver
Philips head screwdriver
Scissors
Saw
File
Punch
There is also a knife in the medical kit. Both knives are stainless steel, and they both have scissors (helpful for cutting bandages).
Shelter. The kit contains some shelter items
(2) Emergency SPACE Blankets
(1) Deluxe Two-Person Tube Tent
(2) Emergency Rain Ponchos
One – Pair of Leather Palm Gloves. These are a good pair of work gloves.
Food and water
(24) emergency water pouches (4 per day).
One – frontier water filter. It is BPA free, weighs 1oz, filters up to 30 gallons (99.9% cryptosporidium and Giardia), charcoal filter.
Six – emergen-C energy drink packets
Two – 3600 calorie emergency food ration bars
One – package high energy candy (ours was root-beer candies)
Hygiene
Eighteen – "Wet Wipes" packets. These are the small tear and use wipes (not alcohol)
Two – Facial Tissue Packs (blowing your nose and such).
Two – Compact Tissue Packs (toilet paper). We suggest adding more toilet paper. When the military landed on the beaches of Europe in WWII, the 1st time the guys carried all the ammo they could. The second and subsequent times they carried all the toilet paper they could. Remember the little things can make a big difference. A cheap solution is to re-roll a standard TP roll and put in a zip lock baggie.
Garbage Bags. Rolled together you will find:
Two – Sanitation Bags (red)
One – trash bag (white)
These are critical because you must be able to do something with refuse, debris and other messes. They can also be used to store things in a pinch. Again consider putting all your items in small zip lock bags.
Communications. Communication is vital during emergencies such as the aftermath of a tornado, hurricane or major winter storm.
One – AM-FM Radio and a separate pack of two AAA Batteries
One – Emergency Survival Whistle
Miscellaneous Items
One – Set of Playing Cards
One – Note Pad
One – Writing Pen
One – Pencil
One – Package Duct tape. Duct tape is a fantastic fix it. Taping up clothing protecting wounds with an overwrap, fixing torn pants or gloves. It is a versatile must have in your 72 hour kit. You might need more than this but six feet is better than none. More duct tape is always better.
There is also 50' of Nylon Cord.
Heat. There are heat packs and matches in the kit. Depending on your location, you may want more.
One – Box of 45 Waterproof matches
Two – Pair Hand Warmer Heat Packs (small)
Lighting. The kit contains 3 light sources.
One – 36 hour emergency Candle.
One – 12 hr instant light stick
One – deluxe LED flashlight (two AA batteries included in the kit)
A candle can keep the air in your car from freezing. The light stick can keep just enough light at night to let you see at night. Depending on the time of year, you need 24 to 36 hours of light at night for 3 days. The candle alone can provide this. Having extra light is still good. We recommend you get another flashlight such as the Ultrafire Cree 7w mini 300 lumen flashlight. The Cree is under $10 flashlight is and is water resistant, gives you a focusing lens and 3 modes.
Who Needs a 72 Hour Kit?
Do you have severe weather, or is there a chance you could get stuck away from home unexpectedly? If you travel at all, even to and from work, it never hurts to have supplies on hand – just in case. My husband is stuck working two hours away during the week and traveling back and forth on weekends, so he does a lot of driving. This winter we've been hit with bitter cold and regular snowfalls, leading to some pretty massive traffic accidents. Back in 2011, a big blizzard hit Chicago, and trapped many commuters in their cars on Lake Shore Drive. How much do you want to bet this poor guy (one of the folks caught in the blizzard) wished he had survival gear and a blanket in his car?
Katrina, Sandy, the tornadoes that have hit the Midwest, the wild fires that have forced people to evacuate their homes – virtually the entire country has been hit with some emergency situation in recent years.
Having a bag ready to go with the items you need when you need them is priceless. 
Comparing 5 leading internet preparedness companies, Nitro-Pak's "Executive 72 Hour Kit" was Voted #1 as the "Best Overall" 72 Hr. Emergency Kit Sold in America by the 'Wall Street Journal' (6/16/2006 edition). Given that winter hasn't even officially started yet, I think that having a bag like this on hand would be a good idea for many people.
Don't forget to check out our other Preparedness posts.
I did not received anything for this review, only the item to review.