Cucumber Onion Salad (Small Batch)
When I was growing up on the farm, mom always kept a batch of cucumber onion salad in the fridge once cucumber season hit. It's made with common pantry ingredients, and comes together in minutes.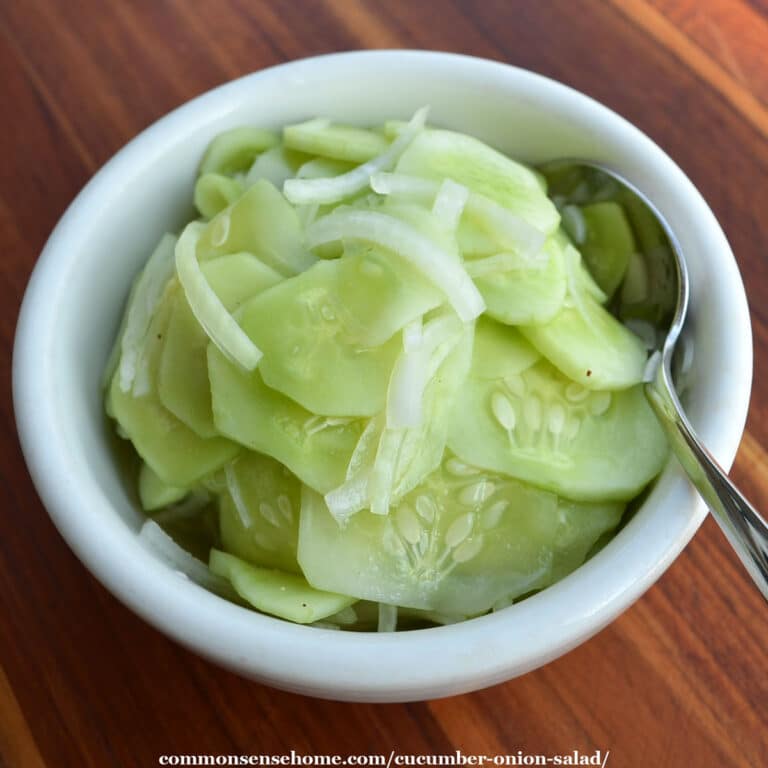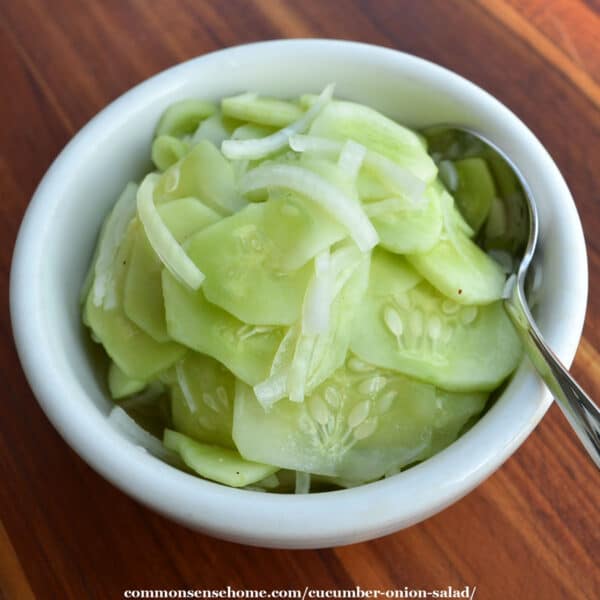 The tangy vinegar dressing adds some kick to this easy to make side dish. It's perfect to pair with a heavier cut of meat to lighten up the meal. The basic recipe makes a small batch, but feel free to scale it up as needed.
It's great for summer parties because you can prep in advance. The flavor is even better the next day.
Cucumber Onion Salad Ingredients
You will need:
Fresh Cucumbers – any will work, but my favorite variety is Suyo Long, a Japanese slicing cucumber. Salad cucumber varieties generally have smaller seed cavities than pickling varieties. English cucumbers and Persian cucumbers are common types. Thin slices absorb the marinade better than thick slices.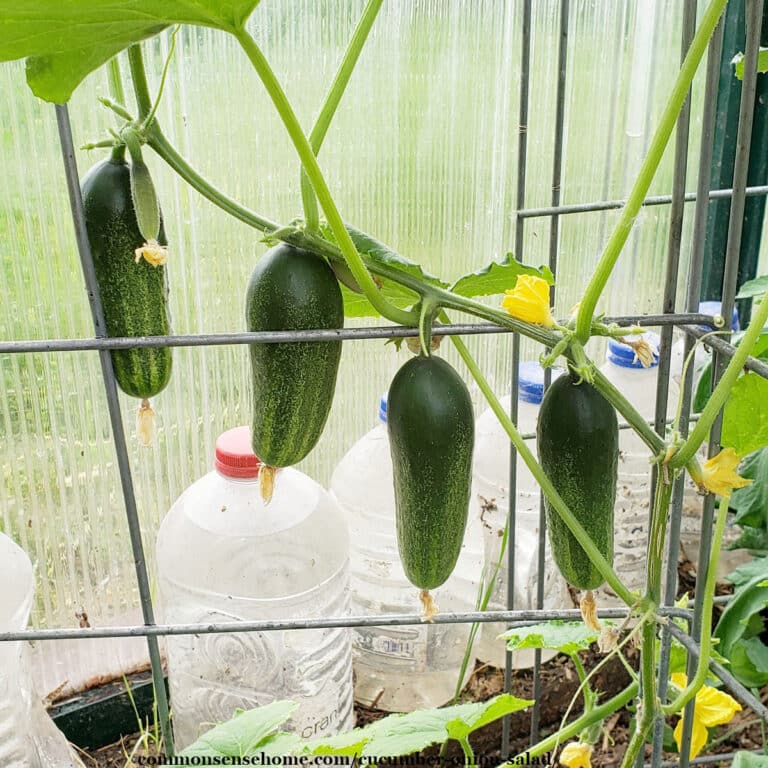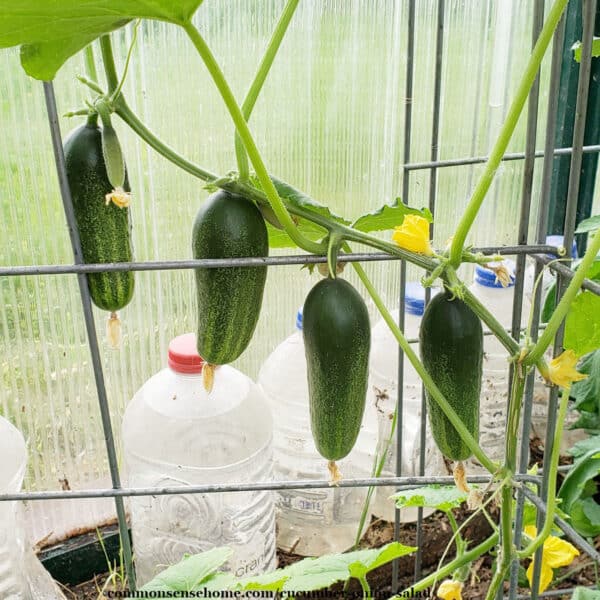 Onions – We like sweet onions, but red onions also work well. (Cucumber and red onion is brighter on the table, too.) Again, you can use whatever type you have on hand. Since the salad is raw, you may want to add a little less onion if you have a strong flavored variety.
Vinegar – Our favorite is apple cider vinegar. Homemade vinegar works well, as does white wine vinegar, red wine vinegar, white balsamic, or rice vinegar.
Sweetener – To get the sweet/sour flavor profile, mom always added a little sugar. Sometimes I use sugar, sometimes I use honey. If you're avoiding carbs, you can substitute your favorite non-caloric sweetener.
Salt and Pepper – Salt draws moisture out of the cucumbers to help keep them firm, and black pepper adds a little more zip.
Optional – Fresh dill or other finely chopped herbs, cherry tomato halves, olive oil (if you'd like a more robust marinated cucumber salad).
Print
Cucumber Onion Salad
This simple seasonal salad makes a tasty side dish for any summer meal.
Author:
Prep Time:

20 minutes

Chill Time:

15 minutes

Total Time:

35 minutes
2

large cucumbers, thinly sliced

1/2

onion, thinly sliced

1/2

cup

vinegar

1/4

cup

water

1 tablespoon

sugar or

1 1/2 teaspoons

honey
Salt, to taste
Freshly ground black pepper, to taste
Place cucumber slices in a colander and sprinkle with salt. Toss to coat and set aside to drain, preferably for 15-20 minutes.
In a small mixing bowl, whisk together the vinegar, water, and sugar (or honey).
Place the drained cucumbers and onion slices in a medium bowl and pour over the dressing. Add salt and pepper to taste, toss to coat. Allow the salad to marinate in the refrigerator for at least 15 minutes before serving.
Notes
Store any leftover salad in a sealed container in the refrigerator and use within a week for best quality.
Keywords: cucumbers, summer, salad
Choosing and Preparing Your Cukes
If you're buying cucumbers at the store or farmers market, look for firm fruit with no soft spots. When harvesting from the garden, pick in late morning, before the midday heat sets in.
Pickling cucumbers and older cucumbers have thicker skin, so you may want to peel them before use. Mom always peeled them, because she only grew pickling types, so I usually peel them. The skins add color and nutrition to your cucumber onion salad.
For a more decorative look, peel down the length of the fruit in stripes before slicing. If your fruit is too seedy, quarter it lengthwise and scoop out the seeds before slicing. Use a sharp knife or a mandoline to get thin slices.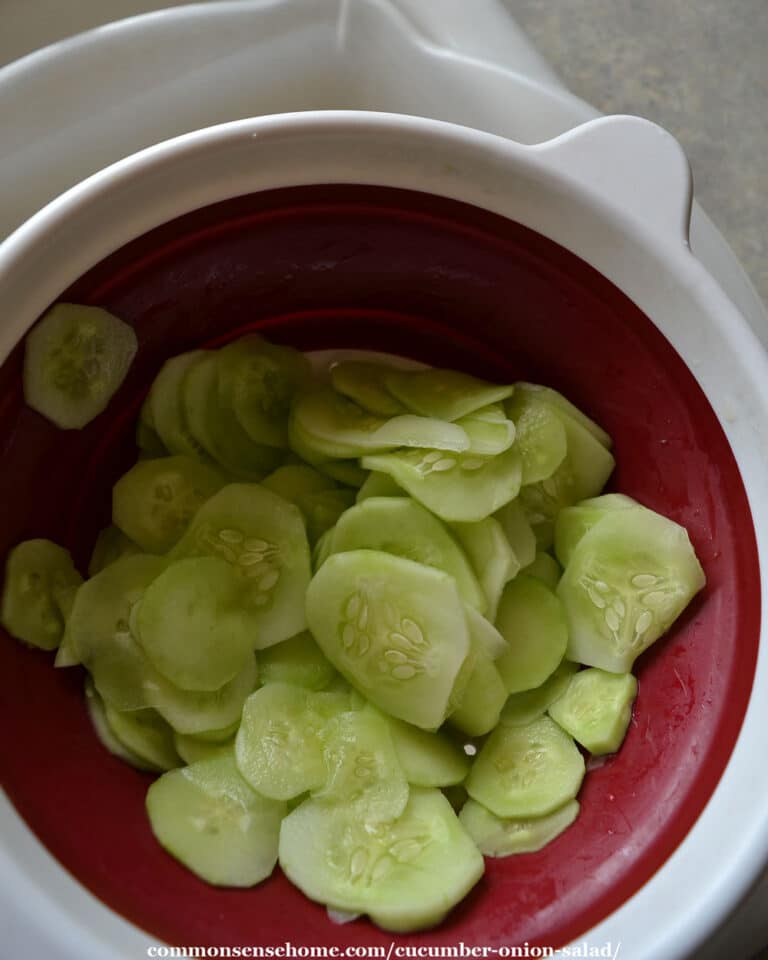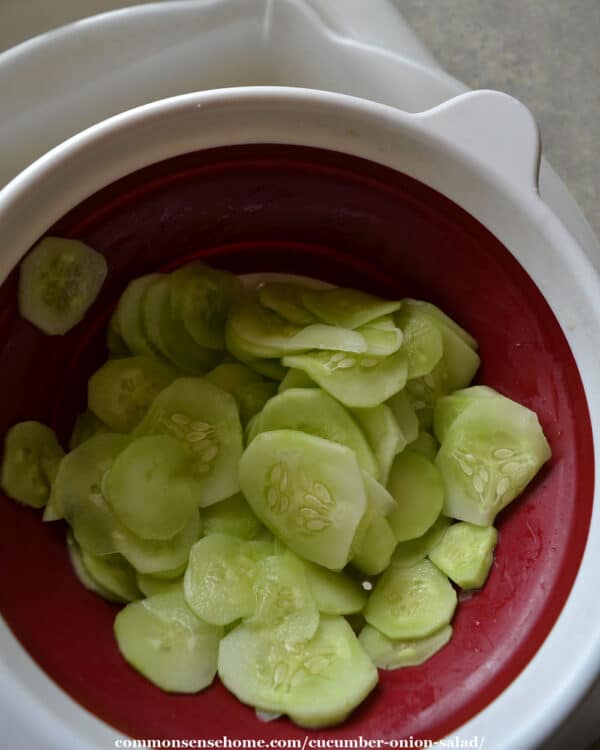 Make sure to harvest all the large cucumbers, even if they are bigger than you want to eat. If you leave overgrown cucumbers on the plant, the plant will stop producing. Big fat cucumbers are perfect for making homemade pickle relish.
If you don't have cucumbers, you can substitute baby zucchinis or summer squash in your marinated salad. The texture won't be an exact match, but it's still good.
Onion Tips
Ailsa Craig onions are our favorite garden variety to eat raw. They are a large, sweet onion we grow from seed that does well in our Wisconsin garden. Some other common sweet onion varieties include Walla Walla, Texas Sweets, Maui, and Vidalia.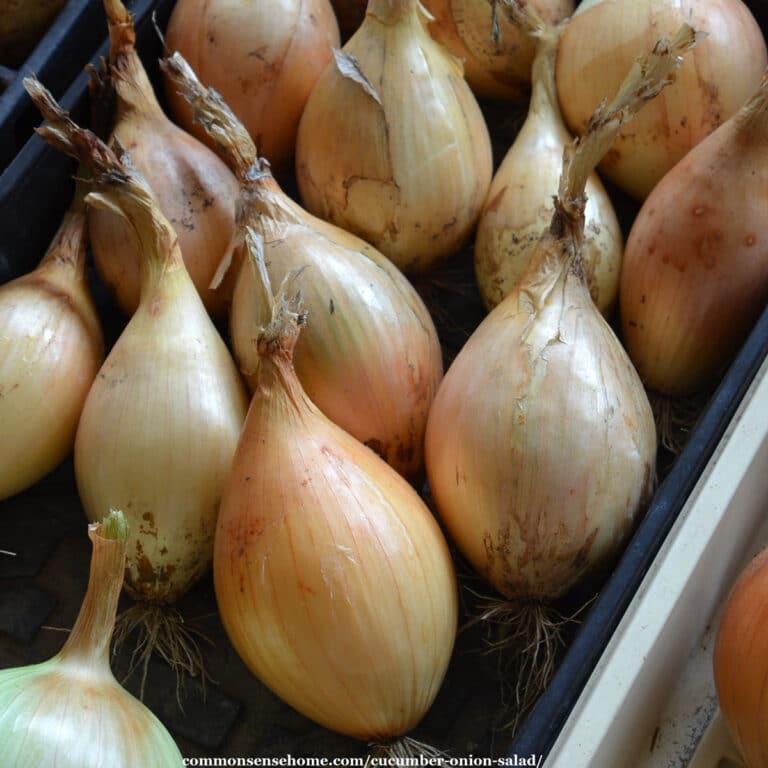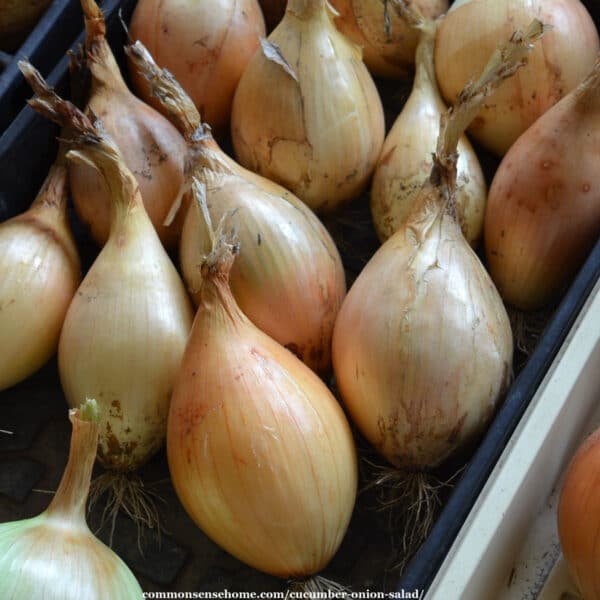 If you don't care for the strong flavor of raw onions, mellow them out by soaking the sliced onions in cold water for 10 – 30 minutes. Drain and pat them dry before adding to the salad.
No Vinegar?
If you don't have vinegar on hand, try lemon or lime juice. You're looking for acidity to balance out the sweetness of the sugar or honey.
Experiment with Herbs and Other Veggies
While the cucumber and onion combo is the star, consider adding some color with ingredients like radishes, bell peppers, or tomato chunks. These additions not only contribute texture, but also introduce a variety of flavors.
Don't be afraid to experiment with different herbs to mix things up. Mint, dill, basil, or even cilantro can complement the tangy dressing and crunchy veggies. Add a sprinkle of hot pepper flakes or a dash of cayenne for some heat.
More Summer Recipes
These are some of our "go to" summertime recipes:
Creamy Cucumber Salad with Sour Cream Dressing
Broccoli, Bacon and Cheese Salad
Easy Cheesy Zucchini Casserole Recipe (Quick to Mix)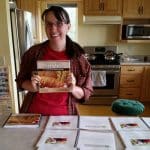 This article is written by Laurie Neverman. Laurie grew up in the kitchen, learning baking and home cooking from her momma. At age 15, she and her mom and two sisters created Irene's Custom Cakes & Catering, which was her summer job through most of high school and college.
Now she combines old fashioned recipes, garden fresh produce, and cooking for special diets to make tasty, easy to prepare foods. Along with her passion for growing nutrient dense food, she also enjoys ancient history, adorable ducks, and lifelong learning.