How to Make Wool Dryer Balls
This is a guest post by Leigh Dudenhoeffer of Frozen Tundra Fiber Arts.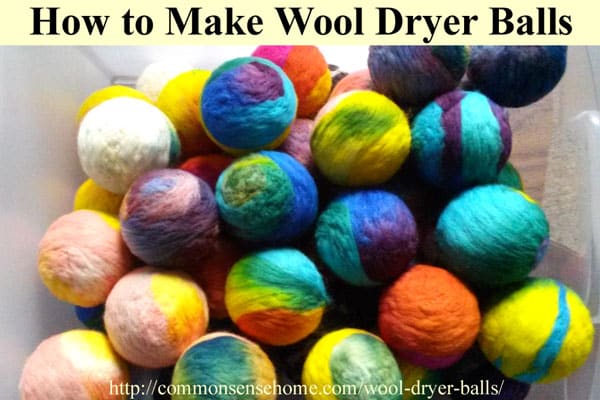 A lot of people have brought it to my attention that my wool dryer balls are 'too bouncy' to be 100% wool. If you were to say this to me in person, I'd invite you to cut one in half and see for yourself. I would also consider it to be a waste of the hard work I put into my dryer balls. The halved ball, on the other hand, I would be able to recycle into new dryer balls.
I don't like to share anything about my process or the processes my art or craft goes through to get from point a to point b. This time, I will share my process. I find that it's necessary for a dryer ball to have some bounce in it to bounce its way around the clothes dryer. It's this bouncing action that is what actually softens the clothes as they're being propelled around the inside of the clothes dryer. The balls wedge themselves between the items of clothing, reducing drying time and saving you money.
How to Make Wool Dryer Balls
I start out with about a 1/2 ounce of washed wool. I prefer to work loose, washed wool because it's easier to compress by hand than a carded batt is.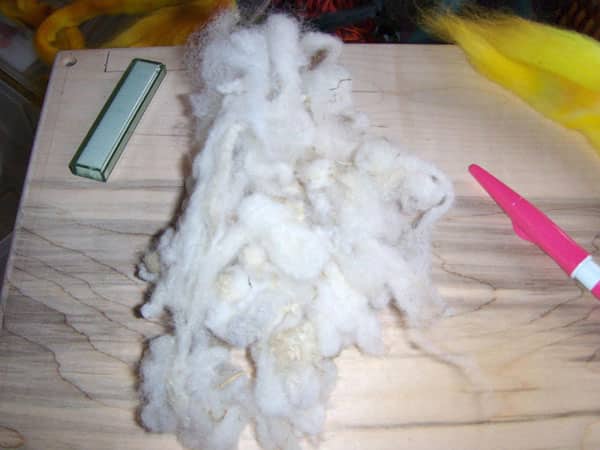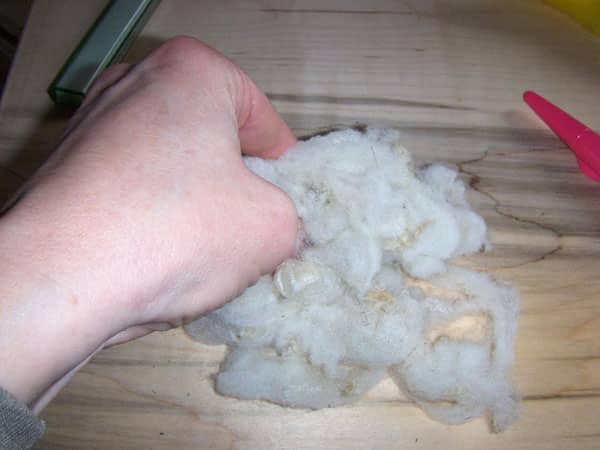 I compress or squeeze the wool tightly in my hand until it's firm enough to start a binding yarn. The binding yarn will aid in holding the wool together as you wrap the yarn around it while squeezing the ball tighter.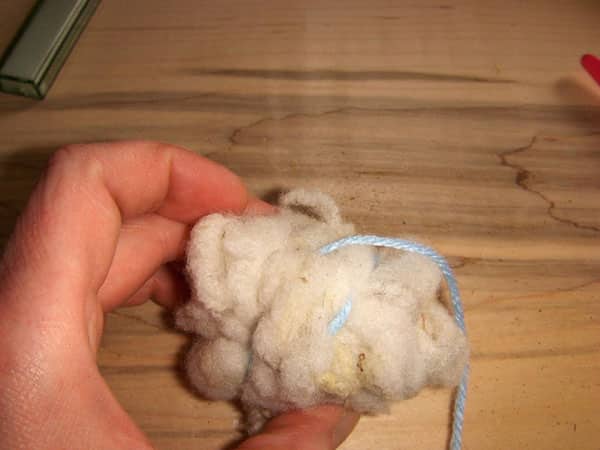 I keep adding more wool until the 'wad' is almost 2.25 inches in diameter. I begin by pushing the needle felting tool into the wool ball and keep doing this while I rotate the ball around and around.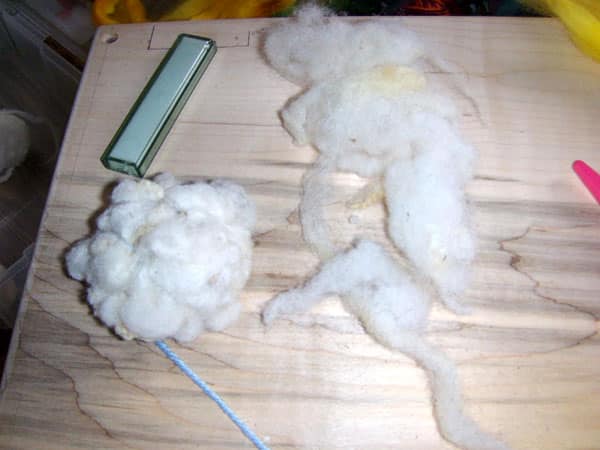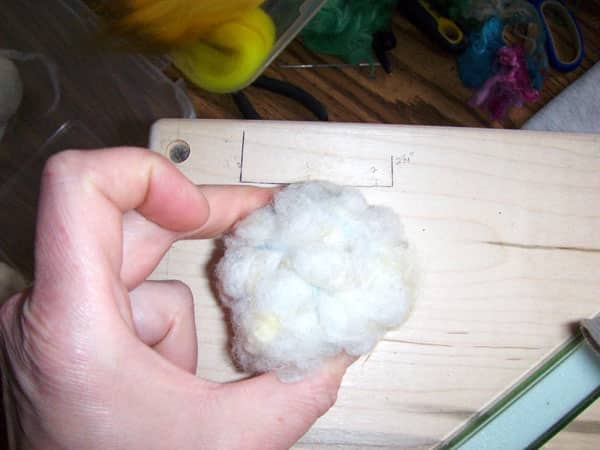 I continue to needle felt it into a nice, firm, round ball until it meets my expectations for bounce and…..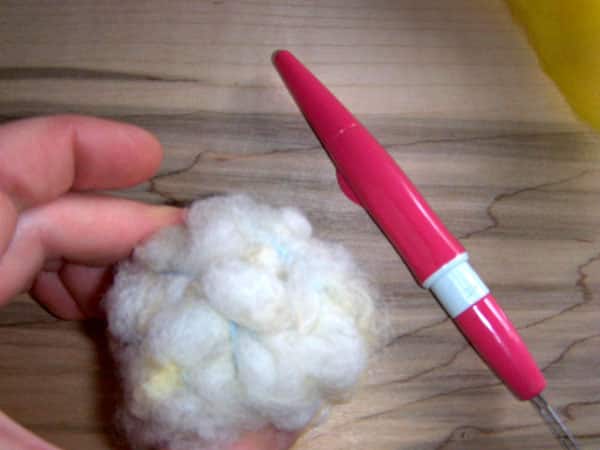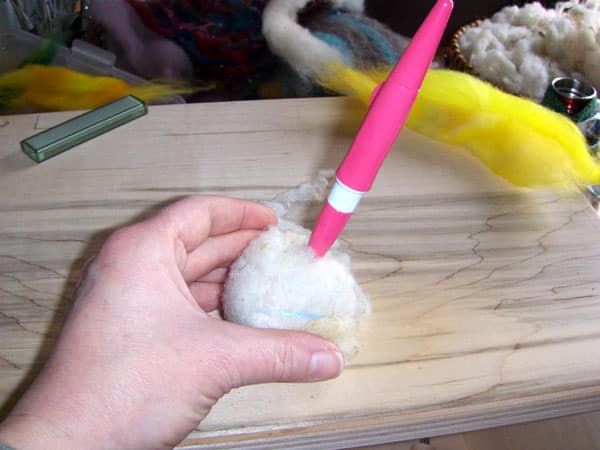 VOILA!! A dryer ball ready to be dressed up (covered with dyed wool, silk and/or decorative wool)! After you give it an outer layer of your choice, pop it in the dryer for ten minutes to "snug it all together" and it's ready to go. I use 3-6 per load, so you'll probably want to make up several at a time and give them dryer time together.
I've not bought any dryer sheets or fabric softeners for the past 4 years. Considering that I used to go through a box of 120 count dryer sheets every 3 months, I'd say that I've saved roughly $55 over the past 4 years and that's not bad for a really small family.
On a side note – dryer balls are strictly fabric softeners and laundry fluffers. They do nothing to remove static electricity. To reduce static, do not over dry clothes, especially in winter when humidity levels are low. Dry clothes, especially synthetic fabrics, build up a static charge as they beat against the side of the dryer and other clothes – like socks sliding across a rug. The more they rub, the bigger the charge. Natural fabrics like cotton don't build up much of a charge at all compared to synthetics, which are terrible static magnets.
Like the idea of dryer balls but want to have someone else do the work? Buy a set of dryer balls for your dryer today at the Frozen Tundra Fiber Arts Etsy shop!
Editor's note: These make great soft toys for kids, like juggling balls or toddler toys, but are not good pet toys because of the risk that a pet may chew apart the ball and get some of the yarn stuck in their guts. On the rare chance that your child is likely to chew up the ball and eat it, then it is not a good choice for a toy. Leigh is a local friend of mine and I have an assortment of her pretty little dryer balls.