What's a typical day homesteading like? I've teamed up with a number of my "self-reliance guru" friends to share a peek into our homesteading lives, from urban homesteading to full tilt farm life, and everything in between.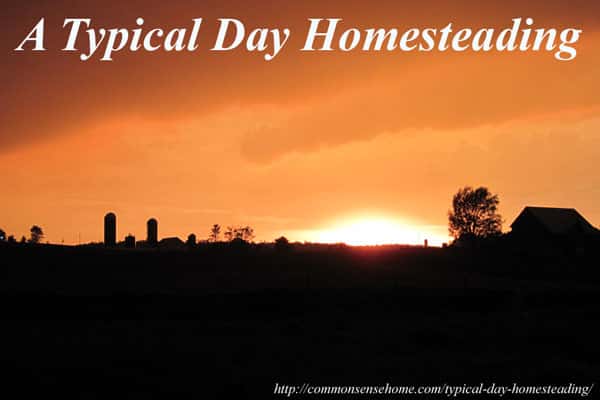 For me, homesteading life is very seasonal, but some things are year round. I wake up before the rest of the house to have a little "quiet time" to exercise, stretch and do EFT tapping before the rest of the house wakes up. Now that hubby is home again instead of working two hours away, I usually make him breakfast before he heads off to work.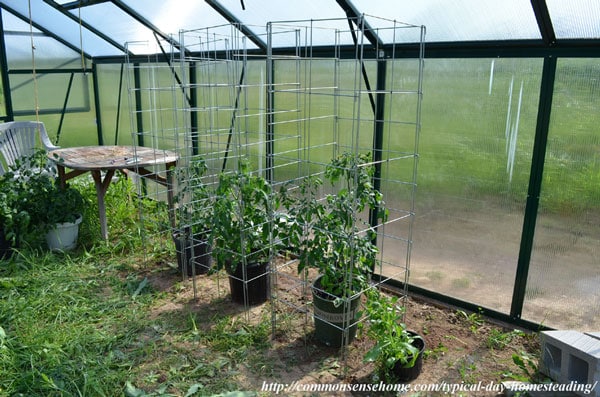 Somewhere during the morning I head out to the greenhouse to water the tomatoes, peppers, sweet potatoes, stevia and flower and herb pots. One weekend soon we're going to have a get together here and tackle putting in footings ourselves, since the local contractors are booked and double booked for the summer. We tried just using board footings, but found we couldn't get a straight enough level and a strong enough tie down. It's going to be an interesting project to move the greenhouse from where it's at, put in better footings, and then move it back, but I think we can do it. (Note to anyone putting in a large, solid wall greenhouse – do your footings first.)
After watering in the greenhouse, it's time for more watering; herb, fruit or veggie harvesting; weeding or whatever else needs attention in the garden. We have a fairly short growing season and a large garden, so during the summer months there's always something to do if you're willing. This week the juneberries are finishing up while the blueberries are just starting to ripen.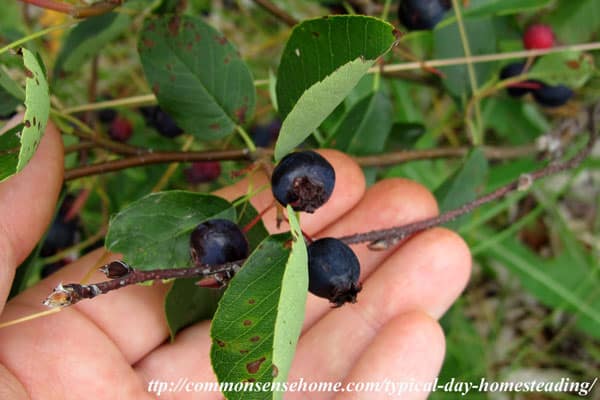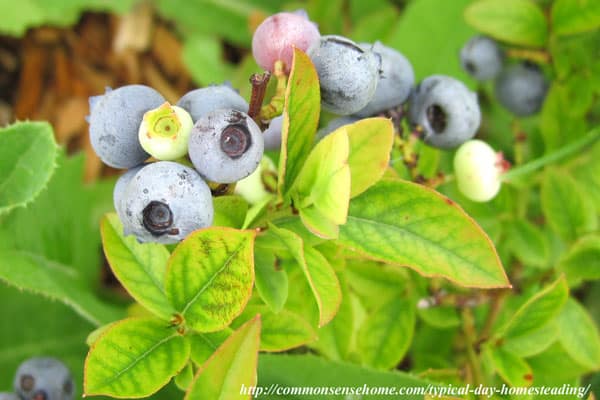 After an hour or so, I head inside for breakfast and make sure the boys are prodded out of bed and on to whatever's planned for the day. On laundry days I try to time washing for late morning to midday so we can take advantage of the solar water heater and line drying.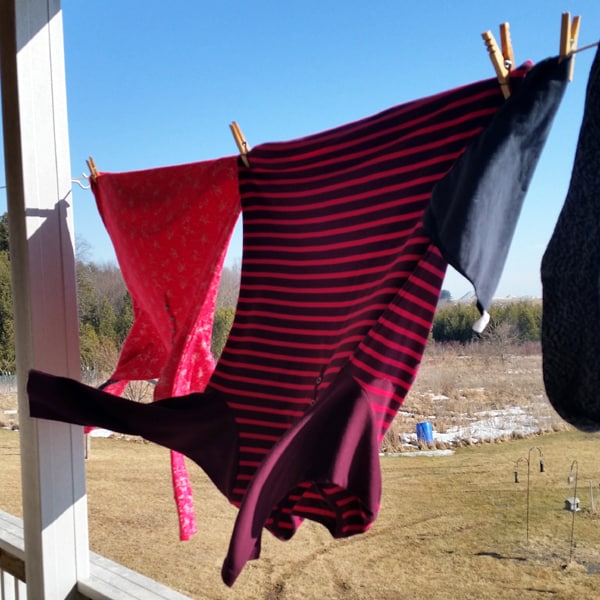 Late morning and early afternoon are my online work time, while the sun is the strongest. (If I need photos, I work on those in the morning or evening for softer light.) Sometimes "cat therapy" shows up and demands attention. 🙂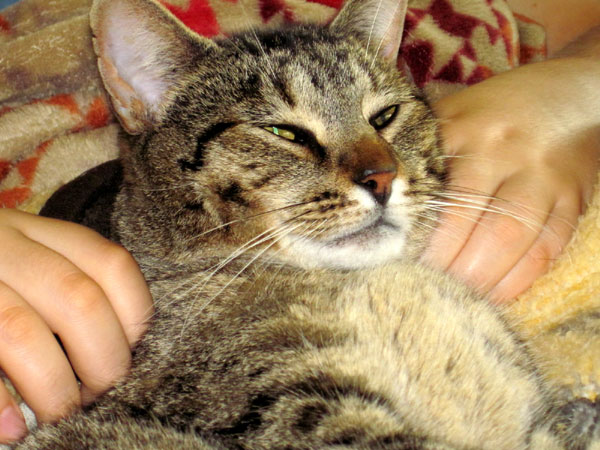 Depending on the weather, sometimes the boys work on some book work, some online work, or other projects around the house or outside. (Their preferred option would be to screw around on the computer, but they're pretty good at tackling whatever needs doing.) Lately they've started their days on cucumber beetle and squash bug patrol, as the populations of both are quite aggressive this year.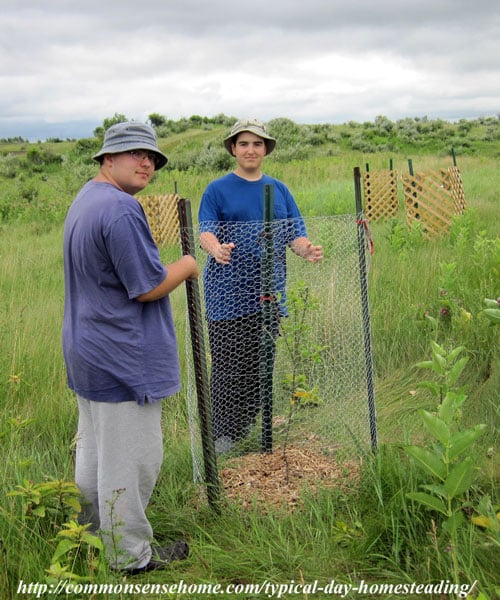 Later in the day it's back outside for more garden time. Right now we're working on putting cages around the new young trees so the deer don't eat them all, and spreading the limbs on the older apple trees so they produce more fruit (and enlarging their cages). A number of the older trees and shrubs are outgrowing their cages, so we need to shift and reuse those we can and make new ones where we can't reuse. It's time consuming, but without the cages the deer will eat the young trees down to nubbins.
Supper tends to run late, as my husband often doesn't get home from work until well after 6pm. Whoever's cooking gets to come in early from outside, which (depending on the chores) sometimes inspires the boy into the kitchen. More often than not I do the cooking and they help with cleanup, but there are some recipes that have become their specialties, like fried fish and chocolate peanut butter no bake bars.
After supper gets cleaned up, it's time for round two of online time. There are always questions waiting to be answered and writing and editing to be done. Somewhere around 10pm we start wrapping it up and winding down to head for bed. I love to read before bedtime, and have a stack of books about a foot deep on the nightstand.
Curious about other homesteaders? Check out more homesteading "Day in the Life" posts from: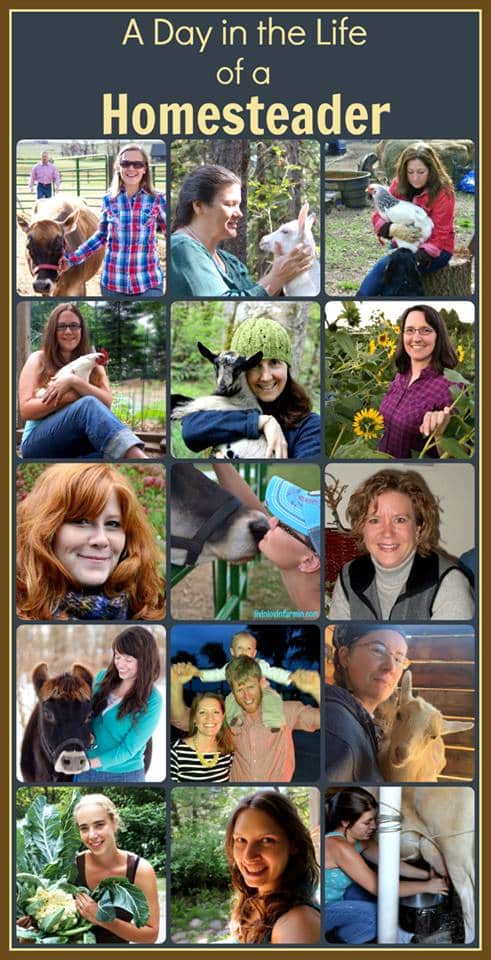 Want even more homesteading stories? Check out: