Become More Self-Reliant – Start Here
For the majority of the American population, these terms probably conjure images of '60's hippies, rugged mountain men or perhaps Little House on the Prairie. For me, it's all about simply taking more personal responsibility and control of caring for my family. I am tired of big corporations and big government dictating my health and food choices. I believe we need, as a country, as communities and as individuals to develop our own resources, not be dependent on some foreign power that may pull the plug at any time.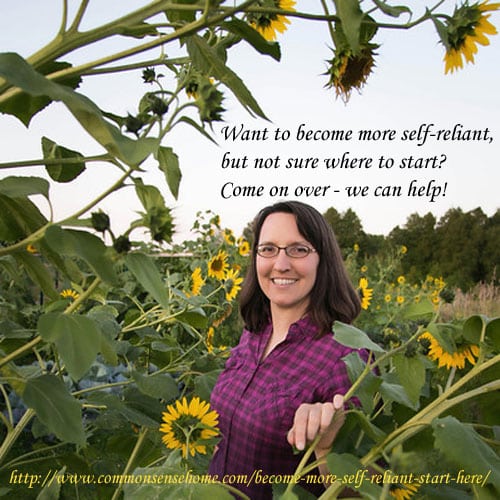 Self- sufficient – Self-reliant – Homesteading
When you can provide for yourself, and become more self-reliant, even in a small way, it gives you a feeling of empowerment, which often transfers to the rest of your life. You don't have to rely on experts to make your decisions for you. You can help your body to heal. We're here to help. Through this website, through our Facebook community, and through our network of resources that we're continuing to build, we'll help you get the information you need.
Small Steps Lead to Big Changes, Personal Growth
Ben Franklin made up a list of 13 virtues that he aspired to, and worked on one each day, until they became habit. The Japanese concept of "kaizen" translates to "continuous improvement". It involves taking small steps, every day, to make a process better. Take these time tested approaches and use them to change your world.
Make a List of Changes You Would Like to Make, Things You Would Like to Do, Skills You Would Like to Learn
Pick one thing off the list – start there. Don't go for "all or nothing" – that usually winds up being "nothing". Don't put off starting until this or that happens – there will always be a reason not to get started. Don't think you can't be a homesteader or more self-reliant because you live in the city – urban homesteading options are growing by leaps and bounds.
For instance, if you wanted to improve the quality of food your family eats, you might start with replacing a single prepackaged food item with a homemade version of that item. Continue until most things you eat are homemade or better quality pre-made. Eat out less (or not at all). Source your ingredients closer to home, either via CSA, farmer's market or growing your own. Add more veggies to your family' meals. Ditch the highly processed snack foods. Buy in bulk and learn how to store foods. Experiment with fermenting. Try sprouting. – As you can see, there are many steps you can take, you just need to choose what's right for you and try it.
I asked our facebook community what they would tell someone new to homesteading/preparing/growing your own food, and here are some highlights from what they shared:
Sarah – "One day at a time. Do lots of reading. And don't be afraid to fail or laugh at yourself. It's a life-long process, not something that happens overnight."
Kari – "Know you will make mistakes… but we all do. If you keep good records, you can learn from them… and not repeat them ;0}… take the time to know your land… where you spend the most time… what you want to see from your window… Know what your neighbors are growing… grow something complimentary so you can trade/barter… while you're at it, find out what their skills are… what tools they are willing to share…"
April – "Start small and don't get overwhelmed! Slowly replace the things you buy with alternatives/homemade."
Deanna – "Stock up a few things at a time, work on a small garden patch and grow it larger each year, learn to cook/bake as much from scratch as you can…start with a favorite food or snack and learn to make it yourself. There is an LDS preparedness manual readily available online you can glean information from on how to properly store foods, supplies, etc. As well as their monthly 'to buy/stock' list. It's a nice guideline to give some direction."
Michelle – "I have to tell new gardeners all the time not to get discouraged. It takes time to build up your soil, and some experimentation to discover what works best where you live. So the advice I would give is "never give up"."
Kelly – "Soil test with a reputable outfit that gives you precise steps for making your soil better. This can help eliminate the frustrating first couple of years, especially if you have poor soil."
Cynthea – "Go look for the people in your community who have been growing food successfully and grow the plants you like that they do. Get tips from them. Possibly do internship and/or work for food. This is also good deal if you have no land of your own.
Tracee – "Don't forget to use the free resources of your cooperative extension and public library. If you want something they don't have, ASK!"
Joshua – "Seed swaps are coming up and are free usually even without seeds to trade. Or even better check out the heirloom seed deals on ebay."
Allison – "Growing: try sprouting first, especially if you have limited growing space or cold weather. Preparing: join a CSA , and do a workshare if they offer it to lower the cost. Better yet, find an internship at a farm doing what you want to do."
Elizabeth – "Grow what you like to eat and add an experiment crop or two a year. Start small enough to manage and big enough to enjoy. And, don't stress over a few weeds."
Crystal – "I think keeping sustainability in mind is one of the hard things at first. Don't go out and buy organic fertilizer from WalMart – think local gardening center and getting a truckload of compost to start your beds. Then start a simple compost heap. Read, Read, Read. I think organic gardening is definitely the first area to explore. But one thing about that is that you have to really put in a lot of back work the first year in most areas to have immediate success, which I think is important for most people to want to continue growing. Double digging and intensive beds seem to be the most sustainable gardening method for people like me who have rocky and clay soil with little organic matter. They also really come in handy interplanting in the summer when bugs would normally bother the area. A simple seed starting setup can be made using a plastic shelving unit and fluoro lights for starting seeds for about $30. It will make the process a much cheaper one in the long run… transplants get expensive. Then when you begin to harvest start thinking about canning. If you have the time, finding a harvest festival in the area to attend in the fall is very helpful.
Sue – "Learn how to do ferments (kraut,kefir, veggies) and practice on those. Any fermenting mistakes you make can be poured on your plants. Buy heirloom seeds from a reputable company. Plan, plan, plan, during the long winter nights and keep your garden dreams close to your heart. ♥"
Kathleen – "Slowly start buying what is needed as you can afford it. Do not try to buy or do everything at once, You will get overwhelmed and burn out really fast."
Tami – "Think outside the box. You don't need to buy new everything. Look for what you need year around. Canning jars, lids, items for garden, seeds,etc. Let others know your plans and enlist their help when they go to garage sales, second hand stores, craigslist, freecycle and the like. Extended family is great! Once I shared our plans to start canning they cleaned out their basements of the jars they didn't use anymore."
My Healthy Green Family – "Trading can work too. Seed trades etc. I have traded chickens for goats and so on. It doesn't have to be expensive. We found one of our chicken coops free on craigslist, as well as a small greenhouse, tiles for the barn floor, windows and a door for a chicken coop…."
My Healthy Green Family – "As others have said, one thing at a time, maybe one year a time. Example, start with a small garden and take good care of it. Increase it the next year. The next year add chickens. The next year add goats, the next year add bees and so on until you are at your comfort zone (or max!). Don't jump into it all at once or you'll be so overwhelmed you won't be able to do any of it."
CJ – "Look at your hobbies. If you hunt, work to be better at it, same with fishing. Buy the best gear you can afford and do the hobby as much as you can. Someday soon, you will have to feed your "tribe" with what you can kill/catch…."
Rosalyn – "My biggest mistake was getting started before I had my farmette plan laid out. I should have spent a full year here before building any sheds or placing any fencing. Then I would have known more about where I spend the most time, where my wet spots are, how the pasture looks in each season etc."
Crosstown Farms – "START. Then be willing to change and adapt. READ everything & Question everyone! If something doesn't work try it again somewhere else, or a different way/variety. Remember a setback is not a failure it is an opportunity to LEARN!"
Start Today – Become More Self-Reliant – Change The Rest of Your Life
I know it sounds like a terrible cliche, but it's true. You can't accomplish anything if you don't get started. I've been on this path for years, and I still feel at times that I've barely scratched the surface. I hope you'll join me and my family on our homesteading journey, and share your stories and ideas as you make your own path to greater self-reliance.
Ready to get going? Check out the rest of our "Getting Started Homesteading" series. We cover everything from bees, worms and chickens to grain mills, food storage and gardening.
There are also a lot of good book reviews on the Homestead Library page.