"Winter had lasted so long that it seemed it would never end. It seemed that they would never really wake up." – from "The Long Winter" by Laura Ingalls Wilder.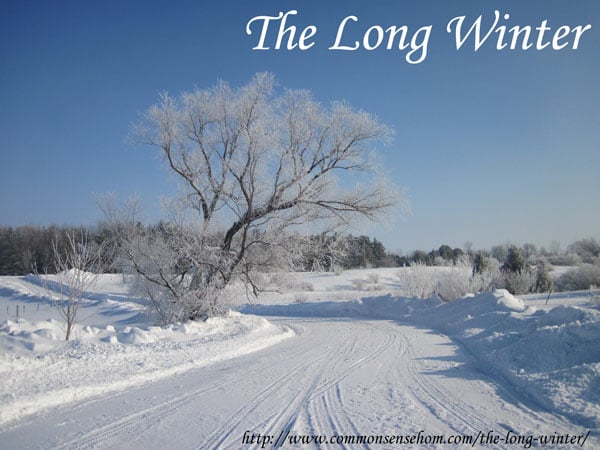 It may be old fashioned, but my youngest and I pile into bed and read together at bedtime. This winter we started working our way through the Little House series of books by Laura Ingalls Wilder. We've also started watching the TV series on the Hallmark channel. (Boy, what a difference between the books and the TV series!)  Right now we're reading "On the Banks of Plum Creek", but it feels like we're living in "The Long Winter".
Here in northeast Wisconsin (and in much of the U.S.), this winter has been one for the record books. We haven't had a snow pack this deep or temps this cold since I was a little girl, younger than my boys are now, back in the 1970's. I remember huge snow piles along the side of the road that were taller than a truck. We've got those again this year. Later this week, we'll set a record for days with temperatures below zero degrees Fahrenheit since they've been keeping track in this area. (We're at 45 days, with six more days in the forecast.)  Thankfully, we're not quite as bad off as the winter of 1880-1881 from "The Long Winter", and we have better snow moving equipment and supply lines.
The heat exchanger died in our combination water heater/space heater unit, so for about a month we operated on partial heat. We got the heating system fixed just in time for the well pump controller to die – on a Saturday night. Good news – the septic hasn't frozen yet and neither have any pipes. Hopefully we've got enough snow over the drainfield to protect it, and the Insulated Concrete Form walls should keep the pipes safe.
There have been weeks when we've stayed home, because the driveway kept drifting shut shortly after it was plowed. It's hard to explain to friends who live in the city that you simply cannot go places because you are literally trapped in your house. The driveway is several hundred yards long, and the banks on either side are as tall or taller than I am in many spots. When spring comes, we'll be helping the neighbor repair his fence line, because it got buried under the snow from our driveway. You can see small sections of the top of the fence posts on the left side of the photo below, sticking out of the snow bank.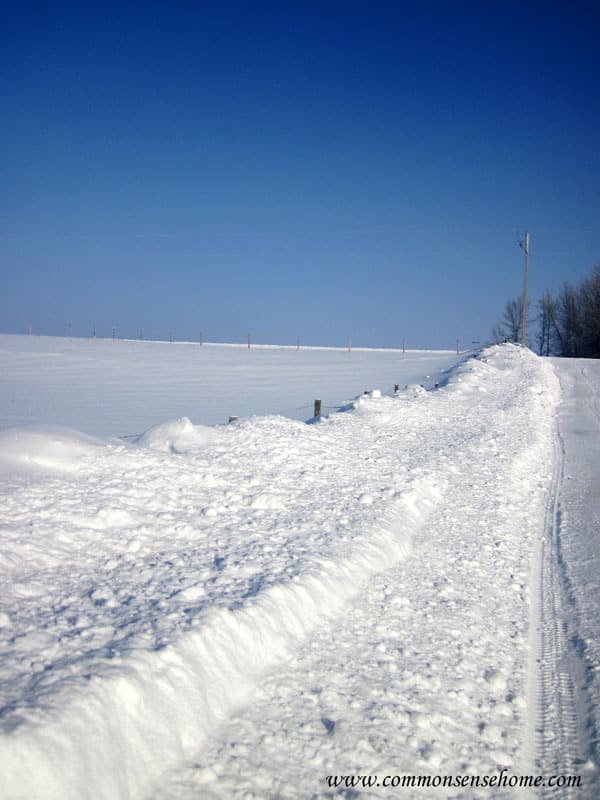 I got stuck one day when I *thought* could make it through the drifts. It took the boys and me about an hour to shovel out and a bucket of ashes. There were some yellow-green drips in the snow after we got it out, so I was concerned I had damaged something. I called the small garage about five minutes from here, and the next day the owner drove over with his plow truck, plowed his way in, picked up the van, checked it out and did an oil change, returned it, and plowed his way back out again. Who does that? I guess the answer is, "My neighbors." (By the way, it turned out the van wasn't damaged by the hard packed drift, it was just engine drips.)
High winds and heavy snows have plagued us this winter, as you can see from these photos and the ones in the "Winter Storm Survival" post, but some days have been blindingly beautiful. I thought I'd pull together a few of my favorite photos from this winter.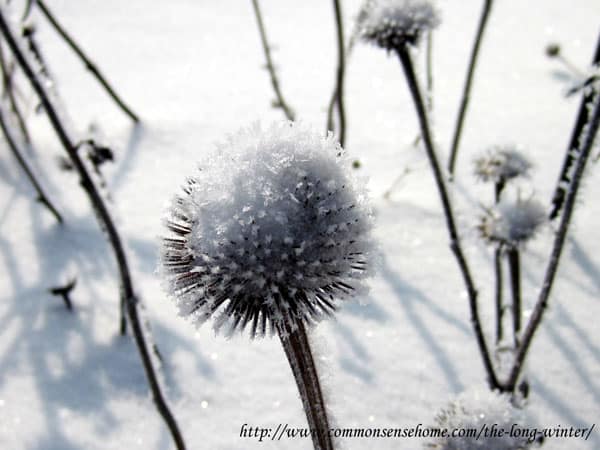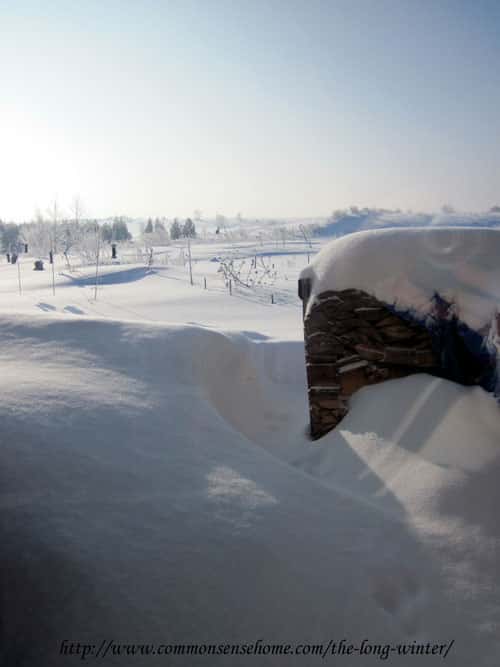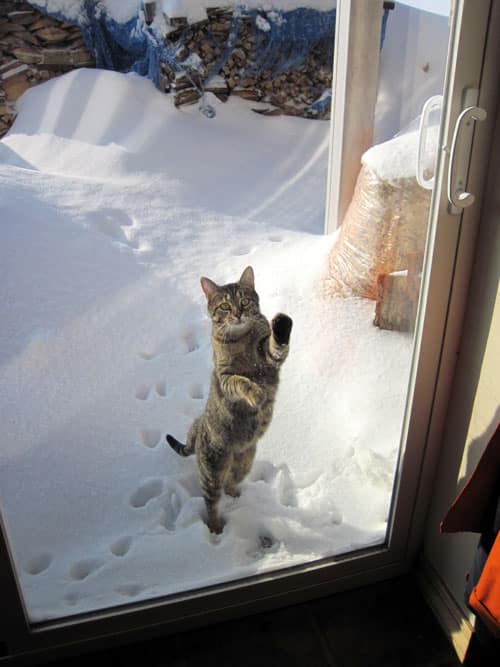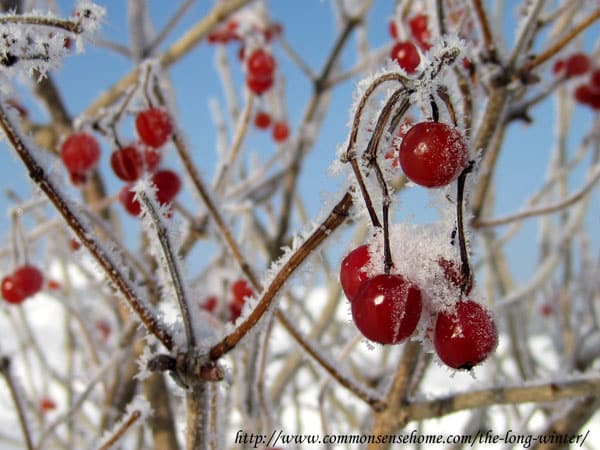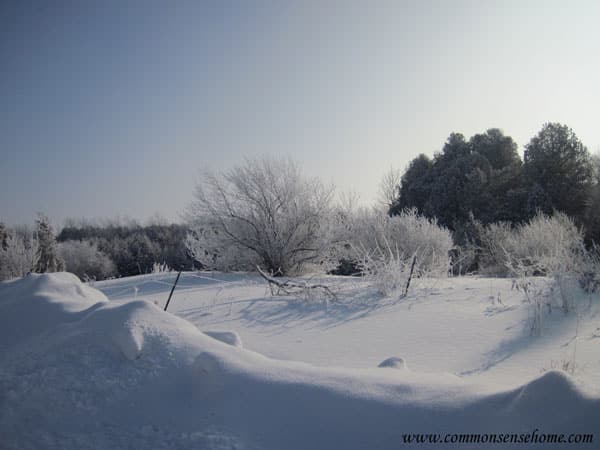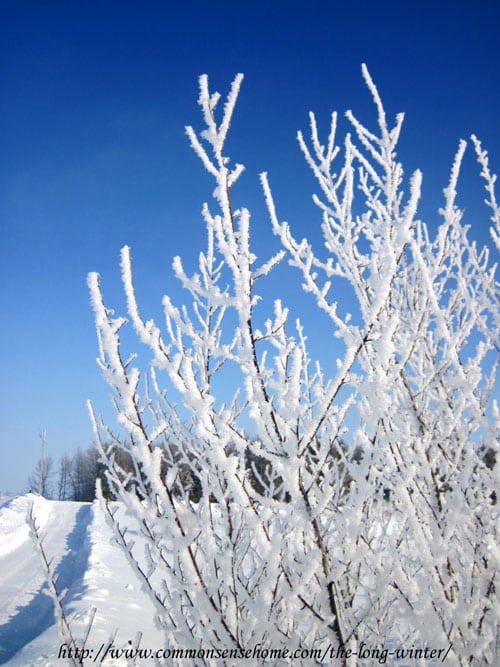 Now there's less than a month of "official" winter left, but it looks like we've got plenty of cold weather and storms to come. I confess, I'm jealous of online friends who are posting photos with green grass and fresh strawberries already, but not quite motivated enough that I want to move. I'd miss my local friends and family too much.
Stay safe and stay warm, and get those seeds started inside, because eventually spring will come, even here.