Emergency Radios (Handheld Radios)
Emergency radios are designed to keep you connected when regular communications fail.
In emergency situations like hurricanes, tornadoes, or power outages, a simple "receive only" type radio will get the job done. For communicating back and forth, you'll need a transceiver radio. A transceiver is a device that both transmits and receives.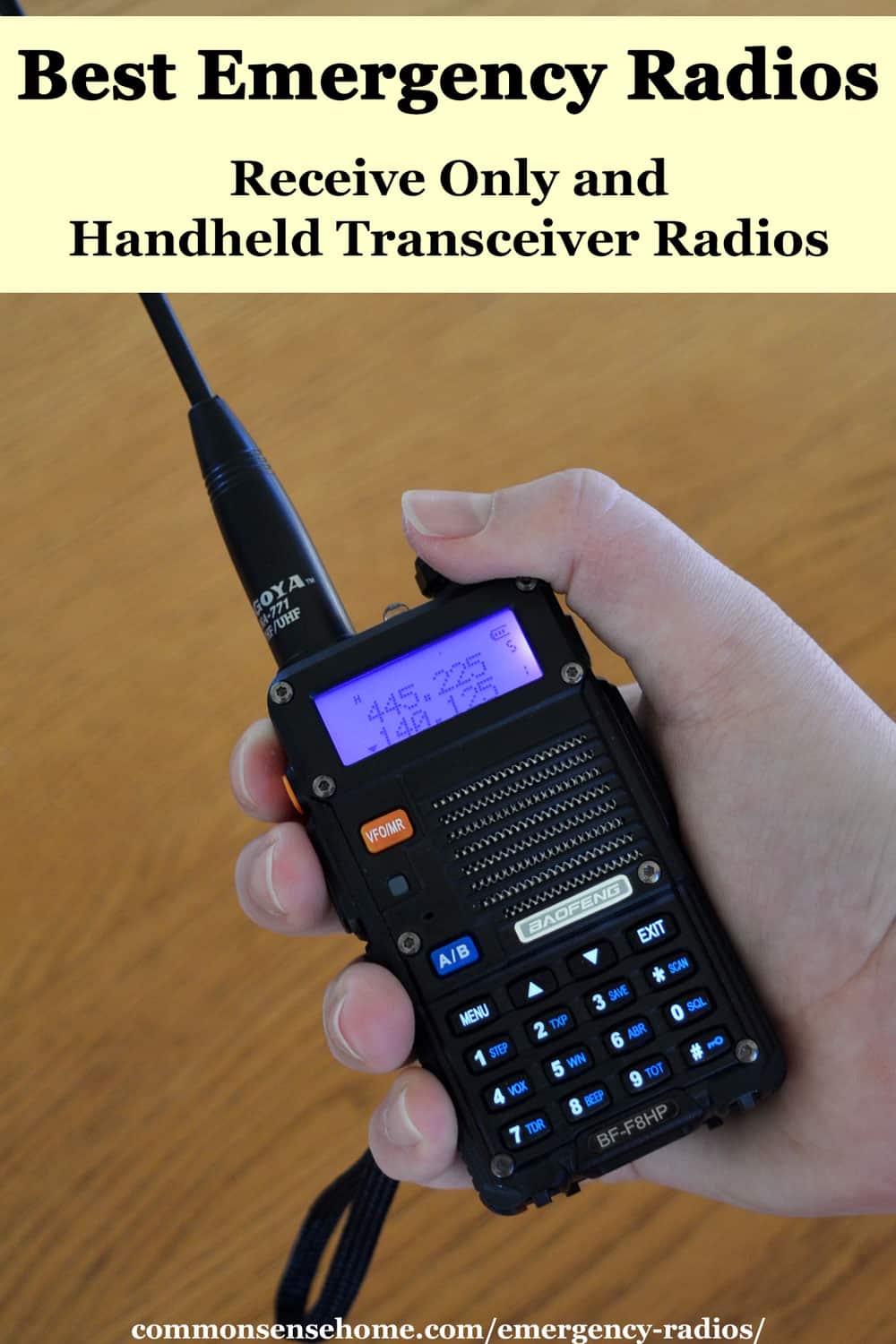 We'll share our current picks for both types, along with summary of radio frequency information. (It's not okay to take to the airwaves without some basic training.)
What is the Best Emergency Radio?
Having some sort of emergency communication device is critical for every home.
The receiver radios are simple and easy to operate. The transceiver (two way) radios generally require a license.
If you want a "listen only" option, get this. If you want to communicate back and forth, opt for this.
We recommend considering handheld HAM radios (shortwave) as it gives you two way communications in an emergency.
Emergency Radios (receive only)
Available stock of emergency radios is constantly changing, so look for a well rated model with plenty of reviews.
You want AM, FM, and weather alerts, plus multiple charging options. Many models now include USB adapters for charging your smartphone or other devices, and features like reading lamps.
In an emergency, your local AM broadcaster is likely to be your best source of important information. Broadcast transmitter facilities have backup generators, and can operate for days after the loss of grid power.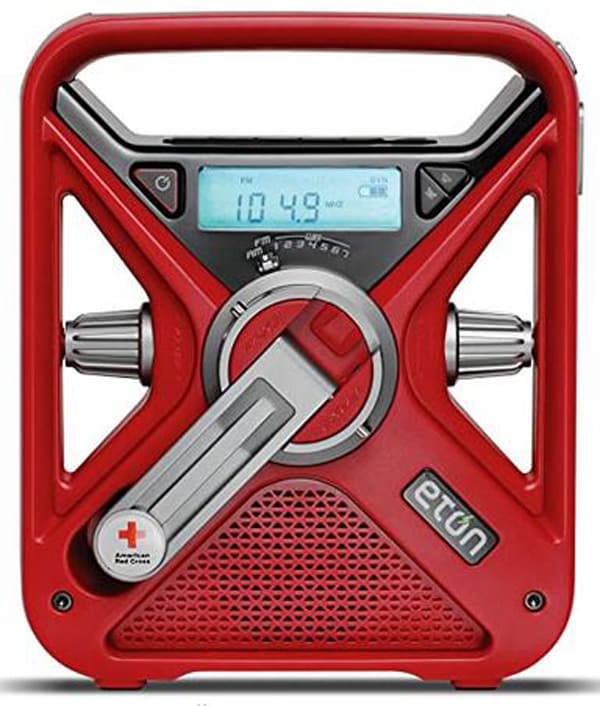 American Red Cross Emergency NOAA Weather Radio
This is a "listen only" emergency radio. The boxy design of the American Red Cross Emergency Radio gives it a distinctive look. This radio cannot broadcast (it is not a transceiver).
The American Red Cross FRX3+:
Receives AM/FM (digital radio)
Receives all 7 NOAA/Environment Canada Weather bands
Alert function broadcasts in emergency weather alerts
Hand turbine and solar power charging in emergencies
USB smartphone charge with 2600mAh battery for extended battery life
Long-lasting LED flashlight
One red LED flashing beacon
PPLEE Portable Emergency Solar Hand Crank Radio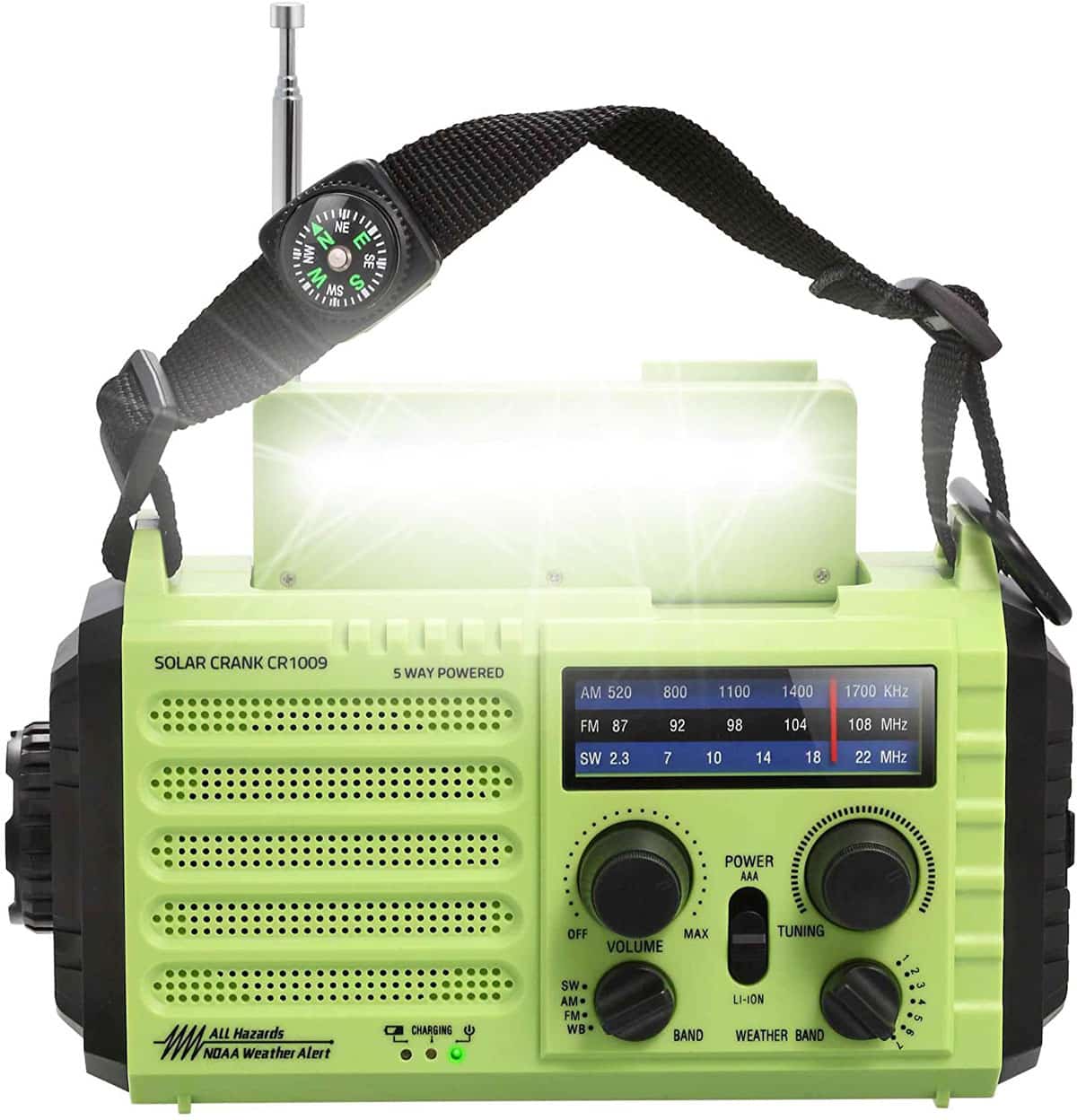 The PPEE is a good "listen only" emergency radio. You can listen to NOAA weather alerts, AM and FM stations, and Shortwave. You cannot broadcast.
This hand crank radio also includes solar changing, and is fairly inexpensive. It can also charge a USB device, or be charged from an outlet with an adapter.
Features include:
AM FM Shortwave radio & NOAA Severe Weather Channel
Strong 5W LED Flashlight
SOS Loud Alarm Sound
6 LED Reading light – to provide enough light for reading or playing.
USB port to charge your phone and other electronics.
Rotating solar panel for solar charging
Self Powered Dynamo Hand Crank
Outlet Operated – connect the included micro USB cable to the proper adapter(not included) when you are charging the crank solar radio.
Built-in 2000mAh Li-ion Rechargeable Battery – can be used as a power source for other electronics
Can also be powered by 3 AAA Batteries
Adjustable Hidden Antenna
Handheld Radios
There are numerous types of handheld radios including:
General Mobile Radio Service (GMRS)
Family Radio Service (FRS)
Radio FM/AM
Industrial/Scientific/Medical (ISM)
Multi-Use Radio Service (MURS)
High Def "digital" TV and regular "analog" TV
NOAA and emergency broadcast
CB (Citizen Band) and Amateur Radio Service also known as HAM radio
For an emergency radio or general communications, you want a handheld transceiver radio.
We'll give an overview of the various types and frequencies they operate in later in the post.
Best Handheld Ham Radio (Emergency Radio or General Communications – Transceiver)
We recommend the BAOFENG BF F8HP because of its flexibility for hunting, disasters and longer range rural communications. This unit can broadcast. YOU NEED TO GET A HAM AND/OR GMRS LICENSE FOR THIS UNIT. See The National Association for Amateur Radio, "Why should I get licensed?" for more information. You might also need a GMRS license. See licensing below.
The BaoFeng BF F8HP supports GMRS, FRS, HAM (Amateur Radio) frequencies and can listen to FM. It has three power settings: High 8 watt, Med 4 watt and Low 1 watt.
It supports:
65-75 MHz and 76-108 MHz (Only commercial FM radio reception)
VHF: 136-174 MHz (Rx/Tx)
UHF: 400-520 MHz(Rx/Tx) (FRS/GMRS)
Shortwave: Broad (Wideband) / Narrowband (Narrow) Selectable
Read the full BAOFENG BF F8HP – Review and Recommended Accessories for more information on this handheld radio.
We recommend these accessories: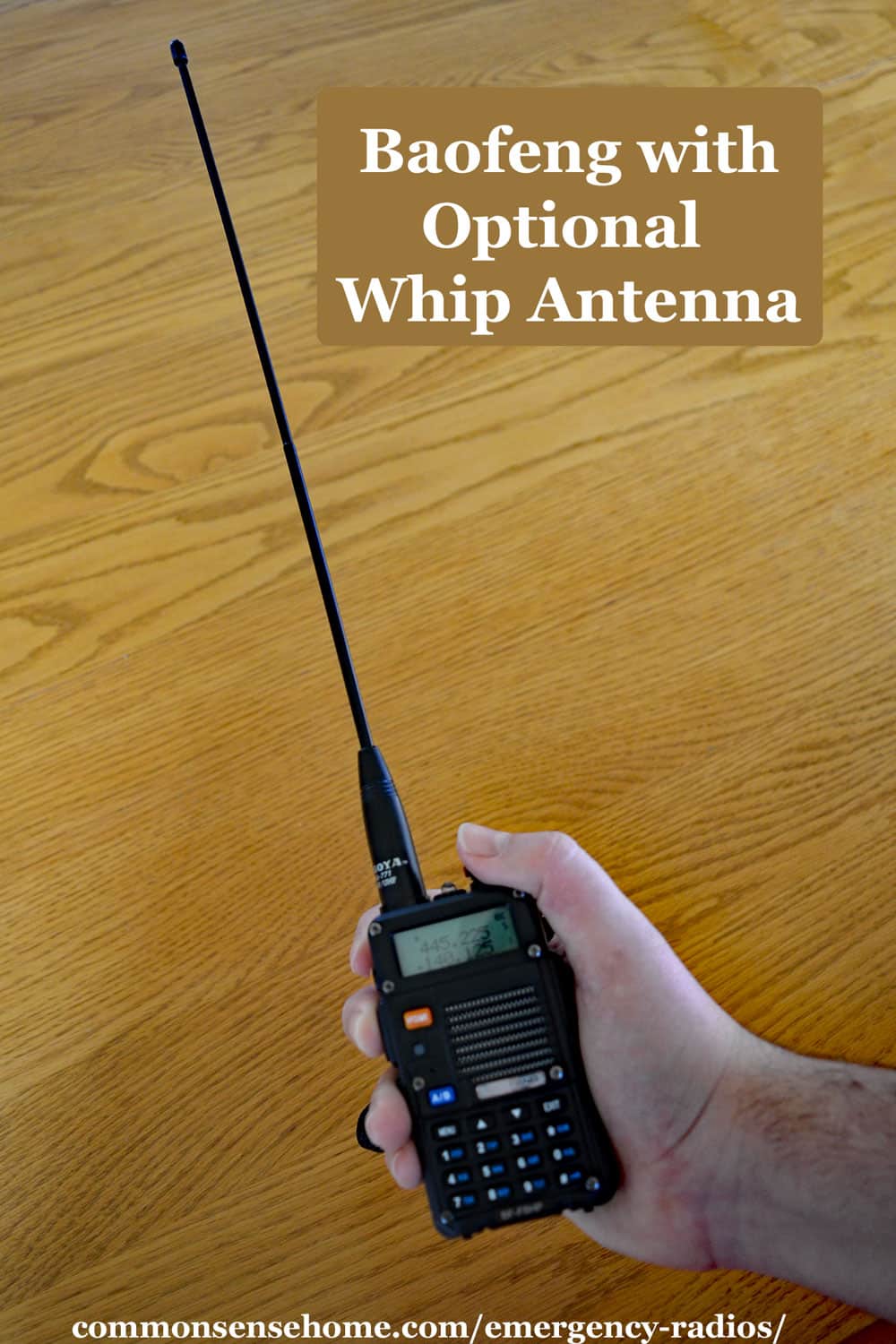 Where to buy? It is available on Amazon.com, BaoFengTech.com and eBay. We have seen it listed from as low as $35 to well over $100.
Beware of bait and switch everywhere, confirm the part number, and that the seller is reputable.
If the BF F8HP is not available the older UVR5 is an option but is 4 watts not 8 watts. There is a UVR5 8watt.
BF-8HP Related Information
Runner Up Handheld Ham Emergency Radio Recommendation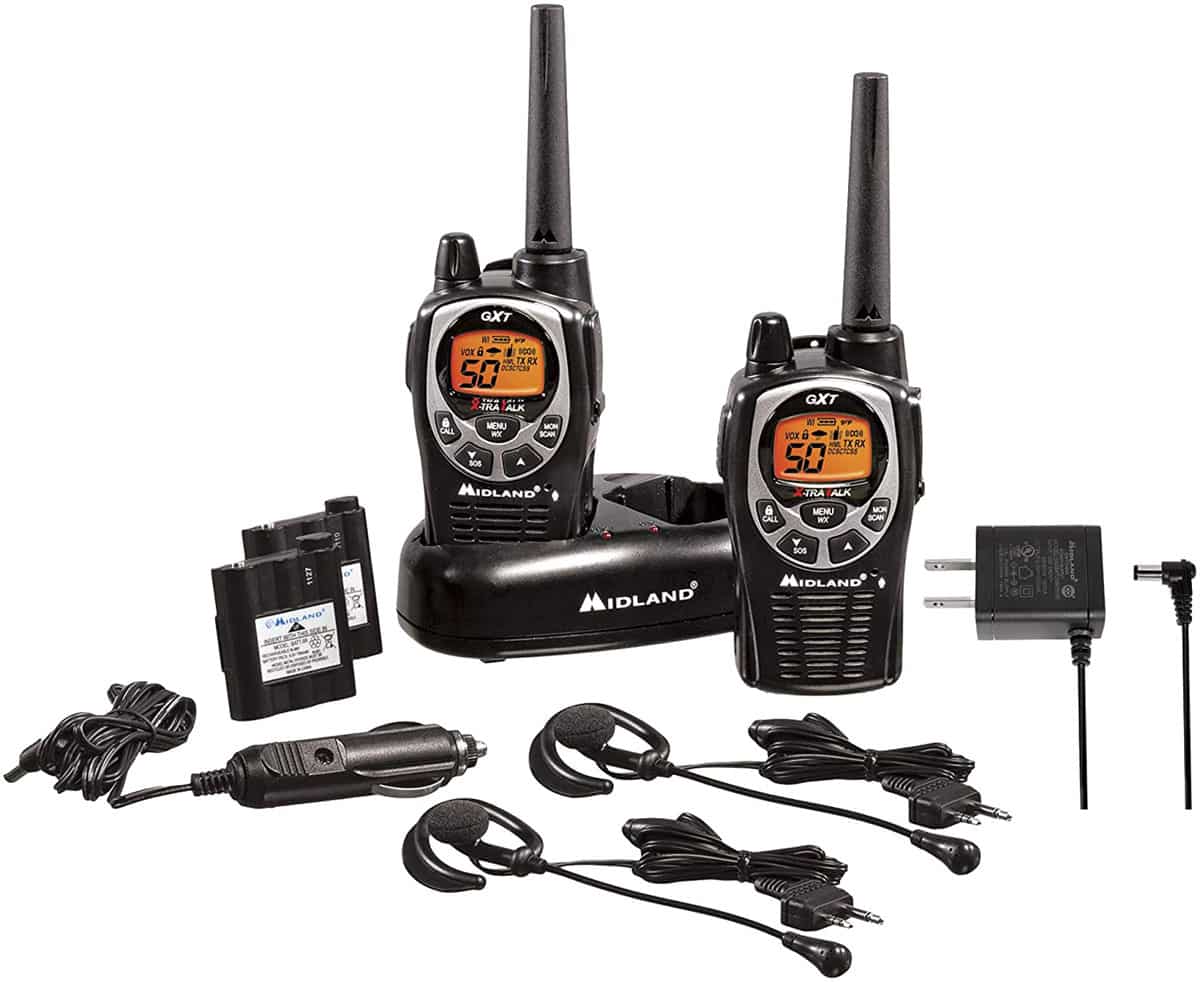 If you are looking for a "Buy it and it just works", consider the Midland GMRS radios. The Midland 15w base station and the Midland 2 pack is a good combo. There are other options: Midland 4pack and the Midland 8pack.
The Midlands use GMRS and theoretically have a 36 mile range, however in the real world it is much shorter. In our testing closer to 5 miles or less in wooded and/or hilly terrain. The range is better if there aren't trees. See below for licensing requirements.
Radio Frequency Information
What emergency radios need a license and which ones don't? We'll give a quick summary below.
GMRS (License Required)
General Mobile Radio Service (GMRS) is two-way and operates in the 462-467MHz range. At low power .2 to 2watt it doesn't require a license, but at high power 5w to 50watt it does.
The FCC licenses GMRS "to facilitate the activities of licensees and their immediate family members." So, only small family run businesses qualify to use GMRS.
One license covers the licensee and their immediate family members. Max range is up to 36 miles.

You can apply for a GMRS license online at the FCC Universal Licensing System, or by filing FCC Form 605, available online here.
The FCC sets license filing fees annually, and current filing fees can be found online at FCC Fees. Licenses are granted for ten years.
FRS Radios (No license required)
FRS is two-way radio that uses unlicensed frequencies. Midland & Motorola are the best manufactures of these radios. The frequencies are 462 and 467.
Normal Range is up to 2 miles. Think line of sight.
Service between low power hand-held radios, for individual, family, group, recreational and now includes business activities. Channels 1 – 7 and 15 – 22 must not exceed 2.0 Watts. Max range from 1/2 mile to 1 mile.
ISM (No license required)
Two-way. Reserved for industrial, scientific and medical applications, but manufacturers are making walkie talkies to take advantage of them. Operates in the 900, 2400 and 5000 MHz
MURS (No license required)
MURS is a two-way radio system. MURS radios come pre-programmed with MURS frequencies.
MURS is a private, two-way short-distance voice or data radio communications service. The service operates on five VHF channels in 151 – 154 MHz.
MURS users must cooperate in using the five channels to reduce interference to other users. No user has priority over any other user, but all users must yield to emergency radio communications.

A MURS station may not operate as a repeater station, including store-and-forward packet radio operation, or a signal booster. Maximum allowable output power for a MURS unit is two watts.
Transmission range between two hand-held units varies depending on the unit's antenna height, terrain and weather.
Other Licensed Radios
Two-way. These are radios that require FCC licensing. They are used by police, fire, emergency response and the military.
Some large businesses may purchase licensed radios such as power companies or other utilities where it is necessary to keep in touch with mobile service trucks.. In many cases these are encrypted so people cannot listen in.
HD-TV and FM/AM Radios
Broadcast Only (one way). These are licensed and broadcast only. They require large antennas and are very expensive. No license is required to watch or listen. Licenses are required to broadcast.
NOAA Radios
NOAA is broadcast only (one way). It is a VHF radio service. They are run by the US Federal Government. You can ONLY listen.
All NOAA Weather Radio stations broadcast on one of seven frequencies in the VHF Public Service band: 162.400 megahertz (MHz), 162.425 MHz, 162.450 MHz, 162.475 MHz, 162.500 MHz, 162.525 MHz, and 162.550 MHz.
CB (Citizen Band)
CB is two-way and includes 40 public channels between 26.965 MHz and 27.405 MHz.
It is illegal raise the power output of your CB unit, attach any type of power amplifier or modify the unit internally. The maximum authorized power levels vary depending on whether the station is transmitting a single side band signal (up to twelve watts Peak Envelope Power or PEP) or an AM signal (up to four watts PEP).
These have the advantage that a LOT of people own them, and your chances of being heard in an emergency are better. But the range is short.
HAM Radios
Ham radio is shortwave two-way communication and requires a license to broadcast. HAM radio is also referred to as Amateur Radio Service. HAM uses FCC controlled radio frequencies. They have very important capabilities for communication, but you need a license to broadcast. Anyone can listen to Shortwave (HAM).

There are 3 classes of licenses:
Technician (most common)
General
Amateur Extra.
The class licensee is determined by the degree of skill and knowledge in operating a station that the licensee demonstrates during an examination to volunteer examiners (VEs) .

Aside from the VHF and UHF frequencies, technicians can use
80 meters 3.525 – 3.600 Mhz
40 meters 7.025 – 7.125 Mhz
15 meters 21.025 – 21.200 Mhz
10 meters 28.000 – 28.300 Mhz and 28.300 – 28.500
On these frequencies, only Morse Code is permitted.
10 Meters 28.300 – 28.500 – Single-Sideband (Morse Code Only)
For 80 through 10 meter operation, Technicians class hams are limited to 200 watts PEP (Peak Envelope Power) maximum power
For a full list of frequencies by "class" see US Amateur Radio Frequency Allocations.
The unique thing about the frequencies between 3 and 30 MHz is that they have the capability of reaching thousands of miles of range. These frequencies are of incredible value for communicating outside of one's immediate vicinity.
General and Extra Class licensees have many more frequencies available for use, and can take full advantage of these long distance frequencies.
How Hard is it to get an Amateur Radio License?
Some of the HAM license questions are common sense, but most people will need to invest some time learning. Background in circuitry or communications is helpful, but not required.
The National Association for Amateur Radio Sample Exam Questions
Some online HAM radio study guides:
Note: These are links to pdfs that download for you to read.
For licensing guide books, see:
More Emergency Preparedness Articles
We have over 100 preparedness articles on the site, all indexed by category on the Common Sense Preparedness page.
Related Articles:
Special thanks to David W. Cripe of NM0S Electronics for his assistance with this article.
Last updated: August 2021