Thorfire LED Camping Lantern Review – Camp & Emergency Light
The collapsible, lightweight design of the ThorFire LED Camping Lantern makes it a good choice for camping, patio, or emergency lighting.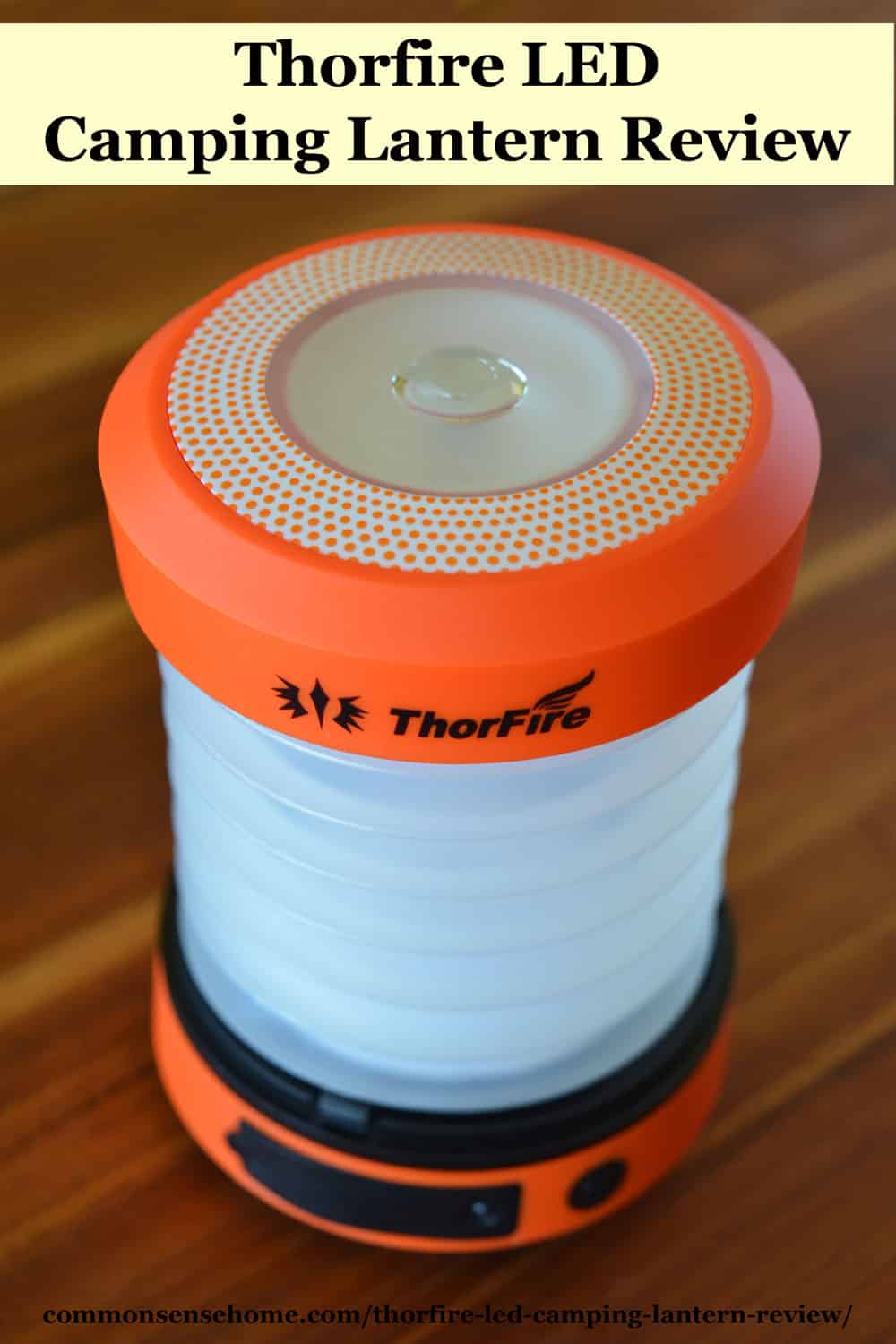 Why we Picked the Thorfire LED Camping Lantern
We wanted a lamp for camping/hiking and short power outages, with enough durability for an extended power outage.
You can use a flashlight for emergency lighting by setting the flashlight on its tail and pointing at the ceiling. The problem is that many cheaper flashlights will overheat if left on too long.
We used mini Kootek flashlights as room lights during a power outage – one time. A hand got burned and they were so hot we were concerned they could start a fire. Our Thorfire LED camping lantern never got hot with extended use.
Design
The Thorfire light expands by pulling on the top and bottom, accordion style, to open it into a lamp. To convert it back to a hand light, simply press the ends together until it clicks.
Because the lantern folds up, it's easy to store in a backpack or emergency kit in your home or apartment. The light comes in 4 colors: Red, Green, Orange and Yellow.
There is a push button control for on/off and high/low settings on the bottom ring of the base. Next to the power button is a small cover over the USB and Micro USB ports. It includes a hanging handle on the bottom.
The product package includes:
ThorFire CL01 Camping Lantern
DC/Micro USB Charging Cable
User Manual
ThorFire's ONE YEAR hassle-free after-sales service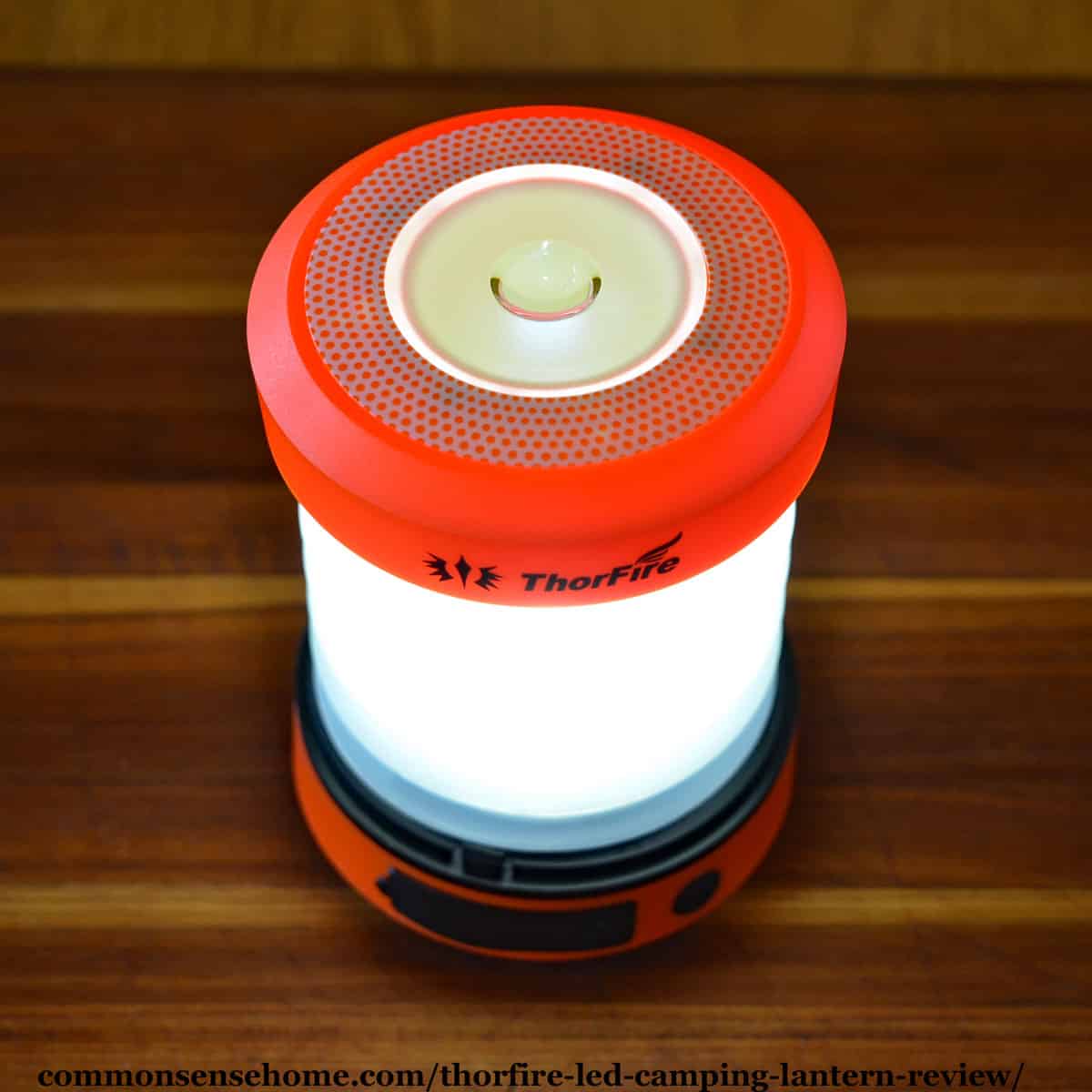 Lighting
The high brightness setting is 125 lumens, and the low setting is 30 lumens. The manufacturer claims that when fully charged it can run 40 minutes on high and 4 hours on low.
Both the lumen runtime ratings and runtime are a bit high. We found it is closer to 100 lumens for 30 minutes and 20 lumens for 3 hours.
We like the two brightness modes. Low is good enough to move around in a larger room but not bright enough to read. High is bright enough to read, if you are close to the light.
According to the manufacturer, it can be recharged up to 500 times.
Charging
You charge the Thorfire LED Camping Lantern via the hand crank or the micro charging cable. (They also have a different model with built in solar charger and no crank.)
When charging, there is a red LED indicator light on the base, which changes to green when fully charged. Crank charge with the unit collapsed and locked. The Thorfire does have overcharge protection in case a child is cranking after the charge is showing green.
If you want to use the camping lantern to charge other devices, it works, but it doesn't work great. Apple products don't like it at all, others are likely to give a "slow charge" warning.
To work around this, we used the crank on the camping lantern to charge a battery pack. Then we used the battery pack to charge the sensitive electronics.
Thorfire LED Camping Lantern Usage
The Thorfire LED Camping Lantern works well as a night light or tent lamp for camping. As mentioned above, it's also a good emergency light or patio light.
When you collapse the light to its palm sized "mini flashlight" form, it concentrates the light. Set on high. it's bright enough that you could see to pull a sliver. (Or do other delicate work.)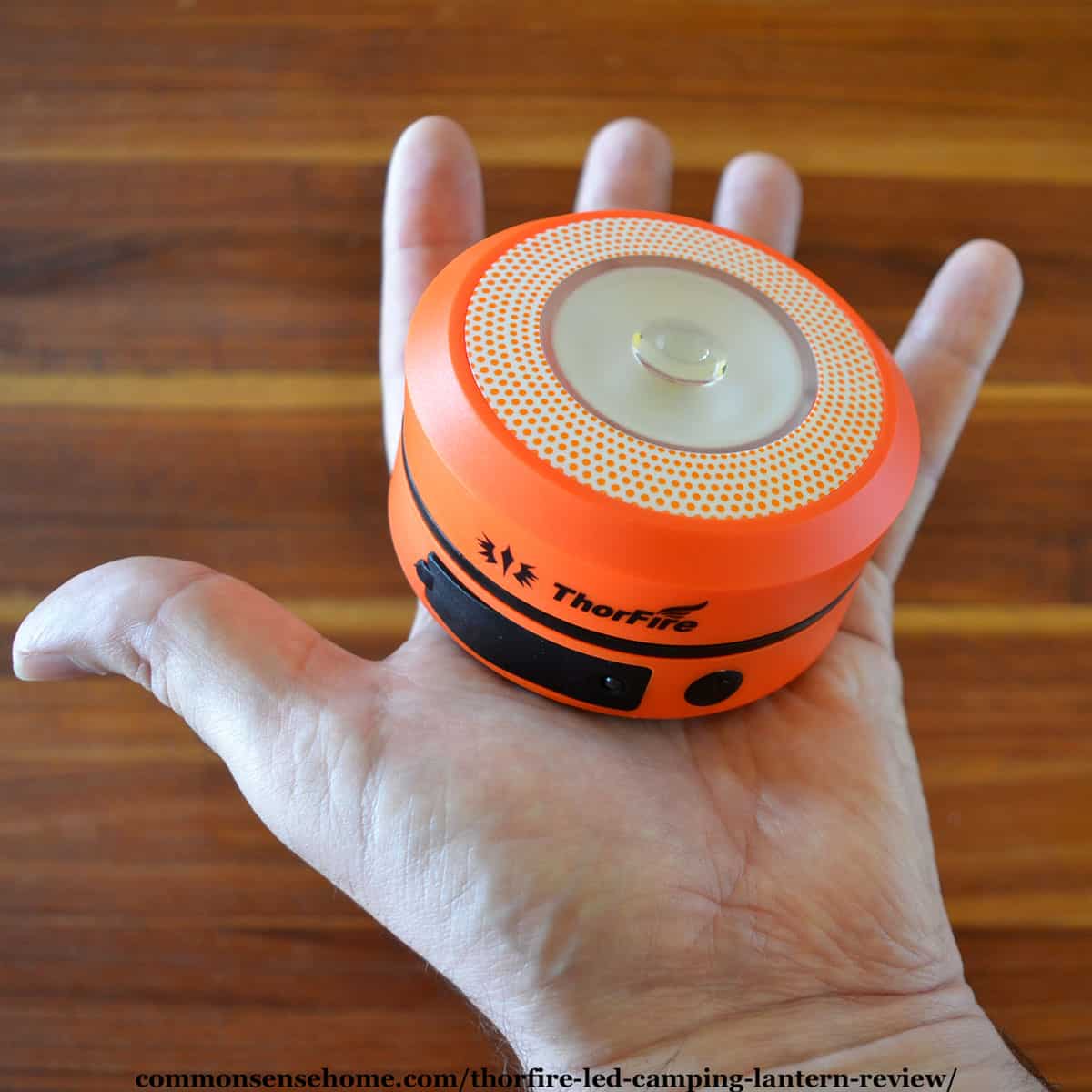 The Things we didn't like about the Thorfire
The Thorfire CL01 has no IPX rating, meaning isn't waterproof. A little more light and bigger battery would be nice, but would increase the weight and size. Solar charging would be a nice feature.
You can't easily replace the built in battery. A tinkerer could probably force it to work with a 3.7v battery, but there isn't much space inside.
NOTE: We strongly recommend you test out ANY emergency device you purchase immediately to make sure it works. As with any mass-produced item, sometimes a subpar unit makes its way out the door. Don't wait until until an emergency to try it out.
Thorfire LED Camping Lantern Specifications
Model: Thorfire CL01
Expanded Size: 4.72inches (12cm) tall
Collapsed Size: 1.77in (4.5cm) tall
Diameter: 3.3in (4.5cm)
Weight: 5.8oz (168g)
Battery: 300mAh 3.7V (internal – not removable)
Two Brightness Settings: High: 125LM (40min); Low: 30LM (4 hour)**
Charging the light: Hand cranking or DC 5V Micro USB
Charging other devices: Standard USB
Hand Crank (on the bottom)
Includes USB to Micro USB cable and manual
Made in China
** Note the paper documentation inside the packaging says 65 lumen and 15 lumen. The exterior packaging indicates 125 lumen and 30 lumen. The actual brightness is closer to 100 lumens and 20 lumens.
How much cranking is necessary?
Below are estimates after 1 minute of hand cranking. The charging time varies because of the multi-stage dynamo.
When cranking 120 times a minute
18 mins light on High Mode
40 mins light on Low Mode
Full charge 5 to 7min minutes
When cranking 90 times a minute
15 mins light on High Mode
20 mins light on Low Mode
Full Charge 7 to 14 minutes
When cranking 60 to 80 times a minute
4 mins light on High Mode
11 mins light on Low Mode
Full Charge 14 to 25 minutes
Full Charge Runtime
40 minutes on High Mode
4.5 hours on Low Mode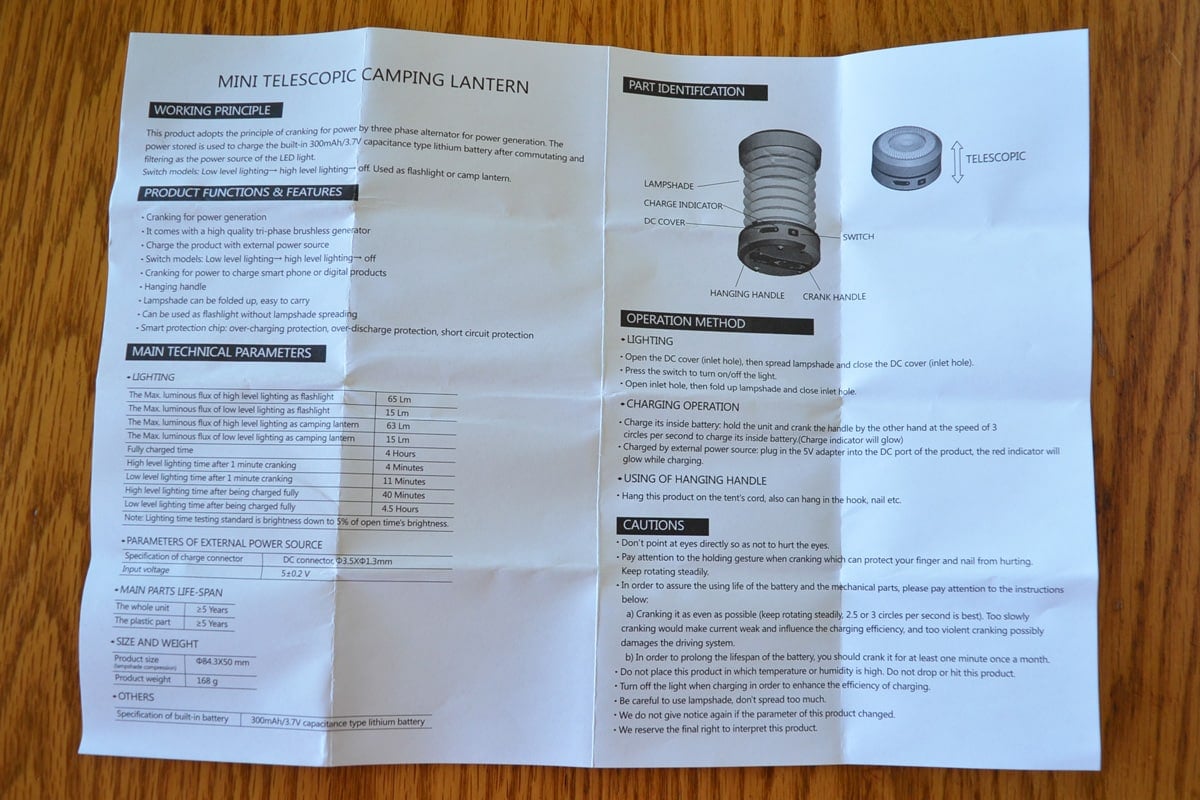 Related Posts