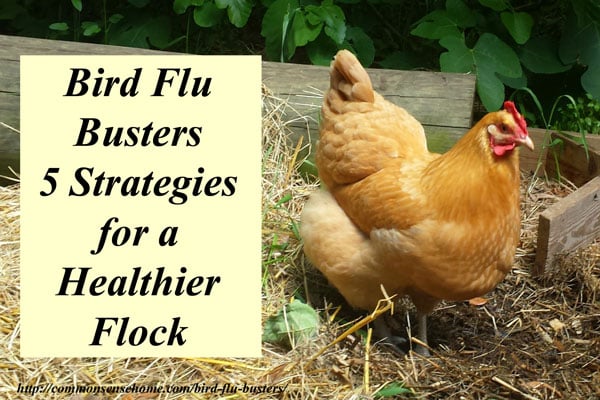 "The worst bird flu outbreak in U.S. history"
If you are a chicken consumer or raise chickens yourself, chances are you are concerned over this recent bird flu outbreak, both personally and financially. The price of eggs has increased over 58%, causing grocery stores and restaurants to restrict consumption and availability and increase cost.
Bird Flu, also known as avian influenza, has reached 21 states across the nation and is spreading. Affecting more than 47 million birds and counting; this outbreak is having a direct impact on consumers and farmers across the nation.
In Iowa alone, over 40% of their egg-laying chickens and 11% of their turkeys have been impacted – over 29 million poultry!
Iowa, the top egg-producing state in the United States, is the third state to declare a state of emergency because of the (avian) viral outbreak.
The current strain of Bird Flu sweeping across the nation is H5N2 and the H5N8, not to be confused with H7N9* that has killed so many people in China. There are numerous different strains of avian influenza; however, most do not cause illness in people. H5N1 is a strain of avian influenza, and is a concern among the scientific and medical community with regard to its potential to cause a pandemic.
The H5N1 strain can infect birds, other animals and people. No human infections with these viruses have been detected at this time; however similar viruses (H7N9*) have infected people in other countries and caused serious illness and death in some cases. Human infections with other avian influenza viruses have occurred after close and prolonged contact with infected birds or the excretions/secretions of infected birds (e.g., droppings, oral fluids).
While the health risk posed to the general public by these domestic HPAI outbreaks is low at this time, it is possible that human infections with these viruses may occur.
From the CDC Avian Flu information page:
What is H7N9?
"H7N9" is the designation for one subtype of influenza viruses that is sometimes found in birds, but that does not normally infect humans. Like all influenza A viruses, there also are different strains of H7N9. Beginning at the end of March 2013, China reported human and bird (poultry) infections with a new strain of H7N9 that is very different from previously seen H7N9 viruses
There are no current vaccines against the H5N8 or H7N9 virus and only one vaccine against the H5N1 strain.
How Do Domestic Poultry Catch Bird Flu (Avian Influenza)?
The CDC States that: "Domesticated birds (chickens, turkeys, etc.) may become infected with avian influenza A viruses through direct contact with infected waterfowl or other infected poultry, or through contact with surfaces that have been contaminated with the viruses."
"These viruses occur naturally among wild aquatic birds worldwide and can infect domestic poultry and other bird and animal species. Wild aquatic birds can be infected with avian influenza A viruses in their intestines and respiratory tract, but usually do not get sick."
Infected birds can shed a lot of flu virus, for example, in their droppings or their mucus. If someone touches an infected bird or an environment contaminated with virus and then touches their eyes, nose or mouth, they may be infected with bird flu virus. There is some evidence that infection may also occur if the flu virus becomes airborne somehow, such as when an infected bird flaps it wings. If someone were to breathe in airborne virus, it's possible they could get infected.
Like many viruses that occur in both humans and animals, some individuals get sick, others don't, even when they are both exposed to the same conditions.
What are the Symptoms of Bird Flu (Avian Influenza)?
From the CDC:
Infection of poultry with LPAI viruses may cause no disease or mild illness and may only cause mild signs (such as ruffled feathers and a drop in egg production) and may not be detected. Infection of poultry with HPAI viruses can cause severe disease with high mortality. Both HPAI and LPAI viruses can spread rapidly through flocks of poultry. HPAI virus infection in poultry (such as with HPAI H5 or HPAI H7 viruses) can cause disease that affects multiple internal organs with mortality up to 90% to 100%, often within 48 hours. Some ducks can be infected without any signs of illness.
How Do I Keep My Chickens from Getting Bird Flu?
Owning backyard chickens and being a large consumer of poultry products, I have been paying special attention to this serious situation. In my research, something really stood out to me when I was reading how the virus is spread among fowl; it's the bit where they usually don't get sick. How can wild fowl have this deadly disease and not get sick when millions of our farm-raised fowl are dying by the hour?
The answer may lie in the difference between wild and farm-raised. In the wild, fowl feed on their natural diets, live in their natural habitats, have a developed system that contains beneficial bacteria and microbes, and have a healthy immune system that can naturally resist bacteria and viruses. In captivity we raise our fowl in Confined Animal Feeding Operations (CAFOs) which are major warehouse-style growing facilities where animals are crowded together by the thousands, or in the case of chickens, tens of thousands.
CAFO poultry are primarily fed a diet of glyphosate-containing genetically engineered (GE) grains. To control disease and increase weight gain of animals, they may also be given antibiotics (which kill both beneficial and pathogenic bacteria). Both antibiotics and glyphosate disrupt gut bacteria, which are an important part of the immune system.
While there isn't a solution or a cure all (the mass slaughter isn't keeping the disease from spreading) you can take proactive measures. When our immune system is compromised it makes us susceptible to sickness and disease. Fowl are no different. If you are a backyard chicken owner the best way to protect your flock (and even yourself) is to help support a healthy immune system that can resist harmful bacteria and viruses.
5 Strategies for a Healthier Flock
"An ounce of prevention is worth a pound of cure" ~ Benjamin Franklin
Bird Flu Buster #1 – Flock Inspection and Coop Maintenance
Check for mites. Check your flock and their coop for mites monthly. Mites can make your flock susceptible.
Vent inspection. Signs of a sick bird can be diagnosed by proper vent inspections.
Comb inspection. Combs should be nice and red; a pale comb is a sign of a sick chicken.
Check the feet. Make sure your chicken(s) do not have scaly leg mites or bumblefoot.
Keep Coop and Roost Clean. Clean the coop every other day or at least weekly. Spray down with vinegar and inspect for insects or pest problems.
Herbs in the Coop. Herbs have natural antibacterial, antimicrobial, antiviral, and antifungal properties; using fresh or dried herbs in the coops will help support respiratory health, repel insects and help keep the flock calm and relaxed.
Learn more about using herbs in the coop.
Learn more about how to inspect a chicken for good health.
Bird Flu Buster #2 – Natural Diet
Chickens are omnivores. There is nothing 'natural' about chickens that are fed a vegetarian diet. If you are not able to let your chickens free-range to forage for their natural diet, make sure you offer grubs, meal worms, worms and crickets to eat for protein.
Bird Flu Buster #3 – Reduce stress
Keep them Comfortable – Don't Overcrowd your Flock. Give them plenty of room to reduce the stress with your flock. How Much Space do Your Chickens Need?
Keep Poultry Cool in the Summer and Warm in the Winter. Excessive temperatures will cause a compromised immune system in your flock. Cool your coop with a fan, shade, and air circulation in the heat of the summer. Offer a kiddy pool with shallow water for your flock to wade in. Use wood shavings, straw bales, or other natural forms of natural insulation to keep them warm in the winter.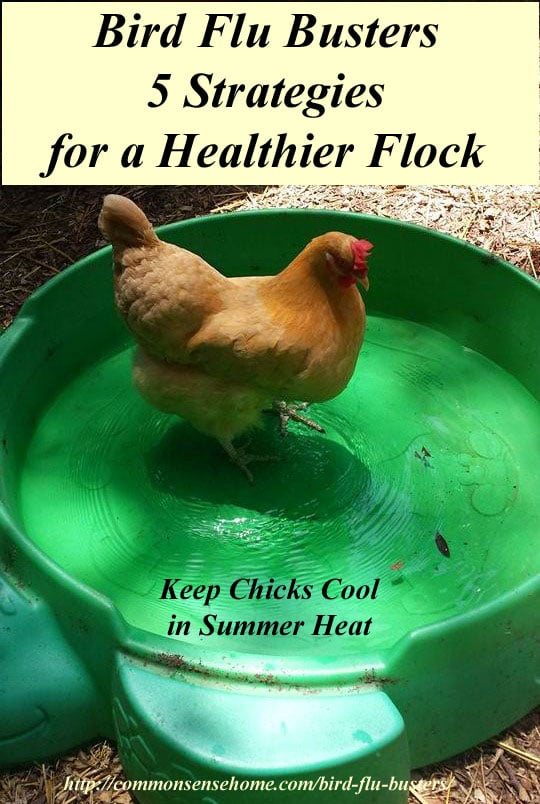 Forgo the Lights in the Coop. Adding lights in the coop adds stress to your flock by not allowing their bodies to take the natural respite they need during the winter months.
Remove aggressive Roosters; you may want baby chicks to keep you in constant egg supply, but keeping an aggressive roo that is destructive to your girls will do more harm than good in the long run.
Provide Predator Protection. Does your flock battle or hide from an imminent attack daily? Living in the state of constant fear will wear on the immune system. If predators are in abundance in your area considering letting them out only for supervised foraging and cover their free-range area with netting and or plant shade trees in which they can hide.
Free-Range When Appropriate. Chickens need to spread their wings and forage to get access to the widest array of foods and microbes. Plenty of fresh air and exercise is as good for them as it is for us.
Bird Flu Buster #4 – Probiotics and Health Care
Include these items in your birds' diet for a healthier flock.
Probiotics – Just like every living creature, poultry need a healthy digestive system and probiotics help support that system. I give my girls a little scoop in their feed daily.

Food Grade Diatomaceous Earth – Diatomaceous Earth is a poultry-keeper's best friend. It's 100% natural, and is used to help prevent for all manner of poultry ailments including intestinal worms, mites and lice. It's safe and non-toxic. Diatomaceous earth is a fine white powder made of the tiny fossilized remains of diatoms, a type of algae. Ours is food-grade, so it's safe for your pet chickens and safe for you to eat their eggs. Recommendations are to add 1 pound of DE to every 50 pounds of feed to help prevent intestinal worms. To help prevent external mites or lice, sprinkle some in the nest boxes, coop bedding, and especially in your chickens' dust bathing area. To treat a current lice infestation in your flock, apply it directly to your birds, especially beneath their wings and around their vents.

Apple Cider Vinegar (ACV) and Garlic – My family takes medicinal (we take it to prevent sickness) apple cider vinegar and fresh garlic every day and so does my flock. Learn more about using ACV and Garlic with your flock.
Fermented Feed – People have been eating fermented food for thousands of years to support good health. Fermenting your chicken feed not only saves you money but also has added health benefits for your flock.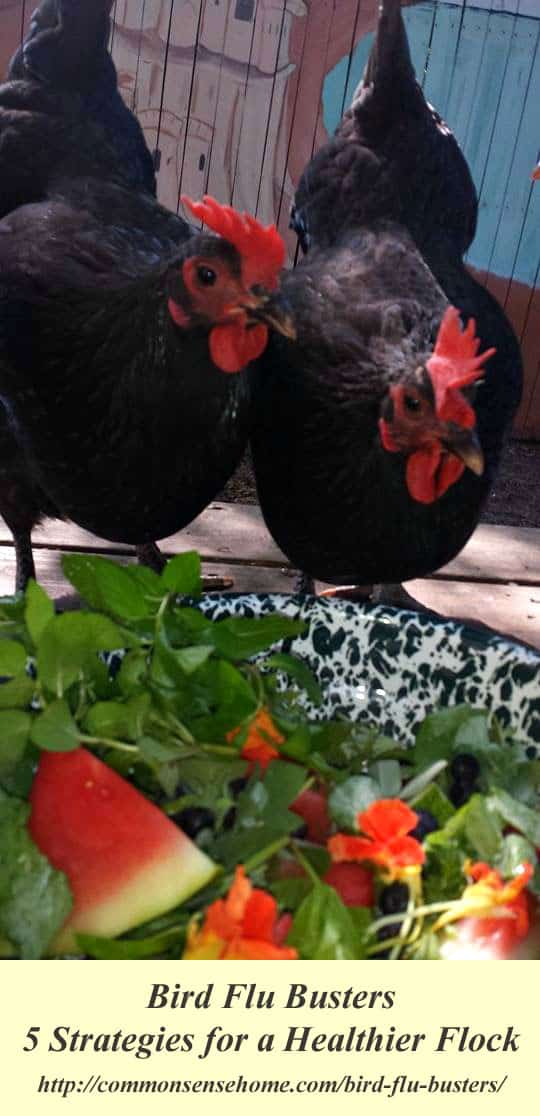 Bird Flu Buster #5 – Herbal Supplements
As I mentioned before, herbs have natural antimicrobial, antibacterial, antiviral, antiseptic and antifungal properties. When given to your flock, herbs can help support a healthy immune system. I feed herbs to my flock daily, along with other garden scraps. Whatever is growing in season is what they get to munch on. Oregano, for instance, contains antibiotic properties which may help prevent avian flu, blackhead, coccidia, e-coli, infectious bronchitis and salmonella. See a complete list of herbs that are good for chickens and their uses.
Help Prevent the Spread of Bird Flu
All bird owners, whether commercial producers or backyard enthusiasts, should continue to practice good biosecurity. Prevent contact between your birds and wild birds when possible. Report sick birds or unusual bird deaths to State/Federal officials, either through their state veterinarian or through USDA's toll-free number at 1-866-536-7593. Additional information on biosecurity for backyard flocks can be found at the USDA Biosecurity for Birds website.
Has there been an outbreak of bird flu in your area? What changes have you made to keep your flock healthy? We'd love to hear from you so we can all learn from each other.
You may also enjoy:
Other posts by Amber Bradshaw:
This post is by Amber Bradshaw of My Homestead Life.
Amber and her family moved from their tiny homestead by the ocean in South Carolina to forty-six acres in the Smoky Mountains in East Tennessee.
While building their off-the-grid homestead, they live like the days of old – cooking without electricity, collecting water from the creek and raising chickens, goats, pigs, turkeys, bees, and guineas. They've recently filmed their journey for a TV show on the Discovery Channel and the DIY Network/HGTV called Building Off The Grid: The Smokey Mountain Homestead.