How to Make a Burn Barrel – Burn Safe with Less Smoke
These instructions will help you make your own burn barrel for a country property or for emergency trash disposal. There are also a couple of commercial burn barrel options you can buy at the end of the post. You don't need to "build a burn barrel" so much as assemble the right parts correctly to minimize smoke and ash. Love them or hate them, burn barrels are a part of country living. With the cost of dropping trash at local dumps going up, more and more people are returning to using burn barrels. People sometimes complain about the smoke and the smell of a burning barrel of trash, but if you burn correctly, smoke and odor should be minimal.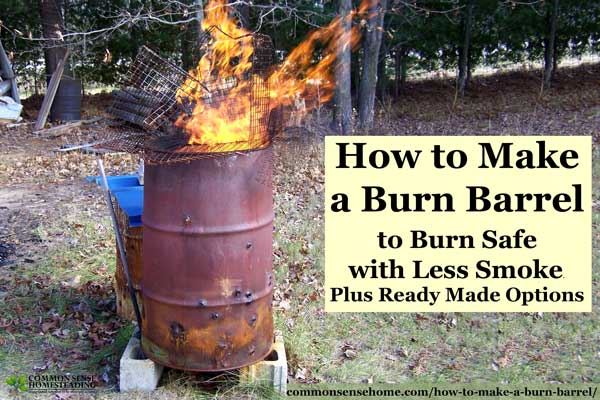 What is a burn barrel?
A standard burn barrel is a metal 55 gallon open head drum, modified to burn household trash safely and cleanly. (Inside diameter 22.5 inches, inside height 33.5 inches.) Basically, it's a personal incinerator. If you don't have one and are thinking of making one, please check local ordinances. You can also buy burn barrels ready made. (See bottom of post.)
How do I make a burn barrel?
Materials needed for a burn barrel:
55 gallon, open head (open on one end) steel drum (not plastic)
handgun or drill for making air holes
2 concrete blocks
metal grate or heavy fencing section to cover barrel opening
piece of sheet metal to cover barrel opening
Where to Locate a Burn Barrel
Choose a location for your barrel that is down the prevailing wind of your home and free of trees and other combustible materials. Some locals will dig up the sod under their barrels and fill in with sand…nice, but not necessary.
Assembling the Burn Barrel
Place air holes in your metal drum for air to enter during the burning process. How you put holes in the drum is up to you. Some people use a drill, others use a handgun.
Drill four 1/2 inch holes in the BOTTOM of the drum to allow any rainwater to run out
Drill approximately 20 holes in the sides of the drum, at varying heights
Create a fire cover – using an old grill top or fencing and bend it so it fits on loosely
Cut a piece of steel siding or roofing as a "rain cover" – put hooks or a tie on it if you have strong winds
Don't drill too many or your barrel will rust out faster or fail in the event of an aerosol can exploding inside the drum.
Once the holes are in place, set the barrel, open end up, onto some concrete blocks. Make sure the edges of the barrel are on the blocks but there is an airspace directly under the barrel. This is done to permit airflow and help with drainage.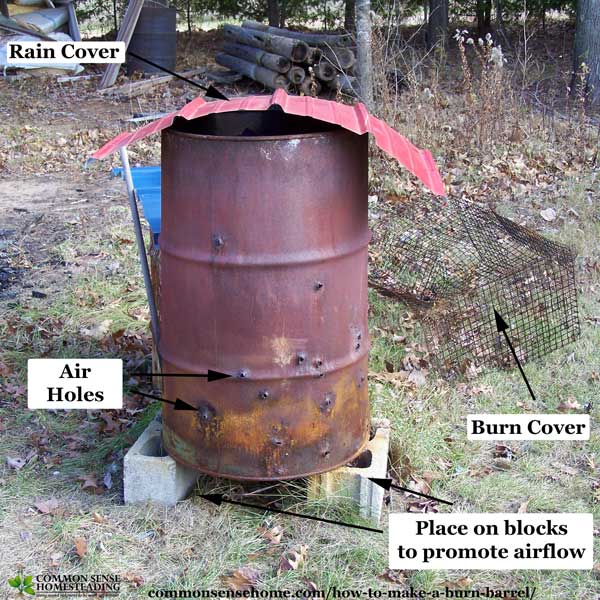 Burn Barrel Covers
When the barrel is in use, the opening should be covered by a burn cover. A burn cover is a metal grate, fencing or hardware cloth that will trap burning materials in the barrel. This limits the risk of combustible material escaping the barrel.
When not in use, the barrel should be covered by the sheet metal rain cover. A cover will stop the contents inside the barrel from getting wet and make for an easier burn, if you have trash waiting to burn. It will also keep the barrel from rusting as quickly.
What can I burn in a burn barrel?
Households produce trash. It's a fact of life. The efficiency of how well your barrel will operate begins in your kitchen.
DON'T BURN:
Recyclables
Food scraps (compost or feed to chickens)
Other non-combustible items, like light bulbs
Household hazardous waste, such as paint and chemicals. Contact your local municipality for proper disposal options.
Don't burn furniture or any large items, such as bags from silage. This is strictly for small amounts of easily burnable trash.
DO BURN:
Non-recyclable plastic (I'm talking the occasional small container, not large volume waste.)
Food wrappers
Paper and cardboard not suited for recycling (waxy or coated with food waste)
Recycle and Compost
Separate out any recyclables and use your local recycle centers. Many common plastic containers such as laundry jugs, shampoo, dish soap, vinegar, etc are #1 and #2, which are recyclable in most areas. Plastic grocery bags can now be dropped off at many retailers. #5 containers (such as yogurt cups, sour cream containers, lip balm containers and others) have been difficult to recycle, but there is a new website that lists over 200 locations worldwide that now accept #5 plastic for recycling.
Separate out your food scraps and feed them to your animals or throw them in your composting bin. (EVERYONE should have one!) The EPA estimates that roughly 14% of municipal solid waste is food scraps, and 13% is yard trimmings. That's close to 30% of waste that should be composted.
Other items can be thrown into the trashcan as usual. When your burn bag is full, take it out to the burn barrel!
How do I use a burn barrel?
This is where a lot of folks screw up, the results of which lead to smoky, stinky operation of burn barrels that irritate neighbors and are just plain nasty.
Place your bag of trash into the burn barrel. Burn your trash ONE bag at a time!!!! If you fill your burn barrel with too much trash, it will not burn completely and will smolder instead of burn. If you have more then one bag of trash, you can either light the first one and wait for it to burn down then insert the next bag or, as most locals do, have another barrel with a rain cover, and insert the second bag into the second barrel and cover to burn at a later time.
Editor's Note: Growing up on the farm, we never used an accelerant for lighting trash fires. We always set aside some dry newspaper and used that to start the fire. While CJ Harrington did provide instructions for using an accelerant, I can't share those due to liability concerns. If you can get a charcoal grill or campfire started, you should be able to start a trash fire. If you need fire starting tips, visit Camp Fire Dude.
Note: Common Sense Home and CJ Harrington assume no liability for burn barrel use. Please be careful.
At this point, your trash is burning, smoke is (hopefully) blowing away from your house, and you still have eyebrows!!!
What do I do with the ashes and unburned contents in the barrel?
After using your barrel for awhile, you will have a build up of ash and small un-burned/un-burnable items in your barrel. What do you do with it? Locals will wait until the barrel is about ½ full of ash. Then, they will empty the burn barrel into a large, heavy-duty trash bag and take it to the local dump. Seems silly to take the "leftovers" from a burn barrel to the dump? Not really. When you consider the money saved by burning many bags of trash in your barrel, or the space you are saving in a landfill, it makes sense. Also the ash may contain metals and other chemicals you don't want in your compost or yard.
Other Burn Barrel Considerations
For safety, don't burn on windy days. Place your trash in your barrel and put the rain cover on and wait for a calm day.
Make ABSOLUTELY SURE there are NO aerosol cans in your trash! They WILL explode in your barrel! If your barrel has too many holes in it or is badly rusted, this could cause the barrel to fail, sending flaming trash everywhere!
Watch your weather. If it's been hot and dry, there might be a fire ban in effect. Then, you will want to take your trash to the dump until the ban is lifted.
Be considerate of your neighbors! Burning your trash during the evening, when people are eating dinner or enjoying sitting out on their deck, is NOT advised! In this case, try to burn your trash during the day when the neighbors are at work. Some locals will come together and arrange a time to burn. That way, no one is hanging clothes out on the line, having a party in the yard or has windows open when the neighbor lights up his burn barrel.
If You're Going to Burn, Burn Safely
More and more people are returning to the traditions they grew up with and going back to using burn barrels. Look in backyards, behind garages…. you will still see them. You can be assured, they are still being used. If you choose use a burn barrel, do it the right way, stay safe and keep it neat.
This is a guest post by my friend, CJ Harrington, who homesteads in northern Wisconsin.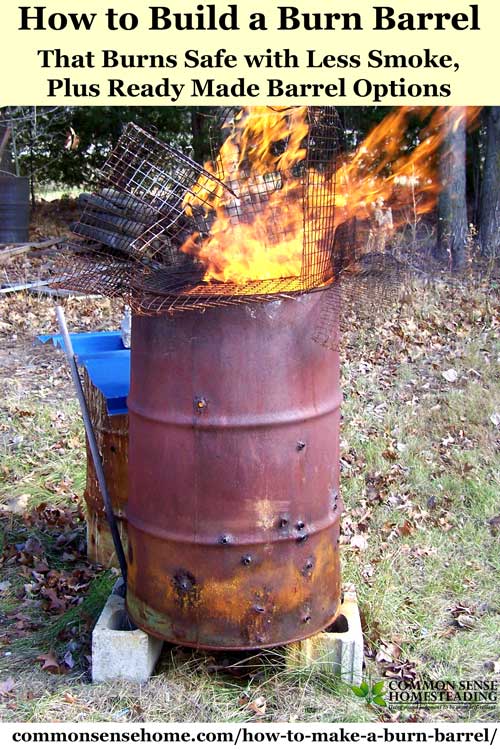 Buy a Burn Barrel
For those that are not inclined to make their own, there are a few options available for purchase.
Behrens has a modified 20 gallon metal trash can burn barrel. Note: This can is originally designed for composting, so it won't hold up as well as a burn barrel as the Burn Cage and Hi -Temp Burn Barrel listed below.
Bad Idea Blaze Burn Cage Incinerator is well reviewed and made with heavy duty steel.
Burn Right has an Extra Large 100% Stainless Steel Hi-Temp Burn Barrel – Including Ash Catcher. These units are made in the USA in Eagle River, Wisconsin.
From the reviews on their website:
"Evelyn G. – What a fantastic, friendly company! We got a phone call within a short time of ordering our incinerator checking on our shipping address. The gentleman was beyond friendly and even refunded a portion of the sale when he found out my husband had been in the military.

The incinerator arrived quickly, was easy to assemble and was put to use the following day. And boy, does it work! Hubby couldn't be more pleased to have a way to burn yard waste in a contained manner. Nothing left but a few ashes at the bottom. Wonderful product!"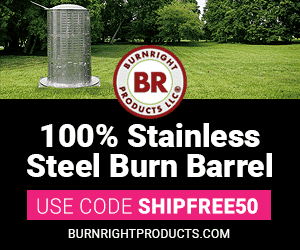 Other Common Sense Preparedness Posts
Originally posted in 2012, updated in 2017.