9 Home Remedies for Canker Sores & Tips to Avoid Canker Sore Triggers
Canker sores can be a real pain, and are sometimes tough to heal. In this post we'll give a quick overview of the different types of canker sores, what causes canker sores, the difference between canker sores and cold sores, and some inexpensive home remedies for canker sores. Hopefully if you've come here for canker sore pain relief and prevention, we've got on option that will get you back on track ASAP.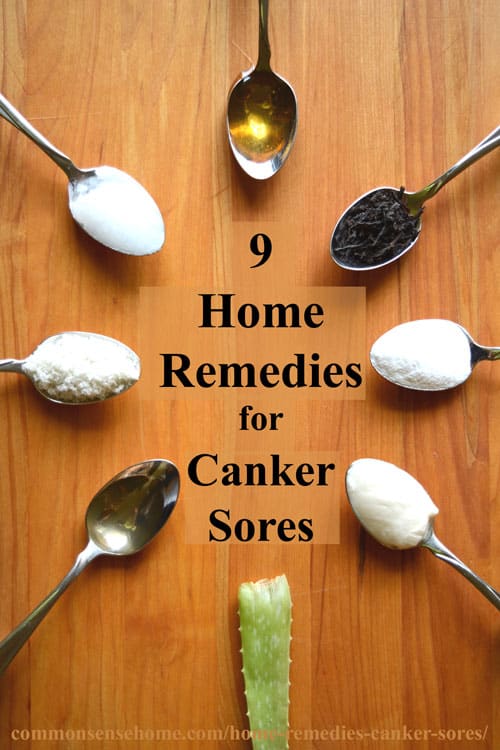 What is a Canker Sore?
From Webmd Canker Sore Information:
Canker sores are small shallow ulcers that appear in the mouth and often make eating and talking uncomfortable. There are two types of canker sores:

Simple canker sores. These may appear three or four times a year and last up to a week. They typically occur in people between 10 and 20 years of age.
Complex canker sores. These are less common and occur more often in people who have previously had them.
They continue with information on potential causes of canker sores –
The exact cause of most canker sores is unknown. Stress or tissue injury is thought to be the cause of simple canker sores. Certain foods – including citrus or acidic fruits and vegetables (such as lemons, oranges, pineapples, apples, figs, tomatoes, and strawberries) – can trigger a canker sore or make the problem worse. Sometimes a sharp tooth surface or dental appliance, such as braces or ill-fitting dentures, might also trigger canker sores.

Some cases of complex canker sores are caused by an underlying health condition, such as an impaired immune system; nutritional problems, such as vitamin B-12, zinc, folic acid, or iron deficiency; and gastrointestinal tract disease, such as Celiac disease and Crohn's disease.

Can you Prevent Canker Sores?

Although there is no cure for canker sores and they often reoccur, you may be able to reduce their frequency by:

1. Avoiding foods that irritate your mouth – including acidic or spicy foods
2. Avoiding irritation from gum chewing
3. Brushing with a soft-bristled brush after meals and flossing daily, which will keep your mouth free of foods that might trigger a sore.
So, if you have frequently occurring canker sores, you should probably take a look at your health/diet to see what the underlying factors might be.
What's the difference between canker sores and cold sores?
The University of Michigan Health Service cold and Canker sore webpage states:
Cold sores are a cluster of blisters that first appear clear then become cloudy. First infection may be inside the mouth, but cold sores generally appear outside the mouth on the lips.

Canker sores are gray or white sores surrounded by a red inflamed area. They occur only inside the mouth, on the tongue or the insides of the cheeks, lips or throat.
Cold sores (also known as fever blisters) are caused by a virus, herpes simplex virus (HSV), and may be transmitted via contact, especially when the sore is open. The cause of canker sores is unknown, and they are generally not considered to be transmittable.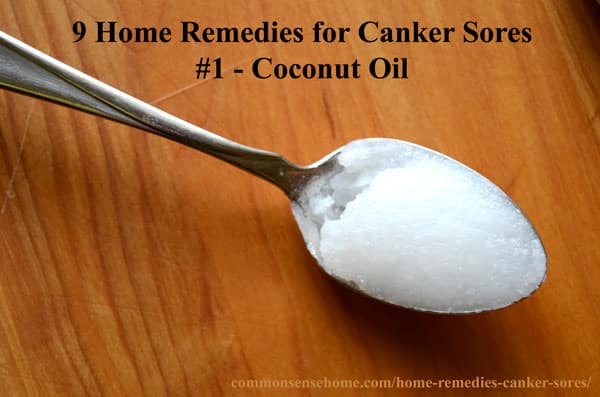 #1 – Coconut Oil
I rarely get canker sores, but the last one I had was inside my lower lip. The little blister was annoying – red, sore and constantly rubbing against my teeth. The bump wasn't huge, maybe 2 mm across. Since I was taking my tablespoon of coconut oil before breakfast, lunch and dinner anyway, I decided to hold the oil in the front of my mouth as long as possible as it dissolved.
After breakfast, the day got busy as usual and I didn't really have time to focus on the canker sore. It wasn't until around 4:30 in the afternoon when I was talking to my sister on the phone that I realized the bump was GONE. Nada, zip, zilch. I went and looked in the mirror and all that was left was a red spot and a slight indentation. By the next morning even that was mostly gone. The area was just a wee bit darker then the surrounding tissue. I NEVER healed a canker sore that fast. I've tried over the counter remedies, alum, ice cubes – nothing has worked this fast or this painlessly.
Coconut oil has also been used to treat warts. Get my favorite coconut oil here.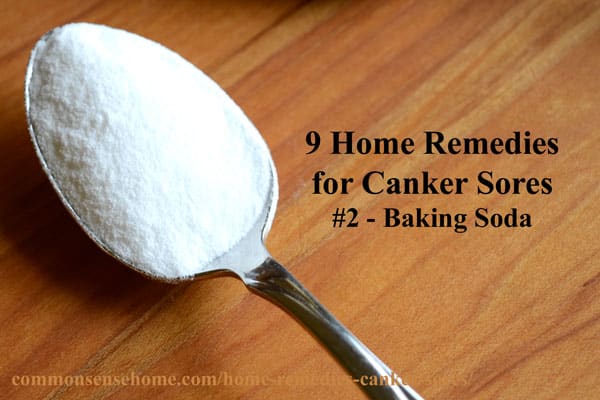 #2 – Baking Soda
Baking soda is the #4 recommended remedy on EarthClinic for canker sores. Users have treated canker sores by dissolving baking soda in water and holding it in their mouths, and by applying baking soda directly to the canker sore. Here is some feedback from EarthClinic users on baking soda.
From Tania:
Baking soda cured my canker sore within 24 hours. The canker sore on the side of my tongue was so sore I couldn't hardly swallow. I took 1tsp of baking soda and 1 tsp of water and kept it in my mouth as long as possible. I did this 3 times within an hour went to bed and did the same the next morning by dinner time the canker sore was gone!
From Shawna:
Out of the blue 4 days ago I got a canker sore that was 1.5 inches large on the side of my tongue. It was excruciating! Last night before bed I tried putting a baking soda paste on it and I woke up this morning and it's almost gone!
Baking soda is also useful for treating bites and stings.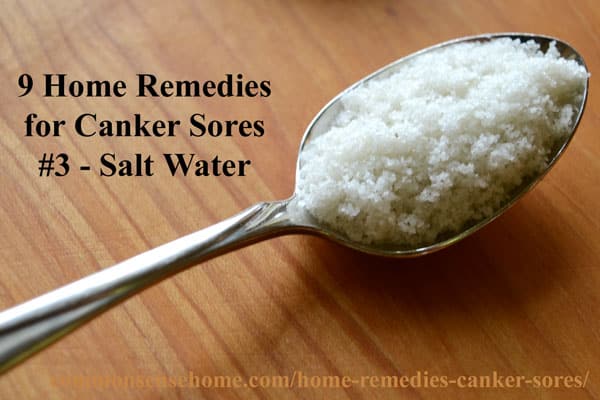 #3 – Salt Water
In the book "Home Remedies: What Works" (now out of print), a salt water rinse was one of the top canker sore remedies. Canker sore sufferers saw relief after swishing salt water around in their mouths for a few minutes 2-4 times per day. To use, dissolve two tablespoons of salt in a six ounce glass of warm water. Sip and swish gently over the affected area for several minutes, spit. Repeat as needed. The consulting doctor for the book says that salt water helps draw fluid through tissues, speeding healing.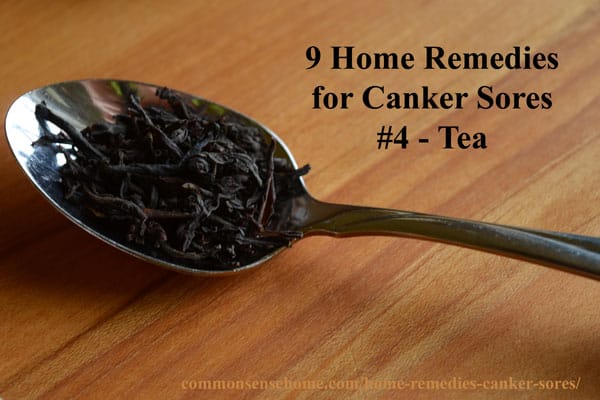 #4 – Tea
Another canker sore sufferer from the "Home Remedies: What Works" book used tea to get rid of her canker sores. She said her grandmother would always use tea bags for canker sore treatment. The family brewed the tea as normal and drank it. They then tucked the tea bag in their mouth on the canker sore, something like a snuff pouch. The tannic acid in the tea provided the relief. (Tannic acid is the active in the over the counter canker sore remedy Zilactin.)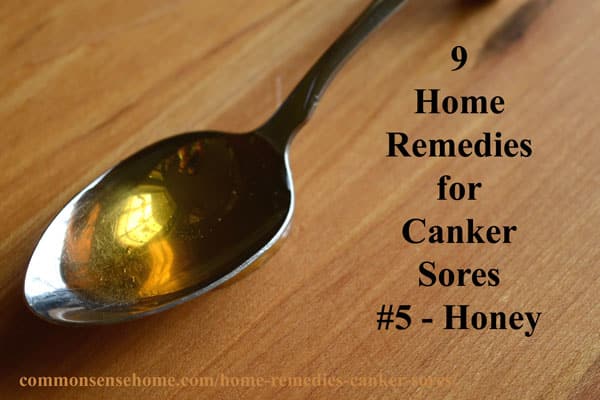 #5 – Honey
In the post, "Honey as Medicine", we talk about all sorts of different ways to use honey for wound care. One of the subjects not covered in the article was using honey to treat canker sores. While raw honey and manuka honey are the preferred options for canker sore and wound treatment, a study in Saudi Arabia studied the use of commercial honey to treat canker sores. They divided participants into three groups – The first treated their sores with plain old commercial honey, the second used an oral corticosteroid cream, and the third got an over-the-counter product that forms a protective paste to cover sores while they heal. All three groups applied their treatment three times per day. Results were as follows:
In just 4 days, all sores in the honey group had disappeared completely—but the number of sores in groups 2 and 3 hadn't budged. Honey even helped to soothe pain. After day 1, honey users reported a 95.5% decrease in pain, with total pain elimination by day 2. Groups 2 and 3 were not so lucky: It took them 8 days to reach the same pain-free state.
So – hit the pantry and thank the bees for sweet relief.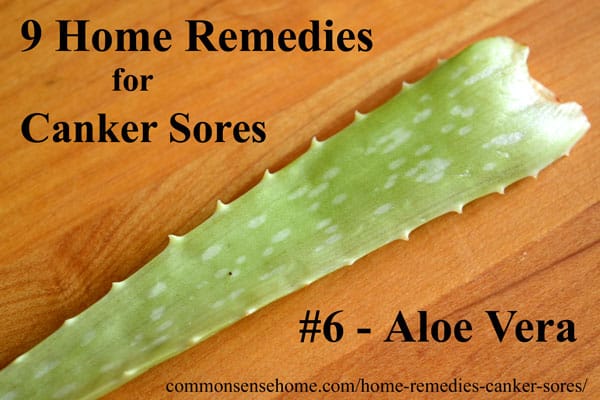 #6 – Aloe Vera Juice
You can swish food grade aloe vera gel around the mouth, apply it directly to the canker sore, and/or drink as a supplement to help speed healing of canker sores. Aloe vera contains salicylates, like aspirin, which reduce pain and inflammation. Aloe vera is also a natural antibiotic. You can purchase ready to go aloe vera juice, or make your own by juicing or scraping and mashing the pulp from an aloe vera leaf.
#7 – L-lysine
L-lysine is an essential amino acid, which means it is required for health but can't be manufactured by the body. It's found in high protein foods like nuts, red meat, eggs, milk, cheese, beans, and sardines. It's also available as a supplement.
MDHealth.com lists l-lysine uses and concerns:
Patients who have large wounds, burns, or other medical conditions involving protein loss also need supplemental lysine for repair. Some people take l-lysine supplements to treat or prevent viral infections like cold sores and shingles.

Although lysine may be taken without prescription, it must be taken with caution to avoid side effects such as nausea, abdominal cramps, diarrhea, and stomach pain.

For treating herpes (cold sore) infections, one may need a higher dosage, ranging from 3,000 – 9,000 mg, taken in divided doses, daily. To prevent recurrences, one may need to take 1,000 mg three times a day. Consult a physician for more information on proper dosage and duration of intake.

Excessive doses can also lead to gallstone formation and increased cholesterol and triglyceride levels.
EarthClinic users have held l-lysine supplements on the canker sores for treatment. Others have dosed with 500 mg of l-lysine internally for canker sore treatment. Click here to buy L-lysine.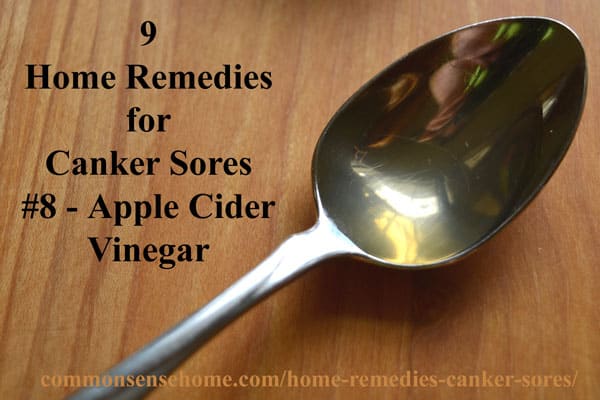 #8 – Apple Cider Vinegar (ACV)
Earth Clinic users recommend apple cider vinegar (ACV) either straight or mixed with warm water to help heal their canker sores.
EarthClinic User Tony from Florida shares:
Mix Apple Cider Vinegar with a 1/2 cup of warm water and swish around in your mouth for 30-60 seconds, 2x a day. Your canker sore will disappear quickly!
Other users held a spoonful of vinegar on the canker sore for 30 seconds to "as long as you can stand it".
ACV is also recommended for sore muscles and headache relief.
Note: Some users find their mouths are more irritated with ACV, so use with caution.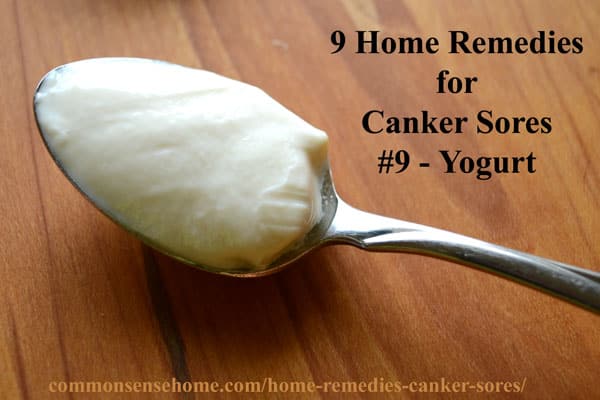 #9 – Yogurt
Daily consumption of yogurt with live and active cultures may help prevent and heal canker sore outbreaks. Those who suffer from regular outbreaks should eat ¼ cup of yogurt per day for prevention, and consume an eight ounce container per day to heal an outbreak.
Yogurt can also be used to treat acid reflux and sunburn.
Although alum has long been used for canker sore treatment, I don't recommend it. Testing shows that the aluminum in alum can be absorbed through the skin, and I feel we have enough aluminum exposure in our lives already.
More Canker Sore Remedies
Our readers on Facebook also recommended some remedies.
Julie says, "here is one remedy I have found works best for canker sores and helps soothe them. It will heal them in 2 days, 3 days tops if severe. Put liquid vitamin E directly on the sore – frequently on the first day, and then less often as it heals. My mom used to put baking soda on which would hurt very badly, and still take 7-10 days to heal. Vitamin E, 30,000 IU, is a miracle for wounds/scars/burns."
Kathy notes, "Niacin powder directly on the canker sore heals it within a day or two."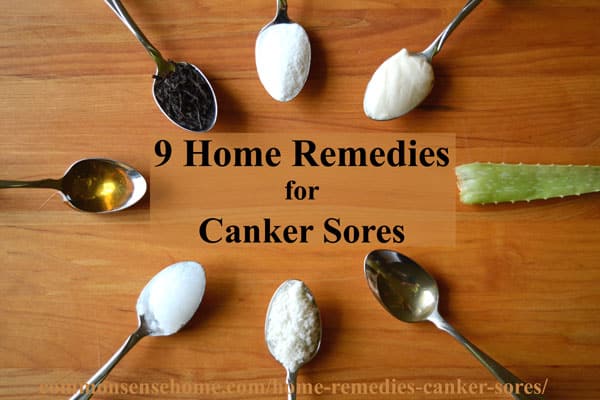 You may also find useful: