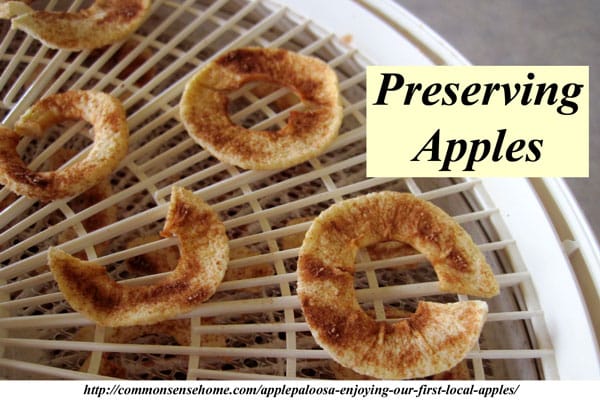 "Hey, could you use some apples?"
"Sure, I'd love some."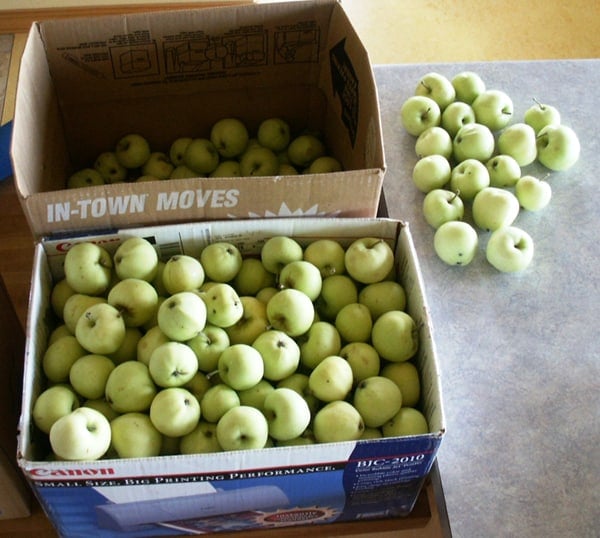 So started around two weeks (off and on) of preserving apples. There were (I would guess) around two to three bushels to start with, which we made into sauce, fruit leather, popsicles, and cinnamon/sugar dried apple slices.
Making Apples into Sauce
I like prepare a lot of apple sauce, which is then used "as is", frozen or made into popsicles and fruit leather. Yellow transparent apples are quite soft, especially when dead ripe, so if you were to core and peel them they pretty much cook into sauce on their own. However, for doing a large volume, I usually just quarter them, cut out any damaged spots, cook them until soft and run them through the food strainer. This is great mixed one to one with other fruit and vegetable purees to make mixed leathers, too. The pectin in apples makes a more pliable, more palatable end product.
So, for the applesauce, disassemble apples, dip them in lemon water (about 1/4 cup lemon per gallon of water) to prevent discoloration. Put them into a heavy bottomed pot with a bit of water. Cook until soft. Here we have one pot of mushy apples.
Put soft apples through a food strainer or food mill. The boys enjoy turning the crank.
We ended up with about two gallons of applesauce. I froze most of it in pint and quart bags, but some I put into popsicle molds. These are some of the boys favorite homemade popsicles. Since these apples were a little tart, I added about 1/4 cup sugar to each gallon of sauce, and about a tablespoon of cinnamon.
Making Dried Apple Slices with Cinnamon
We worked on apple slices at the same time we were working on sauce so that the boys could rotate jobs so they didn't get bored as quickly.
Here's a shot of the boys part way into processing. Dunc is in the foreground, wielding the apple slicer/peeler corer. August is loading apple slices that have been pretreated with lemon water onto dehydrator trays.
To make cinnamon/sugar apple slices, we peel, core and thinly slice the apples (the combo slicer/peeler/corer makes this go MUCH faster).
Then I dip them in lemon water and drain. In this case I use about half lemon juice and half water because I like a stronger lemon taste on the finished product. Lay them out (not touching) on lightly oiled dehydrator trays.
I place the loaded trays in my sink to contain the mess, and then lightly sprinkle them with a mixture of about two tablespoons cinnamon and 1/2 cup sugar (honestly, I don't usually measure any more, I just eye it up). You can skip the sugar or use stevia powder if you like.
These go into the dehydrator around eight hours, or overnight at around 125-135F. The SnackMaster dehydrator takes a little longer, the Excalibur gets done a little more quickly.
For the first round we mixed some trays of sauce and some of slices. Dried homemade applesauce makes the best fruit leather. You can also mix applesauce 50/50 with other fruit purees to give them a better texture for making homemade fruit leather.
Please don't forget to lightly oil your trays before your first batch of slices or leather – the fruit will generally stick and you'll be picking it off in pieces, which can be a real mess. After the first oiling, I find I can use the trays several times before they need washing and re-oiling, provided I am doing more of the same produce.
We set aside the nicest apples and filled the dehydrator with more apple slices every other night or so. By the time we finished we had around four quarts of dried slices. I find home-dried slices to be much tastier than most store varieties, even without the cinnamon/sugar mix sprinkled. (As I mentioned, these particular apples were rather tart.) They have a much stronger "apple" taste, and the texture is light and crisp rather than resembling foam rubber. They are also sulfite free.
Here's a great site for all things apple: All About Apples
They have a variety index, an orchard listing, recipes, health info, apple forums, tips for backyard growers – lots of good info! If you need even more inspiration to enjoy some apples, check out their health benefits. We were lucky enough to get ours from a local family with an over-abundance of apples, so they were not loaded with pesticides. I'm quite happy to remove an occasional worm in exchange for chemical free apples. (For the record, we only found one worm in all those apples.)
We'll be watching for the next round of apples, especially those that are good for pie. I love harvest time.
You may also enjoy:
Originally published on Sep 5, 2009.